Beer Caramel Pretzel Cookie Bars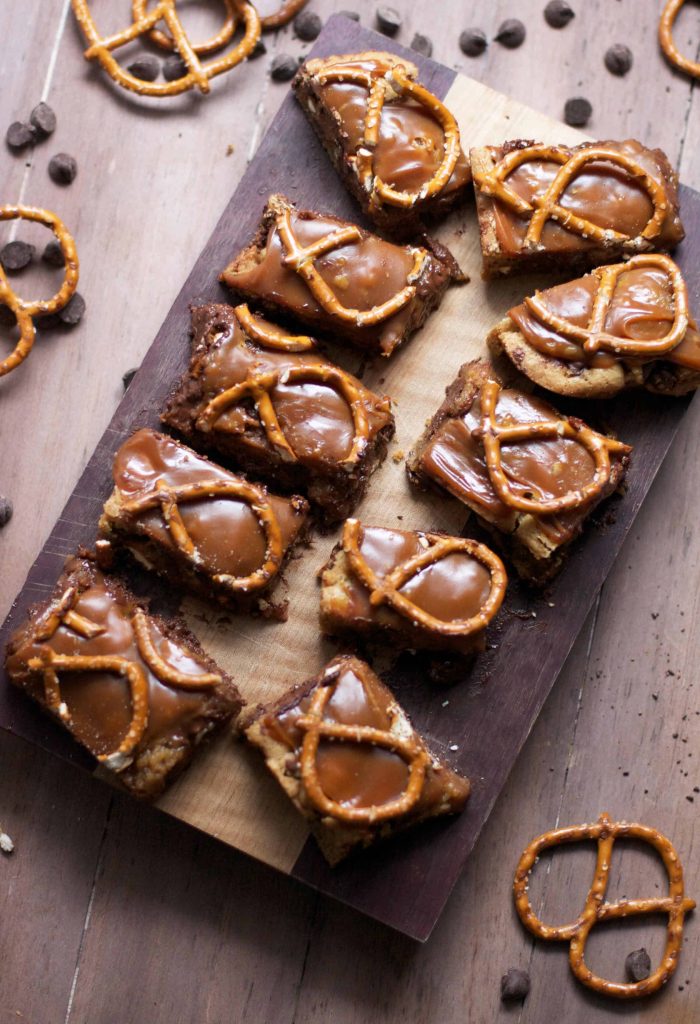 As a baker, the things that come out of my kitchen usually fall into two different categories. 1- Recipes I've seen elsewhere online and desperately want to try with my own adaptations or twists, and 2- Recipes that I have an idea of in my head and kinda figure out as I go. The perfectionist side of me always feels better about the first type, but sometimes I just need to let the creative juices flow and see what happens.
Given that I'm sweet & salty obsessed, I wanted something gooey with a warm chocolate chip cookie base, chewy, malty beer-caramel and crunchy pretzels. I know it may all sound kinda weird together, but it seemed like the perfect combo to bring to the Packers playoff game a few weeks back and I was convinced I could make it work in a delicious way.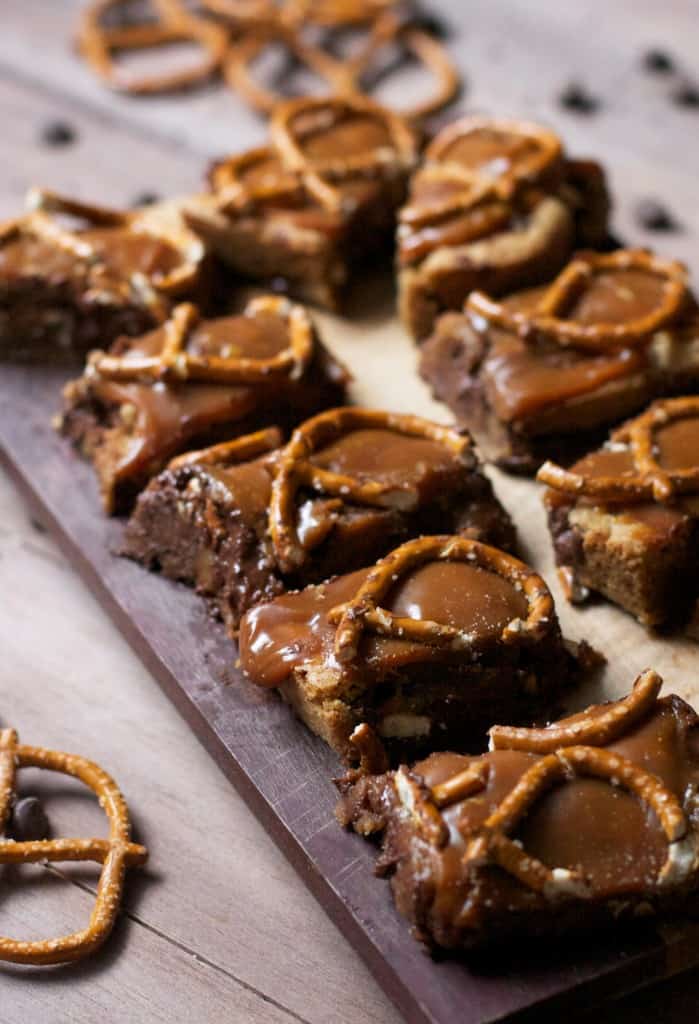 The recipe begins with my favorite chocolate chip cookies in bar form. After baking, soft caramels and beer are melted together, allowing the beer to cook down, the caramels to become liquid and gooey, and a delicious flavor combo to ensue. The mixture is slathered on the bars and topped with crunchy pretzels.
The final result turned out so well I can think of nothing better for any beer/sweet & salty-loving folks out there. The taste from the beer is pretty subtle, but it creates a nice maltiness that goes so well with the other flavors. If beer isn't your thing- a touch of heavy cream would do nicely in it's place to help create a smooth melty caramel layer to go on top of the bars. The crunchy pretzels though are a MUST- and really put these babies over the top.
Have a fun Superbowl weekend- we're rooting for the Broncos! (Mostly because the Seahawks beat Andy's 49ers and we're bitter.) :)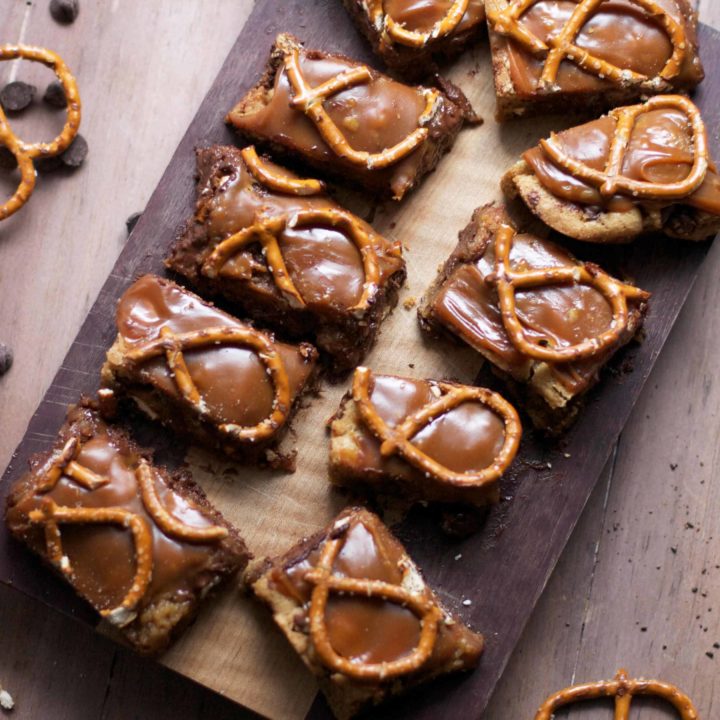 Beer Caramel Pretzel Cookie Bars
Ingredients
For the cookie layer:
12 tbsp. unsalted butter, melted and cooled until warm
1 cup brown sugar, packed
½ cup granulated sugar
1 large egg plus 1 egg yolk
2 tsp. vanilla extract
2 cups plus 2 tbsp. all-purpose flour
½ tsp. baking soda
½ tsp. salt
1 ½ cups semi-sweet chocolate chips
For the caramel:
1 cup beer, I used a medium lager
1 14 oz bag of soft caramels unwrapped, I used Kraft
Topping:
1-2 cups of salted pretzels
Instructions
Preheat oven 350F. Spray an 8x8 baking pan or line with parchment paper- set aside.
In a large bowl, whisk together the melted butter and sugars. Add the egg and yolk, mixing until smooth and well-combined. Add the vanilla.
Sprinkle the flour, baking soda and salt over the wet ingredients and use a spatula to fold together until just incorporated with no streaks of dry ingredients. Stir in the chocolate chips.
Spread dough into the prepared pan and smooth with a spatula. Bake for 25-30 minutes or until the edges are golden and crisp and the inside feels set. (It can be a little soft, but if it's too gooey the inside bars won't hold together. Cool on a wire rack.
For the caramel:
While the bars are baking, combine the beer and caramels in a medium sized heavy saucepan over medium-high heat. Stir until caramels have melted completely and the beer is worked in. Cook for 5-10 minutes more, or until the mixture is a dark amber color and has reduced a bit.
Spread over the cookie bars and top with pretzels- sticking them into the gooey caramel.
Let bars cool completely (the freezer worked well for this,) before removing from pan and slicing.
Bars last in an airtight container for up to a week.
Notes
Cookie Recipe adapted from: Baking Illustrated
Nutrition Information:
Yield:

16
Serving Size:

1 grams
Amount Per Serving:
Unsaturated Fat:

0g