Berry Buttermilk Layer Cake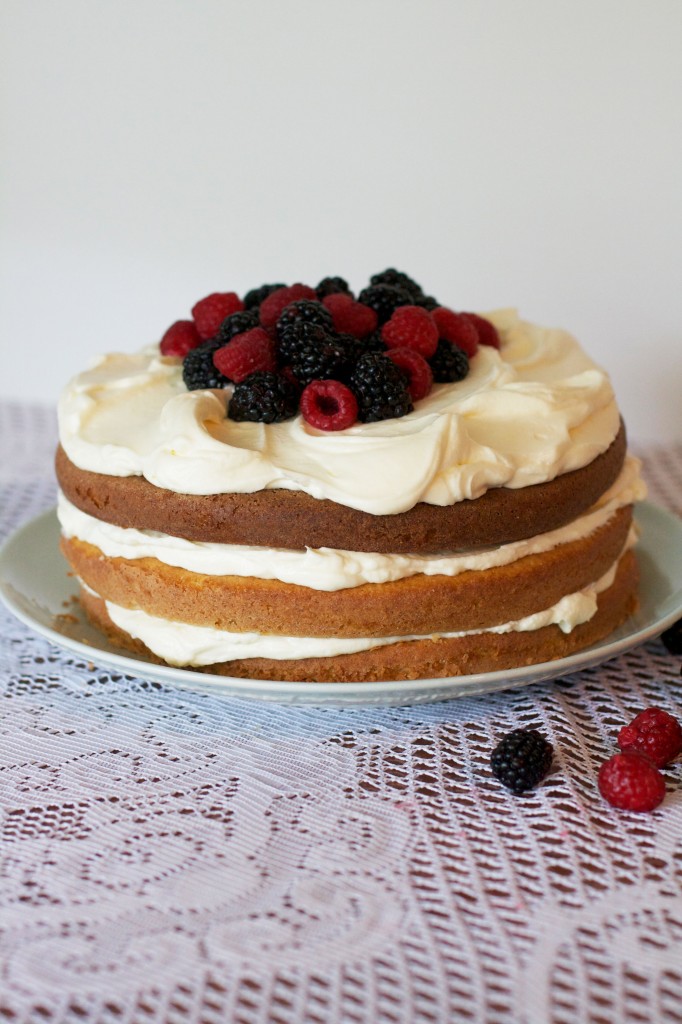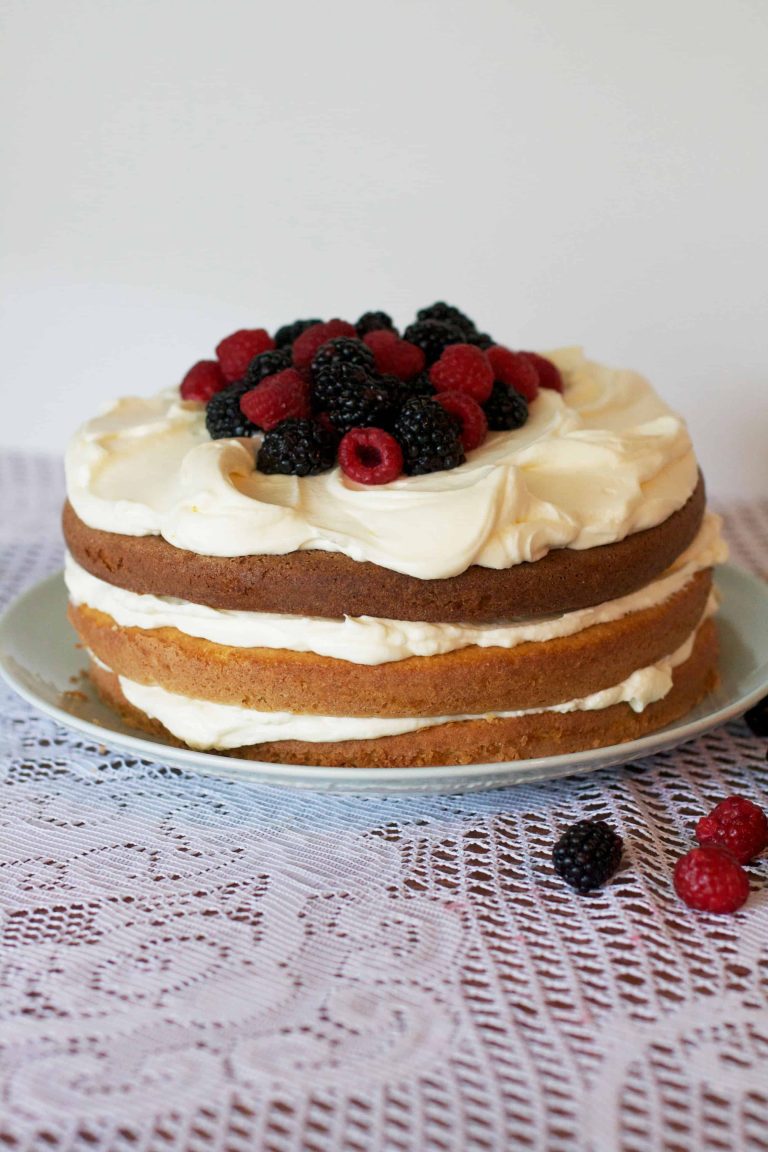 First of all I just have to say thank you all for the out pouring of kind words and thoughts about my pregnancy news. I am so excited to have it out in the open and feel so free to share what's really on my mind as I post recipes! Like today- it's currently 4 AM. I had planned on writing this post last night but I passed out at 9 and then woke up an hour ago with a stomach ache. Now I'm writing this in the living room watching Friends reruns I saved on my DVR for occasions JUST like this. Meanwhile- Andy is fast asleep in our brand new big bed and I'm hoping that I can tire myself enough to head back for my second round of sleep in a couple hours.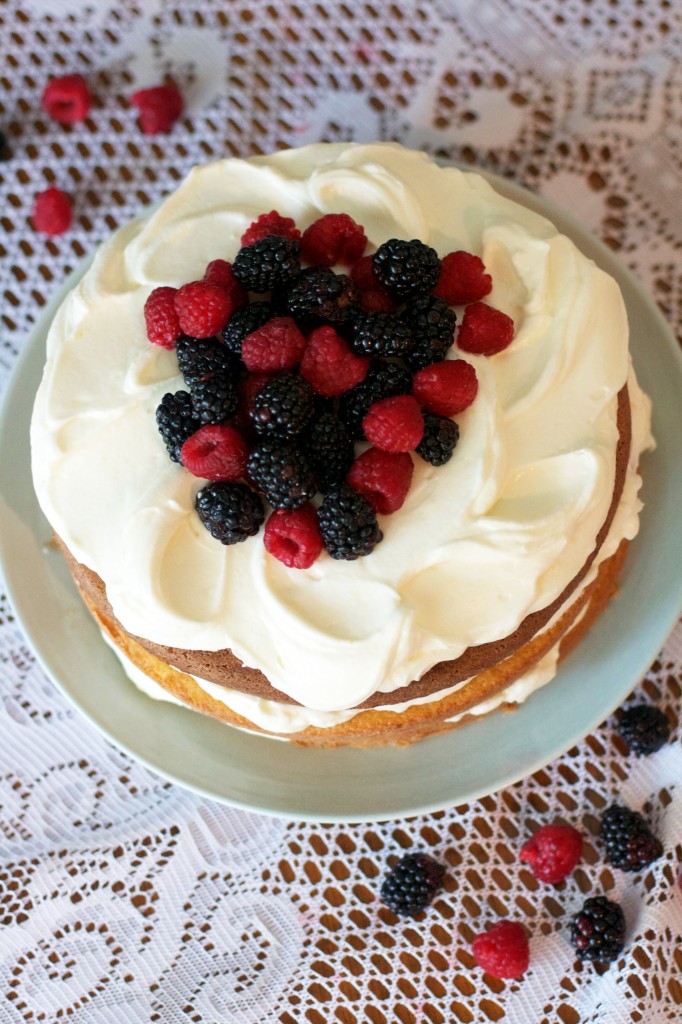 I've been feeling really great overall, but this nighttime stomach ache/insomnia thing happens a lot. Please tell me I'm not the only one!
About this cake- I made it for Andy's family when I visited last week and it was a huge hit. There are 20 people in his family total (parents, 5 siblings, spouses, and kids,) so it was really my dream- all those people to eat my baked goods so I don't have to! (Even though this light and fruity cake actually tasted so good to me!!) I cut this into 20 small pieces and it was gone instantly with everyone coming back for seconds. (Next time I should make two!)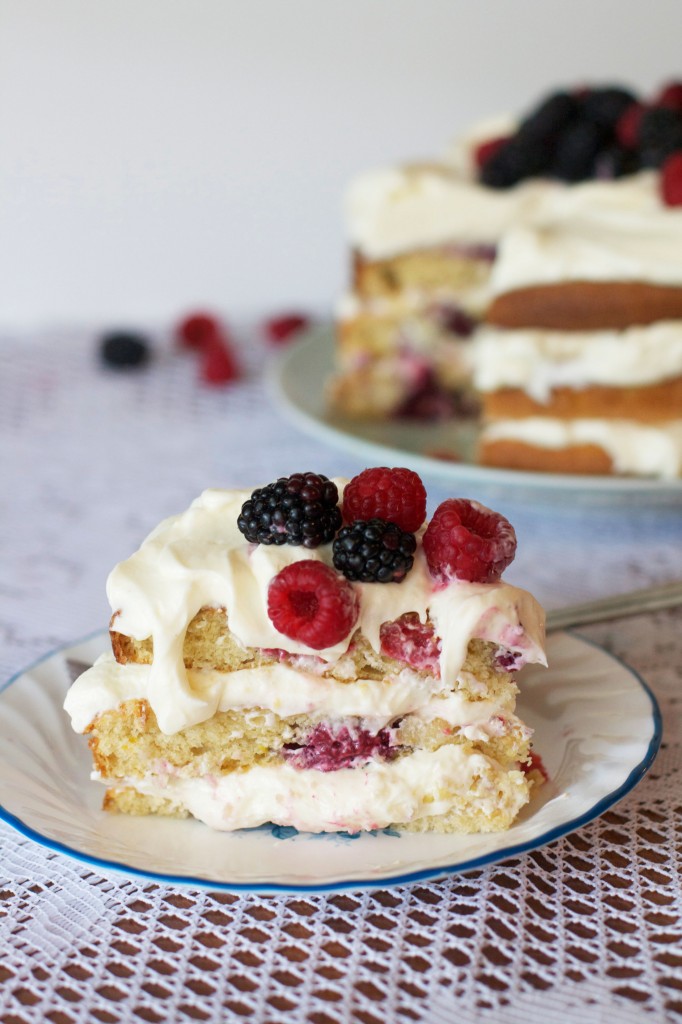 The cake is light and fluffy, full of juicy berries and frosted with my new favorite frosting of all time. Have you ever had whipped cream cheese frosting? It's a mix between whipped cream and regular cream cheese frosting and it's oh so good. Light, and creamy but thick enough to hold up in a layer cake. Some lemon juice and zest gave it the perfect amount of tang and this cake was summery perfection.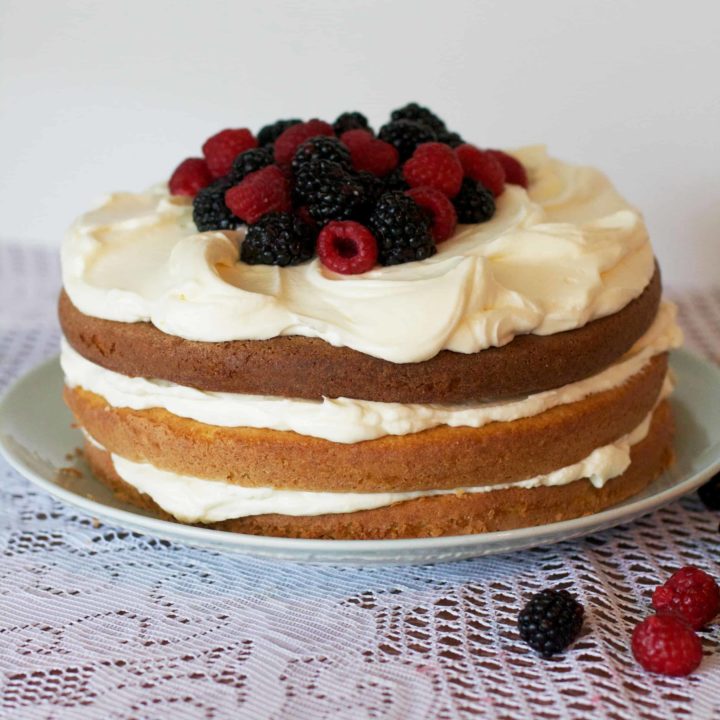 Berry Buttermilk Layer Cake
Yield:
1 9 inch layer cake
Ingredients
2 cups all-purpose flour
1 teaspoon baking powder
1 teaspoon baking soda
1/2 teaspoon salt
1 stick unsalted butter, softened
1 cup sugar
1 teaspoon pure vanilla extract
2 large eggs, room temperature
1 cup well-shaken buttermilk
2 cups fresh berries, raspberries, blackberries, blueberries or strawberries would all work plus more for garnish (optional)
For Frosting:
12 oz of cream cheese, softened
1 1/2 cups heavy whipping cream
3 cups powdered sugar
zest of 1 lemon
1 teaspoon lemon juice
Instructions
For the cake:
Preheat oven to 400°F with rack in middle. Butter, flour and parchment 2 or 3 9-inch round cake pans.*
Whisk together flour, baking powder, baking soda, and salt- set aside.
Beat butter and sugar with an electric mixer at medium-high speed until pale and fluffy, about 2 minutes, then beat in vanilla. Add eggs one at a time and beat well.
At low speed mix in the flour mixture in 3 batches, alternating with the buttermilk- starting and ending with the flour. Don't overmix!
Spoon batter evenly into cake pans, smoothing tops. Scatter berries evenly over each layer.
Bake until cakes are golden and a toothpick inserted into the middle comes out clean- 20-25 minutes. Cool in pans for 10 minute then invert them onto a wire rack to cool the rest of the way.
For Frosting
In a medium sized bowl, whip cream until stiff peaks form. Set aside.
In another larger bowl, beat together the cream cheese and powdered sugar until smooth. Add the lemon juice and zest.
Gradually fold the whipped cream into the cream cheese mixture a little at a time until smooth.
Frost cake as desired when cool and top with fresh berries.
Notes
*8 or 9 inch pans would work- and you could do 2 or 3 layers depending on how thick you'd like them. Cake recipe adapted from Gourmet.
Nutrition Information:
Yield:

1
Serving Size:

1 grams
Amount Per Serving:
Unsaturated Fat:

0g