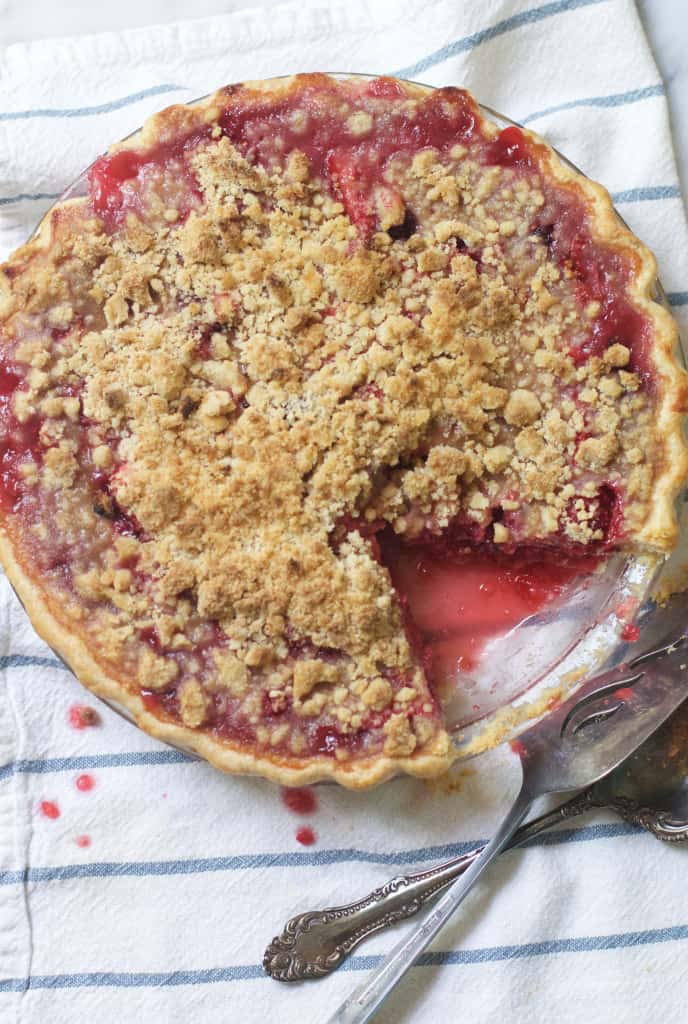 I think that someday, when I'm much older and much more eccentric, I'd like people from near and far to refer to me as "That Crazy Pie Lady." I may wear funky outfits and I imagine I'll have crazy gray curly hair and most likely talk to myself as I hunch over my kitchen counter and crank out fabulous pies. I will take the batty old lady stuff as long as I get the reputation of fabulous pie-maker along with it. I hope that my children and grandchildren and all of their friends have their favorites on constant request and come special occasions and holidays I bustle in my little kitchen (or maybe it will be bigger by then?) making each perfectly crimped crust and delicious filling. I love pie making you guys. I've said it before and I'll say it again. Now who is going to buy me a pie shop to run? (Kidding! Sort of…)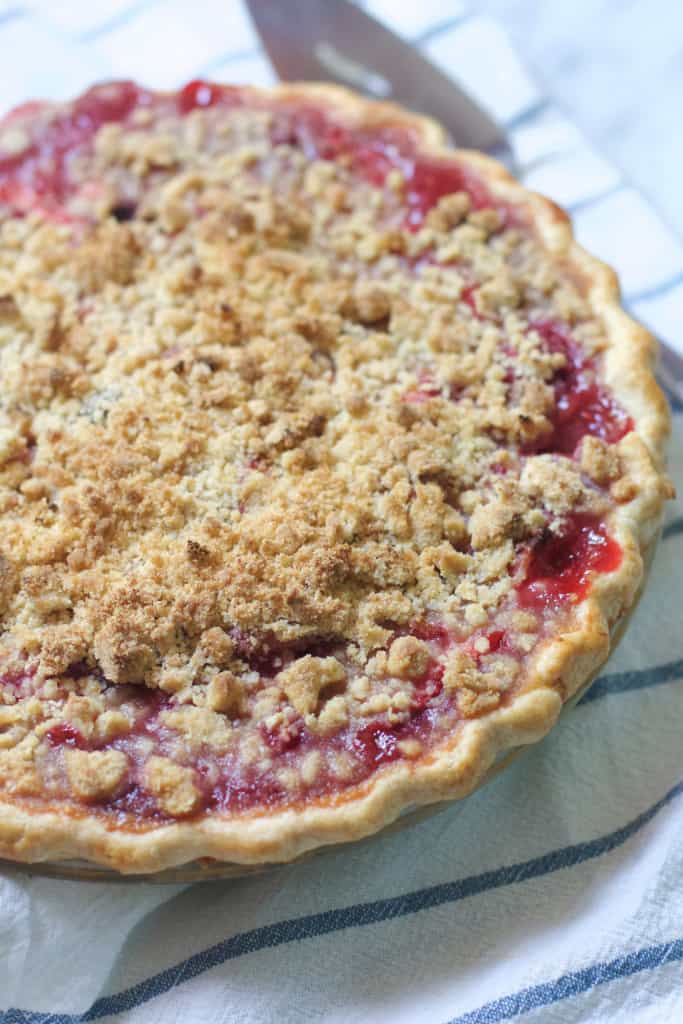 When it comes to my personal favorites, the berry/rhubarb combos are always right at the tippy top of the list. As I'm sure you've noticed, I've made several pies with these flavors, Classic Strawberry Rhubarb, Perfect Blackberry Pie and Mixed Berry Pie, I also can't get enough Blackberry Lime Cobbler or Strawberry Cobbler. I'm obsessed with the way the berries get all juicy and jammy and how their flavors change and ripen as they bake. And adding rhubarb to the mix just makes the flavors even more delicious- that bright tart flavor really bringing an extra level to the dessert.
So, I'm sorry (but not really,) for being a little repetitive with this recipe. The filling is quite similar to many of the pies I linked to above and though I did change things up a little bit by adding a crumbly topping, it's still a familiar trend. That being said- I hope you don't mind yet another reminder of how amazing it is to bake with berries, especially if you use instant tapioca pearls as a thickener. Really and truly nothing I've used compares and the end result is a pie with a perfect, thick slice. One that has a little bit of juiciness to it, but none of that soupy soggy-crust inducing nonsense. (I bought a bulk package of this instant tapioca
, but I've seen it in my local grocery store too!)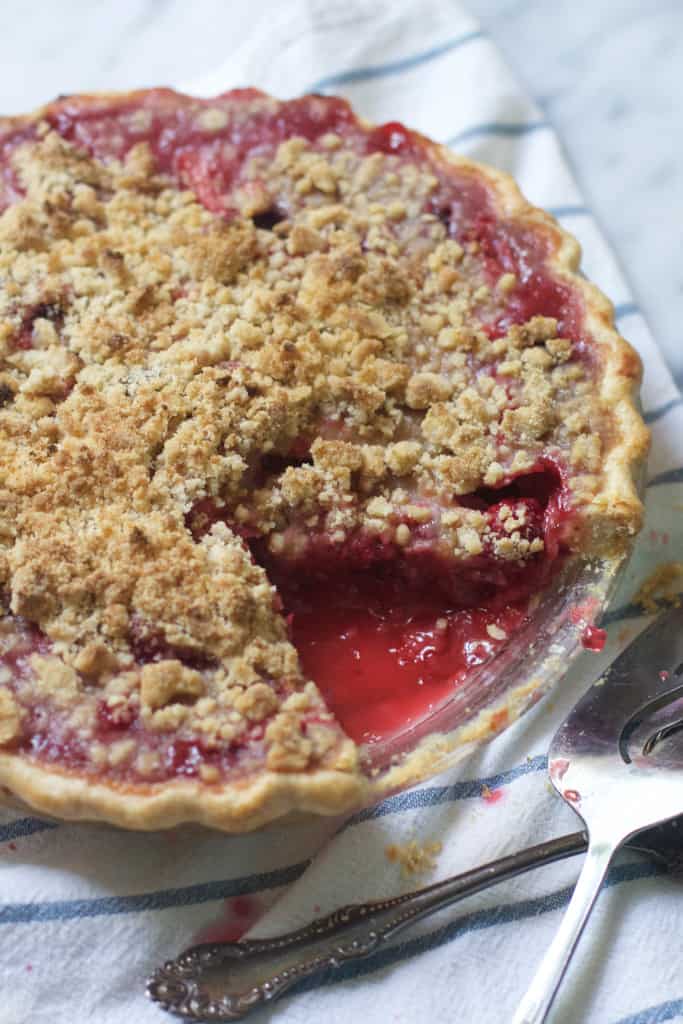 So here you have it, the latest addition to my crazy pie lady repertoire. This one is dang good if I do say so myself!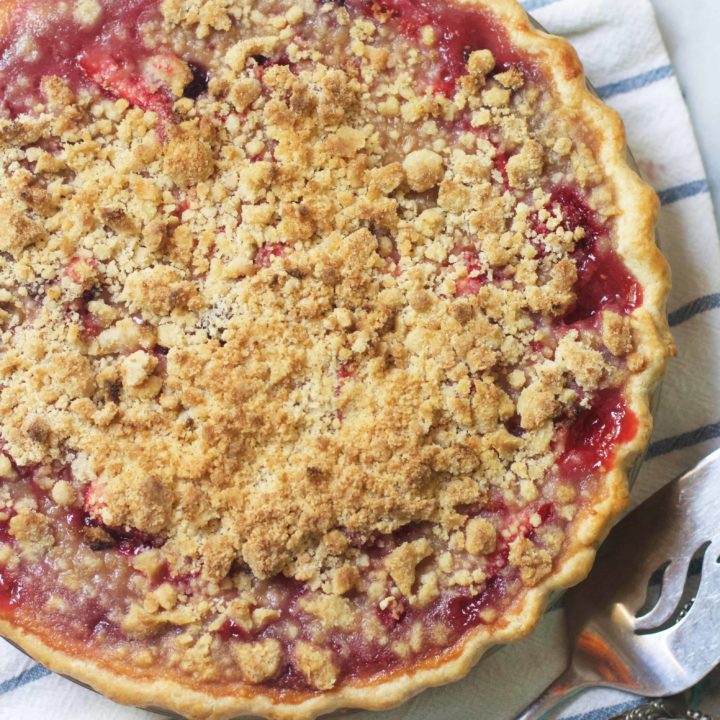 Berry Rhubarb Crumb Pie
Ingredients
1 Single Layer of Pie Crust
6 cups of berries, sliced if needed (I used strawberries, raspberries and blackberries)
1 cup of diced rhubarb
zest of 1 lemon
1 cup sugar
1/4 cup instant tapioca
heavy cream or milk for brushing on the crust
For the topping:
1 cup flour
1/3 cup brown sugar
3 1/2 tablespoons butter, melted
Instructions
Preheat oven to 425F. In a large bowl gently toss the berries with the tapioca, sugar, and lemon zest- set aside.
Roll the Pie Crusts out to an 11 inch round and drape it into a 9 inch pie dish. Trim and crimp the edges. Pour the berries into the crust.
In a medium-sized bowl, combine the flour, brown sugar, and butter. Stir together until crumbly. Sprinkle over the top of the pie.
Bake at 425F for 15 minutes and then reduce the heat to 350F. Bake for another 30-35 minutes or until the crust and crumble are golden. (I suggest placing a cookie sheet under the pie to catch any juicy drips.)
Let the pie cool before slicing. (The cooler the pie, the more solid the slice will be!)
Nutrition Information:
Yield:

1
Serving Size:

1 grams
Amount Per Serving:
Unsaturated Fat:

0g