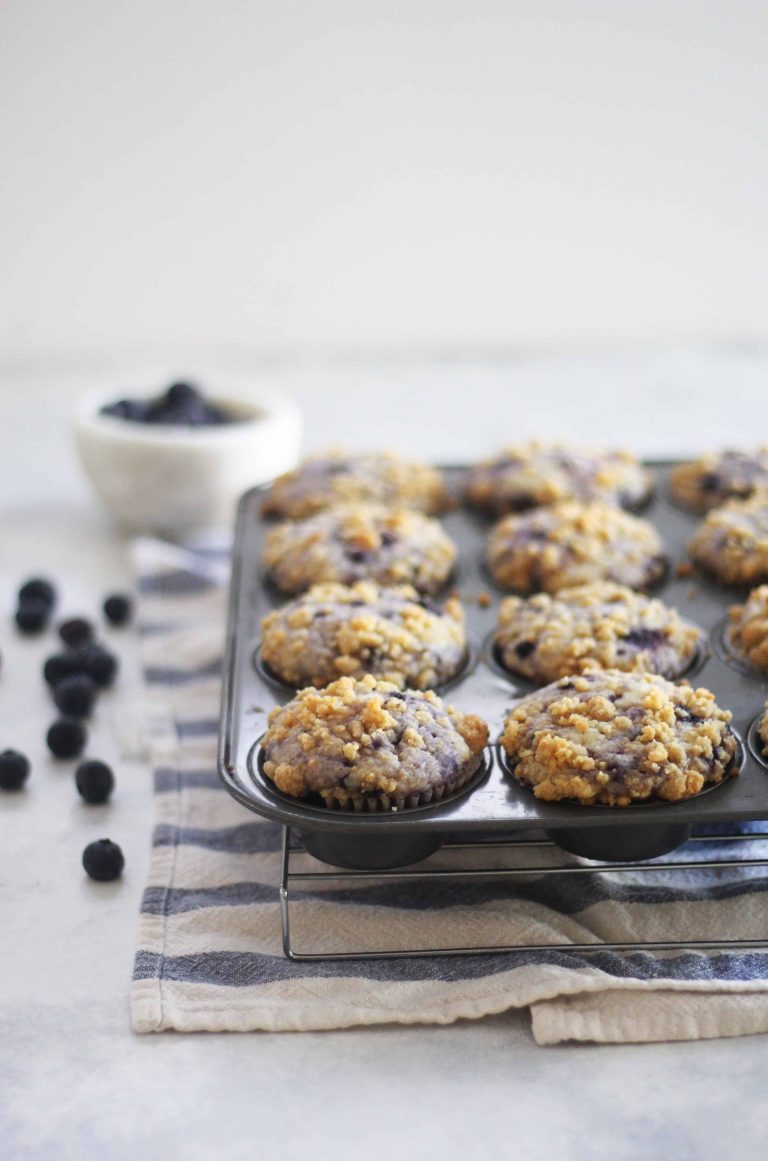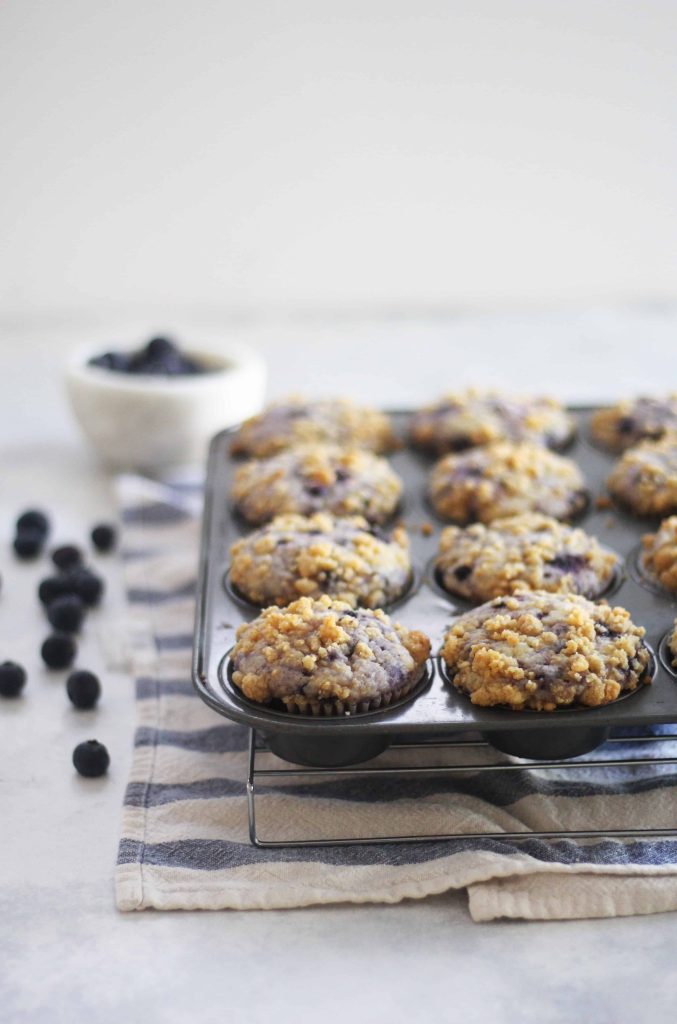 This post was originally published August 2012. I updated the photos and recipes as of June 2016.
I am constantly on the hunt for a collection of classic recipes I'll have for ages. You know- the ones that someday will turn into "Mom's famous recipe for…." A my kids are getting older and Hugo is becoming more involved with helping me bake, cook, and taste test, I love when he says things to his friends like, " My Mama makes the best cookies ever!" Hopefully that sticks and someday he'll be requesting these muffins in his college care packages. (wait…time slow down!) When it comes to a perfect blueberry muffin- I found it! These are the only blueberry muffin recipe I'll ever need and I hope you agree.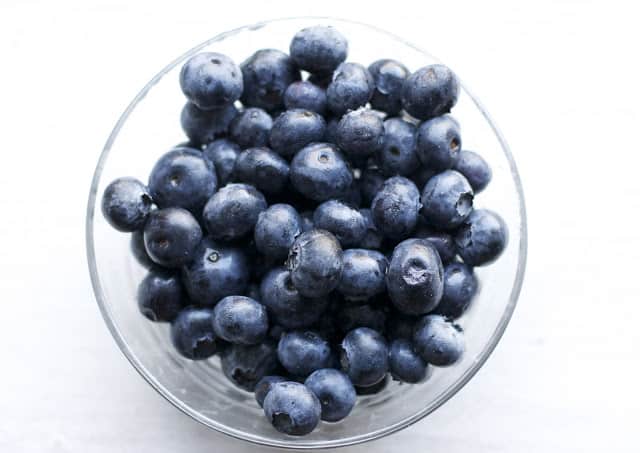 In the past, I have struggled with finding a fruit-based muffin that has a thick enough batter for the fruit to not sink to the bottom. I wanted my blueberries to be evenly distributed throughout so you got one with every bite. I also wanted nice round domes with a crumbly topping. These were perfect on all accounts. The berries were so plump and juicy and right there in every single bite. The crumb topping was the perfect touch, adding a bit of crisp texture and a touch of spice from the cinnamon.
With this new update of the recipe, I tried cutting the sugar down and I think these are really wonderful with up to half the original amount. I've listed the options in the recipe so you can decide how sweet you want them. 1 cup of sugar yields a very sweet cake-like muffin. 1/2 cup of sugar is just lightly sweet and the perfect balance for me was 3/4 cup. But feel free to experiment with it based on your sweetness preference!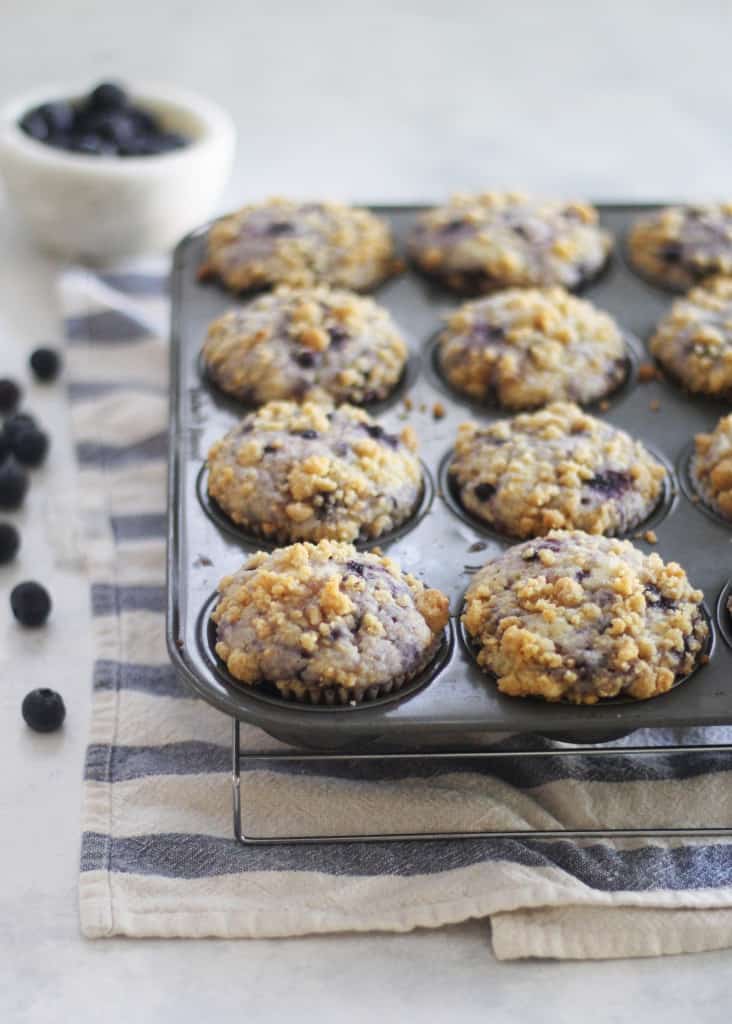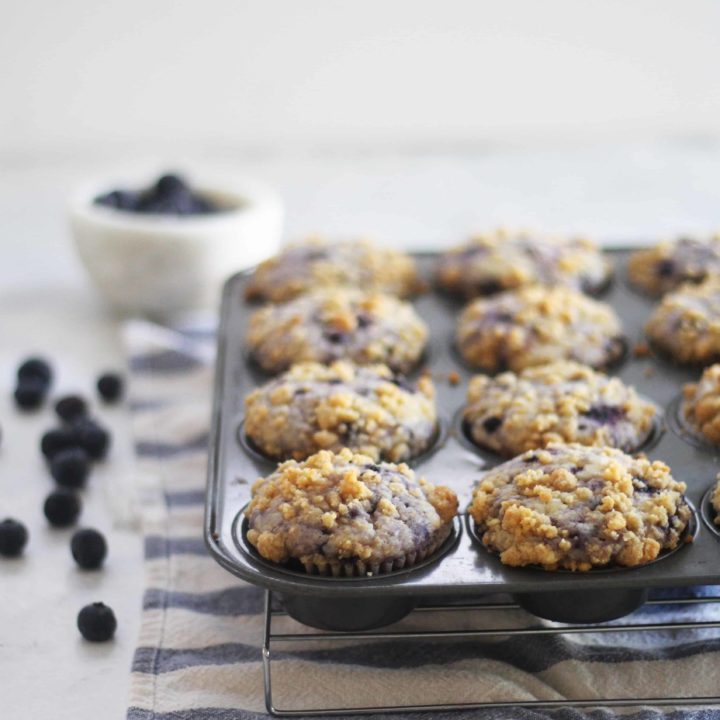 Perfect Blueberry Muffins
Ingredients
Streusel Topping:
4 tablespoons brown sugar
4 tablespoon flour
2 tablespoons melted butter
large pinch of cinnamon
For the Muffins:
2 cups all purpose flour
1 1/2 teaspoons baking powder
1/2 teaspoon salt
1/2 cup 1 stick unsalted butter, softened
3/4 cup sugar*
2 large eggs, room temp
2 teaspoons vanilla extract
1/2 cup buttermilk, room temp
2 cups blueberries, fresh or frozen
Instructions
Preheat oven to 350º. Lightly grease a muffin tin with cooking spray or vegetable oil, or line with paper muffin liners.
Prepare streusel topping:
In a small bowl, stir together the melted butter, brown sugar, flour and cinnamon. Stir until well-combined and crumbly.
For the Muffins:
In another small bowl, whisk together flour, baking powder and salt and set aside.
In a large bowl, beat butter and sugar until light and fluffy.
Add eggs, vanilla and buttermilk.
Add flour mixture and stir until just combined.
Gently fold in blueberries.
Divide batter evenly into 12 muffin cups. (Batter will be thick!)
Sprinkle muffins with streusel topping.
Bake at 350º for 20 to 25 min, until a tester inserted into the center comes out clean.
Notes
*The range of 1/2 cup -1 cup of sugar will work depending on how sweet you want them. For me 3/4 cup was perfect.
Nutrition Information:
Yield:

12
Serving Size:

1 grams
Amount Per Serving:
Unsaturated Fat:

0g