Blackberry-Banana-Coconut Muffins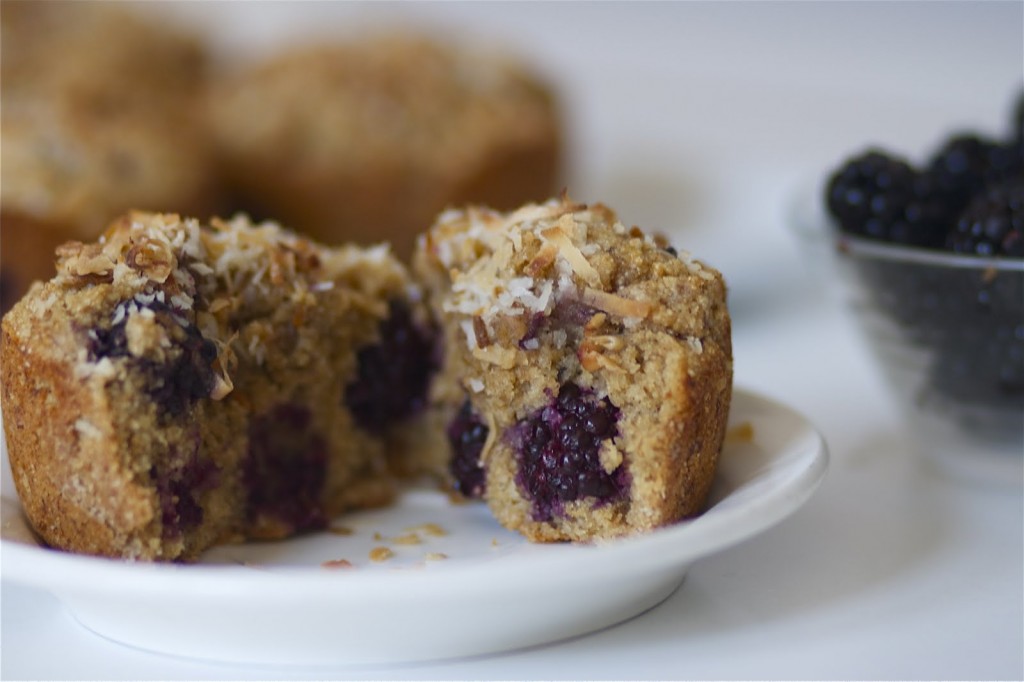 That's a mouthful I know… I just felt like I couldn't leave any of those three magical ingredients out. Because they are super magical and these muffins are super good.
See I needed to try to make something on the healthy side. I have been eating too many of my baked goods and it has started to show. At first I just used the "these pants must have shrunk in the wash" line, but it has finally hit me: my metabolism is slowing down and eating buttery sweets every day doesn't help. It's really pretty annoying. I used to be able to eat desserts when I wanted and never work out and not really gain weight. (Ah even I hate myself for typing that.) Now I still don't really work out, and I also eat whatever I want, but my pants don't fit. So I am going to try to sometimes make things I don't feel guilty eating and also try to workout more. Sound like a plan?
I also loved the idea of blackberries in muffins. Surprisingly- I didn't find many recipes online that paired these ingredients even though it seemed so good in my mind. While these are made with whole wheat flour, they are SO good. I actually ate breakfast this morning and that is a feat I tell you. I feel like the berries could easily be subbed out for whatever type you have on hand. And the toasted coconut was an extra touch I added since I was also using coconut oil. Yum!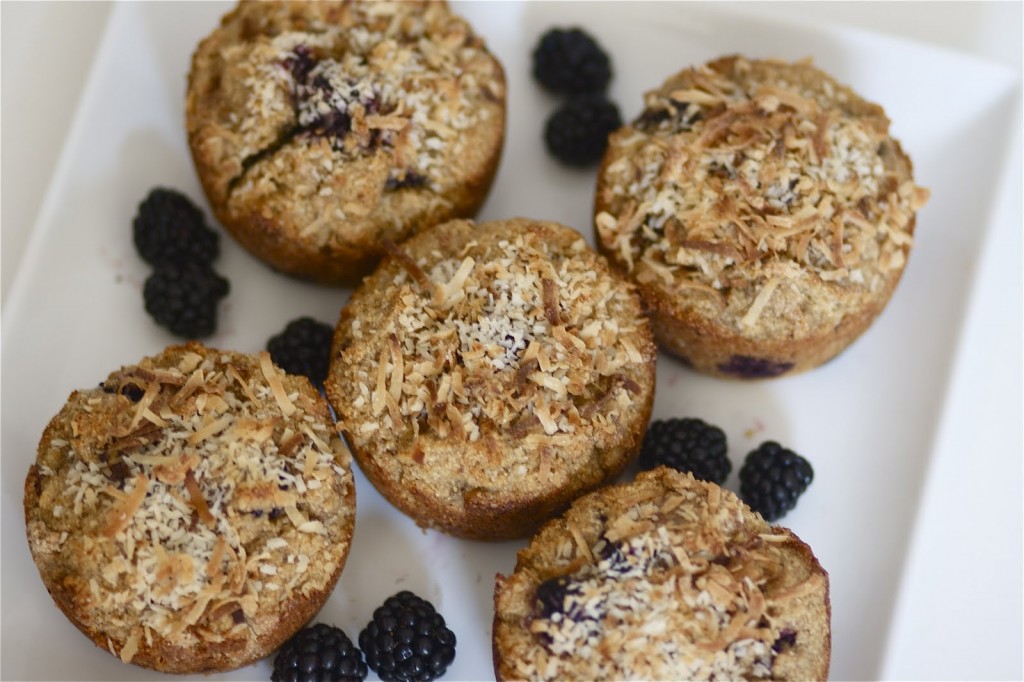 Blackberry-Banana-Coconut Muffins
Ingredients
½ cup coconut oil, you can also sub melted butter for this.
¾ cup light brown sugar
2 eggs
1 tsp. vanilla extract
2 large ripe bananas, mashed (about 1 cup)
1 cup fresh or frozen blackberries
2 ¼ cups whole wheat flour, I recommend white whole wheat flour
1 ½ tsp. baking powder
¼ tsp. baking soda
1 tsp. cinnamon
½ tsp. salt
1/2 cup toasted coconut
Instructions
Preheat oven to 350° F. Line a muffin pan with paper liners or grease with butter or cooking spray. Set aside.
In a medium sized bowl, whisk together the brown sugar, eggs, vanilla extract and mashed banana. Add the coconut oil to the brown sugar mixture and stir to combine.
In another large bowl combine the flour, baking powder, baking soda, cinnamon and salt. Gently fold in the berries, making sure they are coated with flour. This helps to prevent the berries from sinking during baking. Add the wet ingredients to the dry ingredients and stir only until the ingredients are just combined. Do not over mix the batter or tough muffins will result.
Fill each muffin cup about ¾ full of batter, using two spoons or an ice cream scoop. Place in the oven and bake until a tester inserted in the center of a muffin comes out clean, 20-25 minutes. Transfer to a wire rack to cool.
Nutrition Information:
Serving Size:

1 grams
Amount Per Serving:
Unsaturated Fat:

0g
Source: Adapted from
The Joy of Baking