Blackberry Cobbler with Sweet Corn Biscuits
This Blackberry Cobbler with Sweet Corn Biscuits is going to be your new favorite summer dessert! A thick juicy filling of sweet blackberries is topped with buttery sweet corn biscuits. Summer in a bowl!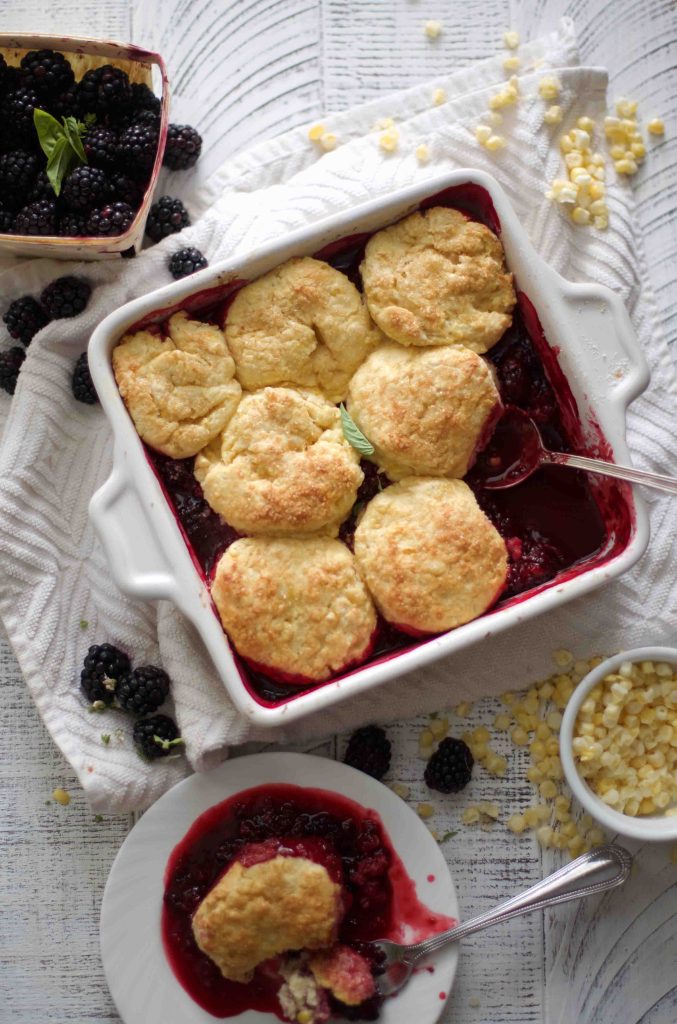 Get yourself to your local market, find the sweetest corn and juiciest blackberries, and make this asap!
Trust me. This Blackberry Cobbler is summer on a plate! Juicy, tart, berries and sweet buttery biscuits full of tender sweet corn. It just works.
This time of year I'm all about what's in season and this my friends is the best. It's a quick summer dessert that can be made in advance, popped in the oven before dinner and baked up in just 30 minutes. The berries are nice and tart, and these to-die-for biscuits are the perfect combo of sweet and savory.
(Wouldn't they also be wonderful on their own with jam or dipped into a bowl of summer chowder??) I can't wait to try… Or even on a peach cobbler instead. Wouldn't that be fabulous?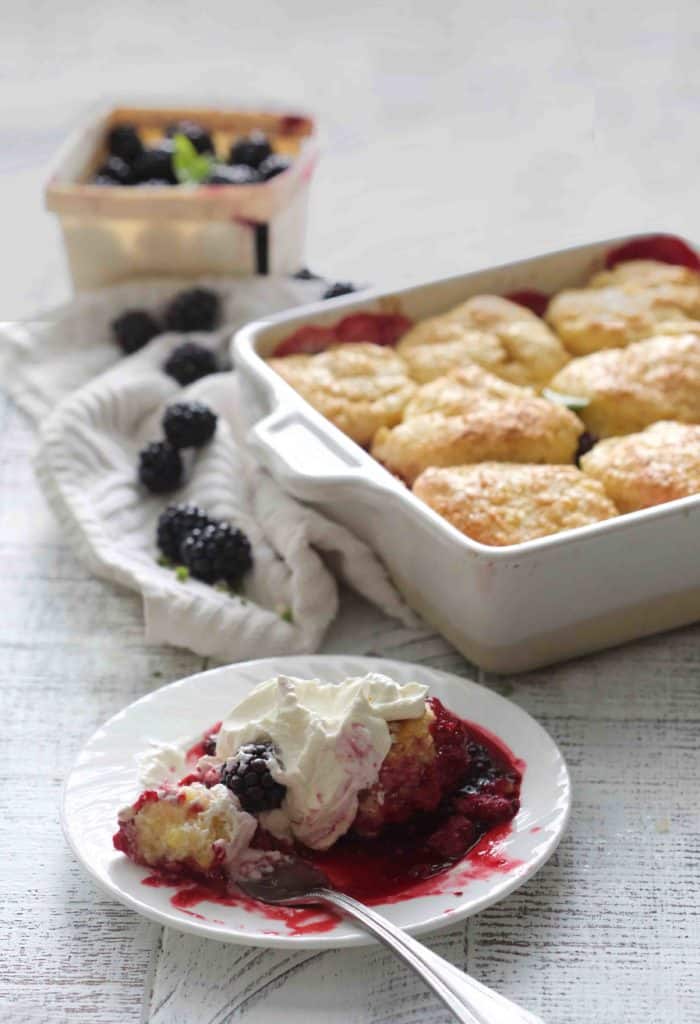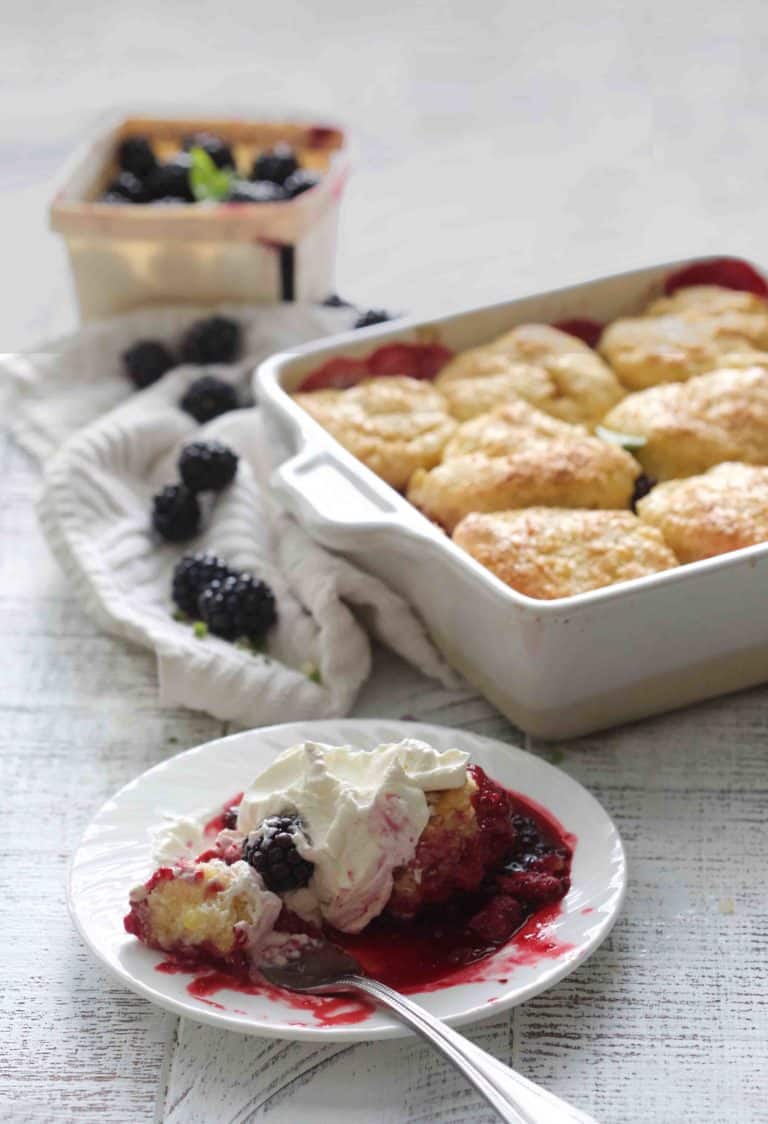 Topped with some fresh whipped cream or ice cream, this Blackberry Cobbler is a dream come true. If you love these late summer flavors as much as I do I trust you'll be making this soon! :)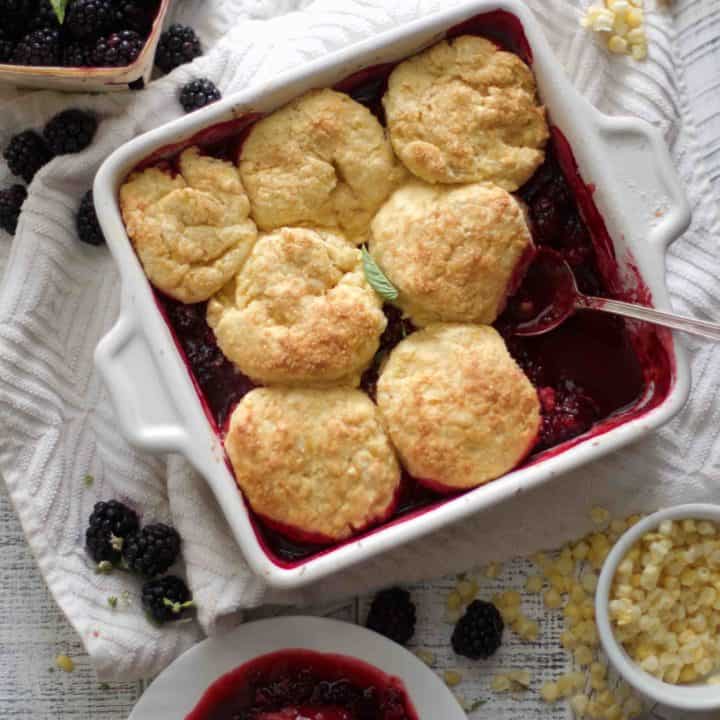 Blackberry Cobbler with Sweet Corn Biscuits
Ingredients
For the filling:
5 cups blackberries
3/4 cup sugar
3 tablespoons instant tapioca (or cornstarch)*
juice of 1 lemon
For the biscuits:
2 cups all purpose flour
3 teaspoons baking powder
1 cup of fresh sweet corn, mashed up a bit with a fork
1 teaspoon salt
4 oz unsalted butter, cold and cut into small chunks
1/2 cup whole milk
1 egg yolk
coarse sugar for sprinkling
Ice Cream or Whipped Cream for serving
Instructions
Preheat oven to 400F.
Light grease a 9x9 square baking dish (or something similarly sized.)
In a large bowl toss together the berries, sugar, tapioca and lemon juice. Set aside.
In another large bowl- stir together the flour, baking powder and salt. Stir in the sweet corn.
Use your hands to blend the butter into the flour mixture, spreading the clumps until the pieces are about pea-sized.
Add the the milk gradually, folding it into the dough. Don't over mix!
Turn the dough onto a lightly-floured surface and knead gently for a minute or until dough is cohesive. (don't mix too much- just make sure there are no unblended dry bits.)
Use a biscuit cutter to stamp biscuits out of the dough. Arrange the biscuits over the berries. Brush the tops with the egg yolk and sprinkle with sugar.
Bake for 25-30 minutes or until the berries are burst and bubbly, and the biscuits are golden.
Notes
* Instant tapioca is the best thickening agent for berries like blackberries that release a lot of water when baked. If you don't have it, feel free to use corn starch, just know the filling will be more juicy.