Blistered Shishito Peppers with Lemon and Sea Salt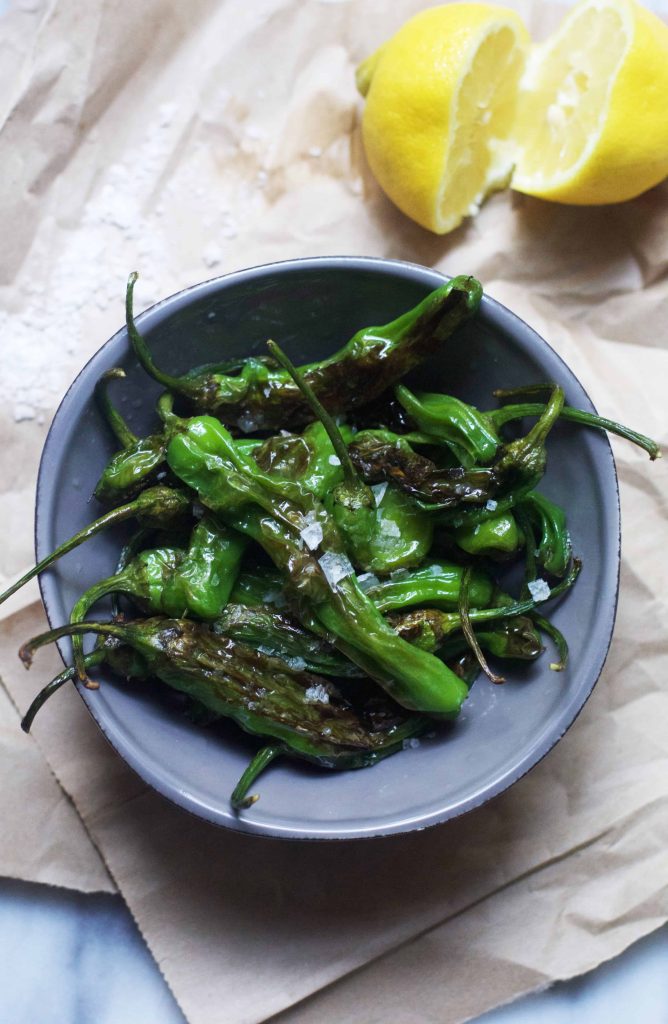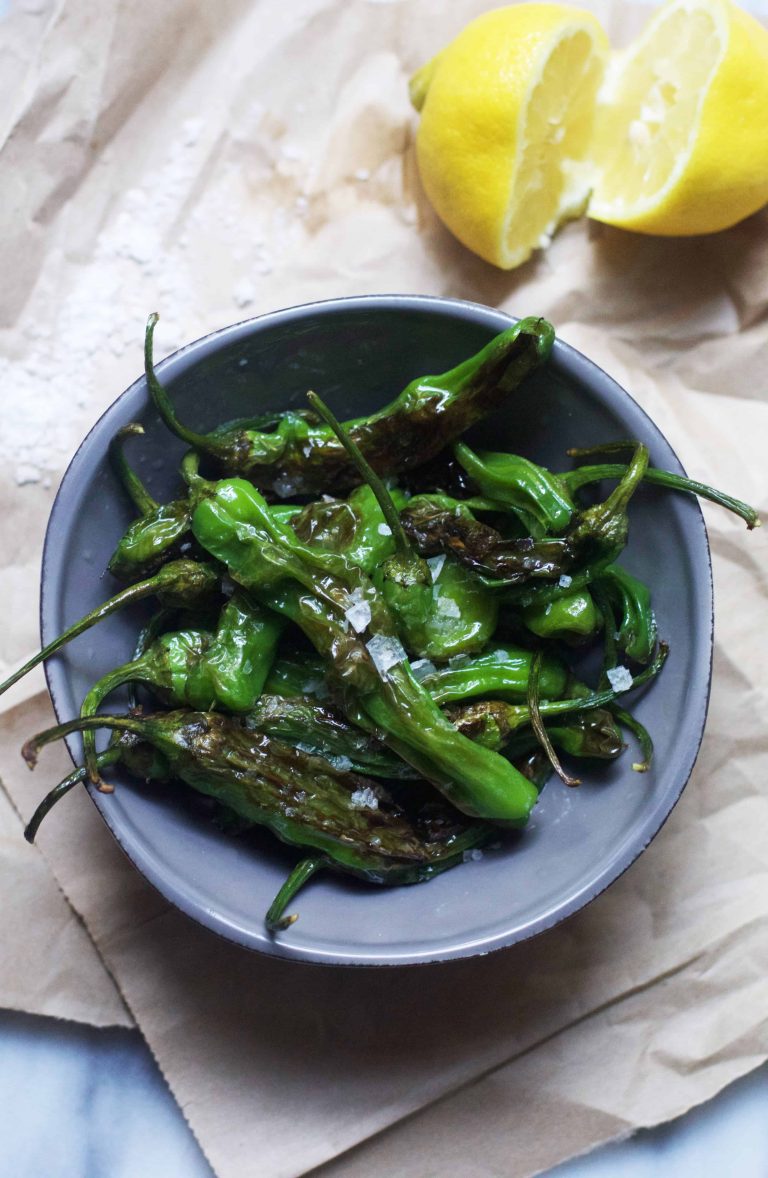 Back when Andy & I had a life, one of our favorite things to do on a warm evening was mosey to Manhattan's East Village and visit one of our favorite places, Mermaid Inn. It's a charming little spot that specializes in seafood, and before 7:30 they have this fabulous happy hour with $1 oysters and half price cocktails. We'd order a few oysters, and a couple other appetizers sitting in their quaint back garden enjoying the warm night. It was here that I first was introduced to shishito peppers, and I have been obsessed ever since.
The way I made them here is pretty much exactly how I remember them from Mermaid Inn. Blistered on the outside , a teeny bit crisp and tender, and topped with lots of lemon juice and flakey sea salt. I can't believe it's taken me this long to make these, I always assumed they would be tricky with all sorts of fancy cooking techniques required. They are SO easy it's comical. I will be making these on the regular now, they are just so inexplicably delicious. Shishitos are usually pretty mild peppers, once in awhile a spicy one does pop up but that's kinda part of the fun I think. I found these at Trader Joes but I expect you can find them several places this time of year. Someday soon we'll take a Mermaid Inn date night, but I'm glad I found an alternative in the mean time.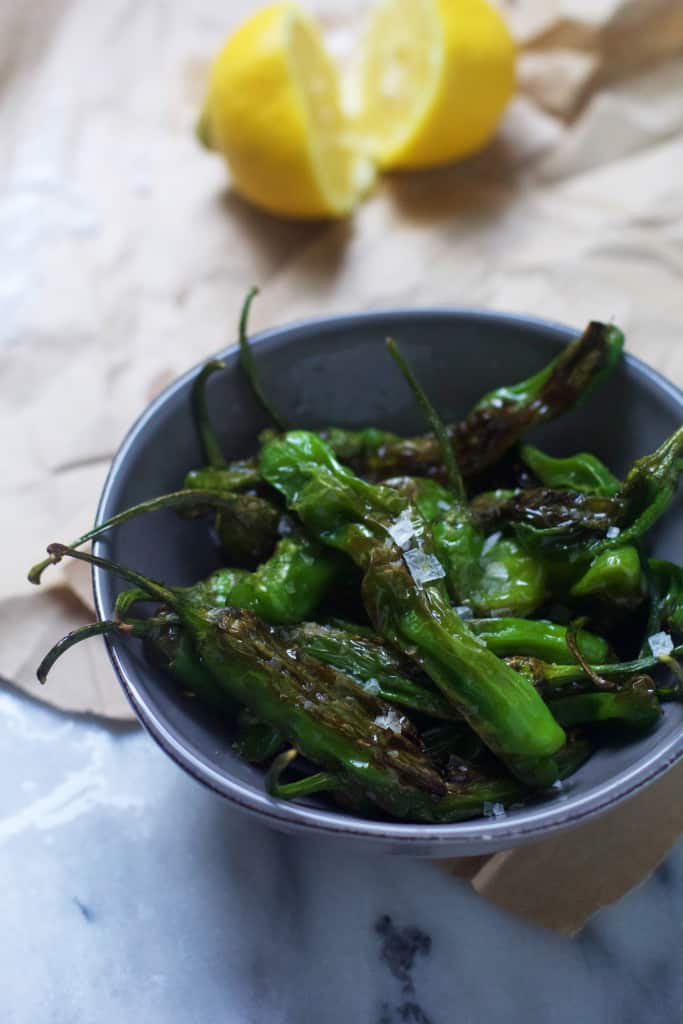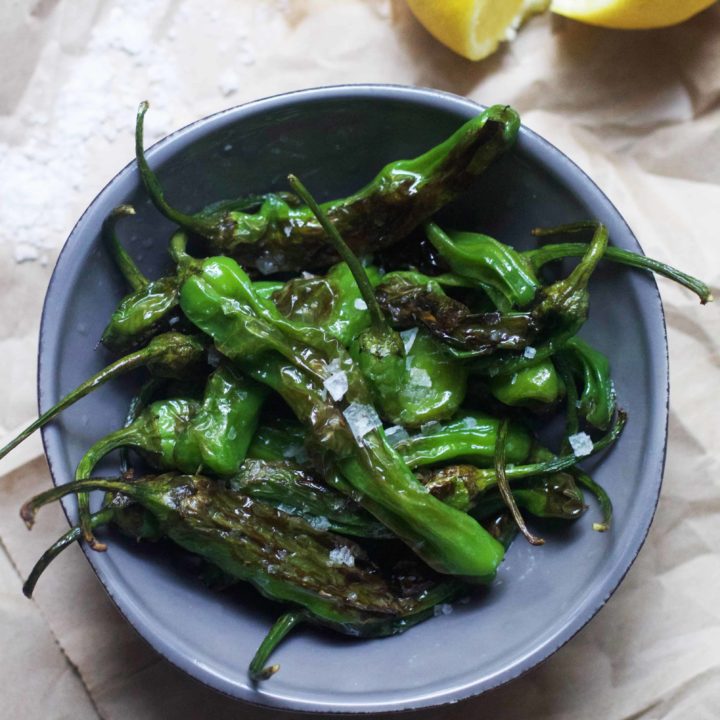 Blistered Shishito Peppers with Lemon and Sea Salt
Ingredients
2 tablespoons Olive Oil
1 lb. Shishito Peppers
Flakey Sea Salt and Lemon wedges for topping
Instructions
Heat 1 tablespoon oil in a large skillet over high heat until just smoking.
Add half of the peppers; (you may want to use a splash guard if you have one.) Cook, tossing occasionally, until skins are blistered, about 4 minutes.
Use a slotted spoon to transfer peppers to a bowl, tapping out the excess oil. Sprinkle with salt, and lemon, and toss to coat. (Repeat with remaining peppers.)
Nutrition Information:
Serving Size:

1 grams
Amount Per Serving:
Unsaturated Fat:

0g