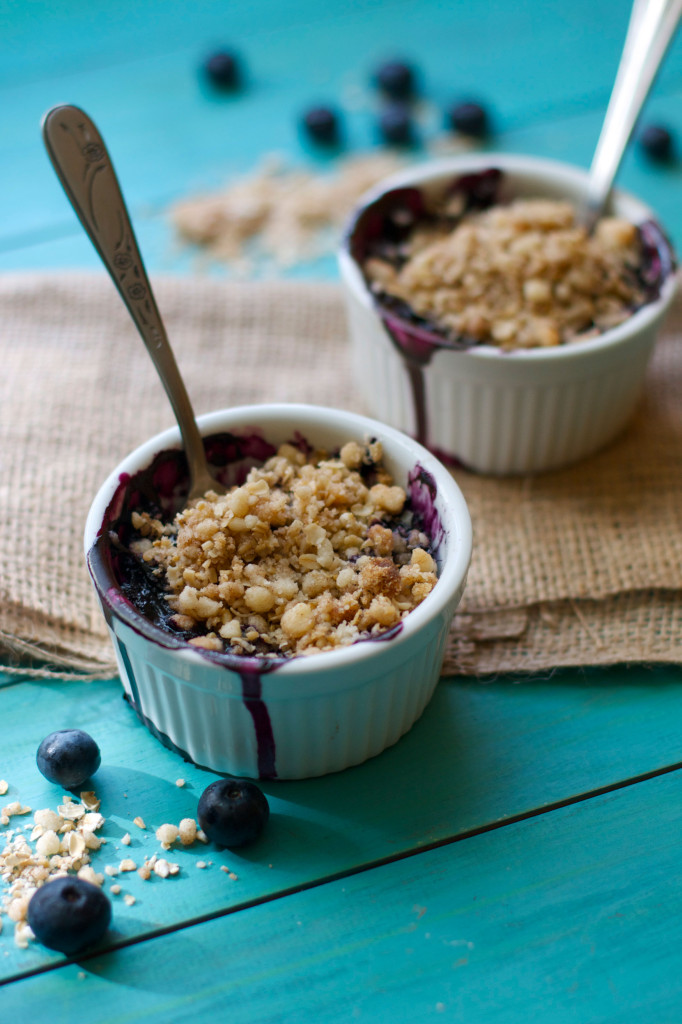 I've noticed a bit of a trend you guys. Every dessert recipe I've posted since early June has been either fruit-based, or an ice cream. What can I say? When it comes to summer. I have much less interest in rich, chocolate-heavy desserts and am all about seasonal fruits and refreshing ice cream. Truly they have been an unstoppable craving lately and I can't get enough. Cobblers, crisps, pies and fruity cakes are my current obsession and I (and the baby) are in love with them. Problem is- I can't handle trying to give large portions of leftover treats away so I don't eat them all. That is why I decided I needed to whip up a little crisp for two using all my extra fresh berries.
What I love about this recipe is that you can use whatever fruit or berries you have on hand and end up with a delicious dessert for you and a friend in under an hour. I always forget how amazing blueberries get when you bake them until the timer rings and those blue skins transform into a deep purple, jammy miracle.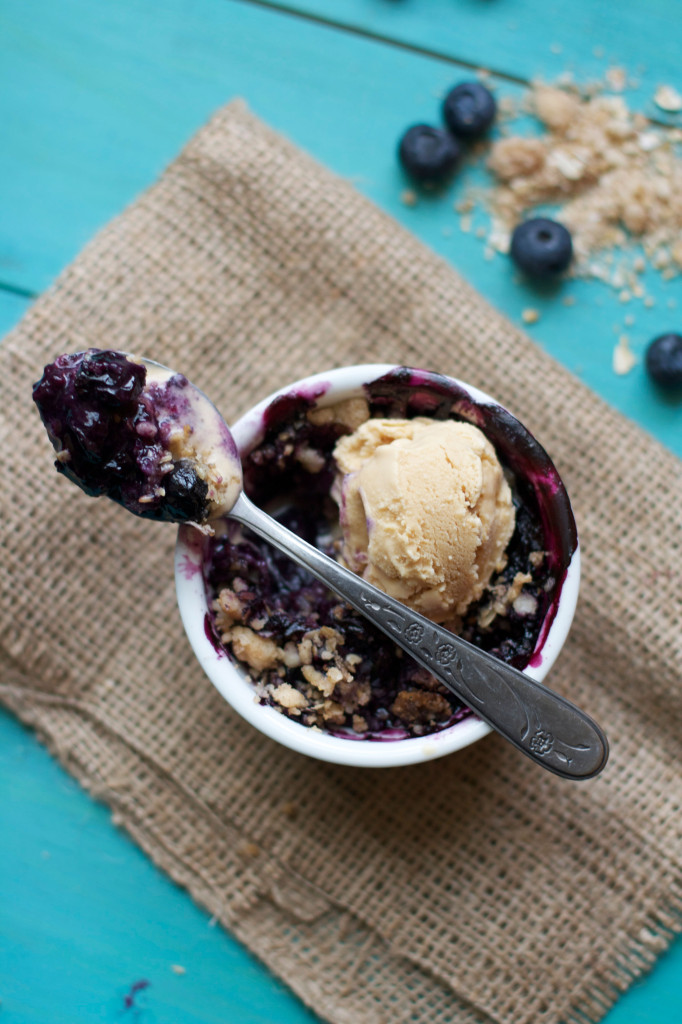 Oh- and in case you're wondering- yes- Salty Caramel Ice Cream goes really well with this crisp, (though I'm convinced it really goes well with everything!)
Also- yesterday, I got an "Awwww" from a cashier at the Gap as well as two subway seat offers. Either I ate too much crisp or I'm starting to look pregnant over here! I promise another belly picture soon! :)
Blueberry Crisp for Two
Yield:
2 individual crisps.
Ingredients
1 1/4 cup fresh blueberries
2 tsp cornstarch
1 tsp white sugar
For the topping
1/4 cup AP flour
1/4 cup rolled oats
1/4 cup brown sugar
1/4 teaspoon cinnamon
3 T cold butter
Instructions
Preheat oven to 350 F.
In a small bowl toss together the blueberries with the cornstarch and the sugar until well-coated. Fill into two small ramekins and set aside on a rimmed, foil-lined baking sheet.
In another small bowl combine the flour, oats, brown sugar, and cinnamon. Cut in the butter and use your hands to work it all together, working the butter into the dry ingredients until the mixture is crumbly.
Sprinkle the crumble mixture over the berries and bake for 25-30 minutes, or until the berries are bubbly and the topping is golden.
Nutrition Information:
Yield:

2
Serving Size:

1 grams
Amount Per Serving:
Unsaturated Fat:

0g