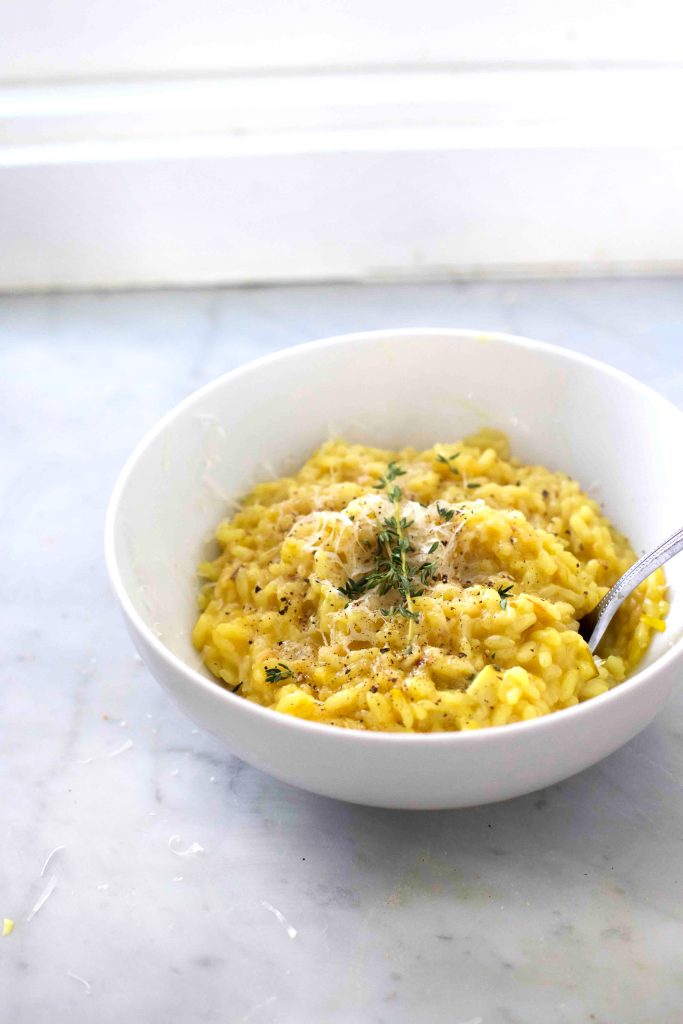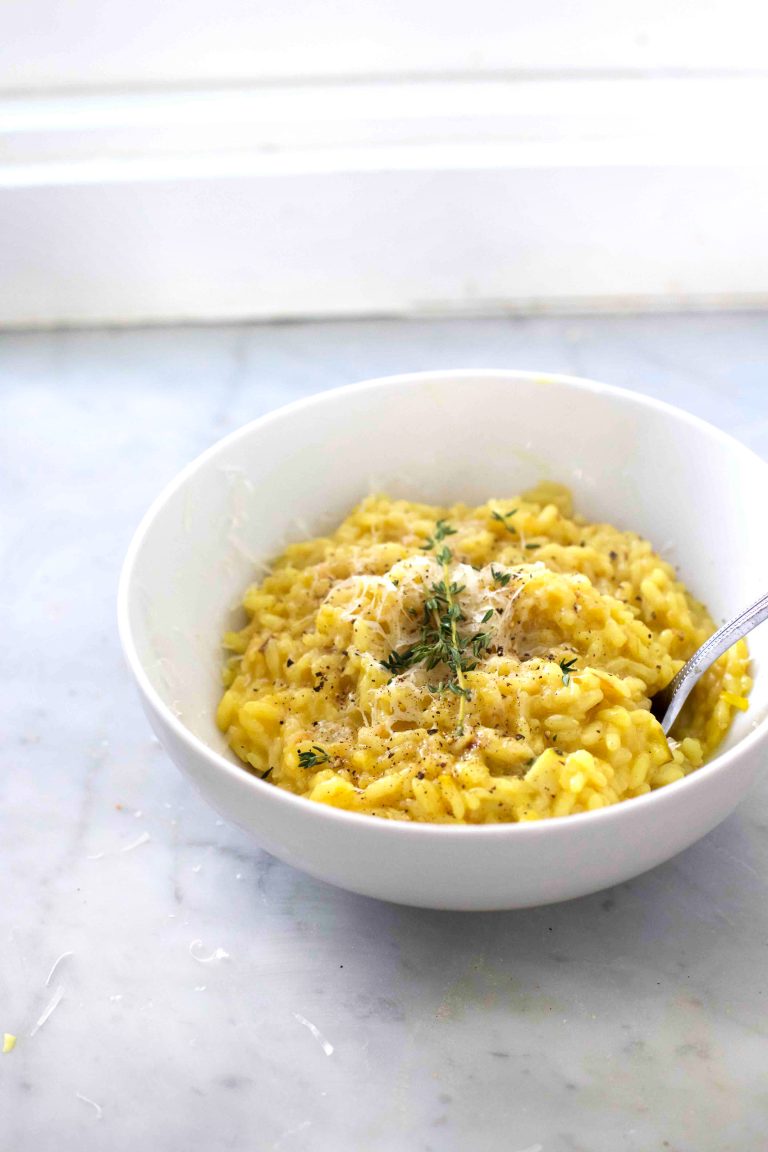 I started this post a few weeks ago and of course now spring is actually nearly here! Either way- it's a wonderful recipe you all need to have.
Does it feel like the 1000th day of winter to anyone else? Here in Chicago, this particular season feels eternal, and I for one am over it.
Now don't get me wrong, I don't hate winter actually….I love the excuse to stay home and bake, cook cozy soups, and knit- but after 3 months of slushy, icy, freezing cold, I just would love a few days in the say….50s? I'd be happy with that I swear.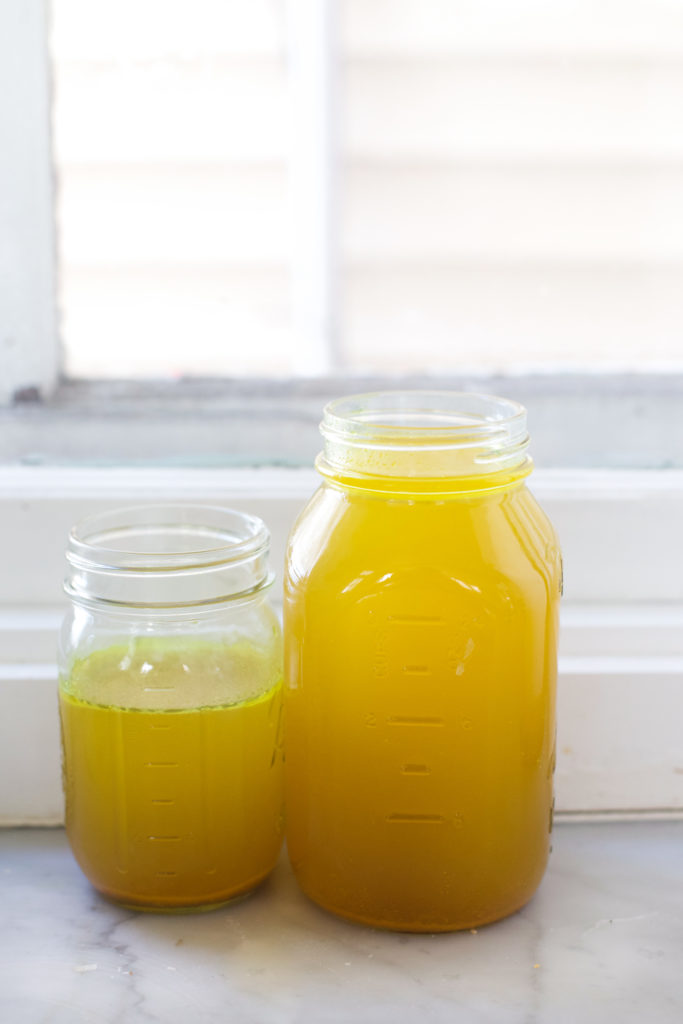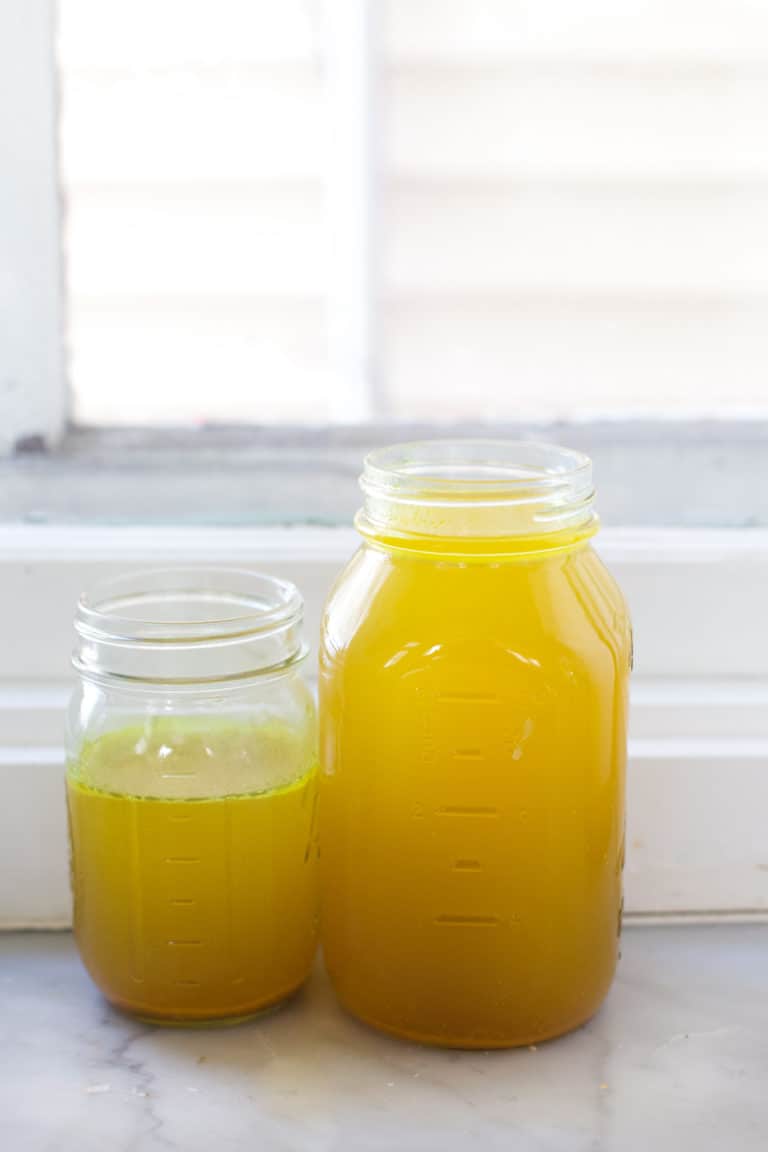 In the meantime, I'm making all the bread and baking all the goodies, and cooking up cozy meals for my little ones. Starting with this delicious and wholesome Bone Broth Risotto!
If you haven't made bone broth before, and have an instant pot, it happens to be one of the easiest things ever with really wonderful results.
Now, I buy store bought broth most of the time, especially for recipes where the flavor of the broth gets buried behind the other ingredients, but when my family has a bout of sickness, or when I'm making something where the broth flavor will really shine, then it's gonna be homemade.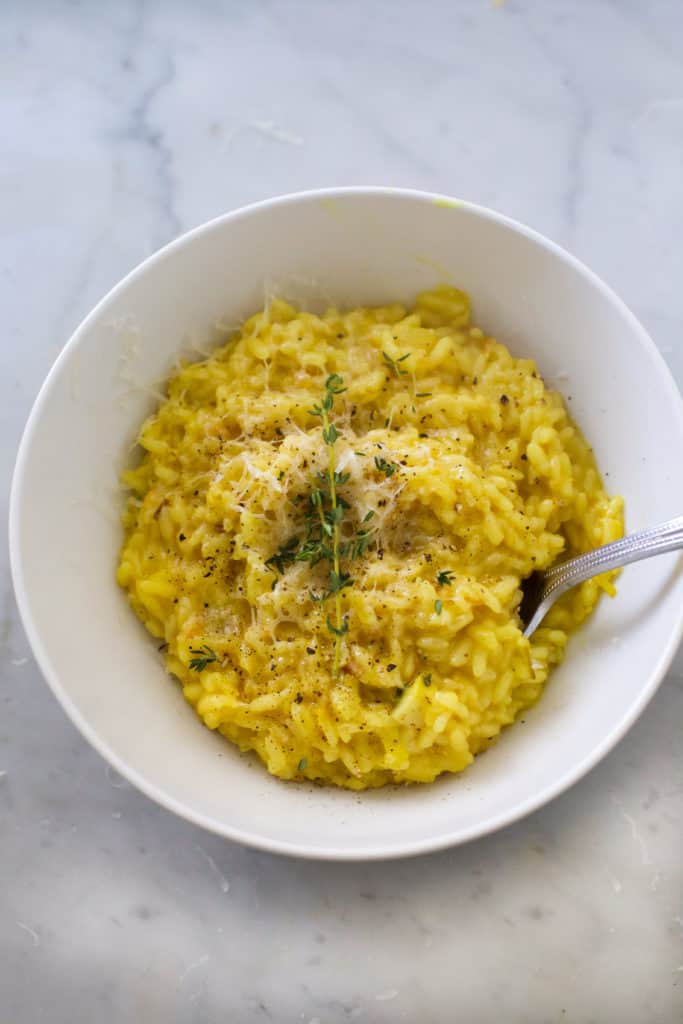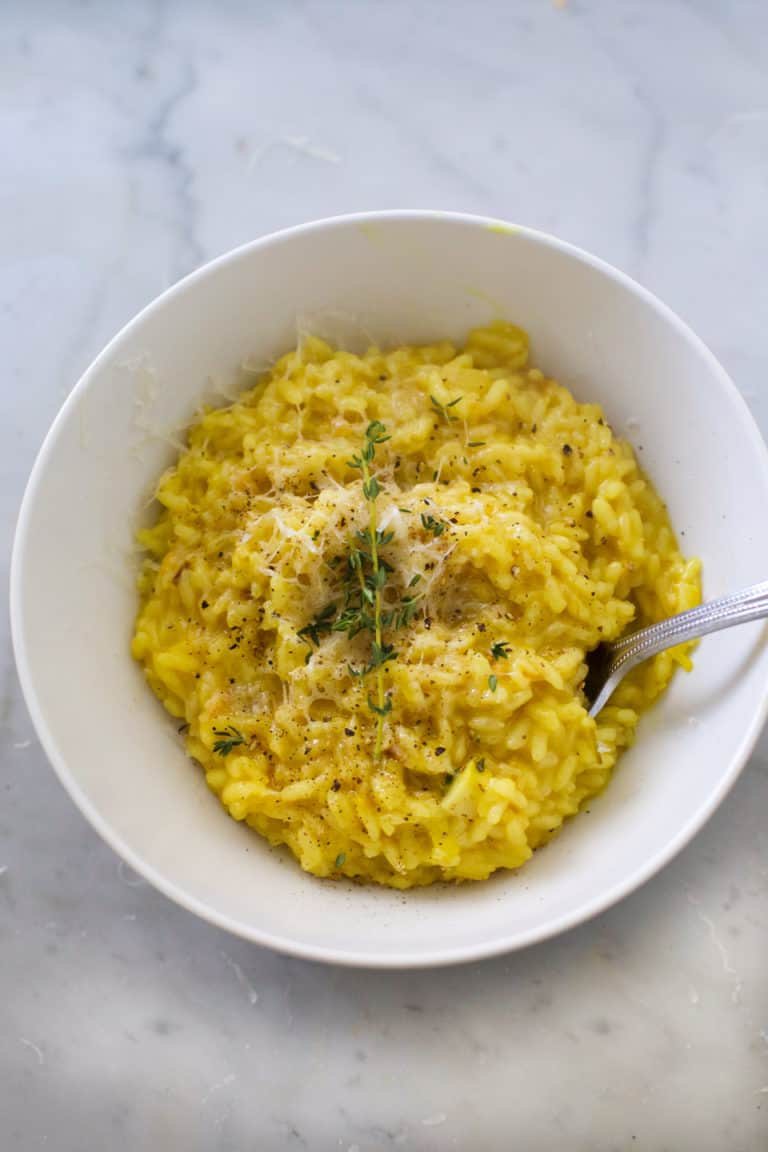 I learned this process from Smitten Kitchen, (she posted it on her Instagram awhile ago,) and I love it.
Instead of using a whole chicken she just uses chicken wings, which provide lots of nutrients from the bones but not a lot of meat- so all the flavor ends up in the broth and then you can toss all the solids after.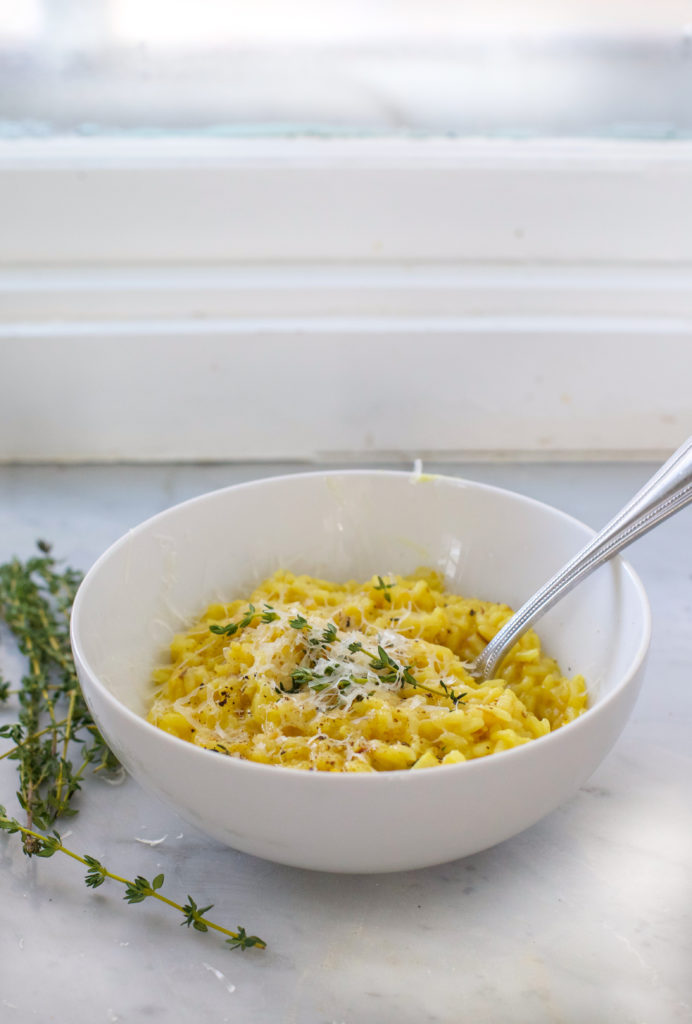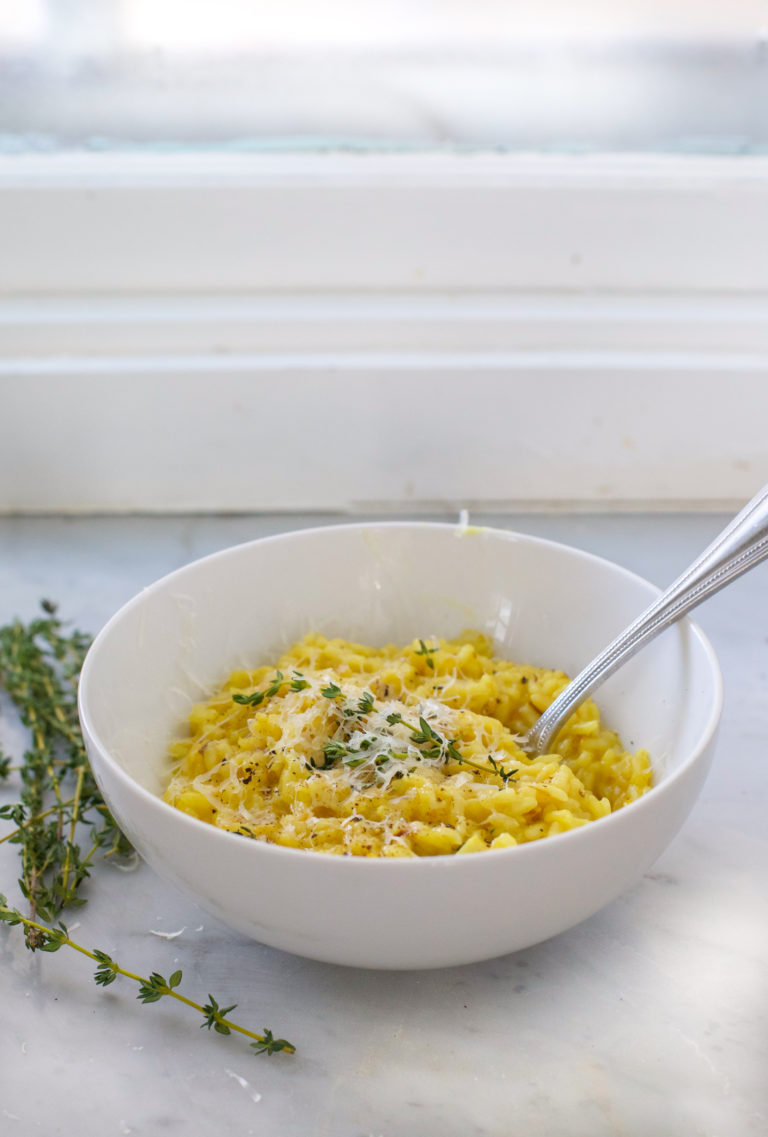 I wanted this to be nutritious and healing, so into my Instant Pot went: 1 lb. of chicken wings, onion, garlic, ginger, lots of turmeric, carrots and celery. I cooked it in the IP for 60 minutes, strained out the solids, and was ready to make my risotto.
I kept the rest of the recipe simple, wanting the broth flavor to shine, and really absorb into the rice for maximum nutrition. A little fresh thyme and parmesan were it and let me tell you it didn't need anything else. This was truly delicious!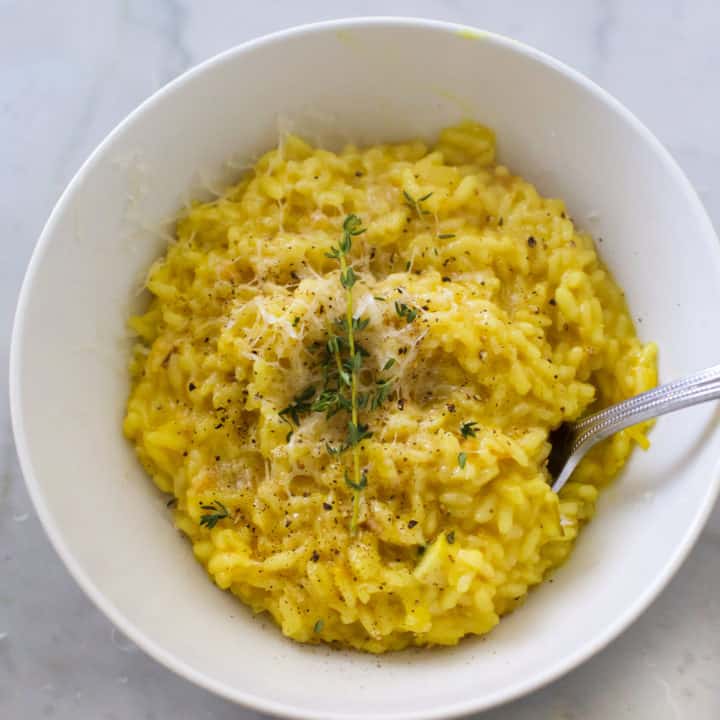 Bone Broth Risotto
Ingredients
For the stock:
1 lb. chicken wings
1 onion- roughly cut into quarters
1 quarter-sized piece of ginger, peeled
3 cloves of garlic, peeled
2 carrots- cut into a few pieces
1 tablespoon ground turmeric
10 cups of water
2 teaspoons kosher salt
For the risotto:
3 tablespoons butter
2 cups aroborio or carnaroli rice
1 shallot or 1/2 a medium sized onion
1/2 cup dry white wine (optional)
6 cups of broth
1 cup grated parmesan cheese
a few springs of fresh thyme
Instructions
Add all stock ingredients to your instant pot (or regular stock pot.)
If using IP- set it to high pressure and cook manually for 60 minutes. Let pressure release slowly and then open and strain out the solids.
If cooking on the stovetop, simmer on low for 5-6 hours, then strain out solids and set broth aside.
In a large skillet or saucepan over medium-high heat, brown the shallot or onion in some butter until soft and starting to become golden.
Add the rice and toast for 3-5 minutes, or until just slightly browned.
Add the wine if using, and stir- letting it evaporate fully.
Then begin with the broth. I like to use a 1-cup ladle and do one scoop at a time, stirring until fully absorbed. Keep repeating this process- add one scoop of broth, stir until absorbed, and repeat. You will know the risotto is done when the rice is fully cooked and has a nice, creamy texture.
Add salt and pepper to taste, the thyme leaves (I used 3 sprigs,) and the grated cheese.
Notes
You'll have extra broth, so just save it in jars in the fridge. It will be good up to 2 weeks if chilled.
Feel free to adapt this by adding sautéed mushrooms, garlic, or other veggies.