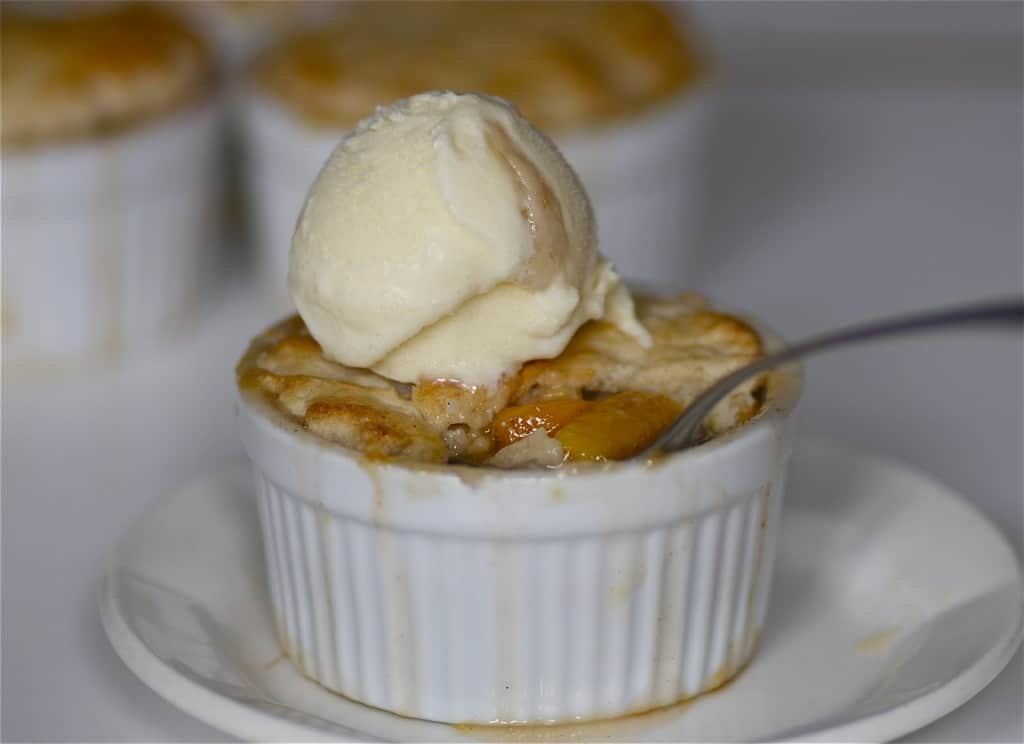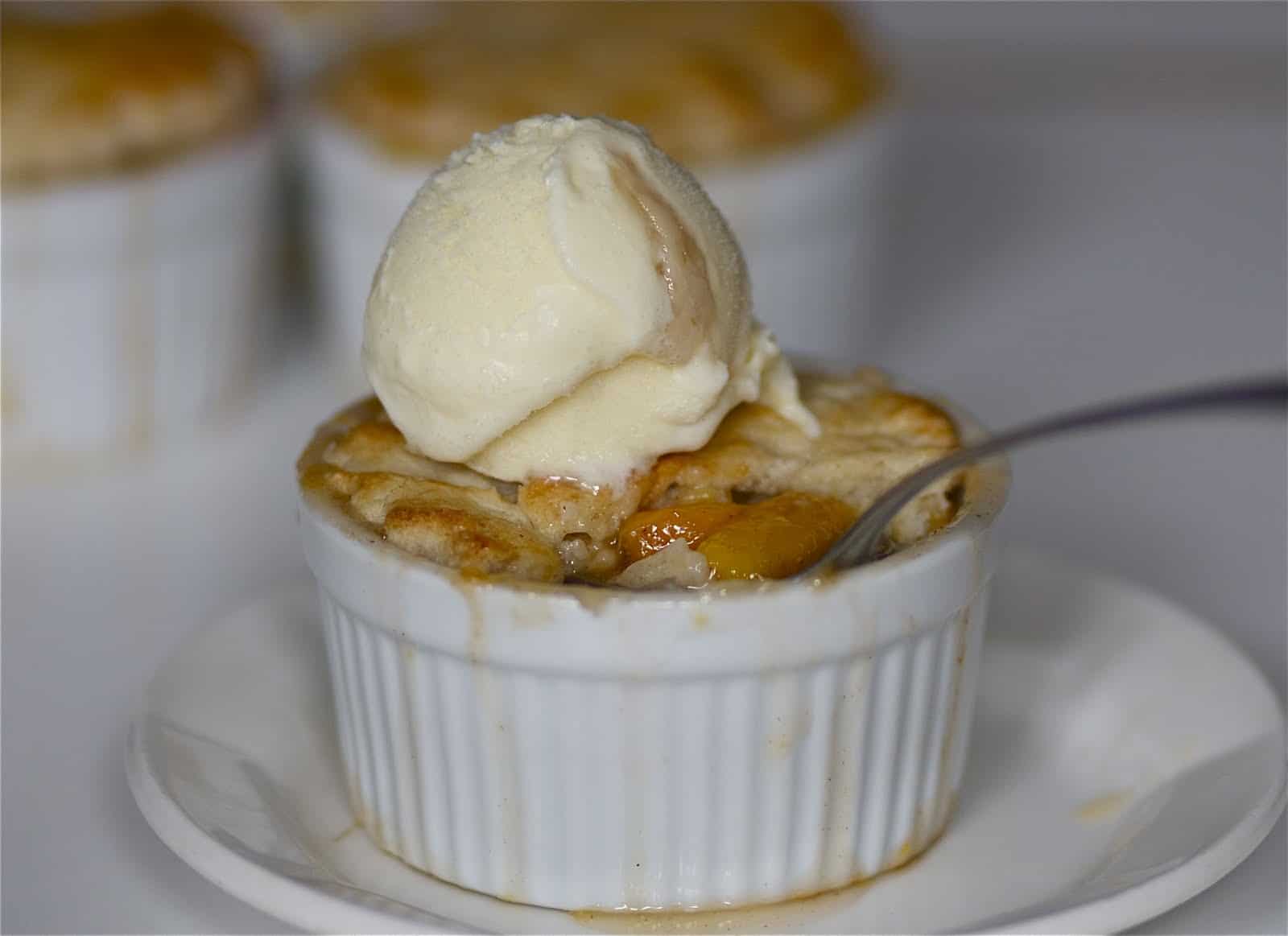 As I mentioned in my Homemade Oreos post, I went to South Carolina to meet my boyfriend's family a few weeks ago. As always when I'm visiting anyone, I find myself most comfortable playing with the kids or helping in the kitchen, (I always try to be useful when I'm somewhere new ya know?) Anyway- on my first full day there Andy's Mom bought 2 huge bags of amazingly juicy ripe peaches and said, "Why don't you take care of dessert?" My fellow food bloggers must know how excited this made me!
We quickly agreed on making Peach Cobbler and once a good recipe was found I quickly whipped this up. I also found a very thorough helper (Andy's cutie niece Ella,) which was even better. The cobbler turned out beautifully and everyone loved it. I knew right away I was going to have to remake this one back in New York.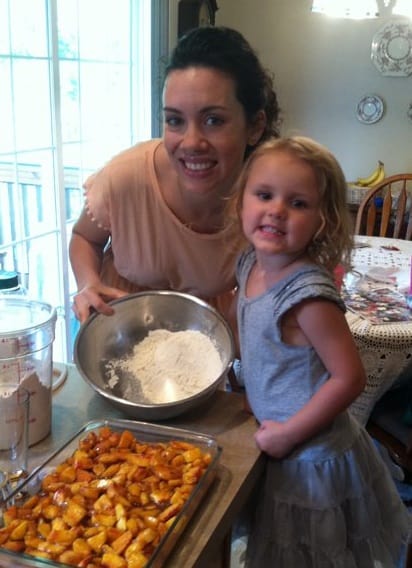 I had planned on making the full size portion initially, but the saddest thing happened with I started peeling my peaches. Even though they all felt soft and ripe, only 4 were good and rest were mealy. Yuck. Nothing worse than a mealy peach right? So I decided to make a much smaller portion and use individual ramekins. I am giving the full size recipe, but if you want to make 6 individual pies just cut the whole recipe in half. (I had to do some advanced bakers math to divide this recipe up to make 4 ramekins!)
I really love this cobbler and plan on making it my new summer peach go-to dessert. The brown sugar makes this amazing syrup that soaks into the peaches and gives them a melt-in-your-mouth quality. The addition of bourbon was my own twist (not like peaches and bourbon are a new combo,) and I think it added the perfect amount of zing. The biscuit topping is crumbly and the exact consistency it should be. I hope you like this as much as we all did!!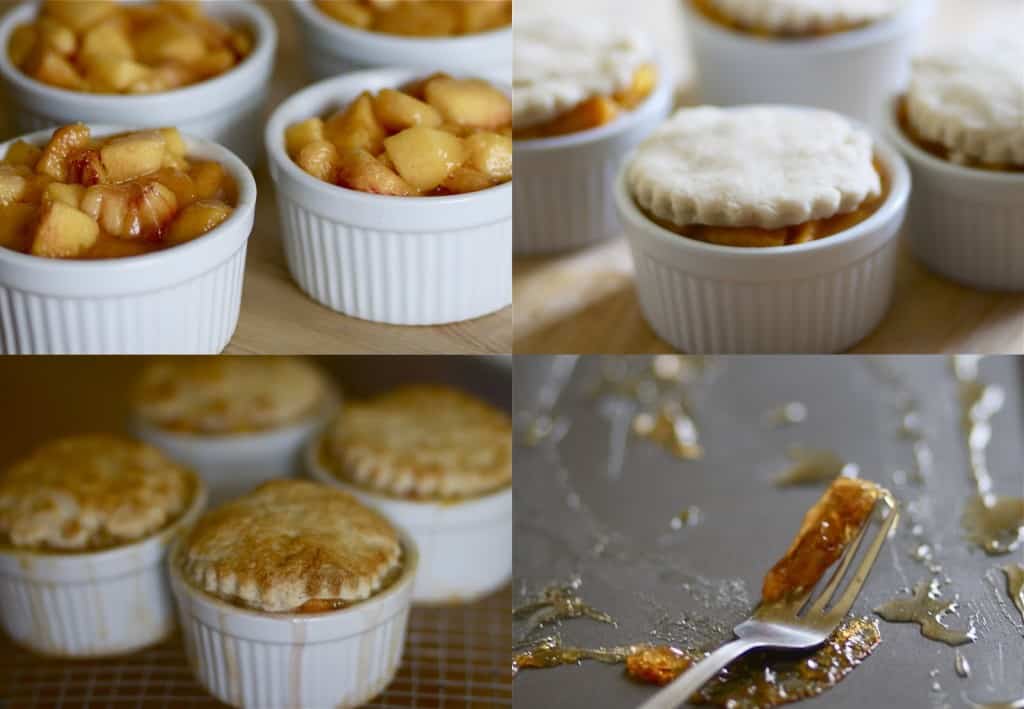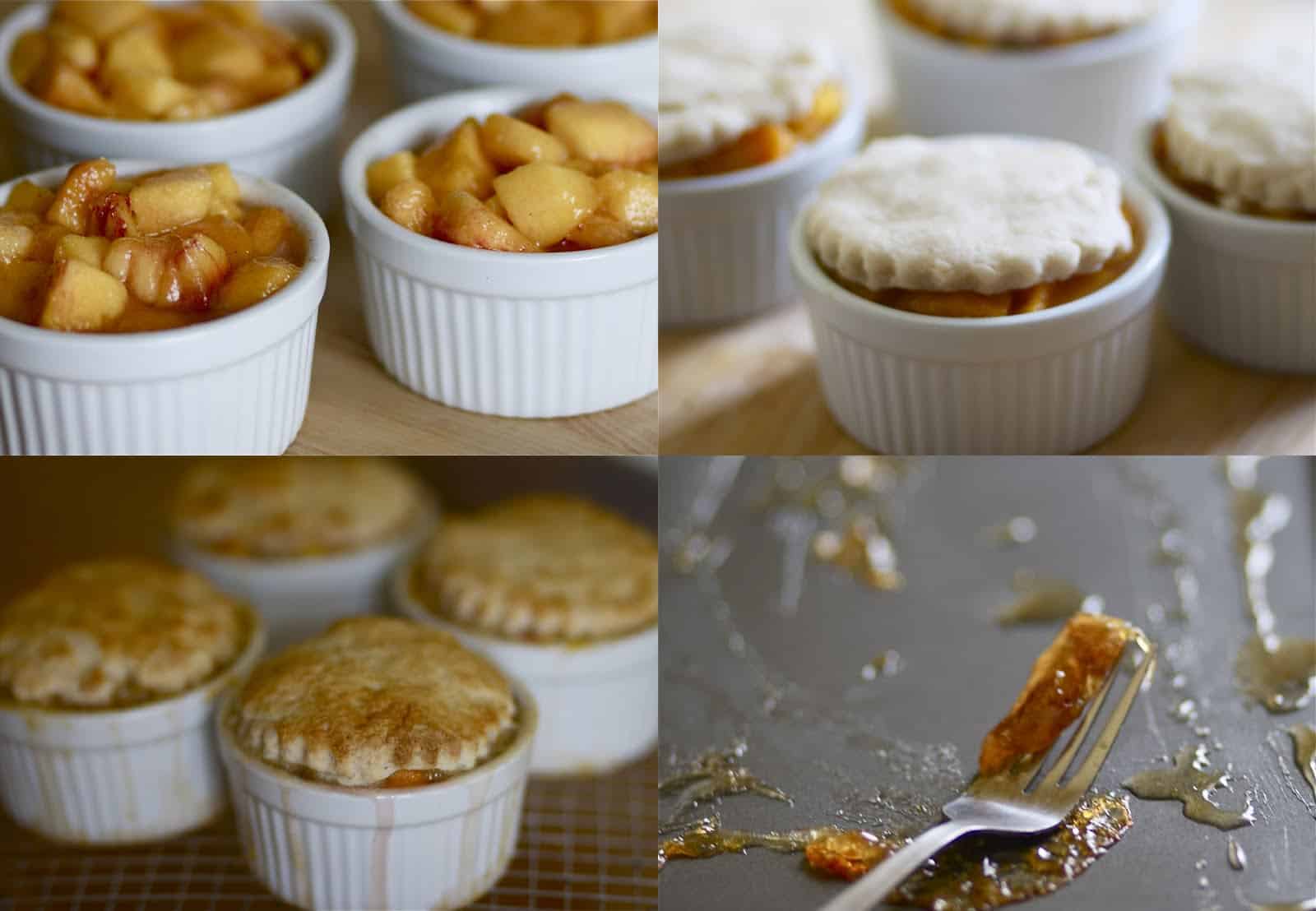 Ingredients
Filling:
10 ripe peaches
3 tablespoons bourbon or whiskey
1 teaspoon nutmeg
1 teaspoon cinnamon
2 cups brown sugar
1/2 cup granulated sugar
3 tablespoons corn starch
Biscuit Dough:
2 cups flour
1/4 cup granulated sugar, plus 1 1/2 tablespoons for the top
1/2 teaspoon salt
2 teaspoons baking powder
1 stick butter, cubed and chilled
3/4 cup buttermilk
1 egg white, for washing
Instructions
Preheat the oven to 375 degrees F.
In a large bowl, combine the peaches, bourbon, nutmeg, cinnamon, brown sugar, granulated sugar and corn starch. Mix together. Pour mixture into a 13-inch-by-9-inch casserole dish (or ramekins)
Combine the flour, sugar, salt, and baking powder in a large bowl and mix. Cut in the butter with a fork, pastry blender or 2 knives until the dough resembles sand. Slowly add the buttermilk until the dough comes together. (You may not need all of the buttermilk)
Place the dough on a floured surface and knead it into a 13-inch-by-9-inch rectangle about 1/2-inch thick and place over the peach filling. (If using ramekins, cut rounds out of dough using a 4 inch biscuit cutter.) Use egg white as a wash, brushing on top of dough. Sprinkle the 11/2-tablespoons of sugar on top. Cook the cobbler until the top is golden brown, about 40 minutes. (If using ramekins, place them on a cookie sheet before putting into the oven. These will take much less time to bake. Start at 20 mins and keep checking until tops are golden brown.)
Nutrition Information:
Serving Size:

1 grams
Amount Per Serving:
Unsaturated Fat:

0g
Adapted from a Food Network recipe