Braided Broccoli-Pesto Bread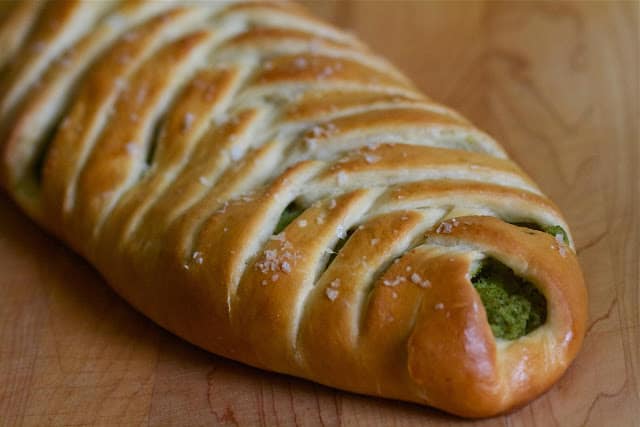 Ok you guys- it's official- I am obsessed with baking with yeast! What started out as an irrational parnoia has turned into my new favorite hobby. Is it the satisfaction of watching the dough rise that I love so much? Maybe thhe soft pillowy breads that come out of the oven? Is it taking all my stresses out as I knead the dough on my table? Who knows- but- I really can't get enough.
I'd been eying this particular recipe on Pintrest for awhile, and had been waiting for the perfect chance to make it. Well the chance came a few weeks ago when my dear friend Laura and I made plans to bake together. She'd given up sweets for a few weeks (how?) so I thought it would be nice to make something she could actually enjoy. (Plus- the morning of our baking date she found out some truly amazing news- and it seemed like celebrating with a piece of broccoli pesto bread was better than nothing!)
The original recipe used store-bought french bread dough, but I wanted to try something from scratch. I thought pizza dough would be perfect for this, almost like a calzone, so I went with that. I found this recipe so easy to work with and man oh man did it rise! So much so I had to keep punching it down while I waited for Laura to arrive!
Numerous types of filling would be excellent here, but I thought broccoli pesto sounded so interesting I just had to try it. The options are endless and I can't wait to try it again with something new. (Brie and pears maybe?) I also am excited to try to make my first homemade pizza and actually use this as crust!
Are you intimidated by the pretty braid on top? Don't worry- it's easy as can be and I included step by step pictures below!!
Braided Broccoli-Pesto Bread
Ingredients
1 .25 ounce package active dry yeast
1 cup warm water, 110 degrees F/45 degrees C
2 1/2 cups bread flour
2 tablespoons olive oil
1 teaspoon salt
2 teaspoons white sugar
Broccoli Pesto
1 head of Broccoli chopped into florets, about 2 cups
2 garlic cloves- peeled
1/2 cup grated parmesan cheese
1/2 cup blanched toasted almond
1/4 cup extra virgin olive oil
salt and pepper to taste.
Instructions
In a small bowl, dissolve yeast in warm water. Let stand until creamy, about 10 minutes.
In a large bowl, combine 2 cups bread flour, olive oil, salt, white sugar and the yeast mixture; stir well to combine.
Knead well until a stiff dough has formed. If dough is too sticky- gradually add the extra half
cup of flour. Cover and rise until doubled in volume, about 30 minutes.
Meanwhile, preheat oven to 350 degrees F (175 degrees C).
When the dough as proofed, turn it out onto a well floured surface, form dough into an oval shape and roll out.
Add the pesto ingredients to your food processor fitted with a steel blade and process until smooth.
Spread the pesto into the middle of the dough and cut inch-thick strips onto either side.
To "braid" the bread- overlap one over the other- stretching each piece to seal the the beneath it.
Once the loaf is braided- brush with beaten egg and sprinkle with sea salt.
Slide a the loaf onto a cookie sheet or pizza stone, and bake for 20-25 minutes, or until crust is golden brown and crisp. Cut into slices and serve warm dipped into your favorite sauce.
Nutrition Information:
Serving Size:

1 grams
Amount Per Serving:
Unsaturated Fat:

0g
Crust adapted from: All Recipes
Filling and concept adapted from: Bev Cooks