Braided Lemon Cheesecake Bread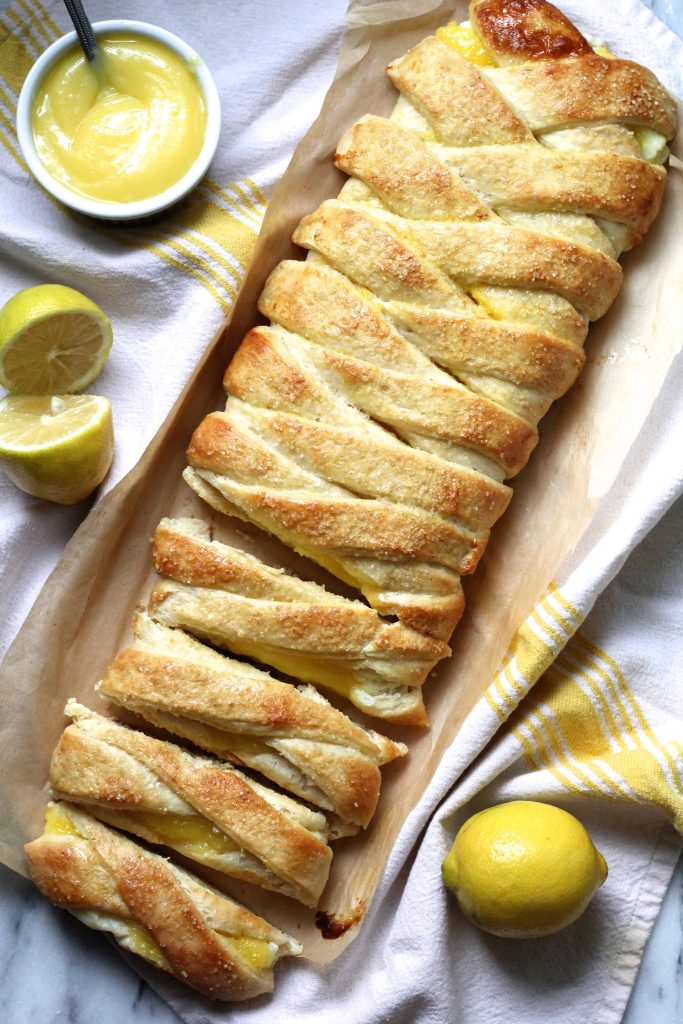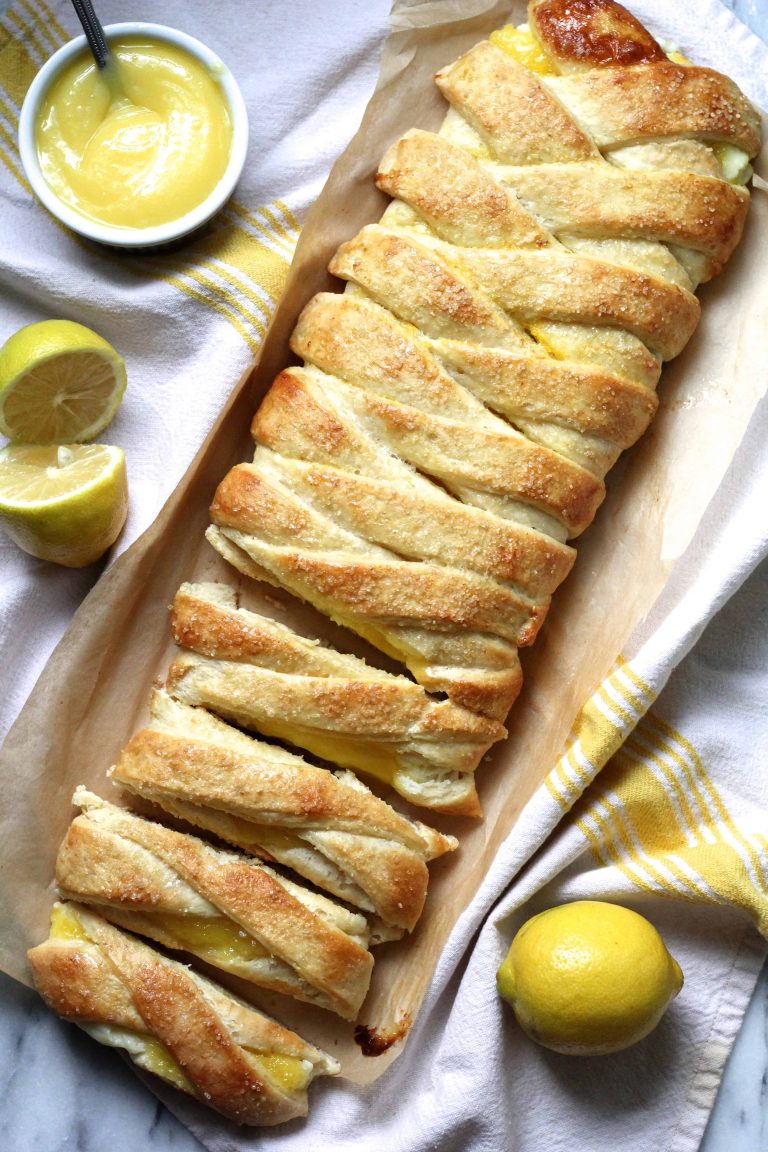 Do you ever see a picture of something and know right away that you just have to make it? That's what happened to me a couple weeks ago. I saw a picture of this gorgeous lemony, braided beauty on the Salty Sweet Life's instagram, and it immediately became first on my "to bake" list! Any excuse to make something fancy with dough always gets me giddy, and for some reason what I want in January are the most citrusy desserts possible- this being just perfect.
This fabulous treat starts with a soft sweet dough layered with a sweet and tart cheesecake layer and a generous amount of lemon curd. A crunchy sprinkle of coarse sugar on top adds a lovely touch to what was already one of my most favorite treats to enjoy alongside my morning coffee.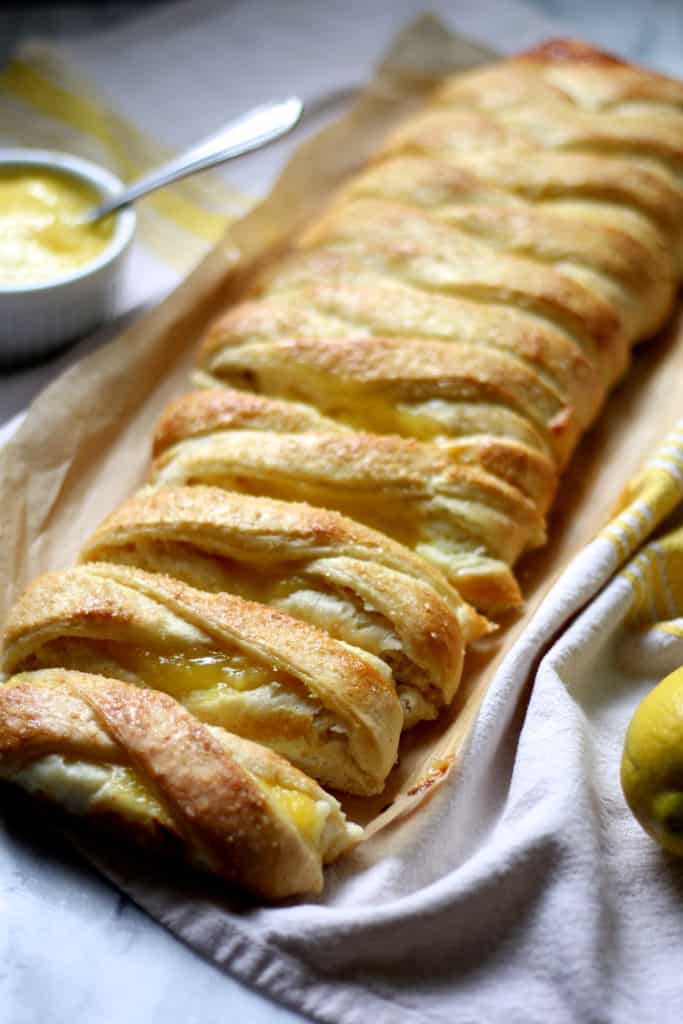 Though this looks super fancy and difficult- I promise it's not. I posted a collage step by step on my facebook page that shows how it all broke down. Assembling this was so fun and satisfying, and eating the melt-in-your mouth, tart and sweet pastry has left me needing to make a few of these and have them frozen at all times. I promise it's just that good!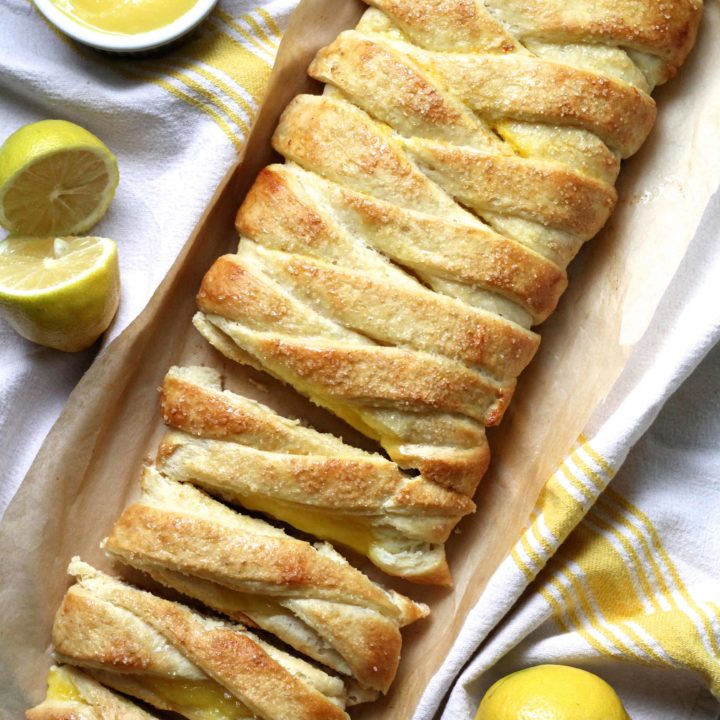 Braided Lemon Cheesecake Bread
Ingredients
Dough:
¾ cup milk
¼ cup butter
3¼ cups all-purpose flour
1 (.25 ounce) package instant yeast (or 2¼ teaspoons)
¼ cup white sugar
½ teaspoon salt
¼ cup water
1 egg
Cream Cheese Filling:
10 oz. cream cheese, softened
1/4 cup greek yogurt or sour cream
1/4 cup sugar
1/4 cup flour
2 teaspoons lemon juice
1 egg for brushing
raw sugar for sprinkling
Instructions
For the dough:
Heat the milk in a small saucepan until it bubbles, then remove from heat. Mix in butter; stir until melted. Let cool until lukewarm.
In a large mixing bowl, combine 2¼ cup flour, yeast, sugar and salt; whisk together. Add water, egg and the milk mixture; beat well with an electric mixer. Add the remaining flour, ½ cup at a time, using a wooden spoon to stir well after each addition. (dough will be too thick and sticky to use the mixers at this point.)
When the dough has just pulled together, turn it out onto a lightly floured surface and knead until smooth, about 5 minutes, or alternately use the dough hook in a stand mixer. When ready, the dough will spring back when lightly pressed.
Cover the dough with a damp cloth and let rest on the counter for 10 minutes.
To assemble:
Roll out the dough into a 10" x 15" rectangle, on top of a piece of parchment paper. Lightly press two lines down the dough lengthwise, to divide it into 3 equal sections.
Use a bench scraper or non sharp knife (so you don't cut the parchment,) to cut crosswise strips down the length of the outside sections- making sure you have the same amount of strips on each side.
Spread the cream cheese filling down the center section, and top with the lemon curd.
To form the mock braid, lift the top dough strip and gently bring it across the filling diagonally. Repeat on the other side with the top dough strip, so that the two strips crisscross each other. Continue down the entire braid, alternating strips to form the loaf. (About 2/3 of the way through I switched and started folding the layers down instead of up and it worked well to cover all the filling.)
Transfer to a cookie sheet and cover loosely with plastic wrap. Leave to proof in a warm place for 45 minutes or until puffy. Brush with egg and sprinkle with coarse sugar.
Preheat oven to 350F. Bake for 20 minutes or until golden. Serve warm, room temperature or cold.