Brown Butter Apple Custard Pie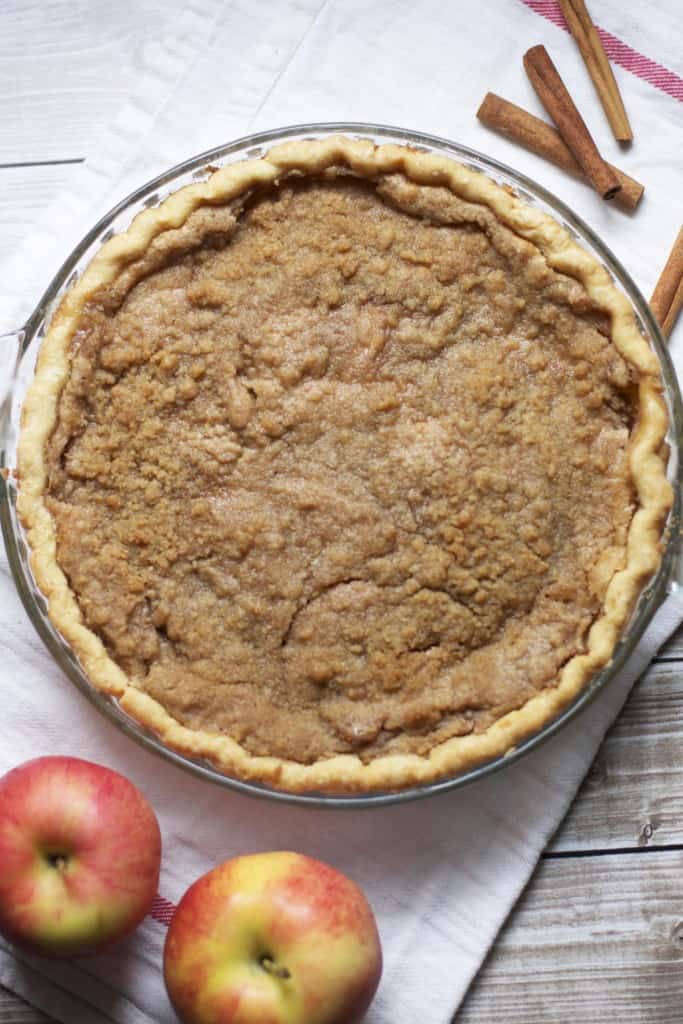 So I've been hinting at it for a few weeks but PIE WEEK is finally here! Whoopie! An entire week (well 3 days of it at least,) of delicious Pie Recipes from my fellow bloggers and me. My brain is in hard-core Thanksgiving dessert mode and so I hope you're excited as I am for the week of inspiration.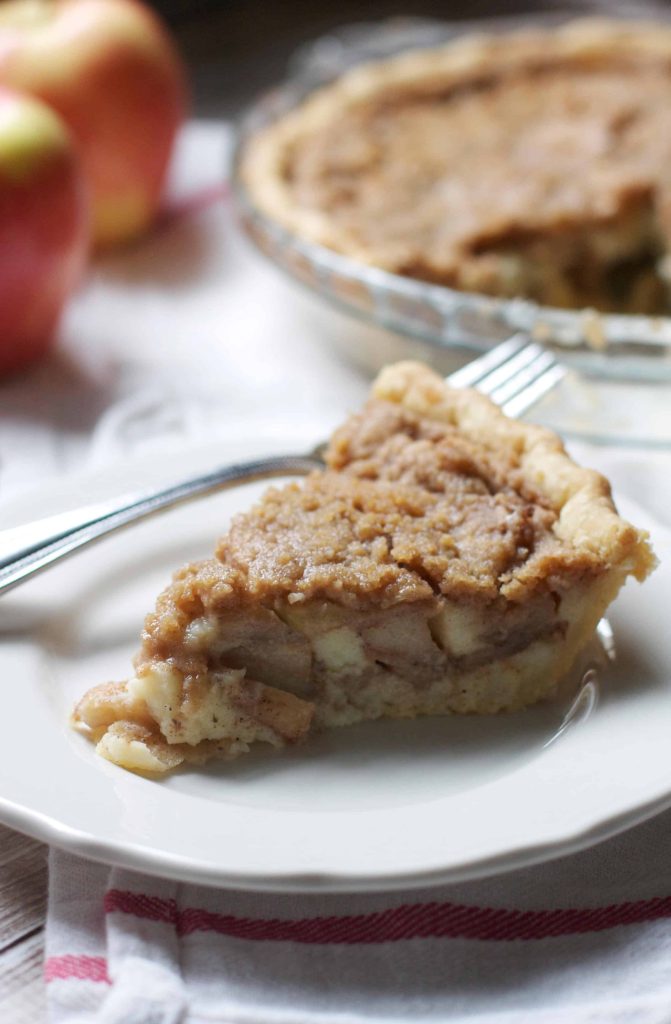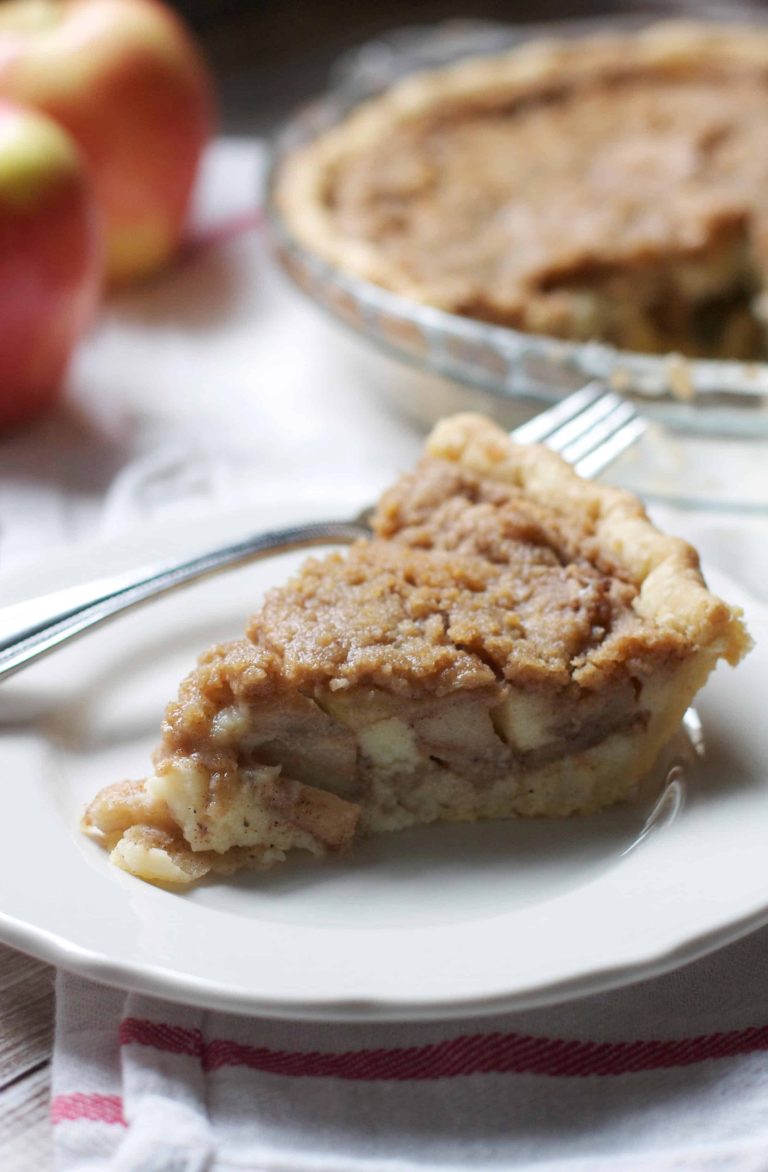 I'm starting us off with a take on everyone's favorite classic apple pie. This isn't your run of the mill apple pie though, It is full of so many special touches like toasty brown butter, creamy custard and a crisp and crumbly cinnamon topping. This pie is both tart and sweet and possibly my new favorite twist on the classic. I served it over the weekend to some friends we had visiting and everyone agreed the different flavors and textures created something truly special. Each bite is layered with creamy apple pie goodness that I couldn't get enough of.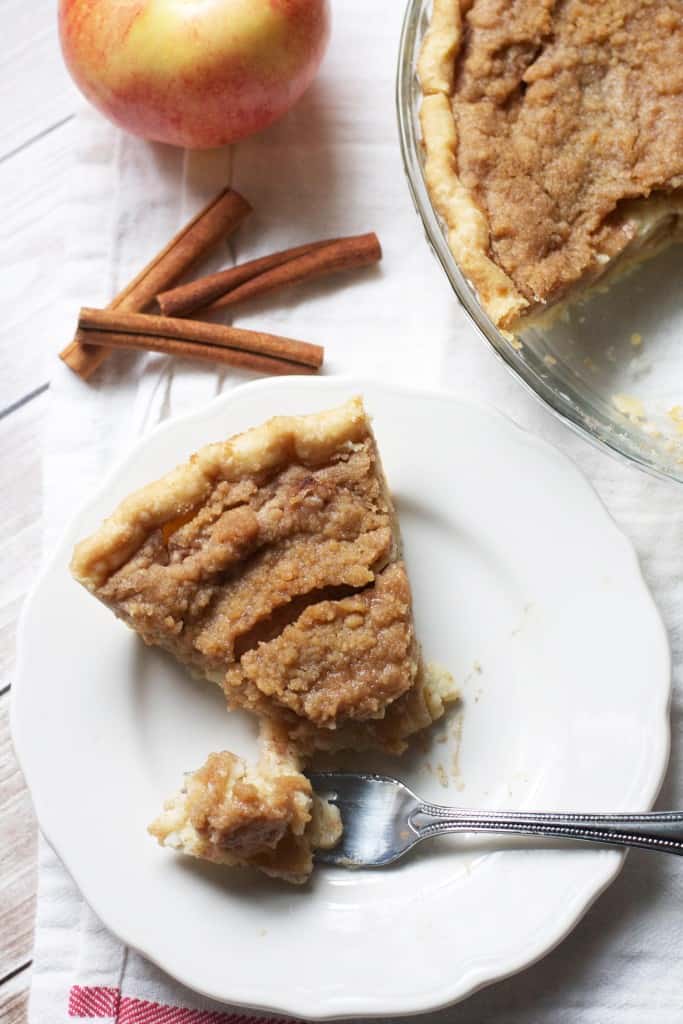 I've tried it several ways since making it, room temperature, warm and cold straight from the fridge. I have to say that nothing quite compares to enjoying it cold as the custard somehow tastes even better and the tart apples are even more refreshing. This also earns this pie major points in my book for being so easy to prepare in advance, cover well, and save for a day or two until ready to serve. Planning ahead is key for holiday prep wouldn't you say?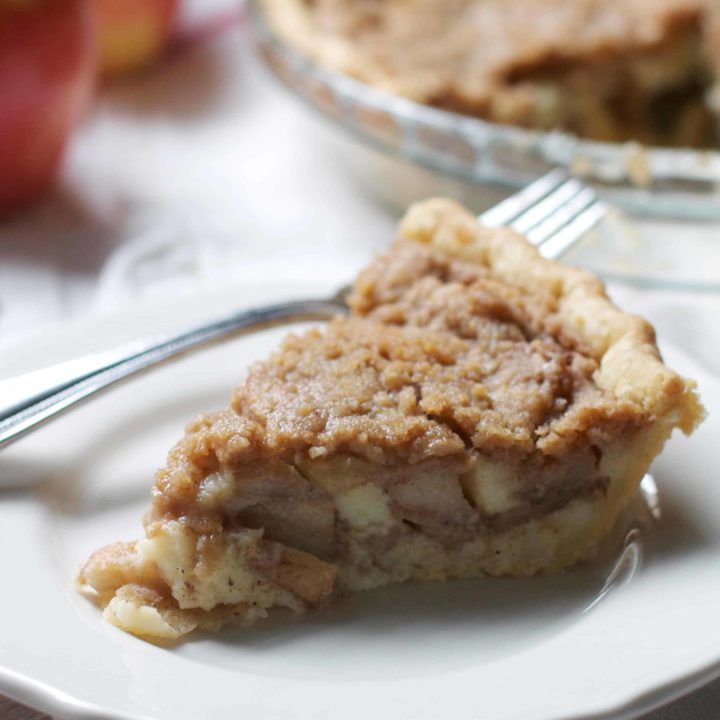 Brown Butter Apple Custard Pie
Ingredients
1 single 9 inch pie crust
For the apples:
4 medium-sized tart and firm apples, peeled and sliced (about 5 cups)
1/4 cup butter
1 teaspoon ground cinnamon
1/2 teaspoon ground nutmeg
1/4 teaspoon ground ginger
For the custard:
1 cup heavy cream
2/3 cup sugar
1 egg
4 tablespoons flour
1 teaspoon vanilla extract
1/4 teaspoon salt
For the topping:
1/2 cup all purpose flour
1/2 cup brown sugar
1 teaspoon cinnamon
3 tablespoons cold butter- cubed.
Instructions
Preheat oven to 375F.
For the apples:
In a medium-large sized saucepan, brown the butter over medium-high heat. (Once it is melted stir constantly until it is a toasty golden brown with dark specks.
Add the spices into the butter and then gently add the apple slices, tossing in the butter spice mixture.
Cook for about 5 minutes, or until apples have softened just slightly. Remove from heat and set aside.
For the custard:
Whisk all the heavy cream, egg and vanilla extract until smooth. Add the sugar, flour and salt. Whisk until creamy and lump-free. Set aside.
For the topping:
In a medium-sized bowl, combine the flour, brown sugar and cinnamon. Add the butter and use your hands to work it into the dry ingredients until it is crumbly with no pieces bigger than a pea.
To assemble:
Roll out the pie crust and fit it into a 9 inch pie pan, crimping the edges with your fingers, the back of a knife, or a fork.
Spread the apples evenly into the bottom of the crust. Pour the custard over the apples and sprinkle the crumb topping over the custard.
Bake for 40-45 minutes, or until the crust is golden and the crumb topping is crisp with the filling bubbling around the edges.
Let cool on a wire rack and enjoy warm or let cool completely and chill before serving.
Nutrition Information:
Yield:

1
Serving Size:

1 grams
Amount Per Serving:
Unsaturated Fat:

0g