Brown Butter Cupcakes with Apricot Frosting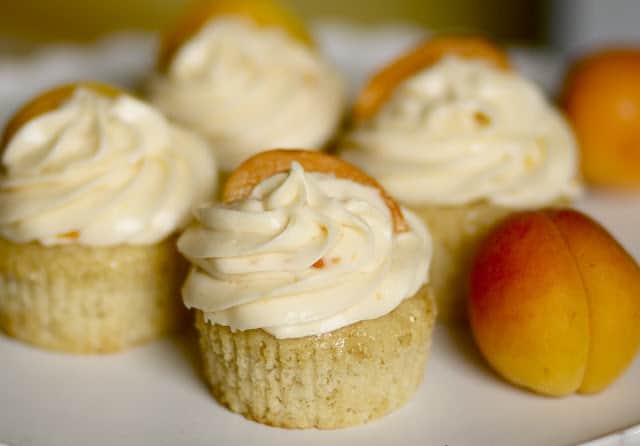 I know I know- I said I was going to try to bake things other than cupcakes for a change. I just can't stay away! I feel like while other desserts turn out great and are fun to make, nothing is quite the same as a cute little cupcake. Also, I find them to be so simple and easy to make which is always a plus when sometimes my time to bake is so limited.
I did try to change things up this time around with something a little unique. The organic market near my apartment was full of these cute little apricots and they seemed like the perfect fruit to brighten up the gloomy week Mother Nature has dropped on NYC. I also have been wanting to try baking with brown butter for awhile. I adore it in pasta sauces and in other savory dishes, but have never used it in something sweet. I love it in these cupcakes- they had a lovely nutty buttery flavor that was perfect with the sweet apricots.
Since the fruit I bought wasn't quite ripe enough to go into the frosting, I used some apricot preserves instead. If you are a little patient (or have riper fruit,) pureed apricots would work just as well. And even though they were a bit tart, the slice of fruit on the top was perfect to offset the sweet frosting. Enjoy!
Brown Butter Cupcakes with Apricot Frosting
Ingredients
1/3 cup butter, softened
1 1/3 cups all purpose flour
1 tsp baking powder
1/4 tsp salt
1 cup sugar
2 large eggs
1 tsp vanilla extract
3/4 cup milk, low fat is ok
Frosting:
1 8 oz package of cream cheese softened
1 stick butter softened
1/2 cup apricot preserves
1 tsp vanilla extract
3 1/2 cups powdered sugar
2 Apricots for garnish
Instructions
Preheat oven to 350F. Line a 12-cup muffin pan with paper liners.
Melt butter in a small saucepan and cook over low-medium heat until butter has turned an amber color and smells toasty, but not burnt. Butter will darken quickly once it begins to turn. Pour from saucepan, scraping all the browned bits from the bottom with a spatula, into a small bowl to cool.
In a large bowl, whisk together flour, baking powder, salt and sugar.
In a medium bowl, whisk together cooled butter, eggs, vanilla and milk. Pour into flour mixture and stir until just combined.
Distribute batter evenly into prepared muffin cups.
Bake for 16-19 minutes, until a toothpick inserted into the center of a cupcake comes out clean.
Cool completely on a wire rack before frosting.
For the Frosting:
Mix Cream Cheese and Butter in a medium sized bowl using an electric mixer until creamy.
Add vanilla extract and mix well.
Add half the apricot preserves until well mixed. Add half the powdered sugar and mix well, alternate between the preserves and the powdered sugar until the frosting is at a good spreading consistency.
Garnish with Apricot wedges.
Nutrition Information:
Serving Size: 1 grams
Amount Per Serving: Unsaturated Fat: 0g