Brown Butter Marshmallow Popcorn Bars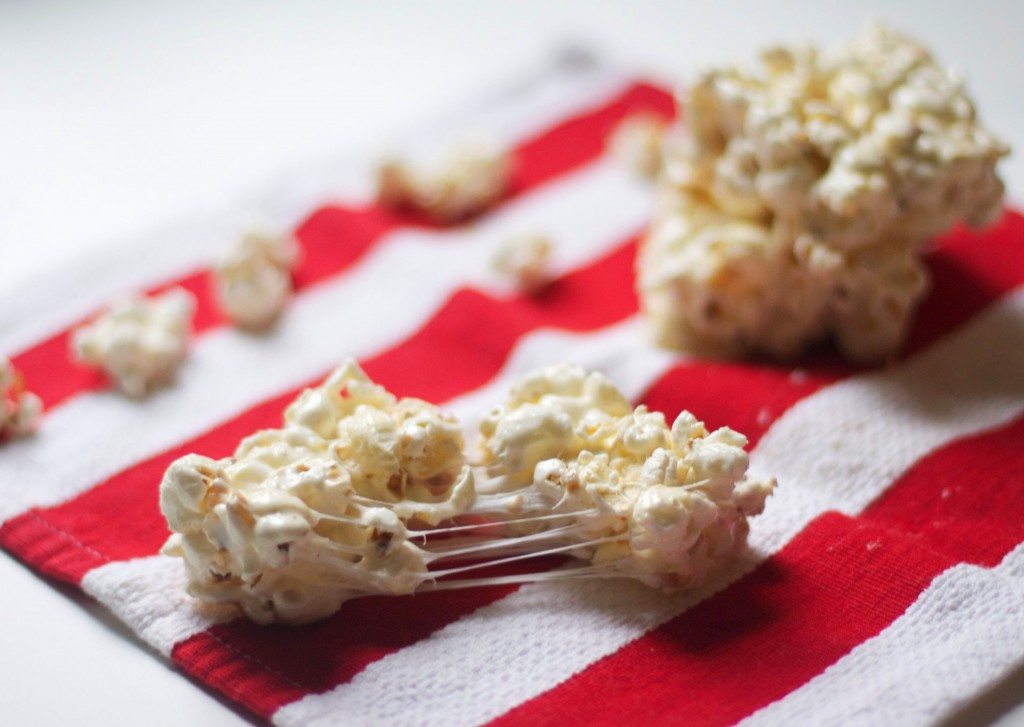 Since I was a little girl I've loved the Academy Awards. I always adored everything Hollywood and nothing was better than watching my favorite movie stars in their beautiful gowns, dreaming of being there someday myself. (Who knows if I'll ever get to attend the Oscars, but I have held one once!)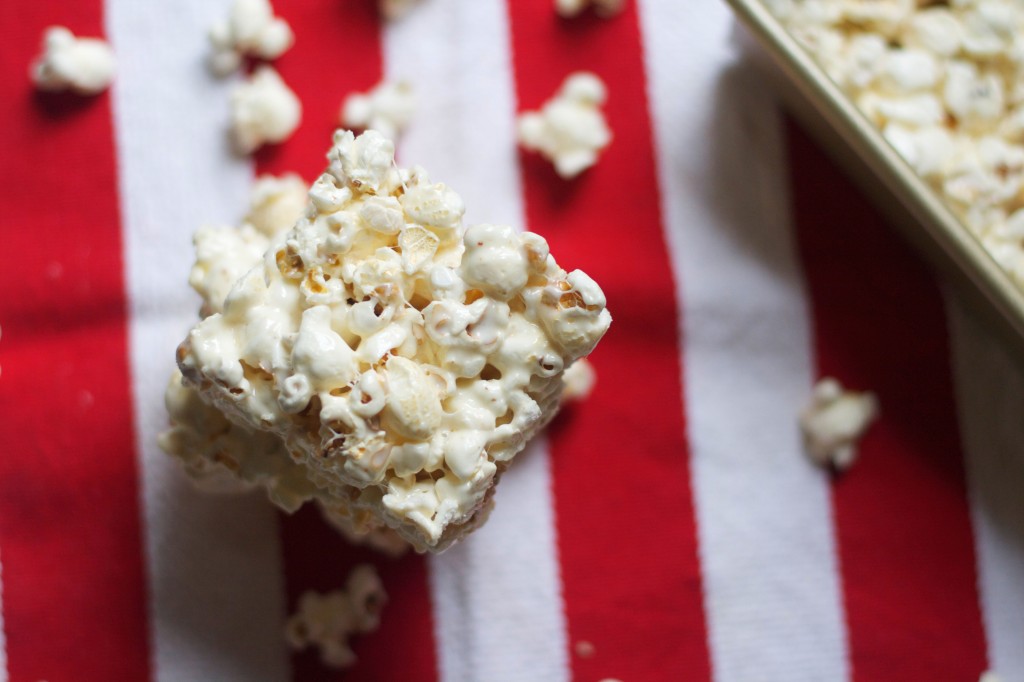 Three years ago, my birthday fell on Oscar night, so it seemed too perfect of a coincidence to not host a Birthday/Oscar extravaganza! It was complete with a red carpet, movie trivia, the Oscars playing on several huge screens and of course red velvet cupcakes. It was a blast, but I personally prefer to watch all my favorite stars from the comfort of my couch with some snacks and an Oscar ballot. :)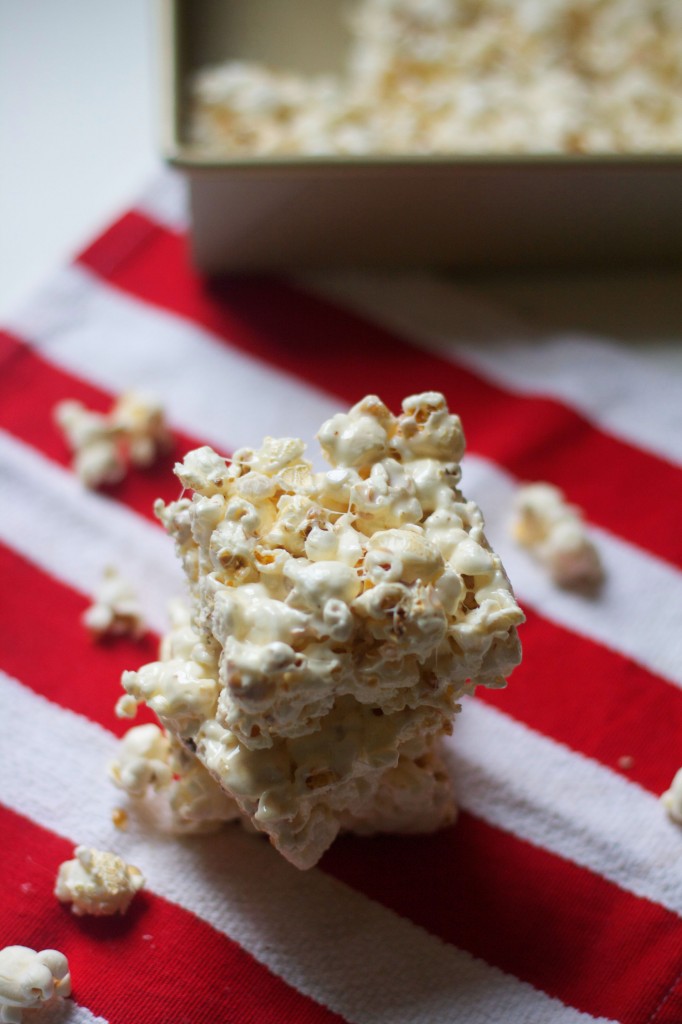 Anyway- after the crazy complicated Chocolate Malt Layer Cake I shared on Monday, I wanted to give you a really easy recipe that also happened to be festive and appropriate for one of my favorite days! (Oscar night is kinda like my Superbowl.)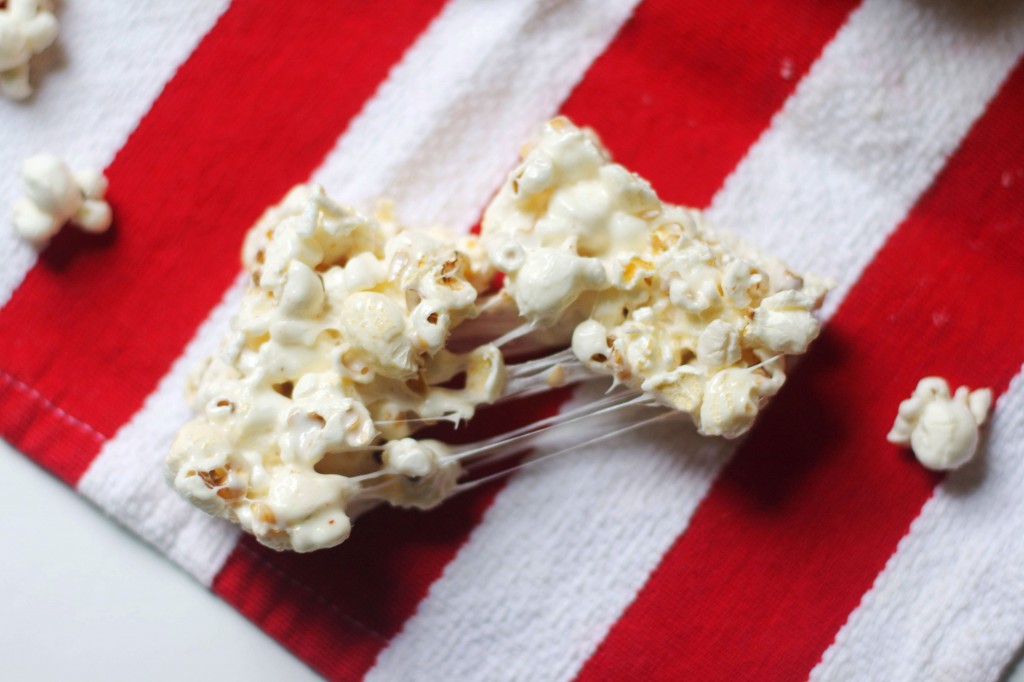 These bars are just like Rice Krispie treats but made with crispy slightly salty popcorn and the key ingredient- brown butter. The result is a sweet and salty treat that is both chewy and crispy. They would be a perfect addition to the spread of an Oscar party don't you think?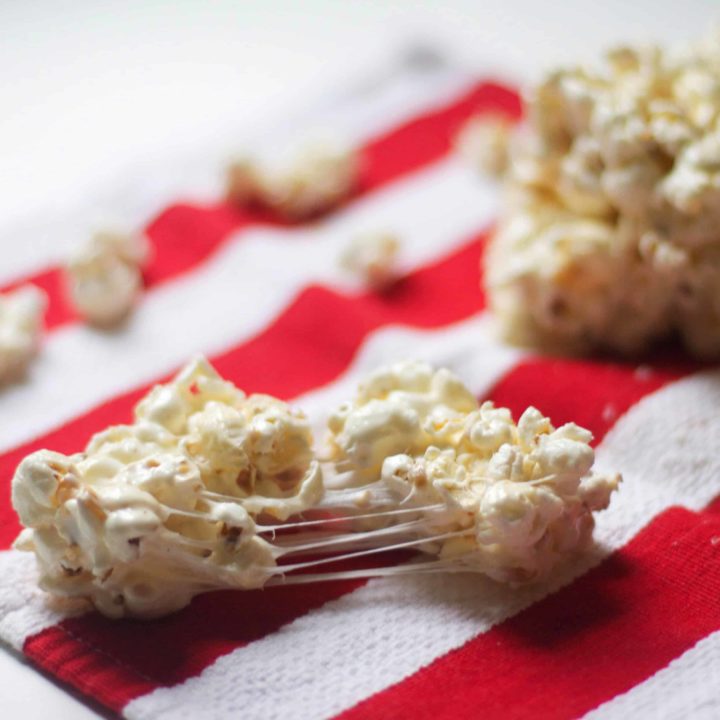 Brown Butter Marshmallow Popcorn Bars
Ingredients
3 tablespoons vegetable oil
1/3 cup popcorn kernels
sea salt to taste
2 tablespoons butter
2 1/2 to 3 cups marshmallows
Instructions
First make the popcorn:
Add the oil to a medium saucepan over medium high heat, add 3-4 kernels of un-popped corn and cover.
As soon as you hear those kernels pop, remove the saucepan from the heat and add the rest of the corn. Count to 30 and then cover the saucepan and return to heat. Gently shake the pan back and forth over the heat until the popping sound has died down. (It won't take long.) Leave the cover slightly ajar to let the steam out- this will result in crispier popcorn.
Sprinkle popcorn with sea salt and set aside.
Place the butter into a large microwave-safe bowl and cover with a plate. (You want something that fits well and snug- gaps will result in a buttery mess.)
Microwave for 5 minutes. You will hear the butter sizzle and pop as it browns. If after 5 minutes it isn't brown yet- add one minute at a time until it is a golden color with brown flecks.
Carefully remove the (hot) bowl from the microwave and mix in the marshmallows, coating them well with butter.
Put the bowl back in the microwave and heat for 1 minute. Stir until marshmallow mixture is thick and creamy.
Add the popcorn to the marshmallow/butter mixture and stir well to coat. Press mixture into a greased 8x8 baking dish and sprinkle with sea salt.
Wait for 10-15 minutes and then cut into bars and serve!
Notes
If you'd prefer- you may brown your butter on the stove top. I like the microwave because I feel like I have more control and less risk of burning. Either way is fine!
Nutrition Information:
Yield:

9
Serving Size:

1 grams
Amount Per Serving:
Unsaturated Fat:

0g