Bruleéd Pumpkin Cheesecake with Gingersnap Crust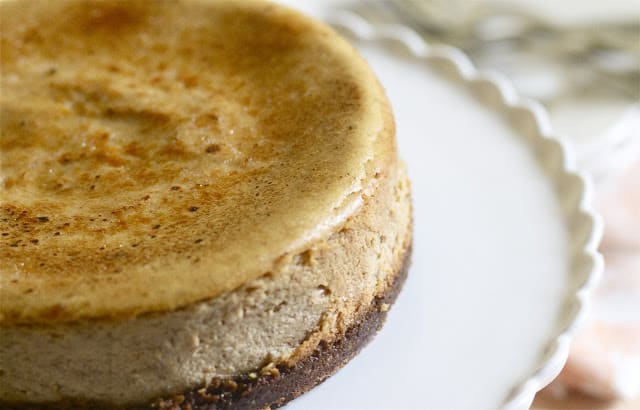 I have never been more excited for Thanksgiving you guys. ALL my Sisters are going to be home in Milwaukee which hasn't happened over Thanksgiving for about 8 years. Also, my new Fiancé is coming with me! Not only does he get to experience a holiday with my amazing and huge family, but we get to finally celebrate our engagement with everyone and talk about wedding plans. I'm hoping to return to NYC with a date set and a venue picked! Cross your fingers that one of my top choices pans out.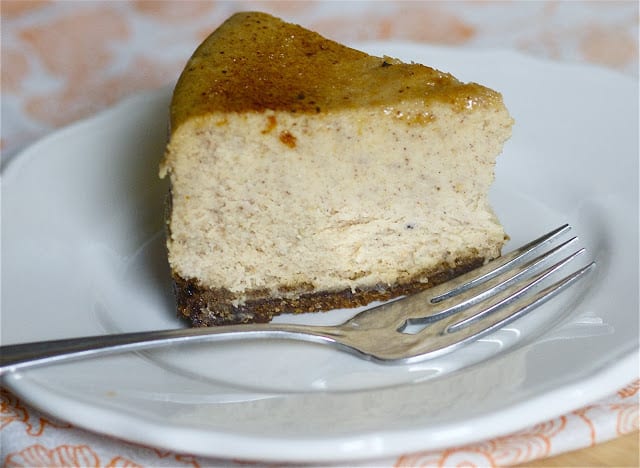 In addition to all the exciting wedding planning/family things, I am bracing myself for the feast of a lifetime. You see, my Mama has always mainly cooked Thanksgiving dinner and it's always been great, but this year we're combining forces with my sister Nadia who is a wonderful cook and Me, who has lots of fun dessert ideas. I think it's going to insanely good. Also the Packers are playing on Thanksgiving which just makes it that much better.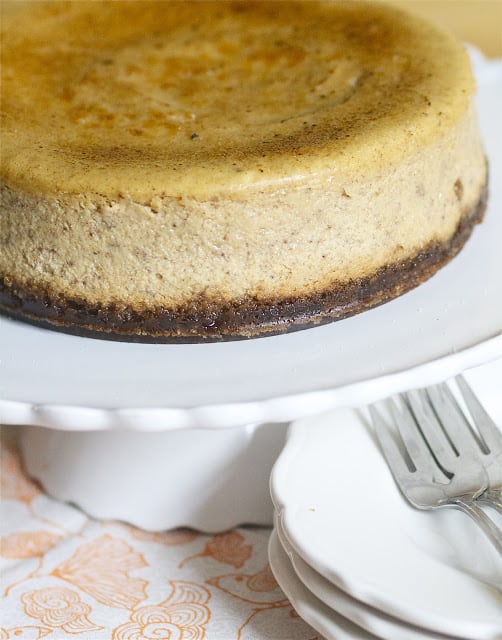 Last year at Christmas, around the time I was pondering the idea of maybe starting a baking blog, I made a version of this cheesecake with my Mom. She normally makes just pies for our desserts, but I wanted to try something different. I knew I could rely on Martha Stewart to supply me with a great recipe for my first ever cheesecake and she didn't disappoint. Everyone adored this silky-cheesecake and we decided it should be a Holiday dessert staple from now on.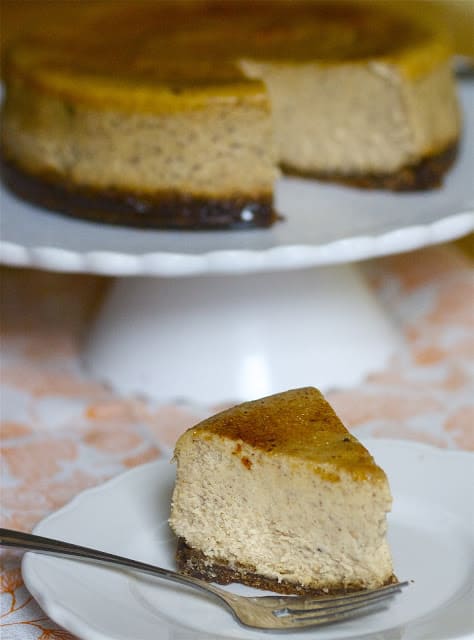 If you're looking for an extra dessert for your Thanksgiving spread this is the one. It packs all the delicious spices and flavors of pumpkin pie, but adds a crisp gingersnap crust and the bruleéd top which makes it even more amazing. If you don't have a kitchen torch you can easily skip that step, but I think that crispy burnt sugar top adds such a nice touch. (We actually had a bruleéd pumpkin cheesecake at dinner on the night we got engaged so maybe that's why I like it so much!) Stay tuned the next few days as I am planning to post a round up of a bunch of amazing pumpkin recipes! Have a great weekend!
Note: I made a half batch of this recipe and used my 5 inch springform pan- I'm giving the full-sized cheesecake recipe though, feel free to halve it if you'd like :)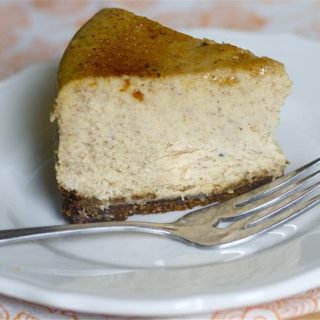 Bruleéd Pumpkin Cheesecake with Gingersnap Crust
Ingredients
For The Crust:
1 1/4 cups crushed gingersnap crumbs
1/4 cup sugar
4 tablespoons unsalted butter, melted
For The Filling:
4 packages, 8 ounces each bar cream cheese, very soft
1 1/4 cups sugar
3 tablespoons all-purpose flour
1 cup canned pumpkin puree
2 tablespoons pumpkin-pie spice
1 tablespoon vanilla extract
1/2 teaspoon salt
4 large eggs, room temperature
For Bruleéd Top- Sugar for sprinkling
and a Kitchen torch
Instructions
Preheat oven to 350 degrees, with rack in center. Assemble a 9-inch nonstick springform pan, with the raised side of the bottom part facing up.
Make the crust: In a medium bowl, mix gingersnap crumbs, sugar, and butter until moistened; press firmly into bottom of pan. Bake until golden around edges, 10 to 12 minutes.
Make the filling: With an electric mixer, beat cream cheese and sugar on low speed until smooth; mix in flour (do not overmix). Add pumpkin puree, pie spice, vanilla, and salt; mix just until smooth. Add eggs one at a time, mixing until each is incorporated before adding the next.
Place springform pan on a rimmed baking sheet. Pour filling into springform, and gently smooth top.
Transfer to oven; reduce oven heat to 300 degrees. Bake 45 minutes. Turn off oven; let cheesecake stay in oven 2 hours more (without opening).
Remove from oven; cool completely. Cover with plastic wrap; refrigerate until firm, at least 4 hours.
Unmold before serving and if you want the bruleéd top- sprinkle generously with sugar and then melt it with the kitchen torch until sugar is caramelized, brown and bubbly.
Nutrition Information:
Serving Size:

1 grams
Amount Per Serving:
Unsaturated Fat:

0g
Adapted from: Martha Stewart