Buttermilk Cake with Sugared Cranberries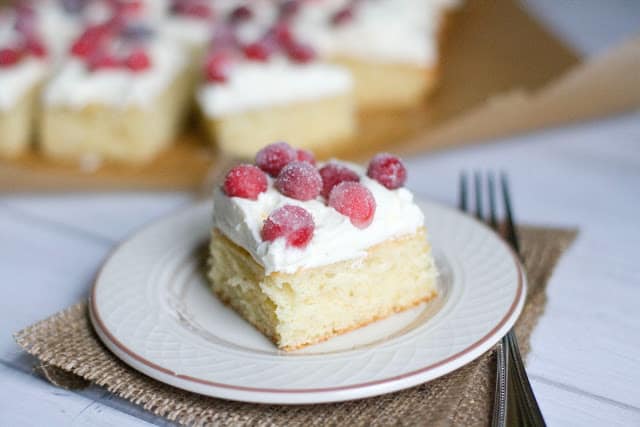 There's nothing I love more than an easy dessert. Considering all the get togethers and holiday events filling up my schedule these days, I find myself sometimes needing to throw something together with little to no prep time. I love this cake for many reasons, but it's simplicity is a big one.
For my book club's holiday meeting this month, I wanted something festive, easy to transport and doable in just a short time period. Lucky for me, I thought about this early in the day, made the sugared cranberries, and threw everything else together in no time.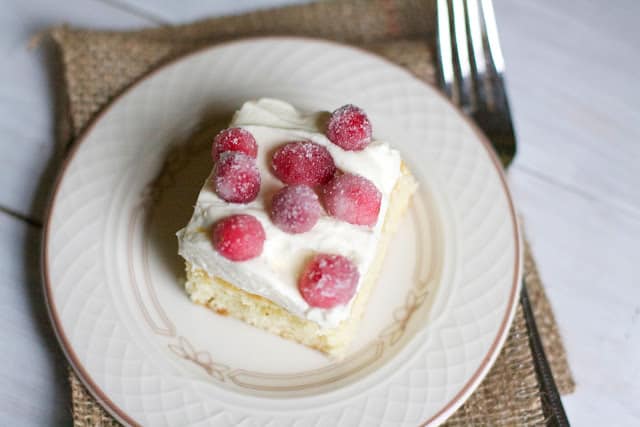 I love this base cake recipe so much that I've already made it before with strawberries and cherries tossed in. I thought about mixing the cranberries right into the batter, but decided to keep it simple and fluffy and add vanilla bean instead. I love the simple whipped cream on top, and the sugared cranberries are to die for. They are my new favorite garnish, snack, pretty thing to look at. If you haven't made them yet- now's the time!!


Buttermilk Cake with Sugared Cranberries
Yield: 2 - 9 inch cakes or 1 quarter sheet cake
Ingredients
2 cups all-purpose flour
1 teaspoon baking powder
1 teaspoon baking soda
1/2 teaspoon salt
1 stick unsalted butter, softened
1 1/4 cup sugar
1 vanilla bean
1 teaspoon pure vanilla extract
2 large eggs, room temperature
1 cup well-shaken buttermilk
2 cups whipping cream
2 tablespoons powdered sugar
1 cup of fresh cranberries, washed and drained
1/2 cup sugar
1/2 cup water
1/2 cup superfine sugar for coating., regular sugar will work if it's all you have.
Instructions
Preheat oven to 400°F with rack in middle. Butter, flour and parchment a 9-inch round cake pans or quarter sheet pan.
Whisk together flour, baking powder, baking soda, and salt.
Beat butter and sugar with an electric mixer at medium-high speed until pale and fluffy, about 2 minutes, then split the vanilla bean and scrape the seeds into the bowl, add vanilla extract. Add eggs and beat well.
At low speed, mix in flour mixture in 3 batches, alternating with buttermilk, beginning and ending with flour, and mixing until just combined. Spoon batter into cake pan(s), smoothing top.
Bake until cake is golden and a cake tester/toothpick inserted into center comes out clean, 20 to 30 minutes depending on pan size. Cool in pan(s) 10 minutes, then turn out onto a rack and cool until room temperature.
Using a cold bowl and cold beaters, whip the cream until stiff and stir in the powdered sugar. Spread the whipped cream over the top of the cake and garnish with sugared cranberries.
For Cranberries:
Combine sugar and water in a saucepan over medium-high heat until sugar is dissolved, forming a syrup.
Add the cranberries and toss in the syrup to coat. Let cranberries steep in the liquid for 2-3 hours (or as long as overnight.)
Drain liquid and spread berries on a cooling rack in an even layer. Let them sit for an hour.
Coat with sugar. Use right away or store in an airtight container.
Nutrition Information:
Yield: 2 Serving Size: 1 grams
Amount Per Serving: Unsaturated Fat: 0g