Butternut Parmesan Risotto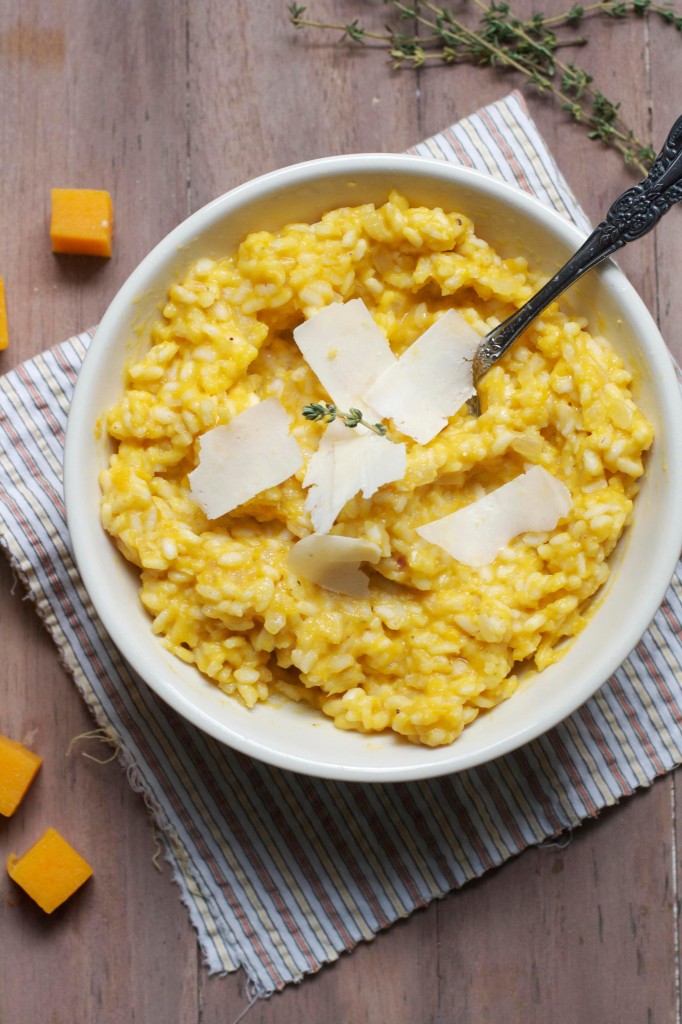 Does an item in your kitchen ever motivate you to find something to cook with it? For me- it was my beautiful new Le Creuset dutch oven that I got for a wedding gift last year. I was constantly on the search for recipes that I could make in it because it was just so darn pretty and fancy and grown up you know? I made lots of soups and stews last fall, and also this delicious risotto which is full of fall flavors. I knew this was the year to share the recipe with you all as its so delicious and (in my opinion) fun to make.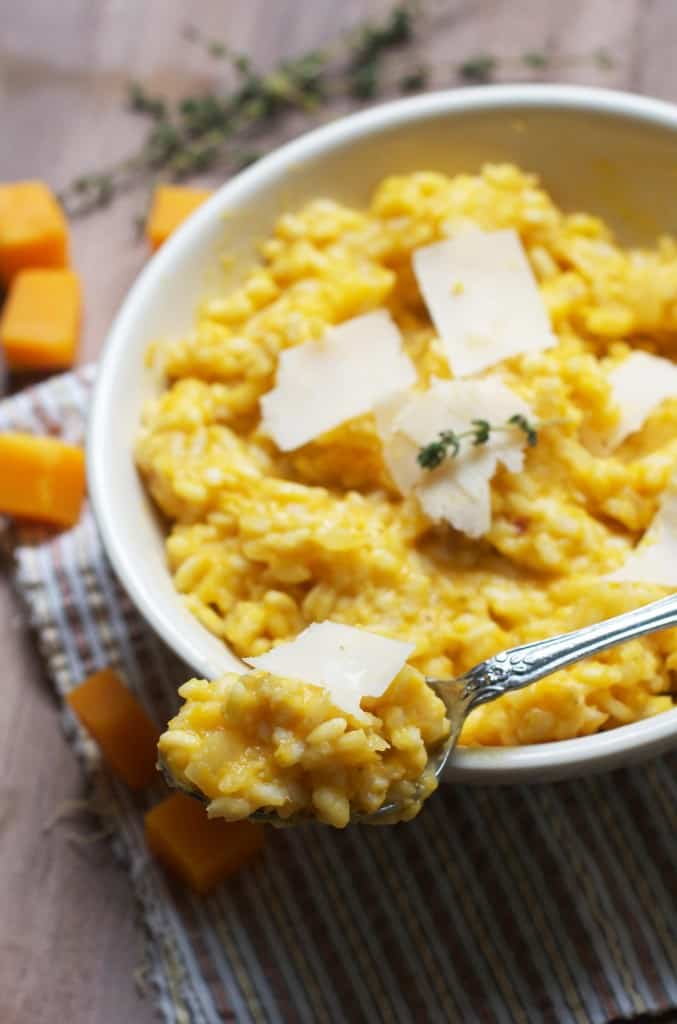 The butternut squash gives this dish such an unexpected creamy texture which makes it the perfect seasonal side dish, (or main course for me with a side of roasted veggies!) Making risotto requires lots of stirring, but I love the therapeutic feeling of stirring away and watching cooking magic happen right in front of me. (Usually while listening to my Sara Bareleis Pandora station.) Grated parmesan cheese is the perfect finishing touch and the end result is one of my favorite fall dishes, one that I will be making as long as I still have my fancy dutch oven to get me excited about it!! :)
Butternut Parmesan Rissoto
Ingredients
1 small butternut squash
4 tablespoons butter
1 onion, minced
2 cups Arborio rice
2/3 cup dry white wine
5 cups chicken or vegetable broth
1/2 cup grated Parmesan cheese
salt and ground black pepper to taste
Instructions
For the squash:
Preheat oven to 425F. Cut the squash in half length-wise and place face down on a foil-lined cookie sheet. Roast for 60 minutes, or until squash is soft.
Scoop the inside of the squash out and puree with an immersion blender, food processor or regular blender until smooth and creamy. (you want about 2 cups total.) Set aside
For the Risotto:
Melt the butter in a large saucepan over medium-high heat. Add the onion and cook for 5-8 minutes, or until the onions are soft and translucent. Add the rice, and cook, stirring frequently for 5 minutes more, or until the onions begin to brown on the edges.
Pour in the wine and stir constantly, until it has evaporated. Add in 1/3 of the broth and reduce heat to medium. Cook and stir until all the broth has been absorbed by the rice. Add half of the remaining broth, and continue stirring until it has been absorbed. Finally, pour in the remaining broth, and continue stirring until risotto is thick and all the liquid has been worked in.
Stir in the squash, and the parmesan cheese until smooth and creamy. Add salt and pepper to taste.
Nutrition Information:
Yield:

8
Serving Size:

1 grams
Amount Per Serving:
Unsaturated Fat:

0g