Butternut Squash Cupcakes with Maple Cream Cheese Frosting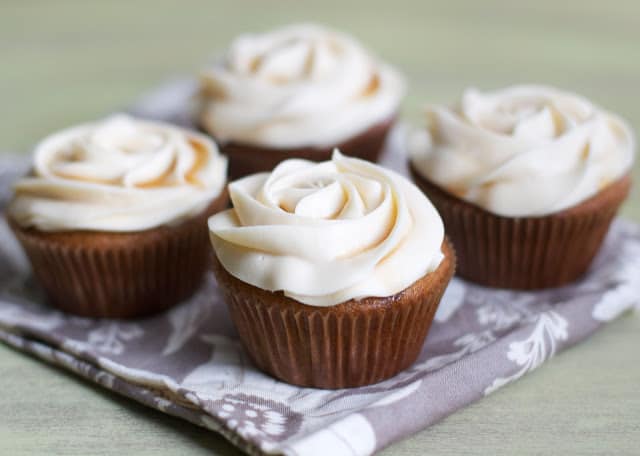 Ok, ok relax. Yes- I made cupcakes using butternut squash. Is it really that weird? When I told Andy about them he was not into the idea. Then I applied my really good logic onto the subject: Pumpkin is a winter squash, butternuts are also winter squash. Pumpkin pureé tastes kind of weird and bitter on it's own while butternut squash is sweet and nutty. Why not just use the same delicious spices but sub butternut pureé for pumpkin pureé? Plus- I roasted my own squash and I always just use canned pumpkin. Seemed like a no brainer to me!
After Andy tasted these, he didn't care what was in them because they were so delicious. In fact, I had the other taste-testers guess the flavor and everyone just assumed they were pumpkin. Only after telling everyone they were made with squash did they consider the nutty hints in the flavor. They are deliciously spiced, and the maple cream cheese frosting is a perfect fit.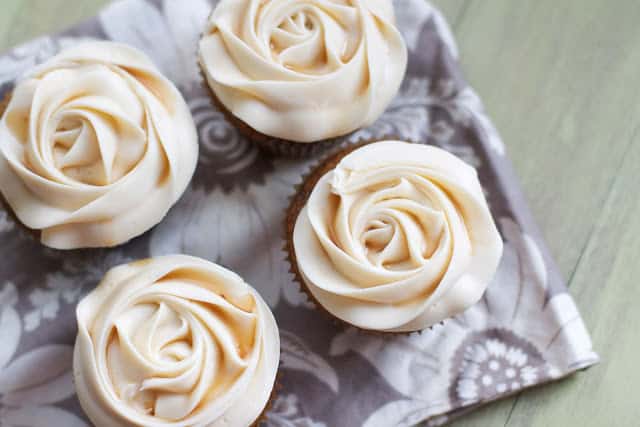 If you are planning on roasting a squash for Thanksgiving recipes, set some aside and whip up these cupcakes for your dessert spread. The flavor combo is perfect for the holiday, and it's a great way to use any extra squash you may not need. (I have been very into butternut squash soup, risotto and mac & cheese lately. Most of those recipes only call for 2 cups of squash and a large squash yields 4-5 cups!)
Like other recipes using fruit puree (like applesauce, banana, pumpkin,) the texture of these is outstanding. They are soft and rich with a melt-in your mouth quality. They elicit that perfect seasonal smell as they bake up, and I couldn't help but get into the spirit as I enjoyed one of these with a cup of tea!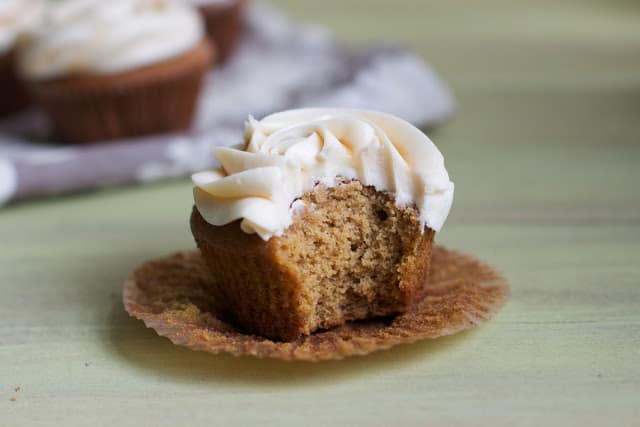 * I have gotten several comments and emails asking how I frosted my cupcakes like that. I plan on doing a video tutorial soon, but in the meantime check out this helpful tutorial I found here.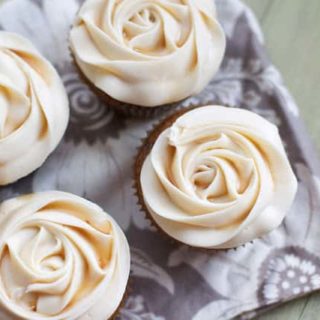 Butternut Squash Cupcakes with Maple Cream Cheese Frosting
Ingredients
2 cups all-purpose flour
1 teaspoon baking soda
1 teaspoon baking powder
1 teaspoon coarse salt
1 teaspoon ground cinnamon
1 teaspoon ground ginger
1/4 teaspoon freshly grated nutmeg
1/4 teaspoon ground cloves
1 cup packed light-brown sugar
1 cup granulated sugar
1 cup 2 sticks unsalted butter, melted and cooled
4 large eggs, lightly beaten
2 cups butternut squash puree
frosting:
1 package, 8 ounces cream cheese, room temperature
1/2 cup 1 stick unsalted butter, room temperature
1 tablespoon pure maple syrup
1/2 teaspoon pure vanilla extract
3-4 cups powdered sugar
Instructions
Preheat oven to 350 degrees. Line cupcake pans with paper liners; set aside. In a medium bowl, whisk together flour, baking soda, baking powder, salt, cinnamon, ginger, nutmeg, and cloves; set aside.
In a large bowl, whisk together, brown sugar, granulated sugar, butter, and eggs. Add dry ingredients, and whisk until smooth. Whisk in squash puree.
Divide batter evenly among liners, filling each about halfway. Bake until tops spring back when touched, and a cake tester inserted in the center comes out clean, 20 to 25 minutes, rotating pans once if needed. Transfer to a wire rack; let cool completely before frosting
For Frosting:
In the bowl of an electric mixer fitted with the paddle attachment, beat cream cheese and butter together until smooth. Add maple syrup, vanilla, and powdered sugar; continue beating until well combined and smooth. frost cupcakes and drizzle with maple syrup if desired.
Nutrition Information:
Yield:

18
Serving Size:

1 grams
Amount Per Serving:
Unsaturated Fat:

0g