Buttery Make-Ahead Dinner Rolls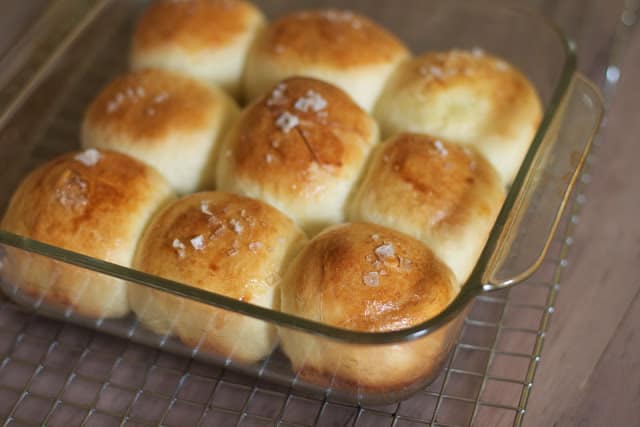 Today I bring to you a recipe that is going to make your Thanksgiving prep way easier. If you're someone like me who likes to plan and prepare things ahead to avoid last minute kitchen stress, you will love this. These are the butteriest softest dinner rolls, and you can make them today, freeze them and then bake them fresh on Thanksgiving. Nothing quite beats a freshly-baked dinner roll, so this way you get that without waking up early to prep.
The recipe itself requires little hands-on work and I personally love forming the round rolls and watching them rise. After letting the dough proof and assembling the rolls- you can either let it proof one more time for an hour, or wrap the pan tightly and freeze them until you're ready to use. Simply place the frozen pan in a warm place for 2-1/2 hours and they will be poofy and ready to bake. (My kitchen is always warm when I'm prepping Thanksgiving so I don't think I'll have a hard time finding a warm spot.)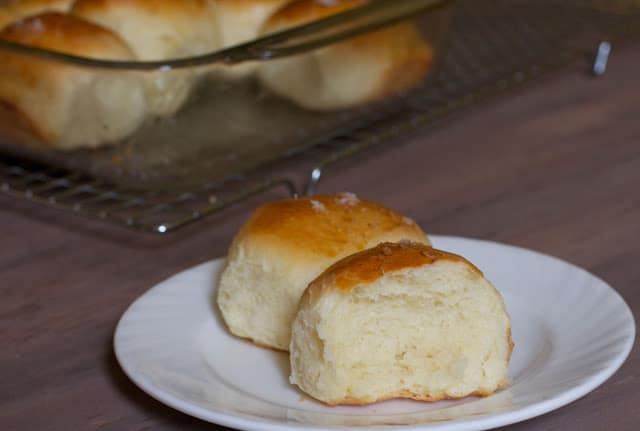 Before baking I brushed these with egg and sprinkled on some flaky sea salt. If you prefer poppy seeds, sesame seeds, or herbs- you can play around with that. The texture of these is soft and airy, and will be perfect for sopping up gravy and cranberry sauce!
PS- Don't be afraid of making recipes that require yeast! I used to be hesitant but it is really so easy and actually very fun. The science-loving kid in me loves watching the dough double in size. :)

Buttery Make-Ahead Dinner Rolls
Ingredients
1/4 cup warm water, 115 degrees
2 packets, 1/4 ounce each active dry yeast
1 1/2 cups warm whole milk, 115 degrees
1/2 cup 1 stick unsalted butter, melted, plus more for bowl and pans
1/4 cup sugar
2 1/4 teaspoons salt
3 large eggs
6 to 6 1/2 cups all-purpose flour, spooned and leveled, plus more for work surface
Instructions
Place water in a small bowl; sprinkle with yeast, and let stand until foamy, about 5 minutes.
In the bowl of a stand mixer fitted with paddle attachment, mix together milk, butter, sugar, salt, and 2 eggs until combined. Mix in yeast mixture.
With mixer on low speed, add 6 cups flour, 1 cup at a time, until you have a soft, shaggy dough (if necessary, add up to 1/2 cup more flour).
Replace paddle with the dough hook and process until smooth and elastic, 5 to 10 minutes. (No mixer? That's OK. You can do this with a whisk and a wooden spoon for the flour. Then knead by hand for 5-10 mis.)
Butter the inside of a large bowl; place dough in bowl, turning to coat. Cover bowl with a clean kitchen towel; let stand in a warm spot until dough has doubled in size, about 1 1/4 hours.
Butter two 13-by-9-inch baking pans. (Or 3 8x8 pans if you want smaller batches.) Divide dough in half. Roll each half into a 15-inch rope; cut each rope into 15 1-inch pieces. Press each piece into a disk, then shape into a ball. (Don't handle the dough too much or it will become tough.)
Arrange dough balls in prepared pans. (To make ahead: Wrap pans well, and freeze, up to 2 months.)
Cover pans loosely with kitchen towel; let stand in a warm spot until rolls have doubled in size, about 1 1/4 hours (2 hours more if frozen).
Preheat oven to 375 degrees, with racks in upper and lower thirds.
In a small bowl, beat remaining egg until blended; brush onto rolls. Sprinkle with sea salt or herbs.
Bake until golden brown, about 20 minutes, rotating pans back to front and top to bottom halfway through. Let rolls cool 15 minutes before serving.
Nutrition Information:
Yield:

30
Serving Size:

1 grams
Amount Per Serving:
Unsaturated Fat:

0g
Recipe adapted from: Martha Stewart