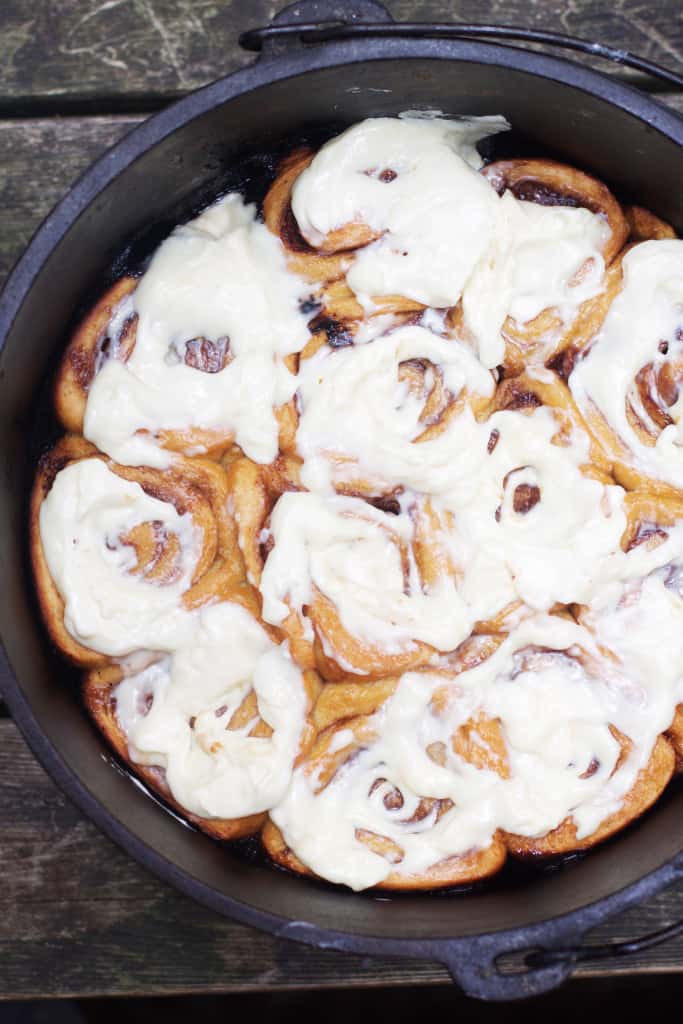 I've never been much of an outdoorsy gal. What can I say? I mean Ok, don't get me wrong I love the ocean. And beautiful scenery makes my heart flutter. I loved my honeymoon to Costa Rica, and the mountains are magical. All of that being said- at the end of the day I'm used to having a bed and a roof. Well last weekend I went on my first ever official camping trip and it was pretty darn fun.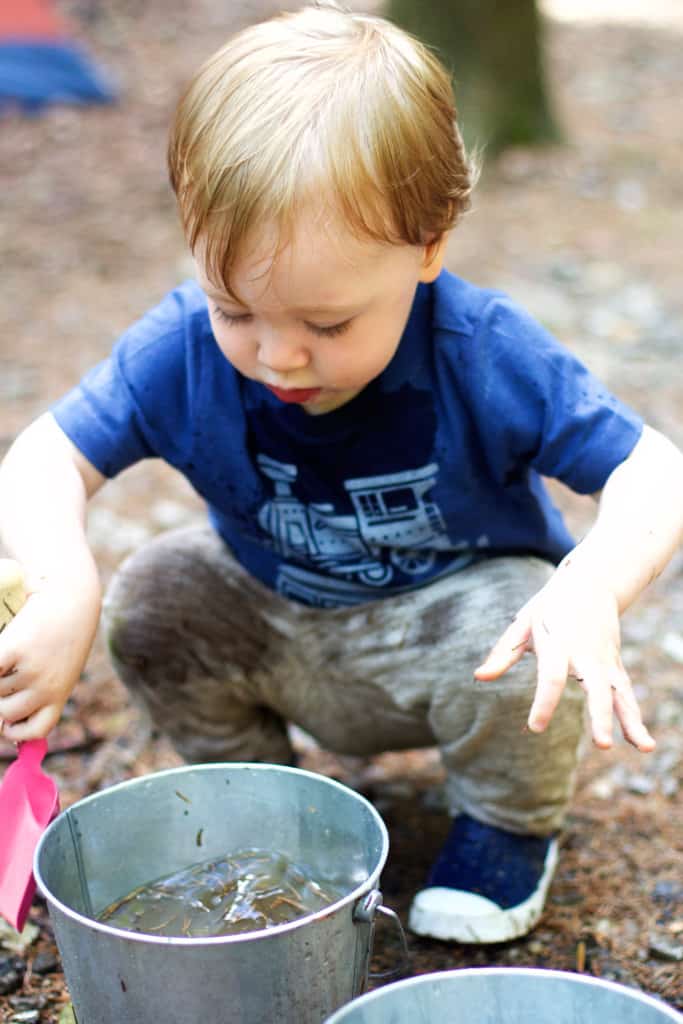 Yes I was 100% out of my comfort zone, but Andy loves camping and I thought a Father's Day trip with some friends would be fun. I went into it with an open mind and had a great time. (I mean we got poured on the last day and had to breakdown camp in the middle of a flash flood and I still left with a good attitude.)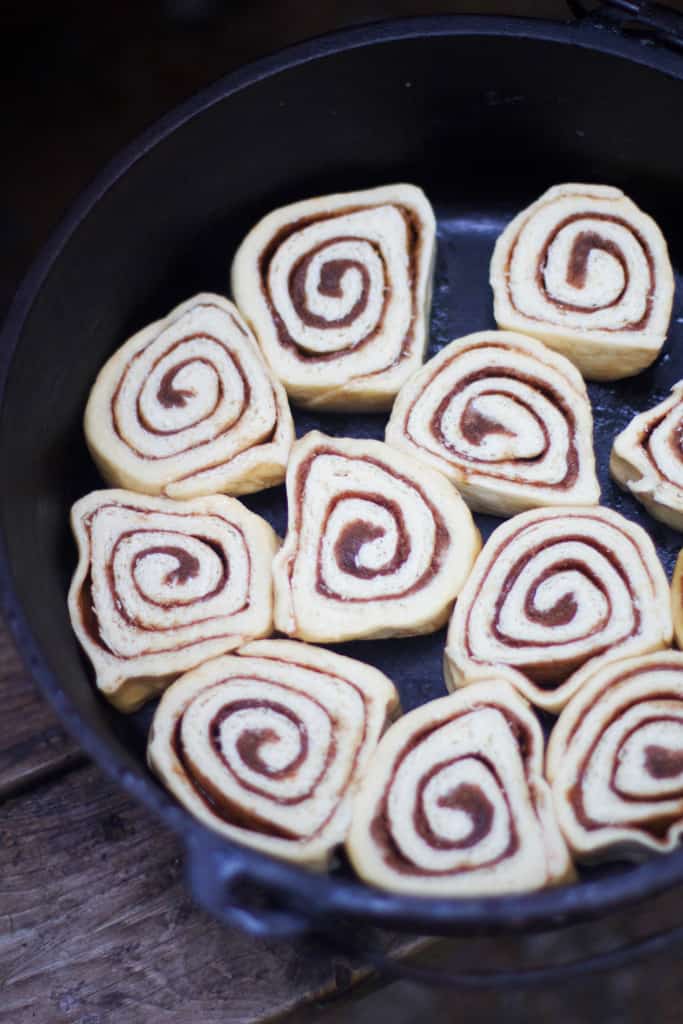 My favorite part of the whole weekend of course, was the food. (Surprise surprise!) I really got a kick out of the creative ways of cooking over a campfire and we had some amazing meals! Our friends are camping pros so we followed their lead on pretty much everything, but I gladly got involved with the desserts. Now- I'm sure you can imagine that baking over a fire is a whole different ball game from oven-baking, but we still had some amazing treats. The first night I made a version of the Strawberry Rhubarb Dump Cake that was awesome, and Saturday evening we had a S'mores Bar, (with Ritz Cracker Reeses S'mores being the hands-down favorite.) I couldn't get photos of those creations in the almost pitch dark, but I did capture these brunch Cinnamon Rolls to share!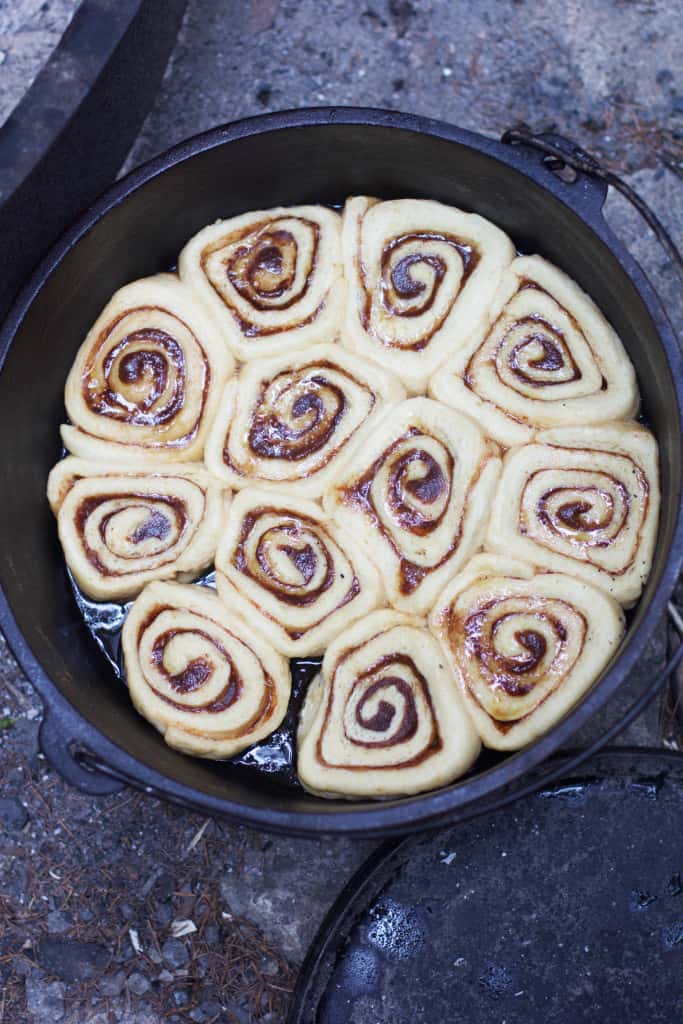 I prepped these at home before leaving, rolling the dough into a log and freezing it until the morning we left. I packed it in ice and kept it cold until the next morning. Then I sliced the dough into rolls and let them proof next to the campfire. To "bake them" we placed the cast iron dutch oven on top of some hot coals and then placed the hot firewood on top. I think it worked really well! They were fully baked in 10 minutes and I even think I could have taken them off at 8 minutes. I brought cream cheese frosting that I made at home and slathered and served them pretty quickly. (The heat from the cast iron keeps them cooking for a long time after you take them off the fire.)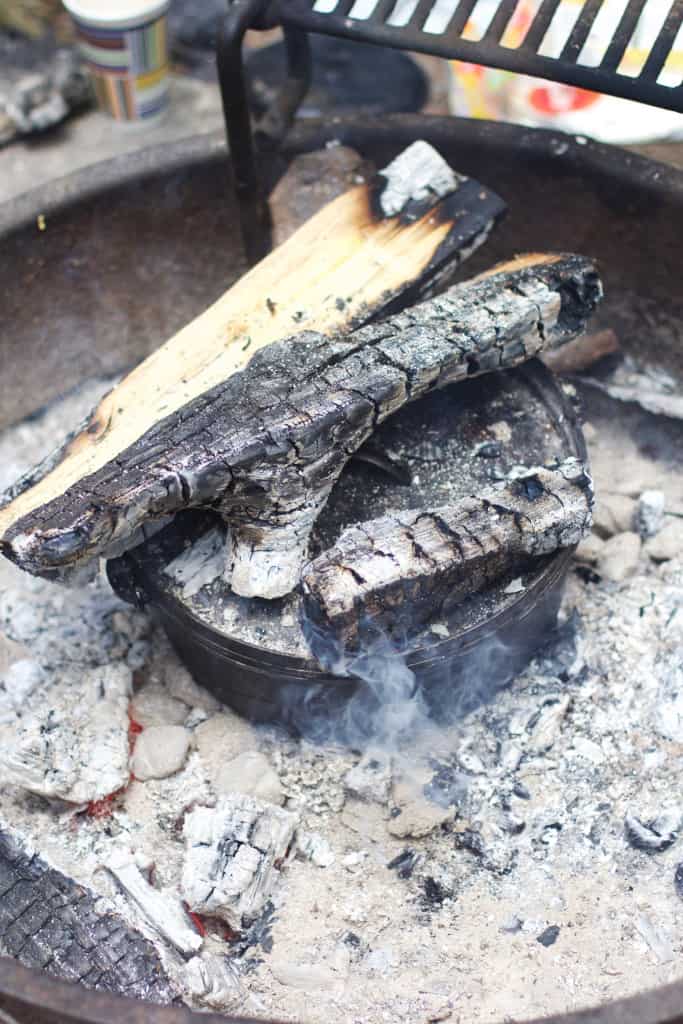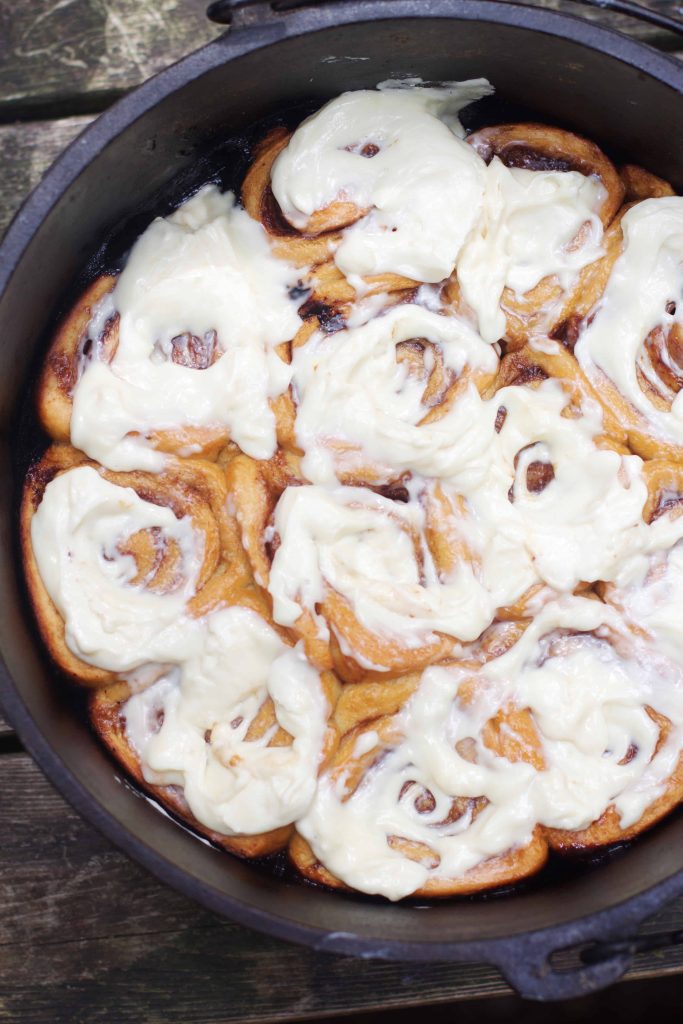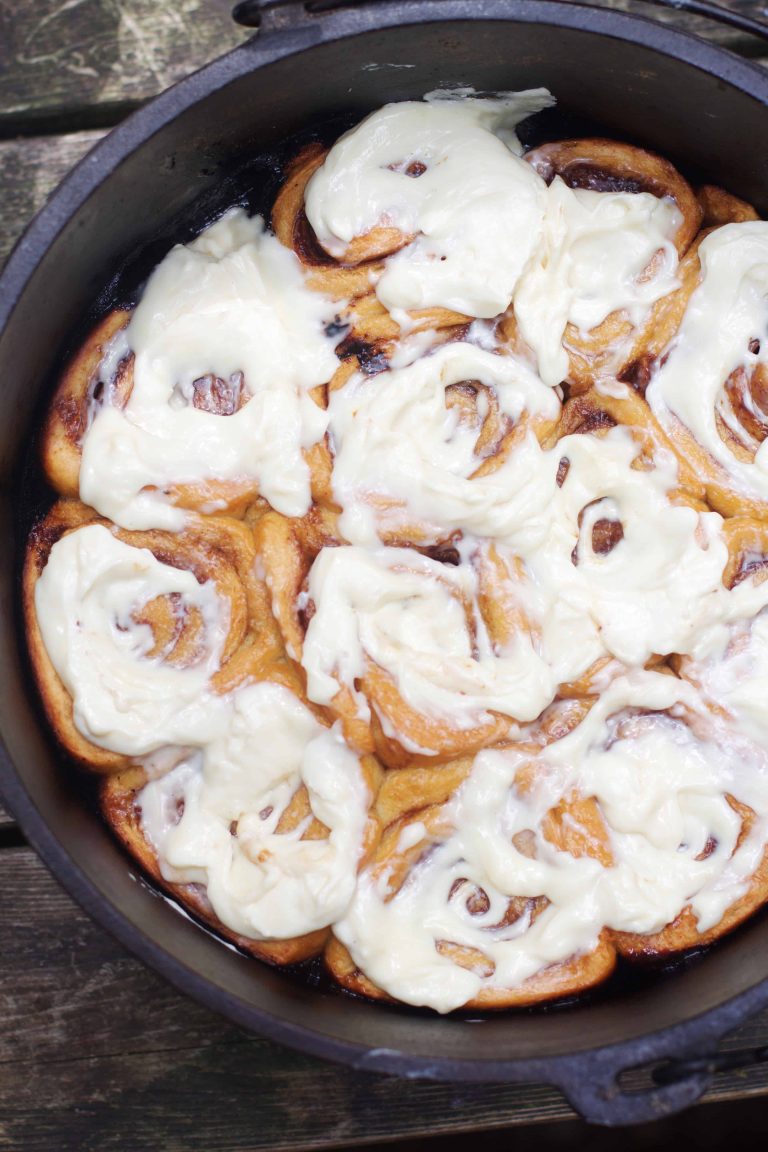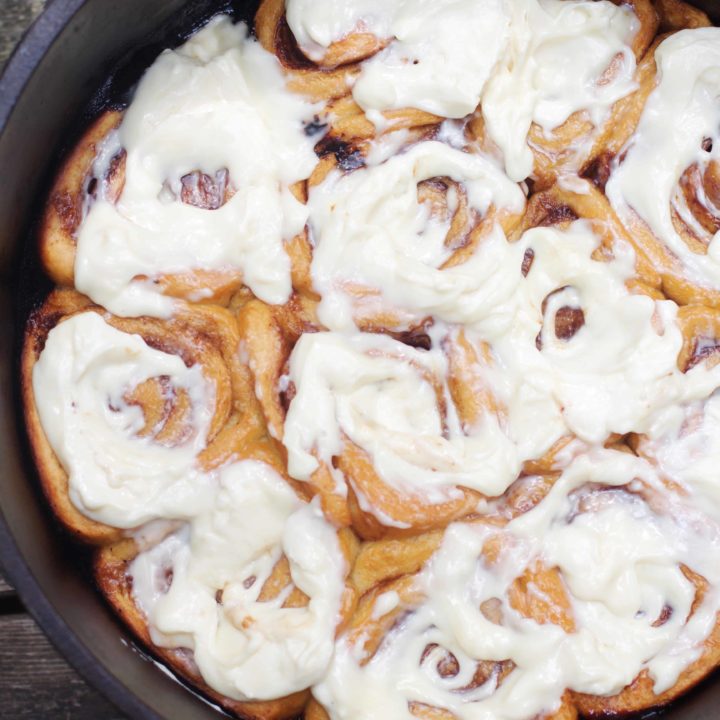 Campfire Cinnamon Rolls
Ingredients
Dough:
3/4 cup milk
1/4 cup butter
3 1/4 cups all-purpose flour
1 .25 ounce package instant yeast
1/4 cup white sugar
1/2 teaspoon salt
1/4 cup water
1 egg
Filling:
1 cup brown sugar, packed
1 tablespoon ground cinnamon
1/4 cup butter- softened
Frosting:
2 tablespoons softened butter
4 oz cream cheese
1 tsp vanilla extract or paste
2-3 cups of powdered sugar, depending on how sweet you like it.
Instructions
Heat the milk in a small saucepan until it bubbles, then remove from heat. Mix in butter; stir until melted. Let cool until lukewarm.
In a large mixing bowl, combine 2 1/4 cup flour, yeast, sugar and salt; whisk together. Add water, egg and the milk mixture; beat well with an electric mixer. Add the remaining flour, 1/2 cup at a time, using a wooden spoon to stir well after each addition. (dough will be too thick and sticky to use the mixers at this point.)
When the dough has just pulled together, turn it out onto a lightly floured surface and knead until smooth, about 5 minutes. (dough will spring back when lightly pressed.)
Cover the dough with a damp cloth and let rest for 10 minutes.
Stir together the brown sugar and cinnamon.
On a lightly floured surface, roll out dough into a 12x9 inch rectangle. (use your 9x13 baking dish as a guide.) Spread the softened butter all over the dough. Sprinkle dough with cinnamon sugar mixture and press in lightly so it doesn't fall out when you roll it. Roll up dough and pinch seam to seal.
Cut the dough into two equal logs and wrap tightly with plastic wrap, then place in a zip lock bag. Keep frozen until you're ready to bake.
The morning you want to have the cinnamon rolls, take them out and let them thaw to room temp. (or the night before if you're not baking outdoors...they tend to not stay totally frozen for too long in a cooler.
Slice dough into 12 equal rolls and place in the bottom of a buttered dutch oven. Cover and set near the fire to proof for about an hour, or until rolls are puffy.
Bake on the campfire, on some hot coals with hot wood from the fire on top. (You can improvise- this is what worked for us.)
Cook for 8-10 minutes or until golden and fully baked. Slather with frosting (recipe below,) and service immediately. (They will be hot but at least take them out of the dutch oven so they stop baking.
For the Frosting: (make ahead of time and bring in the cooler,)
Whip together the softened butter and cream cheese with an electric mixer until smooth and creamy. Add the vanilla and the powdered sugar, 1/2 cup at a time. Beat until creamy and spreadable.
Notes
If you want to make this recipe at home, bake at 325F for 20 minutes.
Nutrition Information:
Yield:

12
Serving Size:

1 grams
Amount Per Serving:
Unsaturated Fat:

0g