Candy-Covered-Chocolate-Dipped Pretzels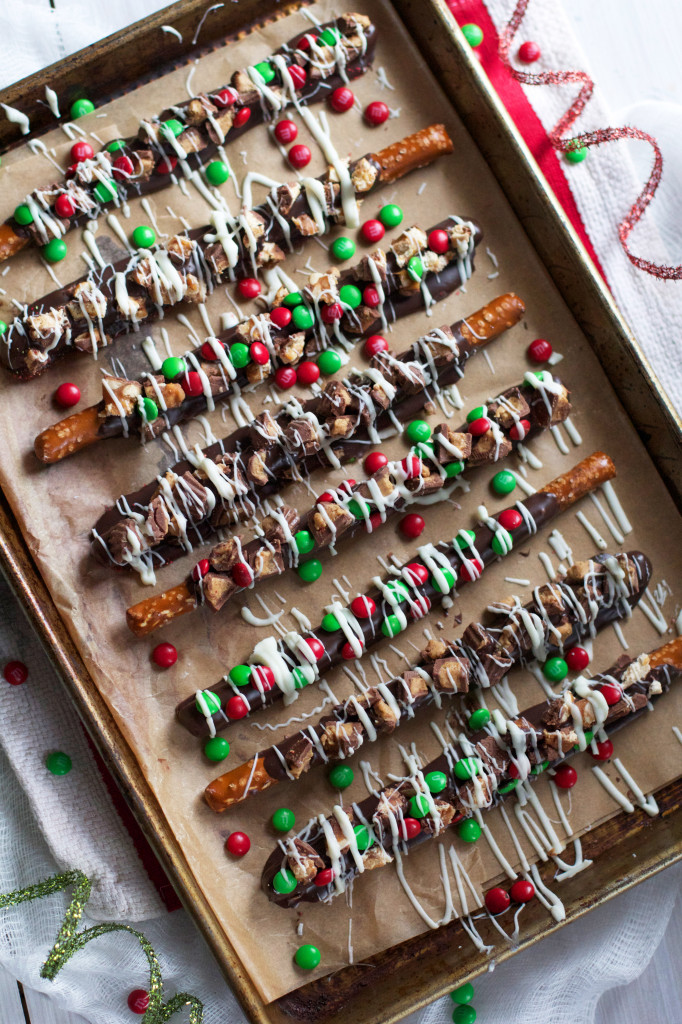 This is one of those weird "revamping a recipe from 3 years ago" posts. I first shared these a few days after Andy & I got engaged actually, right after I came back from the Foodbuzz Festival in San Francisco. (I won Best New Blog there which explains some of the old comments.) I have made these many times since and thought the recipe/photos could use some updating :)
I am officially in the Christmas confection zone. I have to say October-the end of December is the most fun time to be a (mostly) dessert blogger. I am brimming with ideas to fill this space for the rest of the month so stay tuned! I decided to kick off with a super easy and super impressive holiday treat.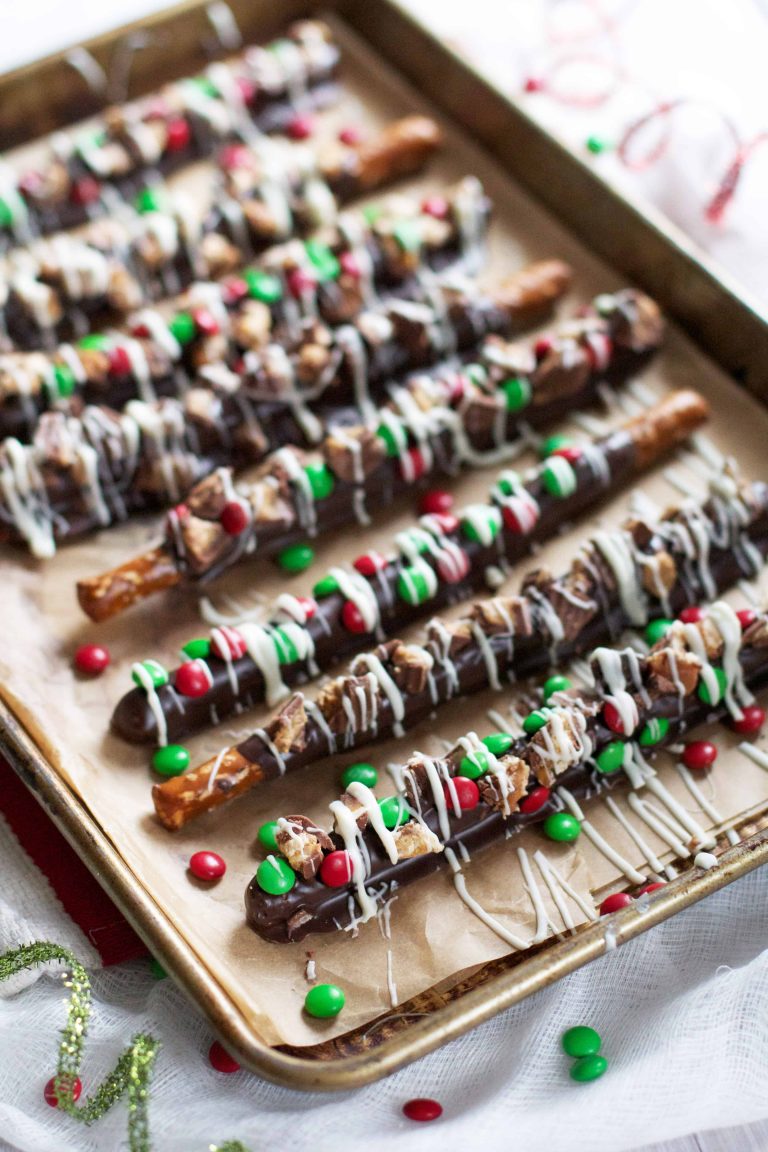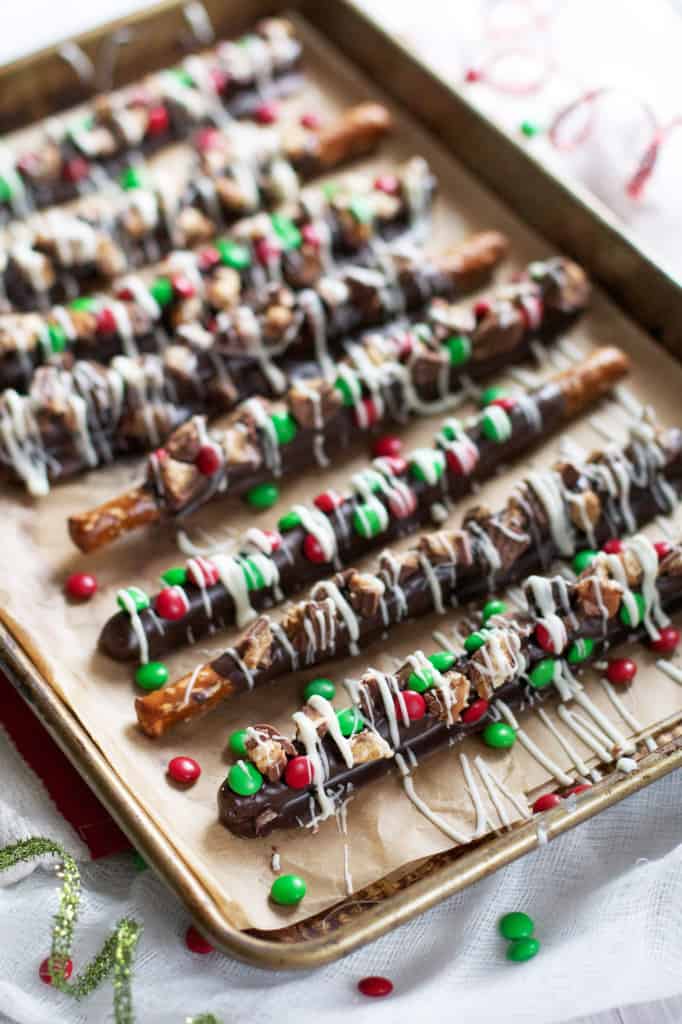 I love these for so many reasons 1- They are ridiculously easy 2- They can be adapted with SO many different types of candy 3- Not only are they festive for Christmas but could easily be sprinkled with candy for any given season. In short- these are just too awesome.
I wrapped each of these in a cellophane bag and plan to give them out over the next few weeks to friends/our mailman etc. They can last in a airtight container in the fridge for a couple weeks! I just can't get enough of the sweet/salty/crunchy/creamy combo that these bring to the table.
Let the Holiday baking/treat making begin!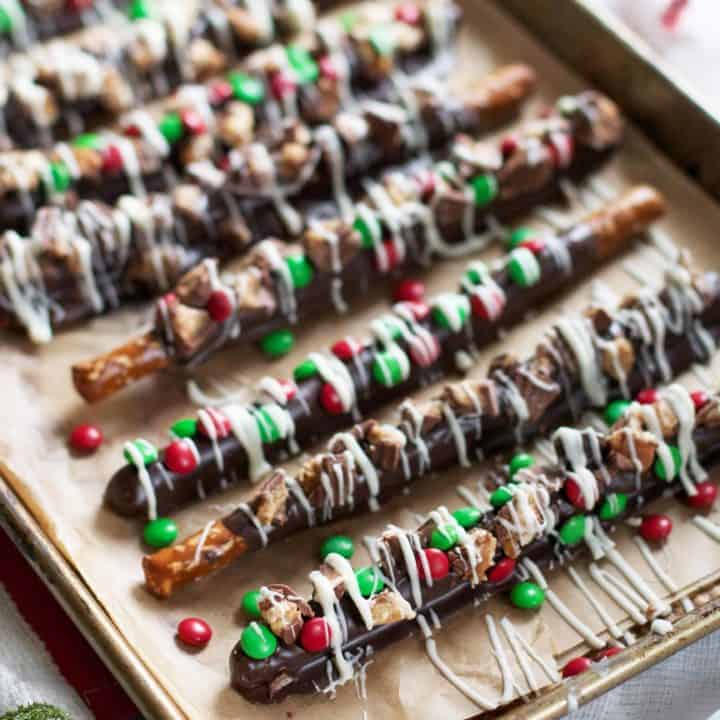 Candy-Covered-Chocolate-Dipped Pretzels
Ingredients
28 Pretzel Rods
16 oz Dark or Milk Chocolate*
Chopped Candy Bars, Sprinkles, Mini M&Ms etc
1 cup white chocolate chips
Instructions
Prepare a cookie sheet or two with parchment paper or a Sil-pat.
In a microwave-safe bowl, melt chocolate 60 seconds. Remove and stir, and then warm in microwave for 15 second increments until it is smooth.
Start dipping the pretzels right away. I used a spoon to bring the chocolate up to where I wanted and it dripped down smoothly. Set rods on the cookie sheet.
Allow the chocolate to become slightly solid before placing the candy/toppings on. Otherwise I found they all slid to the side. I dipped 4-5 pretzels, waited a couple minutes and then started topping. (You have a good 5-7 minute window where the chocolate will still be soft enough to press the toppings in.)
Place each candy piece by hand because if you try to roll or sprinkle them on it really won't work and will end up with a sticky candy-glob mess.
If the melted chocolate in the bowl has started to harden, just give it 15 more seconds to get it back to it's nice melty-state.
Repeat with the rest of the pretzel rods/toppings.
Melt white chocolate (the same way you melted the chips) and drizzle over the pretzels with a spoon.
Place the tray in the freezer to quickly harden the chocolate and then wrap or store!
Notes
*This time I used dark chocolate melts. You can also use regular chocolate but you'll want to keep them cool as the chocolate can soften/melt more easily. When I used regular chocolate chips I also stirred a little organic shortening in to make it coat more smoothly.