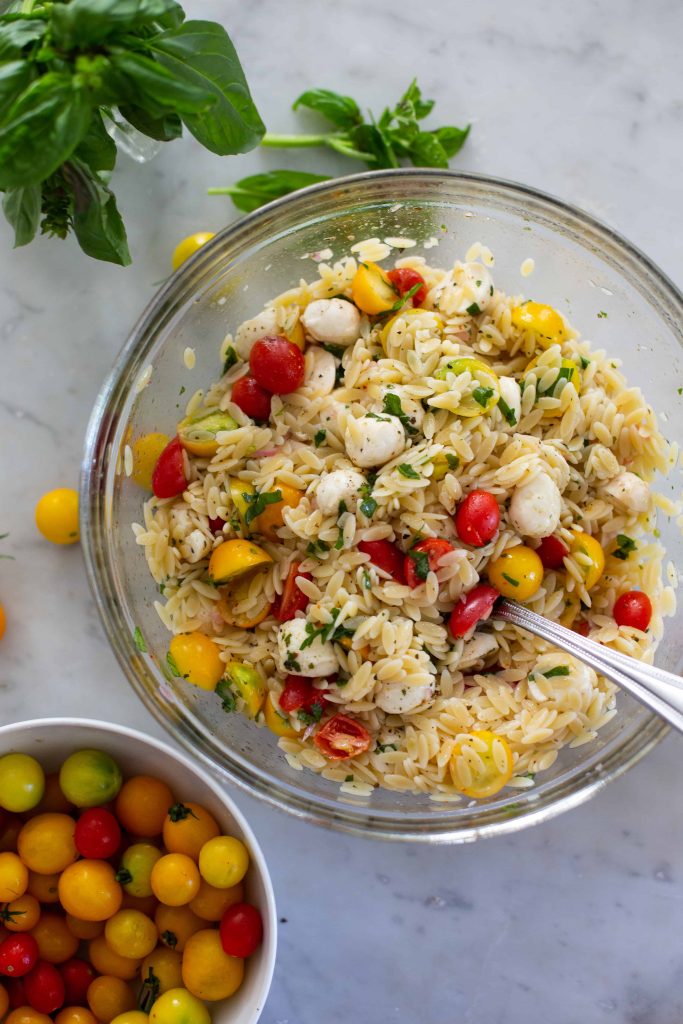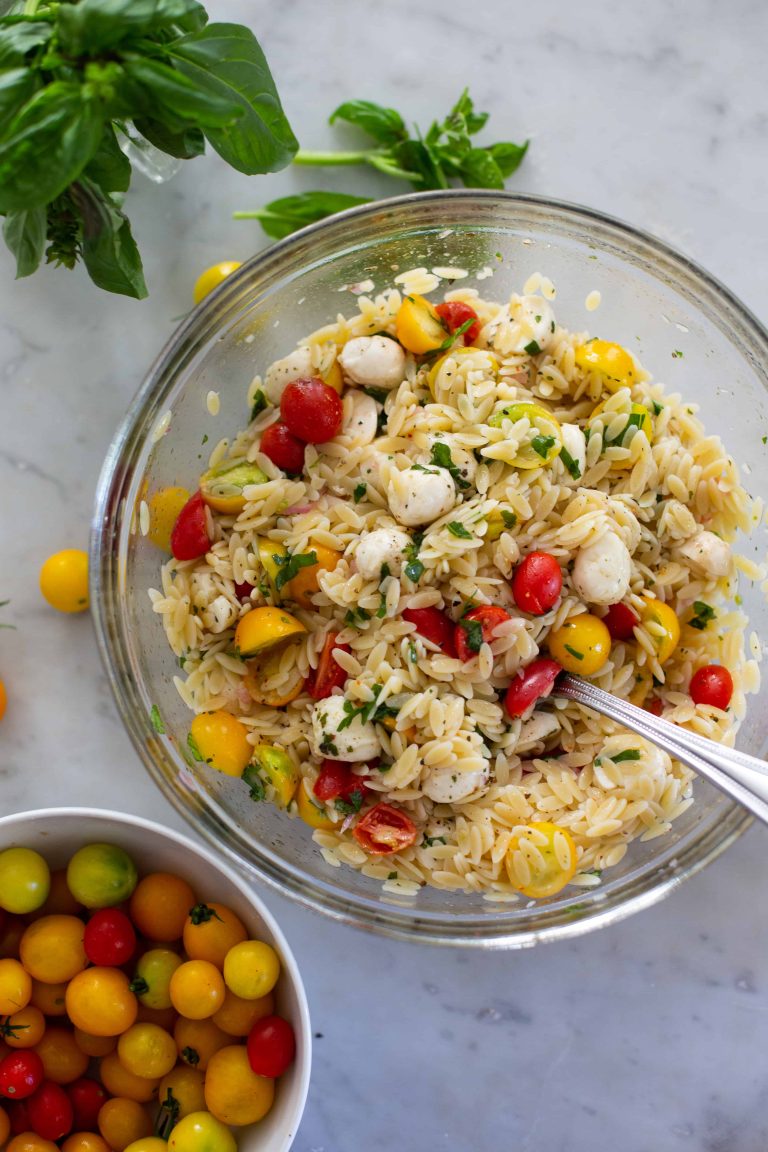 It's tomato season and this Caprese Orzo Pasta Salad is such a great side dish to prepare for a summer bbq, picnic, or just to meal prep for a week of quick lunches. It's full of classic caprese ingredients like fresh basil, creamy mozzarella and juicy tomatoes.
Though I love a classic caprese salad this recipe includes some cooked orzo which makes it extra filling. The best part is this easy recipe can be made in advance and tastes even better the next day!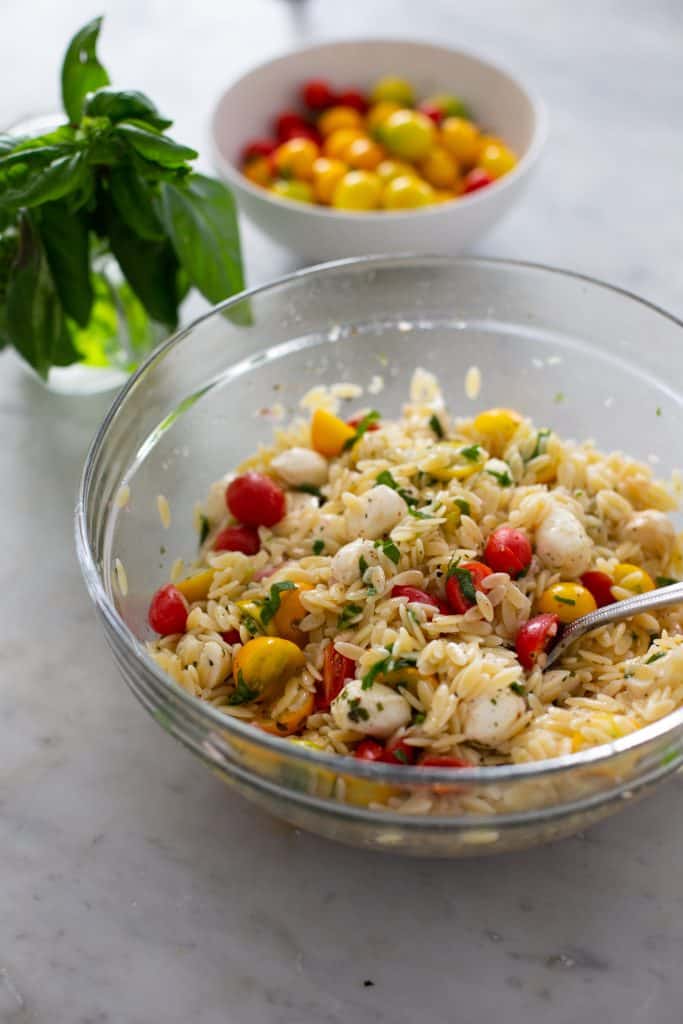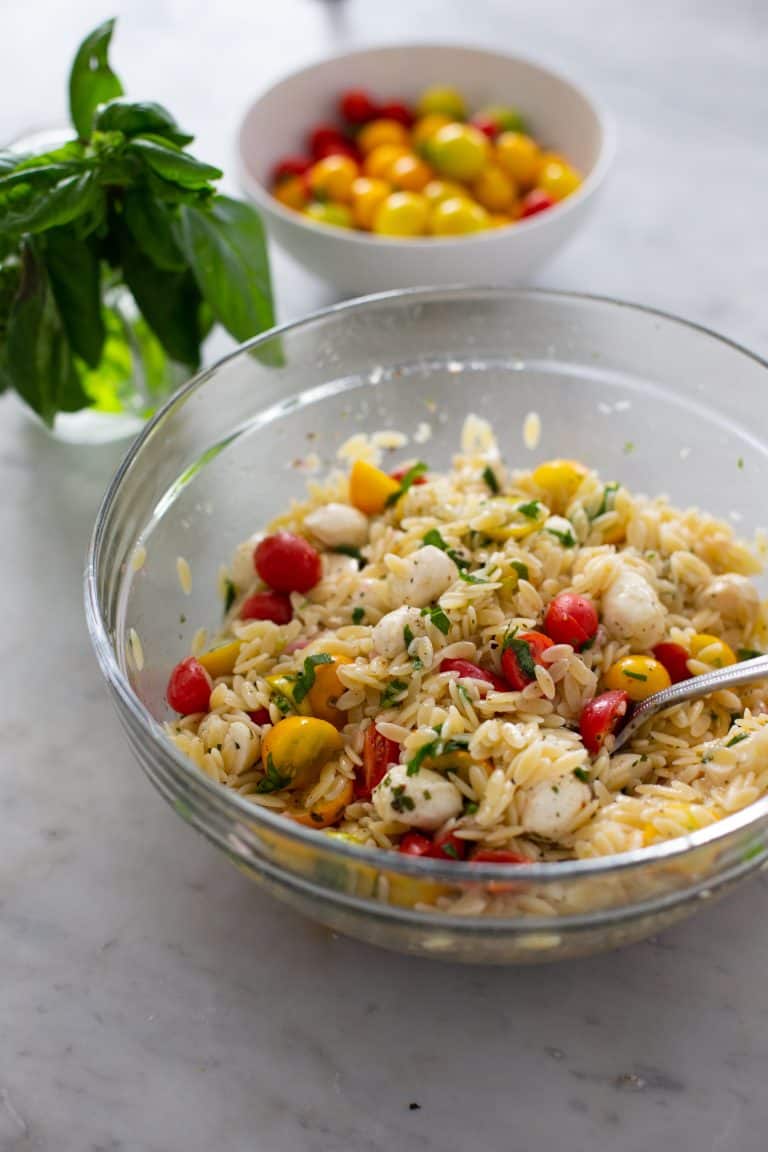 How to make this Caprese Pasta Salad Recipe:
Start by getting a large bowl and adding the minced shallot.
Drizzle with red wine vinegar and set aside while you prep the rest of the ingredients.
Slice the cherry tomatoes in half and toss them in the bowl along with the small mozzarella balls.
Cook the orzo according to the package directions, rinse it under cold water and then toss in the cooked orzo.
Top with a few spoons of the herby oil marinade from the mozzarella.
Thinly slice the fresh basil leaves and add to the bowl.
Toss the salad, add salt & black pepper to taste as well as more herby oil or a bit more vinegar.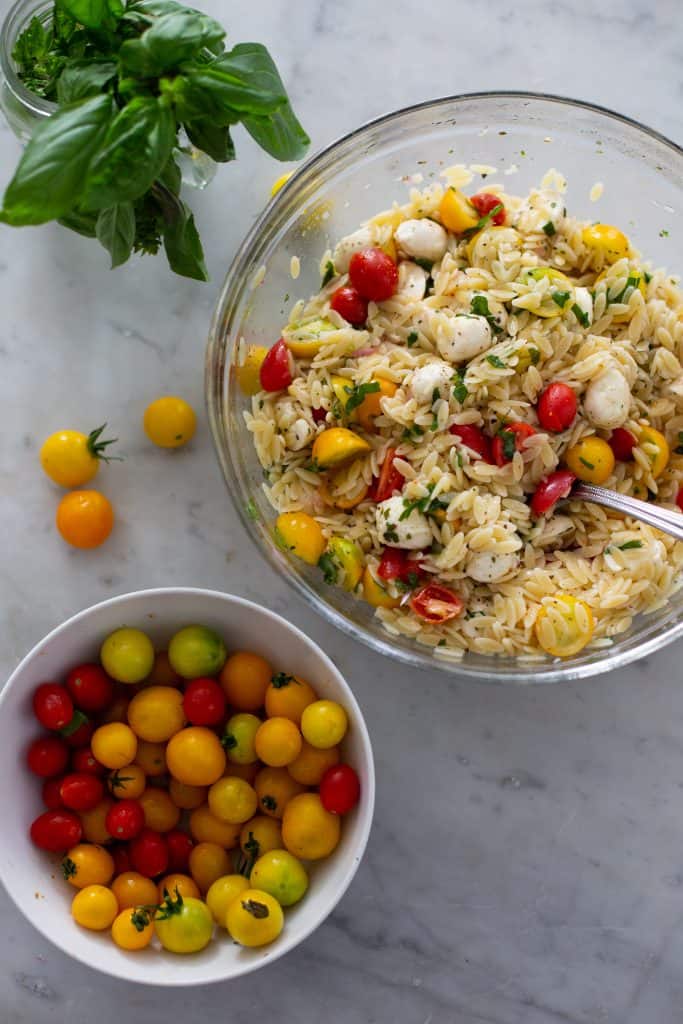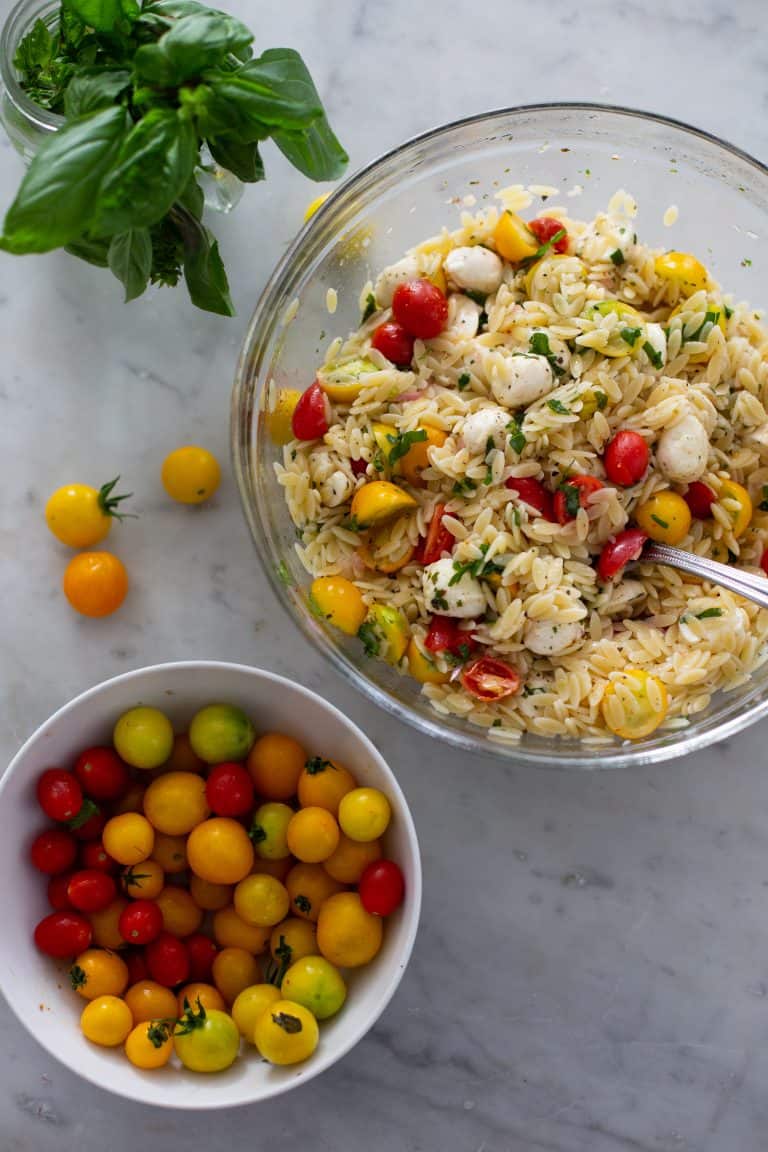 How to Store Caprese Orzo Pasta Salad:
Simply pop it into the fridge in an airtight container for up to a week. It is delicious room temperature or cold.
I don't have red wine vinegar- what else can I use?
Lemon Juice would work well, as well as balsamic vinegar or white wine vinegar.
What type of tomatoes are best in this Caprese Orzo Salad Recipe?
Any fresh tomatoes can work, but I like using the tomatoes I grow in the garden. Any type of grape tomatoes or cherry tomatoes would be fine.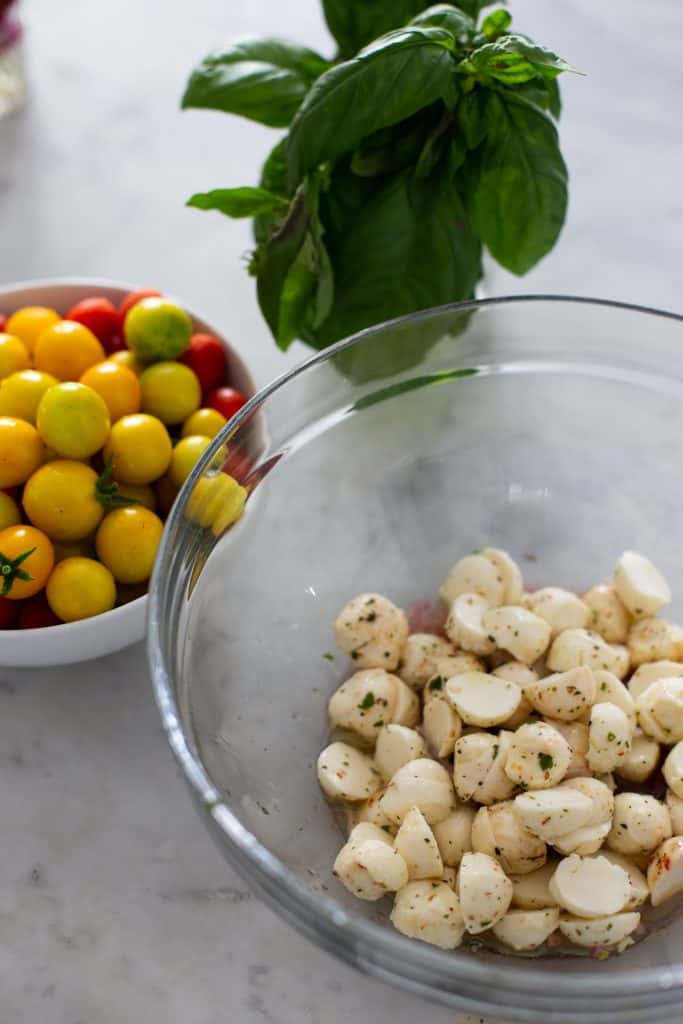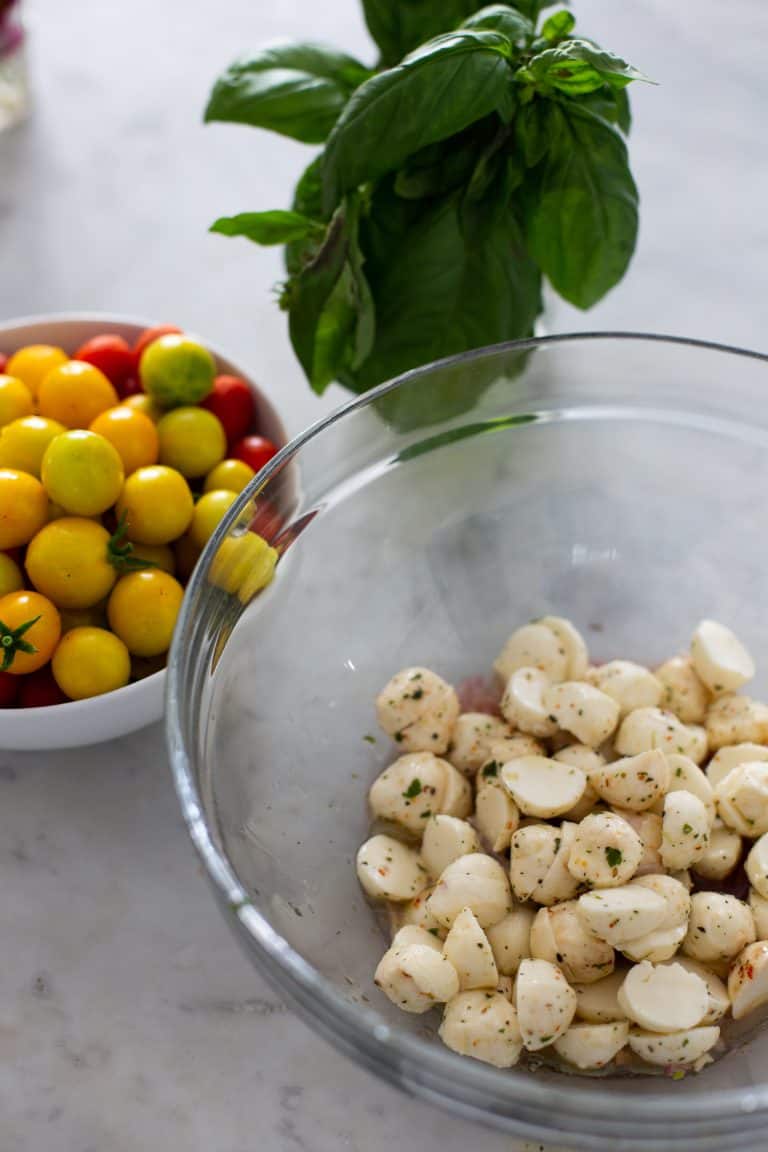 I don't have Orzo- what can I use instead?
Any small pasta shape would work, I love the small size of orzo or pearl couscous best. Just
I can't find marinated mozzarella, what else can I use?
As long as it's fresh mozzarella cheese you'll get that classic caprese flavor. I love the marinated mozzarella balls because the seasoning in the oil makes flavoring this recipe so easy, but you can use fresh mozzarella balls without the oil and spices instead. If you do that you'll add a couple tablespoons of olive oil instead.
What else can I add into this recipe?
I think it's really perfect as is, but for some extra protein pine nuts would be great! I also think some chickpeas would be good addition.
Supplies needed for this recipe:
Large pot of water
Sharp Knife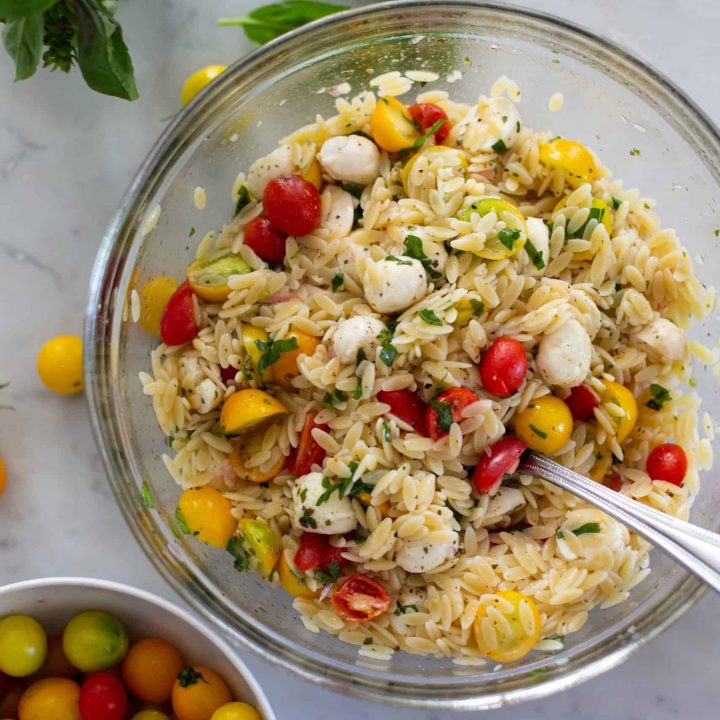 Caprese Orzo Pasta Salad
Ingredients
16 oz orzo, cooked
1 small shallot
1/4 cup red wine vinegar
marinated mozzarella balls, oils and spices reserved*
2 cups of cherry/grape tomatoes, sliced in half
handful of fresh basil
salt & pepper to taste
Instructions
Finely mince the shallot and add it to the bottom of a large salad bowl. Pour the red wine vinegar on top and swirl bowl around so the shallots are all covered. Set aside for a few minutes while you prep the other ingredients.
If using small balls of mozzarella slice them in half and add them on top of the shallots followed by the tomatoes and orzo.
Spoon the herby oil mixture over the orzo, I start with 4 large spoonfuls, saving the rest to add to taste.
Thinly slice the basil and sprinkle that on top of the orzo.
Gently toss everything together, adding salt and pepper to taste.
Add more herby oil or vinegar as needed to taste.
This post contains affiliate links