Caramel Apple Cinnamon Rolls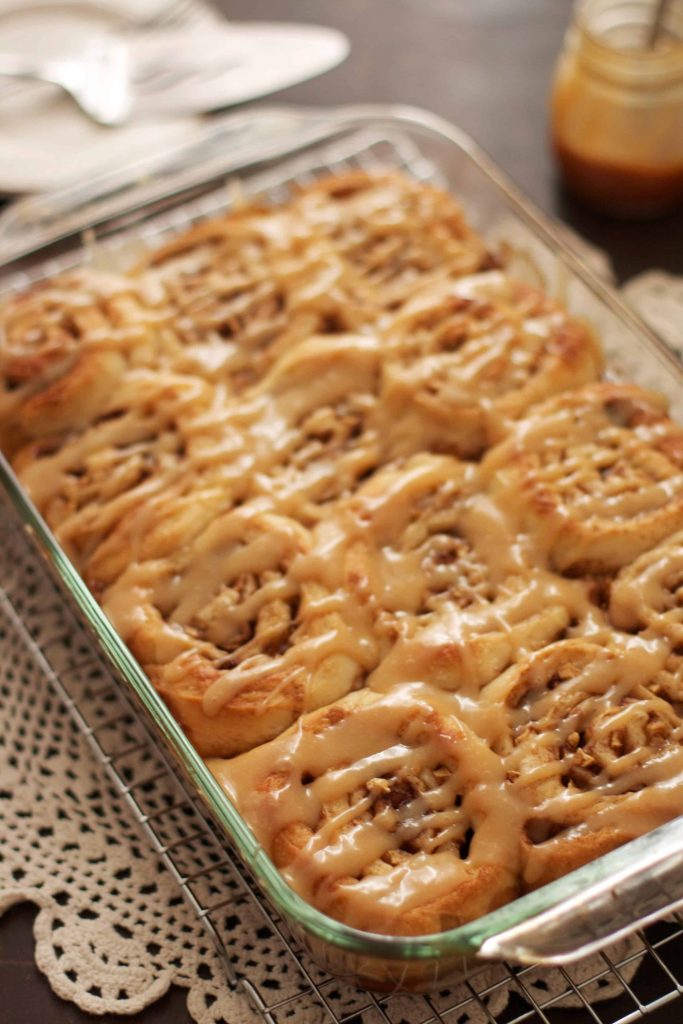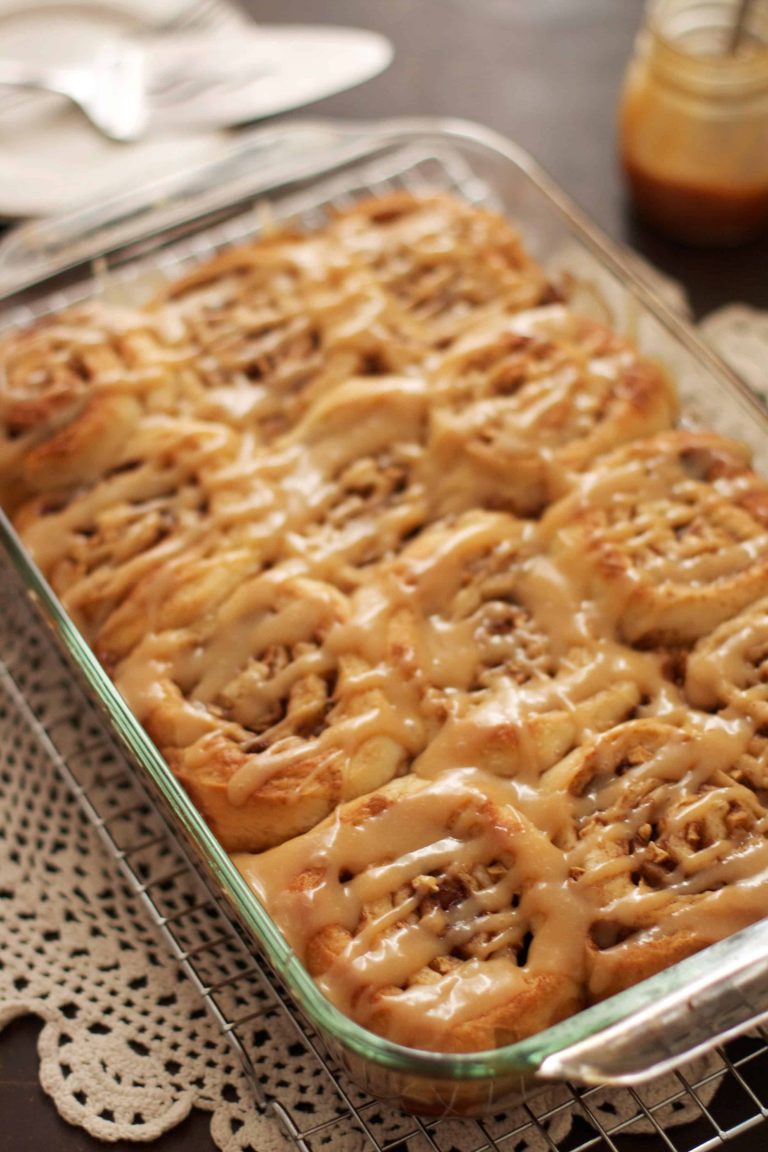 I love my cinnamon roll recipe so much, that it seems like I can't help but find as many opportunities to change it up so I can share it over and over. First was the original Brown Butter Cinnamon Roll recipe, then Salted Caramel Sticky Buns, Blueberry Cinnamon Rolls, and a savory version: Garlic Cheddar Swirl Buns. I've been thinking that a luscious Lemon Roll would be great in the citrus months, and I've been dreaming of Caramel Apple Cinnamon Rolls for as long as I can think of. (Any other swirly bun flavors you'd like to see?) I wanted to incorporate lots of little apple chunks, my favorite Caramel Sauce, and a special Caramel Cream Cheese glaze. Our first house guests in our new apartment seemed like the perfect opportunity to make a special, decadent dessert-esque breakfast treat.
This time of year I really jump for any opportunity to combine caramel and apples, which in my book is one of the best flavor pairings of all time. The bursts of apple chunks are so perfect mixed with the tender dough, cinnamon-sugar swirl, and gooey caramel glaze. (Did I mention I'm still trying to win over my new neighbors with deliveries of treats??)
This time around I experimented with preparing the rolls ahead of time, and then chilling in the fridge until the next morning when I was ready to bake them bright and early. The whole process of these takes less than 2 hours normally, but I loved this option for those mornings when you want to be eating these 3o minutes after waking up! Making ahead would be perfect for special occasion breakfasts when you want as much prepared in advance as possible!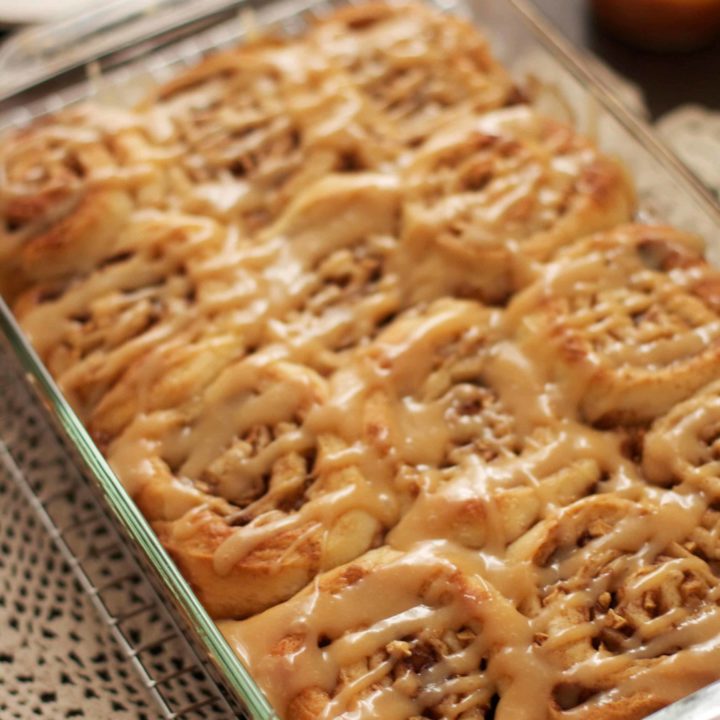 Caramel Apple Cinnamon Rolls
Ingredients
Dough:
3/4 cup milk
1/4 cup butter
3 1/4 cups all-purpose flour
1 .25 ounce package instant yeast
1/4 cup white sugar
1/2 teaspoon salt
1/4 cup water
1 egg
Filling:
1 cup brown sugar, packed
1 tablespoon ground cinnamon
5 tablespoons of butter, melted
2 small tart apples, peeled, and diced into small pieces (about 1 cup of chopped apple total)
caramel sauce for drizzling, about 2 tablespoons plus 1/2 cup as needed for icing below
Icing:
1/2 cup caramel sauce
1/2 cup powdered sugar
2 oz. cream cheese, softened
Instructions
Warm the milk and butter in a class measuring cup in the microwave for about 1-2 minutes until warm with the butter melted.
In a large mixing bowl, combine 2 1/4 cup of the flour, yeast, sugar and salt; whisk together. Add water, egg and the milk mixture; beat well with an electric mixer OR use a rubber spatula to fold the dough together, scraping from the outside in. Mix until well- combined.
Add the remaining flour, 1/2 cup at a time, stirring well after each addition. (dough will be too thick and sticky to use the mixers at this point.)
When the dough has just pulled together, turn it out onto a lightly floured surface and knead until smooth, about 5 minutes. (dough will spring back when lightly pressed.)
Cover the dough with a damp cloth and let rest for 10 minutes.
Meanwhile, prepare your filling ingredients. When the dough is ready, lightly flour your surface and roll out dough into a 12x9 inch rectangle. (use your 9x13 baking dish as a guide.) Using a pastry brush- slather the dough with the butter. Sprinkle dough with cinnamon sugar mixture and press in lightly so it doesn't fall out when you roll it. Add the chopped apples and press them into the dough a bit as well. Drizzle apples with 2 tablespoons of caramel sauce.
Starting on one of the shorter ends, carefully roll up dough and pinch seam to seal. Cut into 12 equal size rolls and place in a 9x13 baking dish. Rolls will be gooey, so transfer them carefully.
Cover and let the rolls rise in a warm place until doubled, about 45 minutes. Preheat oven to 375F.
Bake in the preheated oven for 20 minutes, or until golden. Let cool for about 10 minutes before icing.
For the Icing
Soften cream cheese in the microwave for about 30 seconds. Whisk together with caramel sauce until smooth. Add the powdered sugar and continue to whisk until smooth and lump-free. Drizzle over rolls and serve warm.
Notes
*Make ahead option: Proof rolls as instructed, but instead of baking, cover tightly with plastic wrap and refrigerate overnight (or up to 24 hours) until ready to bake. Let rolls rest at room temperature while oven is preheating and then bake as directed. Base recipe adapted from All Recipes
Nutrition Information:
Yield: 12 Serving Size: 1 grams
Amount Per Serving: Unsaturated Fat: 0g