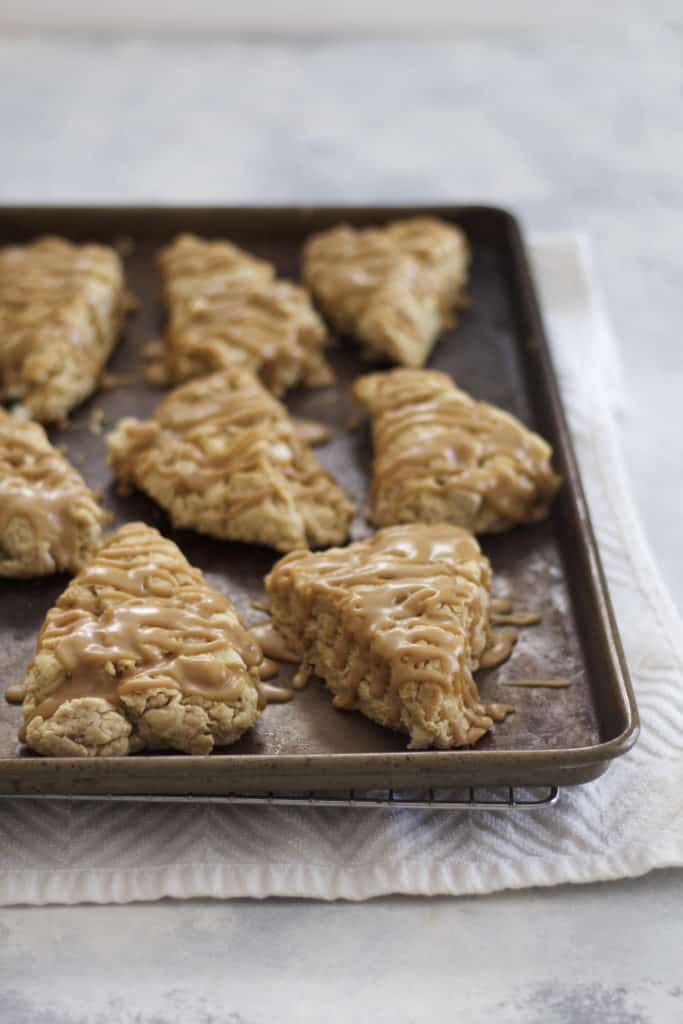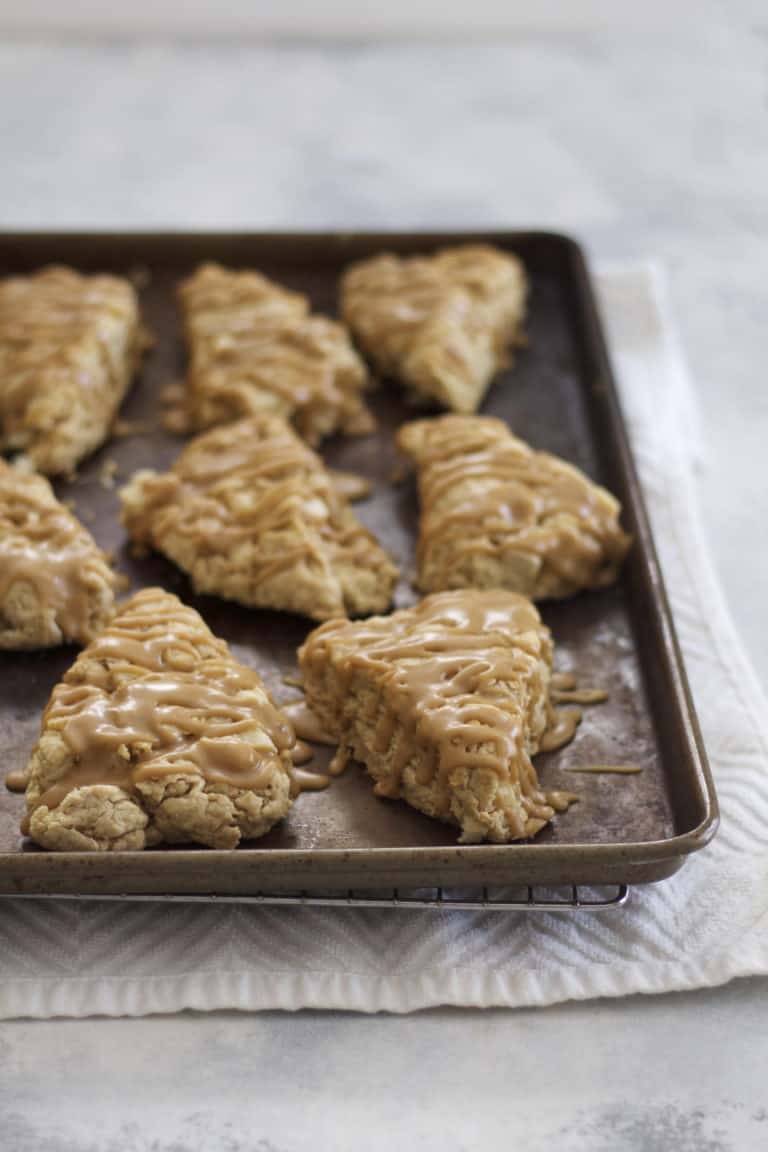 I originally shared this recipe almost exactly 5 years ago. I love browsing through my archives and bookmarking old forgotten recipes, waiting for a chance to give them a good revamp. A trip to the apple orchard last weekend left me with more apples than I know what to do with, so this was a good first foray into fall baking. These simple and delicious scones are tender and soft- full of juicy apple bits and drizzled with a sweet caramel glaze. Paired with a warm tea or coffee on a crisp morning, I can't think of much better.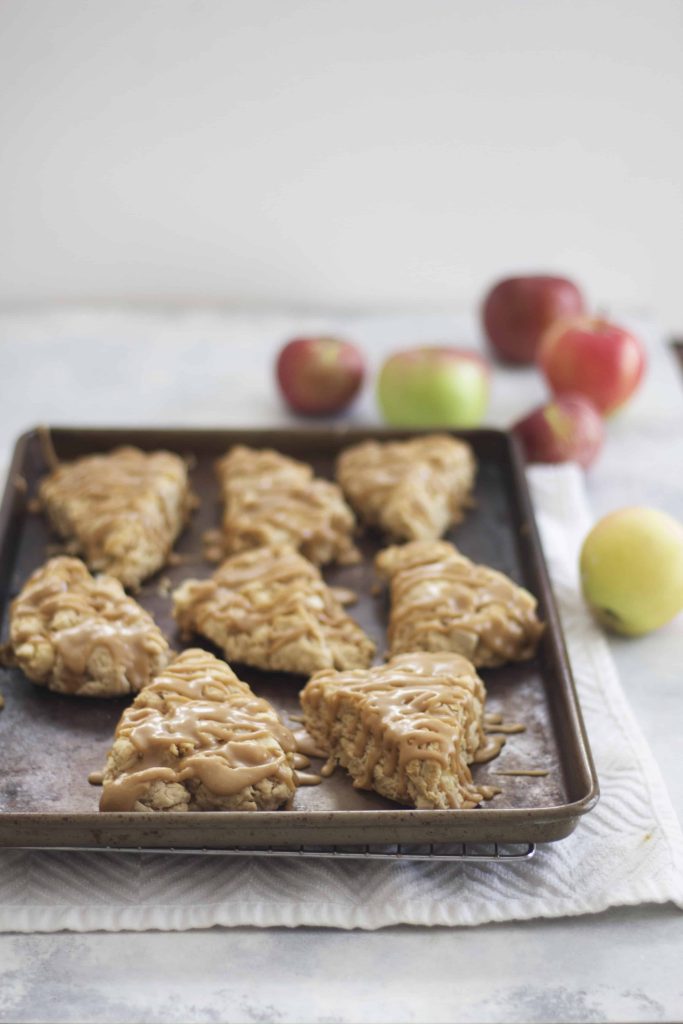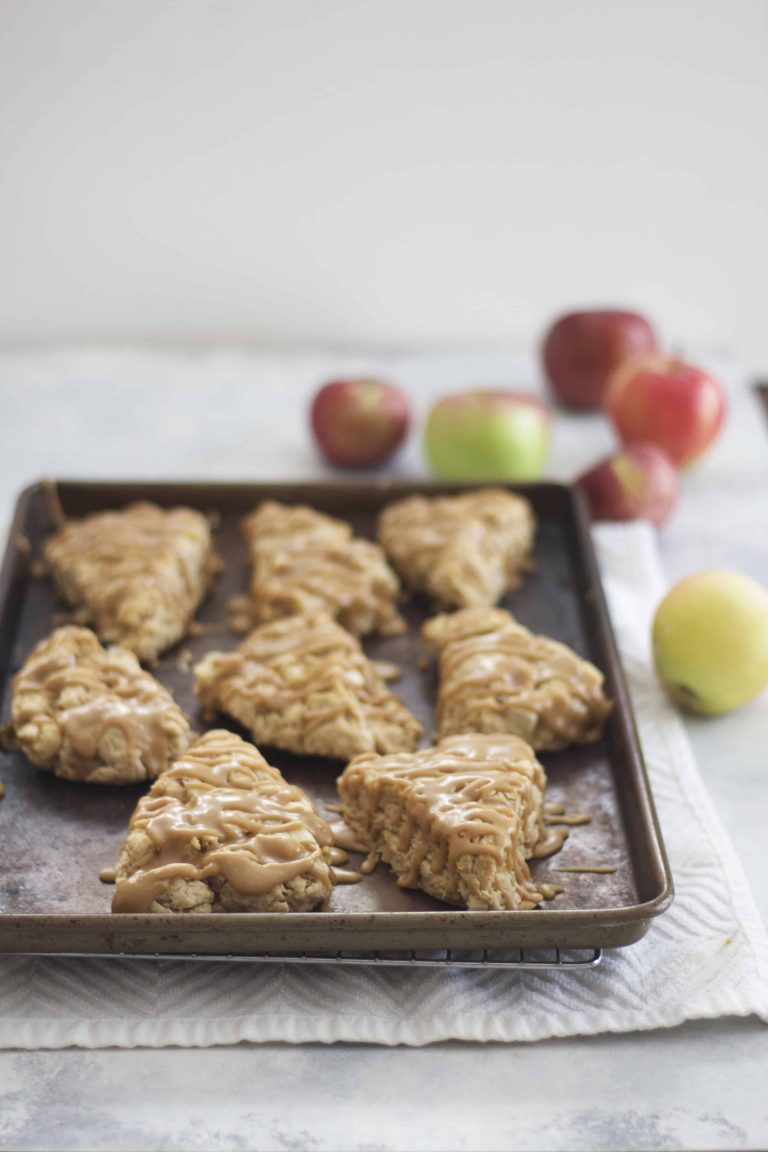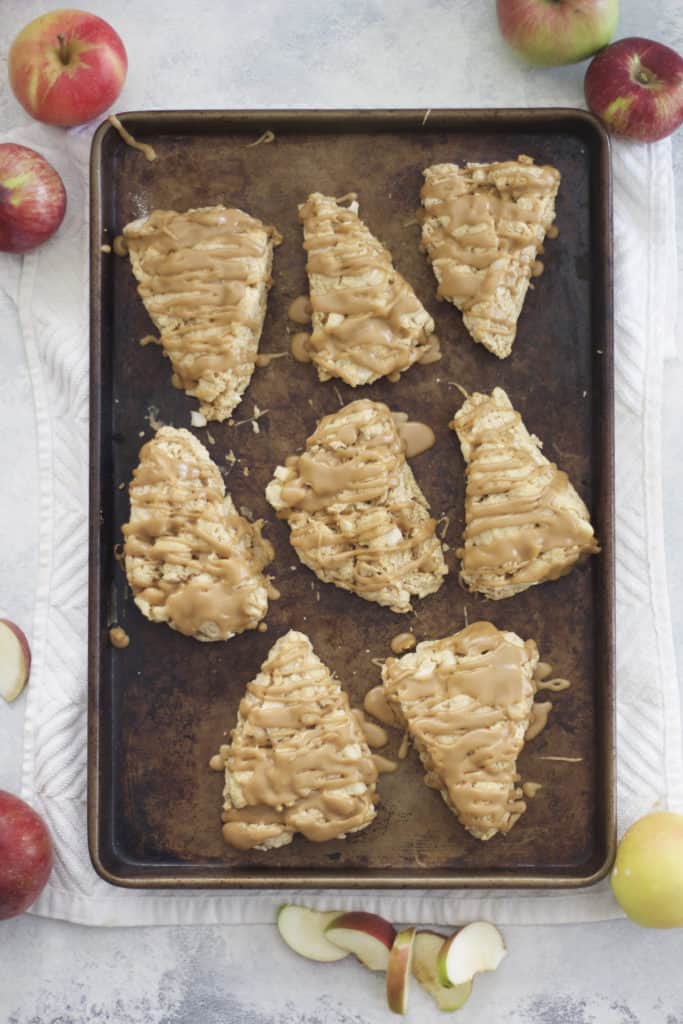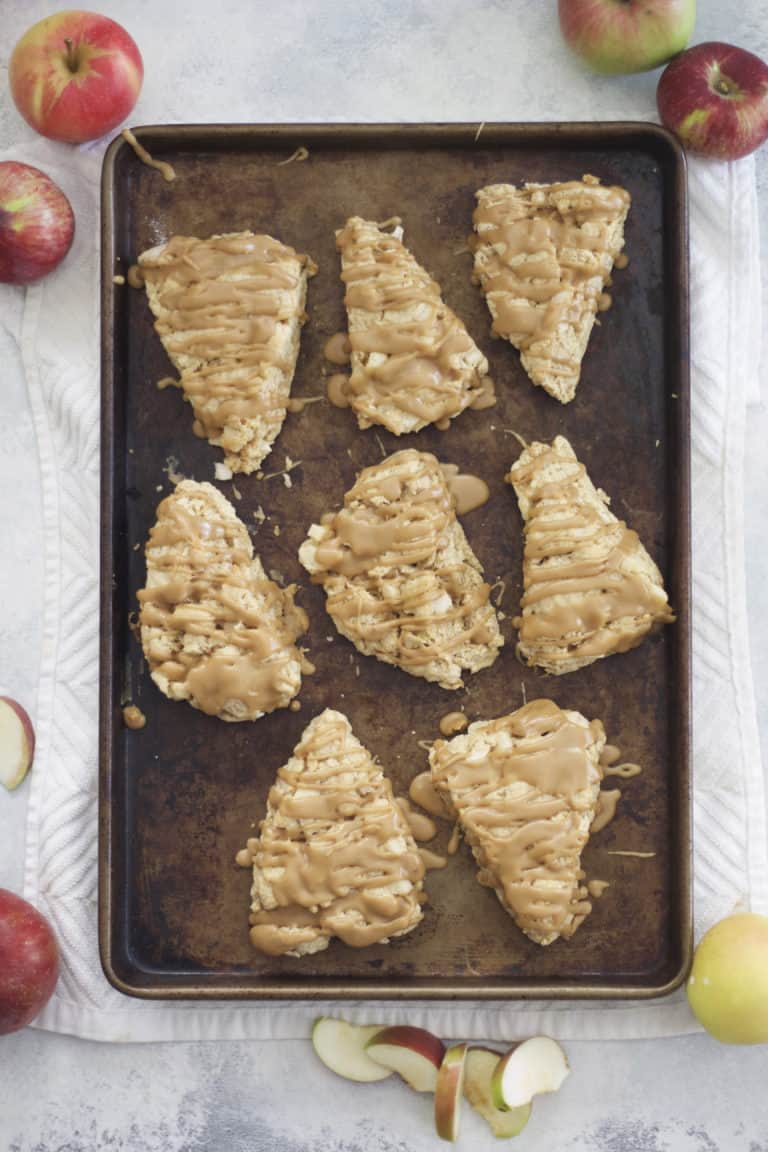 Scones get a bad rep for being tough and dry. I've had a few of those in my day, but I've also been spoiled with some truly amazing ones. (Alice's Tea Cup in NYC hello!) When done well- they are such a nice alternative to a muffin or coffee cake, something feels more elegant and dainty somehow. Maybe it's just my vision of serving them at high tea with sandwiches and a fancy tea cup in hand. Either way- these are wonderful- truuust me.
A note about the recipe- I cooked the apples for 5-10 minutes before tossing into the batter to make sure they weren't still crunchy. I'm not sure if that was needed but I wasn't willing to risk it. I also used greek yogurt in these but buttermilk, regular yogurt, or even sour cream would do. All that's missing is a sprinkle of flaky sea salt. I can't believe I forgot that!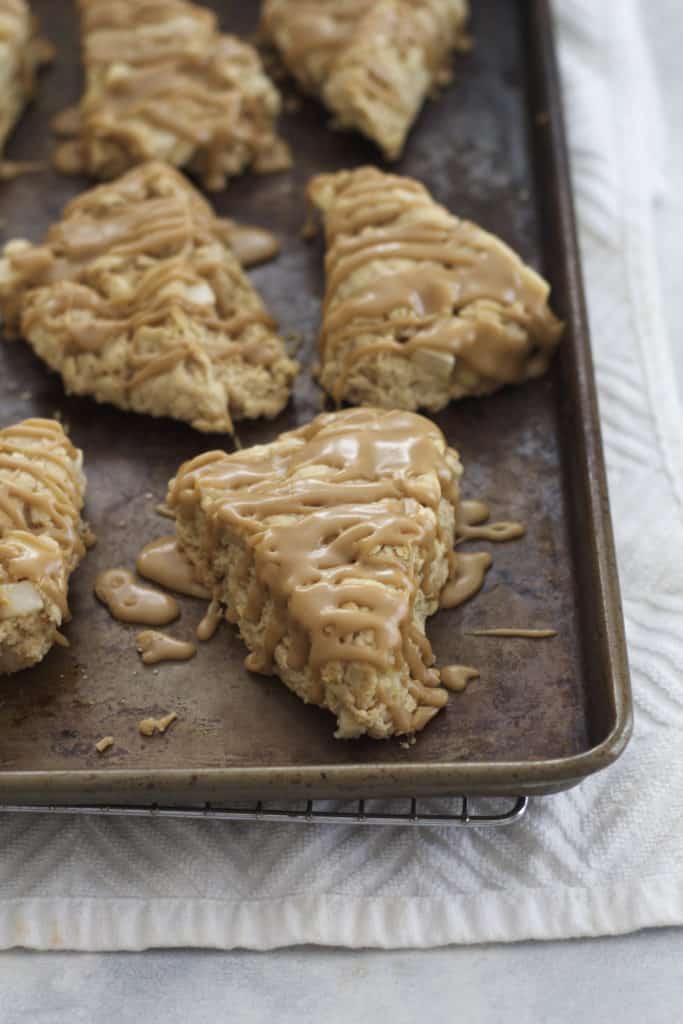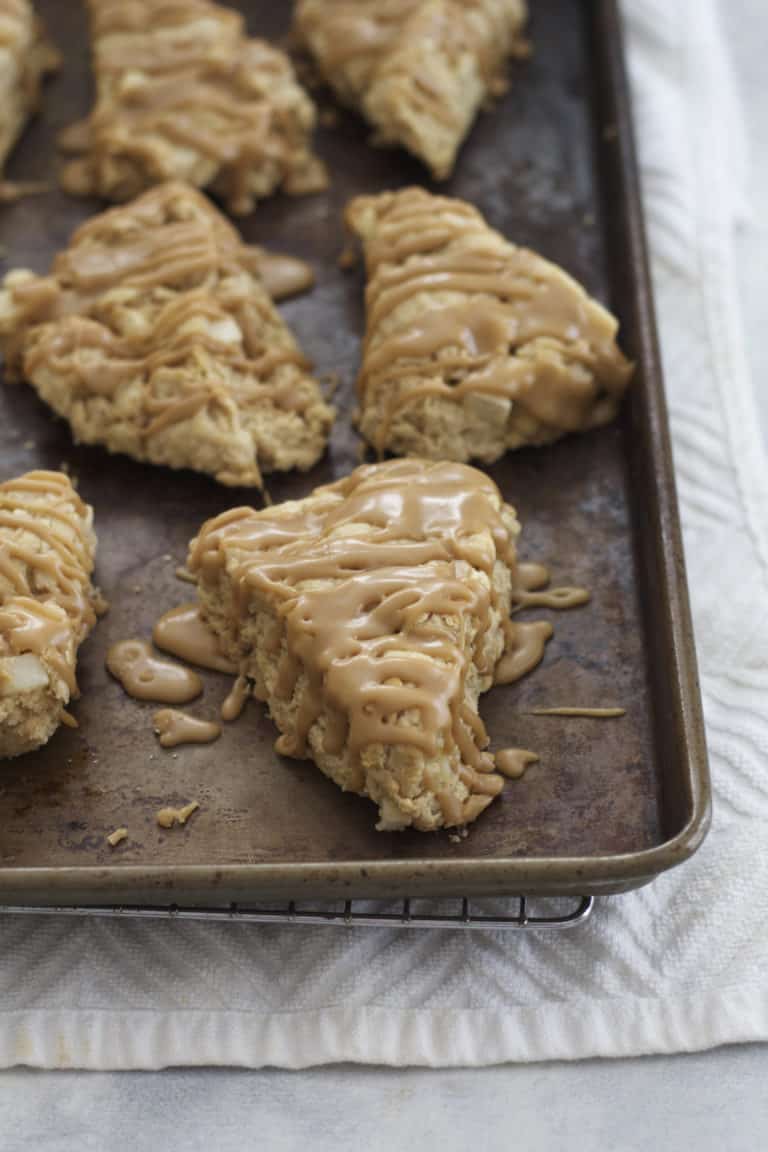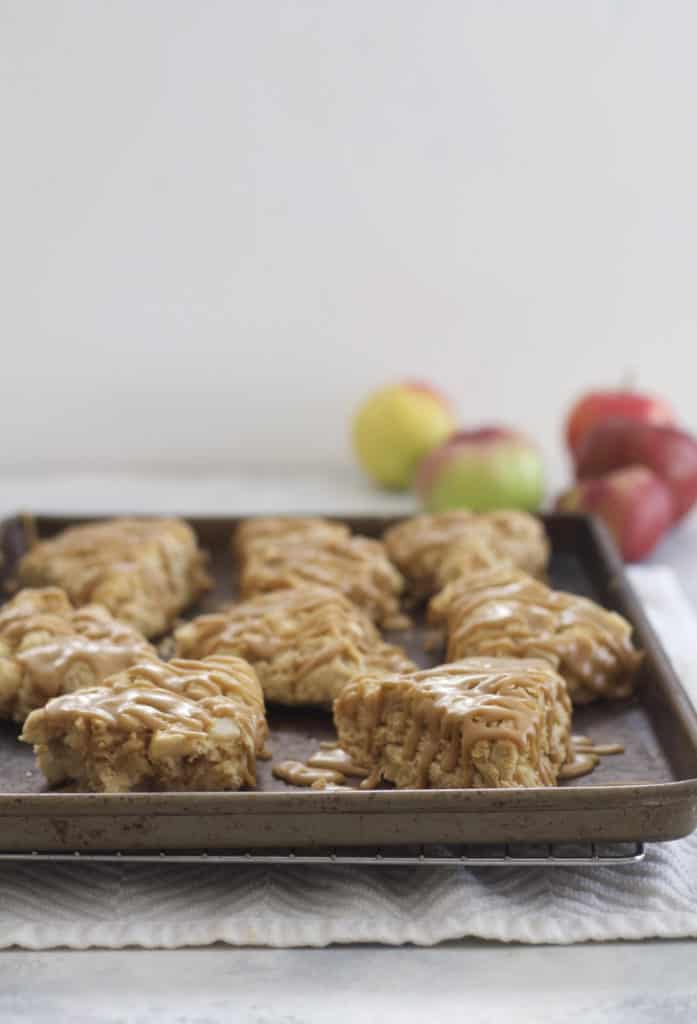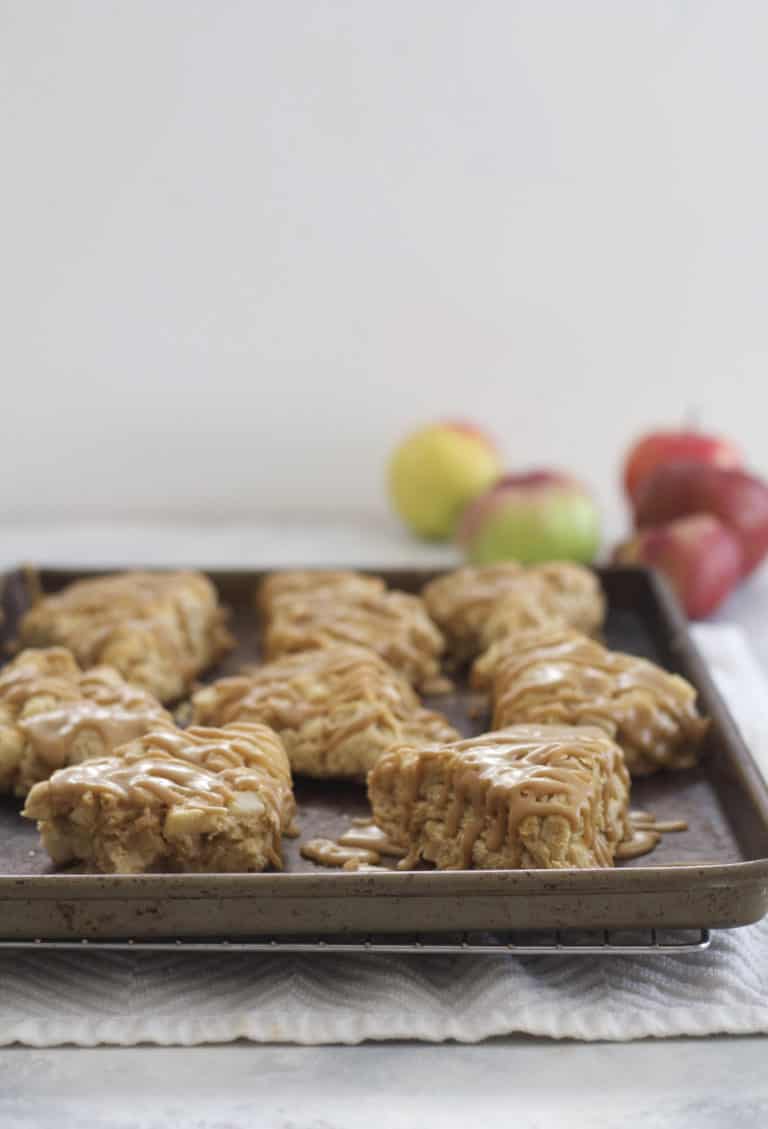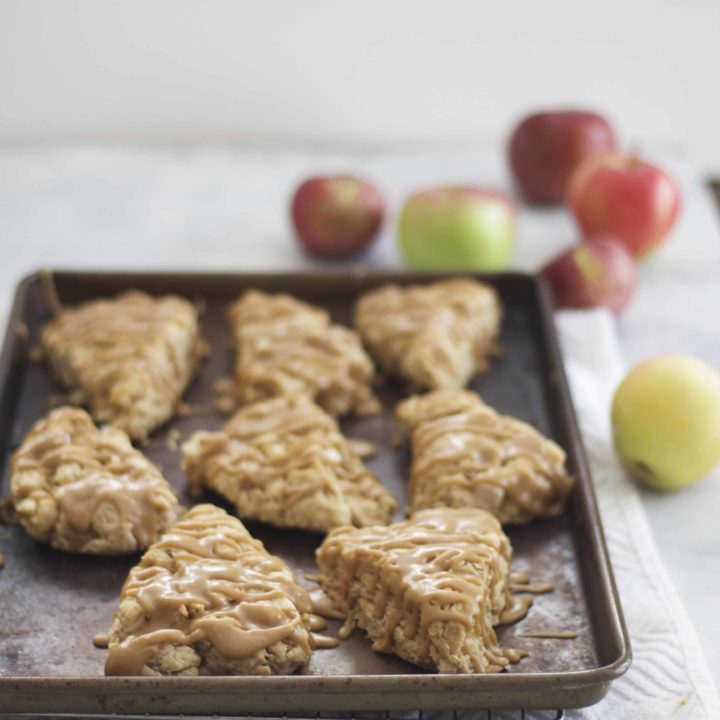 Caramel Apple Scones
Ingredients
1 tablespoon butter
2 cups peeled and diced apples
1 teaspoon cinnamon
For the Scones:
3 cups all-purpose flour
1/3 cup brown sugar
2 tablespoons baking powder
1 teaspoon baking soda
1/2 tsp. salt
1/2 cup 1 stick unsalted cold butter, cut into small pieces
1 cup greek yogurt*
1 tsp cinnamon
For the Caramel Glaze:
2 Tablespoons unsalted butter
1/2 cup packed light brown sugar
3 Tablespoons milk or cream
1/2 teaspoon vanilla extract
pinch of sea salt
1 cup powdered sugar, sifted
Instructions
Preheat the oven to 350 degrees F. Line a baking sheet with a silpat mat or parchment paper.
Prepare the apples:
Combine the apples, butter and cinnamon in a small saucepan and cook over medium heat, stirring frequently. Cook for 5-8 minutes, or until the apples are soft. Transfer to a bowl and pop in the freezer while you make the scone dough.
For the Scones:
In a large bowl combine the flour, brown sugar, baking powder, salt, and baking soda. Add the butter and use your hands to spread and mix until pea-sized crumbs form. (You can also use two knives, a pastry cutter, or a food processor.)
Fold in the yogurt and apples until the dough comes together (don't overmix, and use your hands if needed to smush it all together- it's a dry dough).
Turn the dough out onto a lightly floured surface and and form a 9 inch circle, about 2 inches thick. Use a sharp knife to cut the dough into equal wedges.
Place the un-baked scones on your prepared baking sheet, leaving about 1/2-inch between scones.
Bake for 15 to 18 minutes, or until they are cooked through and no longer doughy in the middle. Let them cool for a few minutes- and then transfer to a cooling rack.
To make the icing:
In small saucepan, melt the butter. Stir in the brown sugar and milk. Cook over medium-low heat for 1 minute.
Transfer to a mixing bowl and mix in medium speed to cool the mixture slightly. Stir in the vanilla and 1/2 cup sifted powdered sugar.
Beat with a whisk or an electric mixer until well blended. If necessary, add more milk or powdered sugar to get the right consistency.
Drizzle icing over warm scones.
Notes
*buttermilk, regular yogurt, or sour cream would work too Recipe originally adapted from: Recipe Girl
Nutrition Information:
Yield:

8
Serving Size:

1 grams
Amount Per Serving:
Unsaturated Fat:

0g