Caramel Apples from Scratch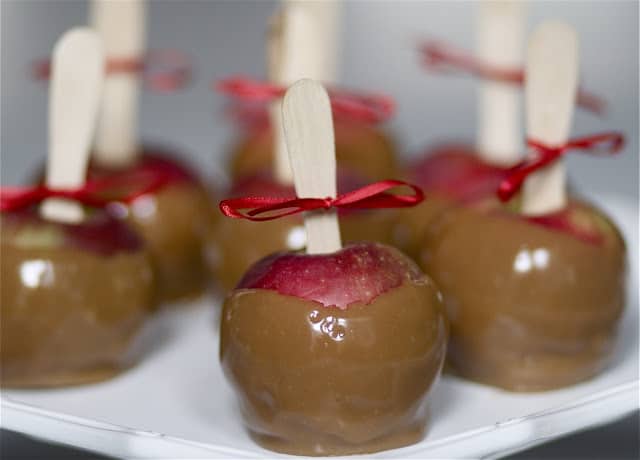 First of all- Happy Halloween! On days like today I wish I were a kid again, as I truly believe that as much fun as adults can have to get into costume (I surely do,) nothing was quite the same as being a kid on Halloween. I sure did love getting all dressed up with my Sisters and Trick or Treating. I mean, what did kinda suck was that out little Wisconsin suburb didn't allow night Trick or Treating, so it happened at 2 pm on the closest Sunday. Do they still do that? In New York I don't get any cute Trick or Treaters which is sad. That is definitely incentive to move into a real house someday. :)
If you have never made Caramel Apples from scratch this is the recipe for you. The dipping caramel is the same that I used for the Sea Salt Caramels I posted on Friday. So not only is it the perfect consistency for an amazing caramel apple, but if you only want to make a few, add some sea salt, pour it into a pan and there you go. Double Whammy!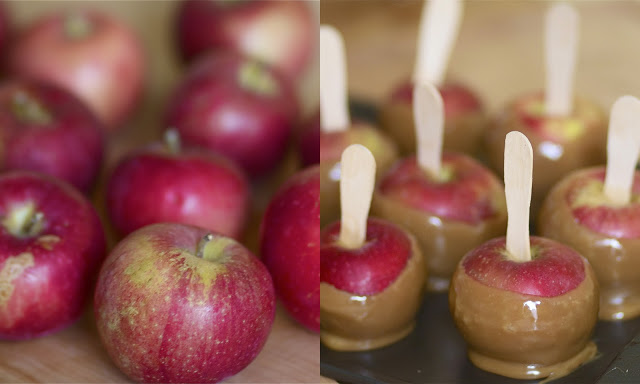 The trick to getting the caramel to stick to the apples perfectly is to sand them down a bit before dipping. I used some fine grade sand paper, roughened the bottom part of the apple up, and then washed it off. I have to say it worked really well and the caramel stuck perfectly! Caramel Apples are something I always think of around Halloween- probably because I loved getting the inspired lollypops in my Trick or Treat bag more than anything else! So enjoy and have a wonderful day whether you are celebrating or not.
I went to a very fun Film Noir themed party on Saturday with my Sisters, Andy and some Friends. Here are a few pics from the occasion: I think I was meant to live during that time! :) Anyone else have any fabulous costumes happening today? (For you OR your kids.)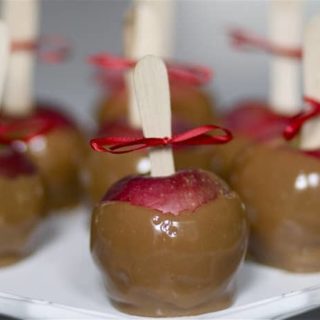 Caramel Apples from Scratch
Ingredients
2 C brown sugar
1 C corn syrup
1/2 C butter
1 can sweetened condensed milk
Instructions
Combine the first 3 ingredients. After butter is melted stir in the milk.
Attach a candy thermometer and cook to soft ball stage. (230/240degrees). Stir constantly.
Stir in 1 tsp vanilla.
Remove from heat.
Dip apples into the caramel.
Set apples on a cookie sheet.
Place in refrigerator if needed. Enjoy!
Notes
I was able to dip 12 small size macintosh apples and had enough caramel left over to fill an 8 x 8 greased pan to make candies.
Nutrition Information:
Serving Size:

1 grams
Amount Per Serving:
Unsaturated Fat:

0g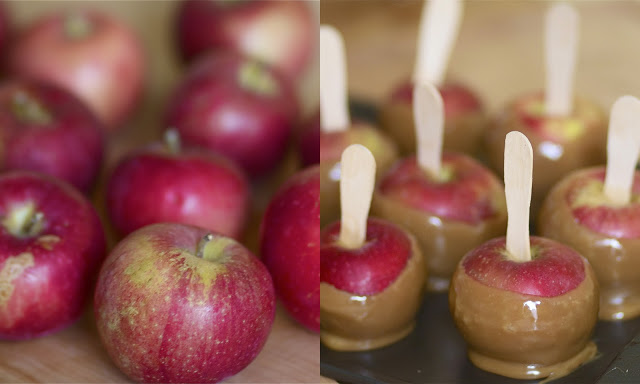 Adapted from:
YourHomeBasedMom