Caramel-Filled Snickerdoodles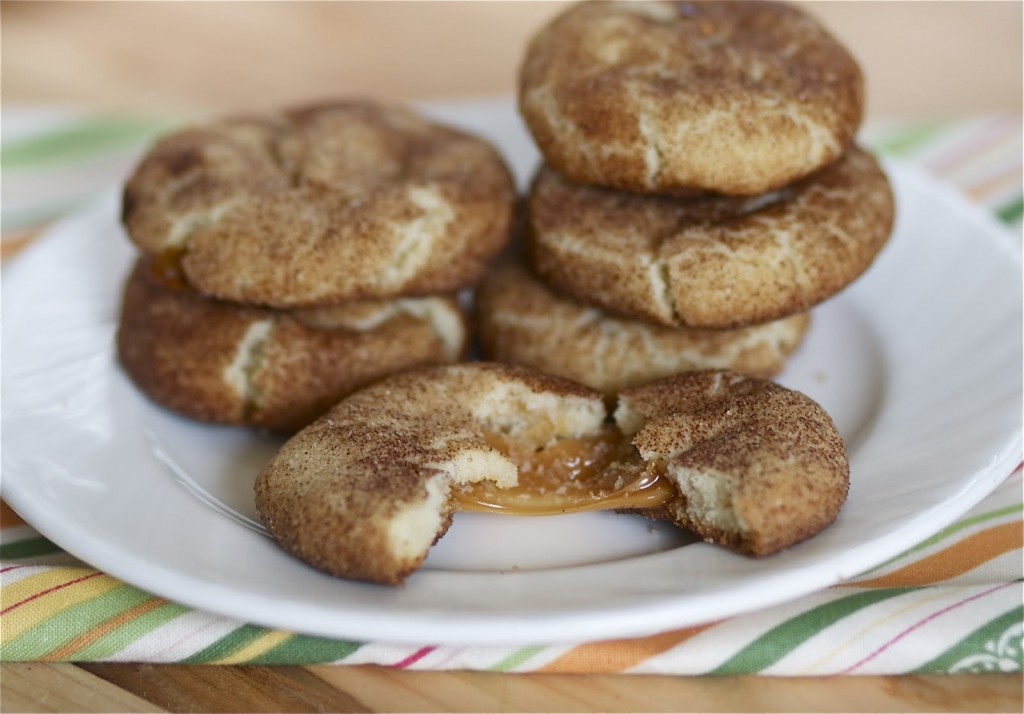 Sometimes when I sit down to write a blog post I feel like the words flow totally effortlessly and I think to myself, "This is so easy! I really love writing!" Other times (like right now) I stare at photo on my screen for what feels like an hour with nothing to say. Here is my current train of thought: "I don't know what to write about these cookies. I am tired. I have allergies at my parents house. I want to lie down. I have to blog something tomorrow! I haven't blogged since Saturday. What is an interesting intro? Can I just write some random thoughts that I am thinking? Maybe I should just do that…." And here we are. So yeah- that's that. Bloggers block.
Anyway…..I think I'm a little late on the stuffed cookie trend. I've been seeing them in blog-land non stop for the last few months but it's taken this long for me to feel inspired enough to make my own. I've actually been wanting to make snickerdoodles for awhile but was having a hard time coming up with my own twist. In January right before I started blogging I made these puppies for the first time and wasn't 100% happy with the results. See I refused to use shortening and these called for a bit of it. I was sure that like some things butter would be an easy substitute but for these it's really not. They still tasted good, but they didn't have that crispy edge/chewy center that make snickerdoodles so great.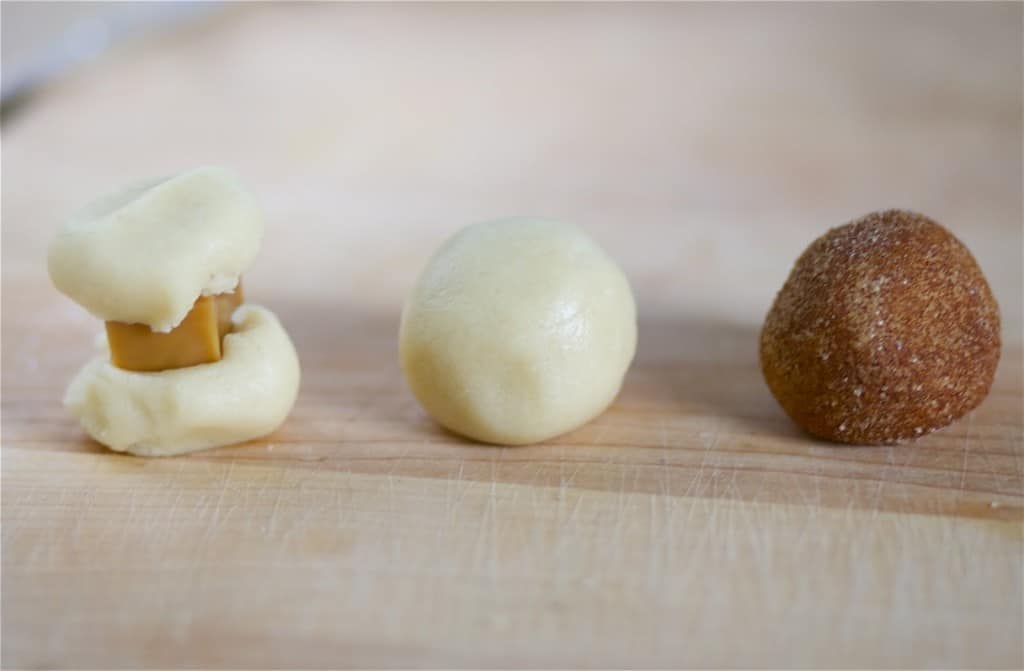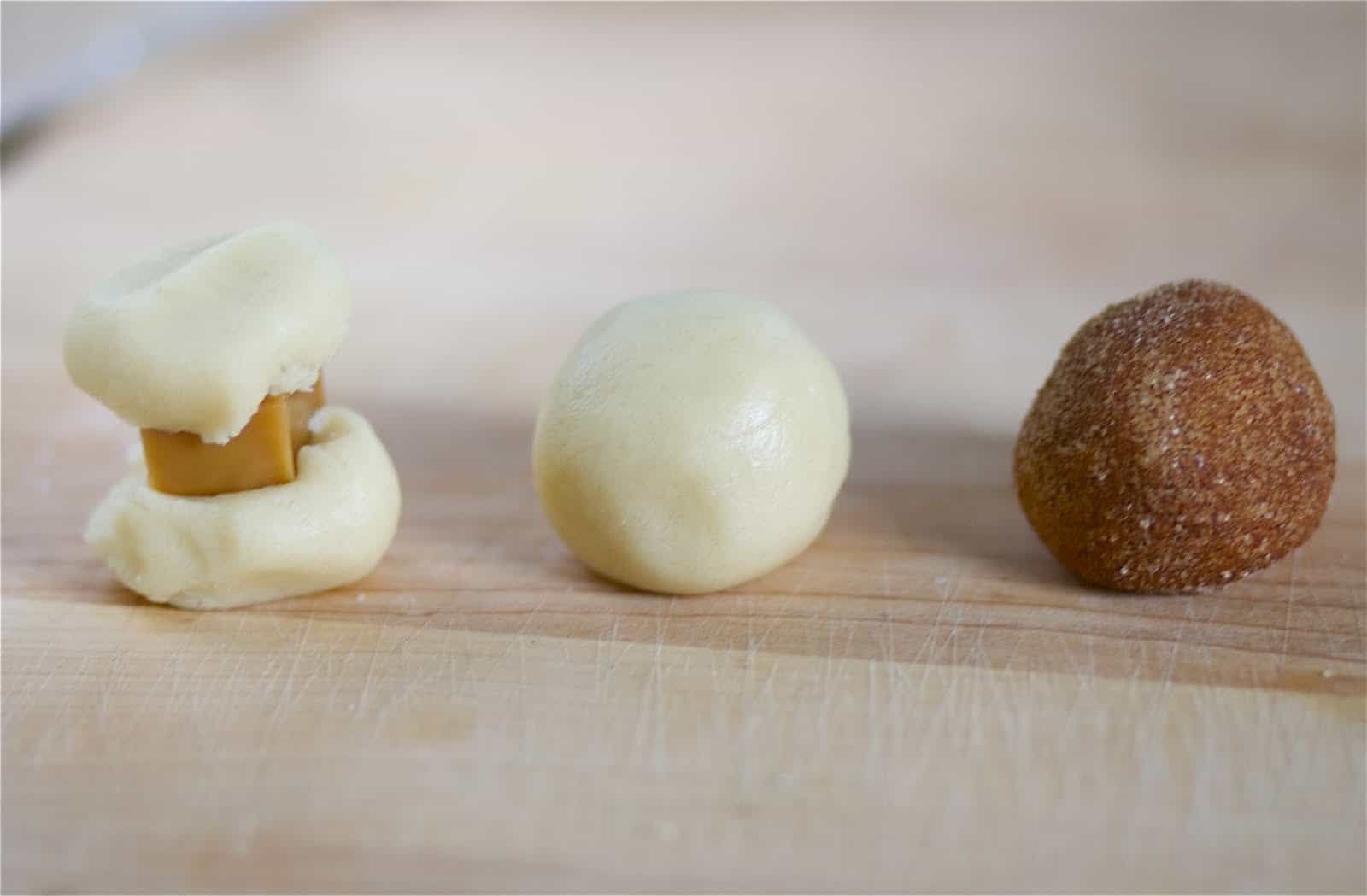 Lucky for me, I discovered a brand of Organic Non-hydrogenated shortening at a market in my hood. Since I bought the huge tub of it (for only 6 bucks- totally a steal,) I have been waiting for a chance to try these again! And I figured while I was at it, I'd jump on board the stuffed cookie thing for an extra twist!
Note: I used store bought Kraft caramels, but I highly recommend using anything that is on the soft side to begin with. If the caramels start out rock hard, the cookies will also harden when they cool and will need to be nuked. Soft caramels or Rolo candies would work best!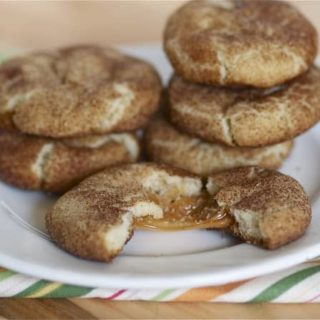 Caramel-Filled Snickerdoodles
Ingredients
2 3/4 cups all-purpose flour
2 teaspoons cream of tartar
1 teaspoon baking soda
1/4 teaspoon salt
8 tablespoons 1 stick unsalted butter
1/2 cup pure vegetable shortening
1 3/4 cups sugar, plus more if needed
2 tablespoons ground cinnamon, plus more if needed
2 large eggs
48 soft caramel candies or Rolos unwrapped
Instructions
Preheat the oven to 400 degrees, with one rack in top third and one rack in bottom third of oven. Line baking sheets with Silpat baking mats or parchment paper; set aside.
Sift together flour, cream of tartar, baking soda, and salt; set aside.
In the bowl of an electric mixer fitted with a paddle attachment, combine butter, shortening, and 1 1/2 cups sugar. Beat on medium speed until light and fluffy, about 2 minutes. Scrape down sides of bowl. Add eggs, and beat to combine. Add dry ingredients, and beat to combine.
In a small bowl, combine remaining 1/4 cup sugar and the ground cinnamon.
Use a small (1 1/4-ounce) ice-cream scoop to form balls of the dough. Break the ball into two and place the caramel into the middle. Form one large ball and roll in cinnamon sugar.
Place about 2 inches apart on the prepared baking sheets. Bake until the cookies are set in center and begin to crack (they will not brown), about 10 minutes, rotating the baking sheets after 5 minutes.
Transfer the sheets to a wire rack to cool about 5 minutes before transferring the cookies to the rack. Serve warm.
Store in an airtight container up to 1 week.
Nutrition Information:
Yield:

4
Serving Size:

1 grams
Amount Per Serving:
Unsaturated Fat:

0g
Snickerdoodle Recipe courtesy of Martha Stewart