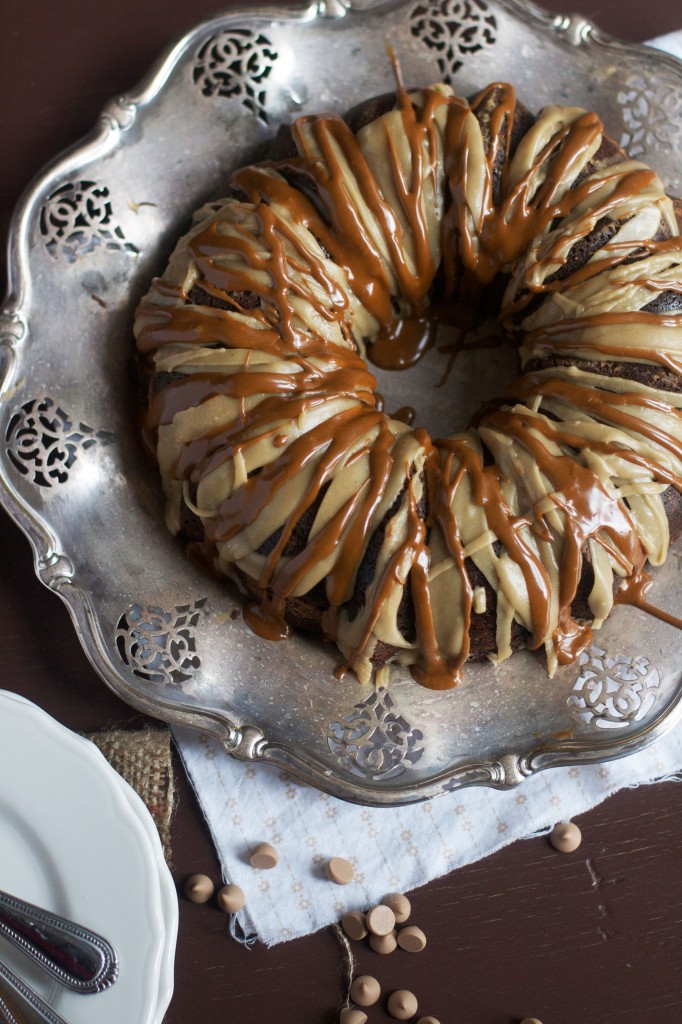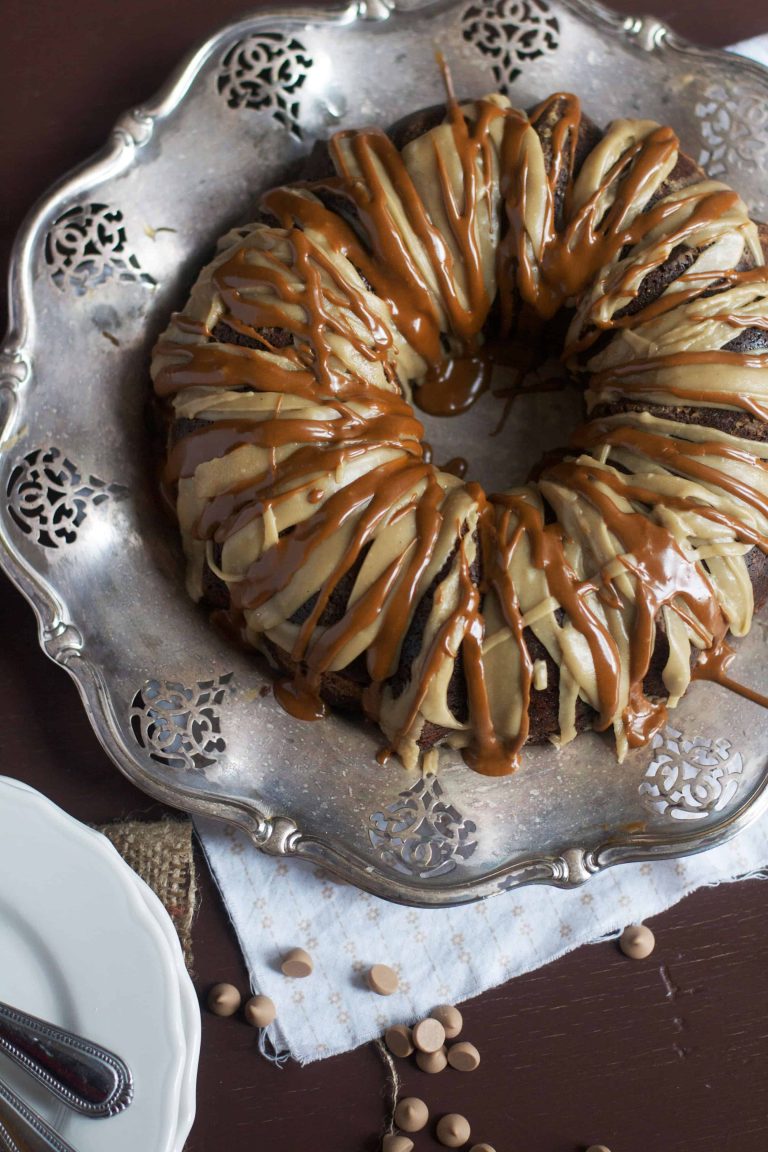 Oh I sure do love my bundt pan. I mean what's not to love? You can essentially bake up a gorgeous looking cake that when glazed looks fancy and special with little to no effort. The pan really does all the work. Now don't get me wrong- I enjoy the effort involved in creating fancy layered cakes as well, but when I'm in a pinch and need something fast with a high presentation factor- bundts for the win!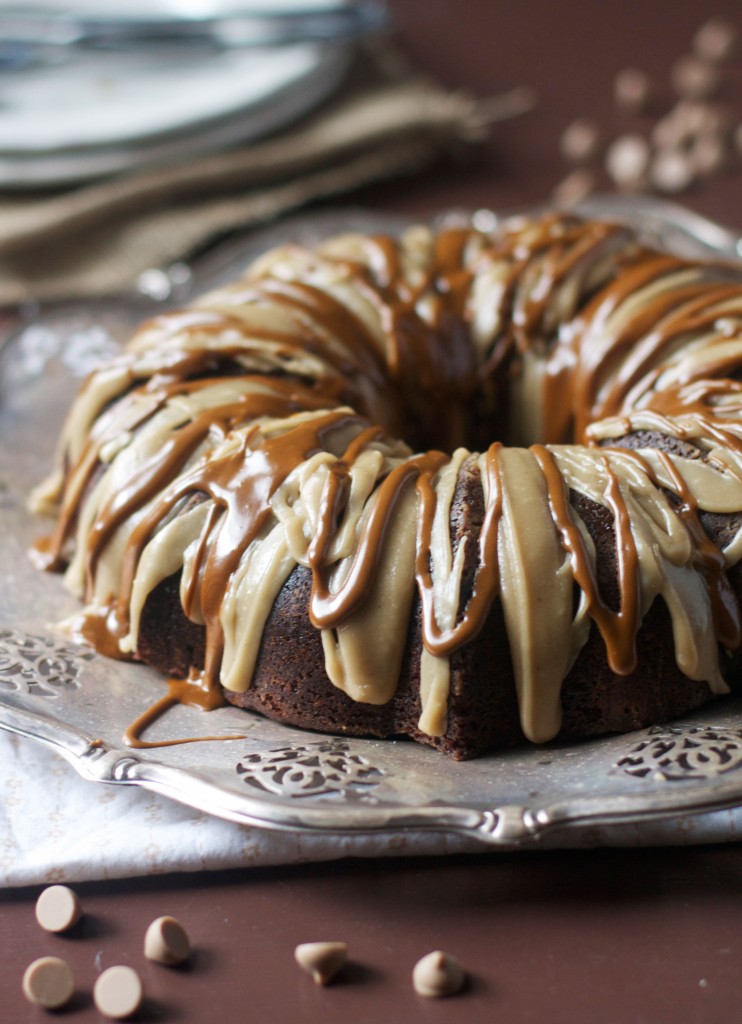 This particular cake recipe was inspired by a bag of cappuccino chips that I bought when shopping in the King Arthur Flour store last month. They seemed too interesting not to try and I knew there would be loads of potential recipes I could toss them into. They are super creamy and melt in your mouth, with a mild coffee flavor that I love, (you could always sub chocolate chips too if you don't have them.) Unlike chocolate chips though, they almost melted right into the batter, creating little bursts of depth and flavor with each additional bite. I can't wait to experiment with them more, and try something with the cinnamon ones that I bought as well!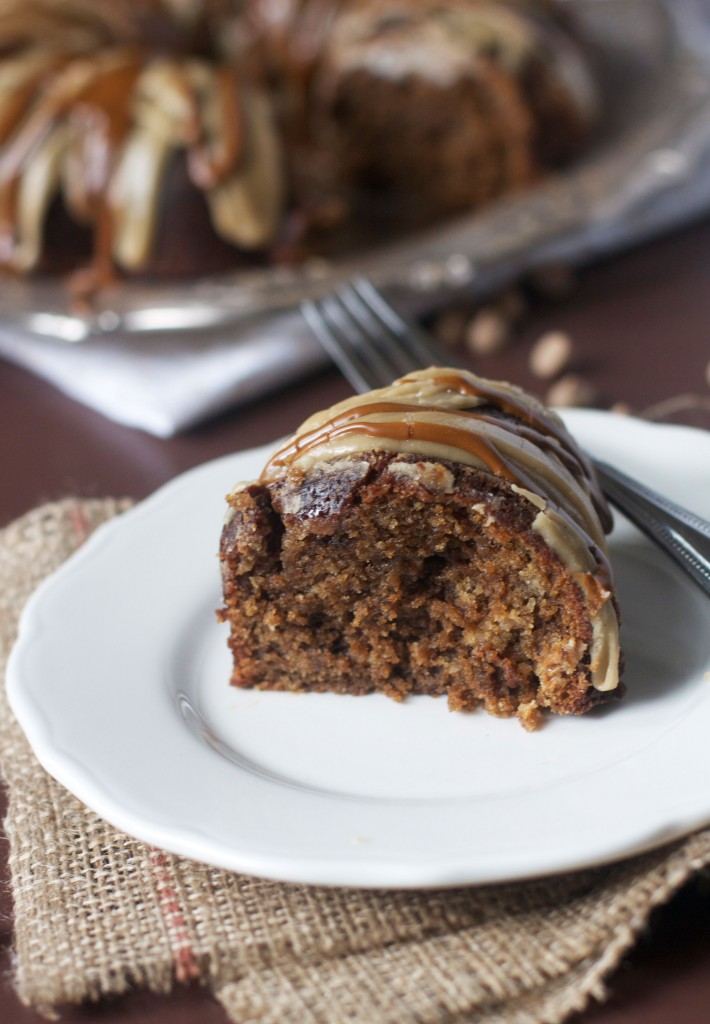 This cake is really something special. A unique method of working the butter into the dry ingredients provides the most amazing, fluffy, moist texture. (Yes I said the m-word. Sorry.) The cake has mild but apparent coffee
flavor that is complimented so well with the caramel and espresso glazes. (I loved the look of two glazes on this, but you could definitely just do one if you want.) Dare I call this a coffee coffee cake? I loved a slice of this with my morning cup of joe, but Andy tried in later in the day and couldn't get enough!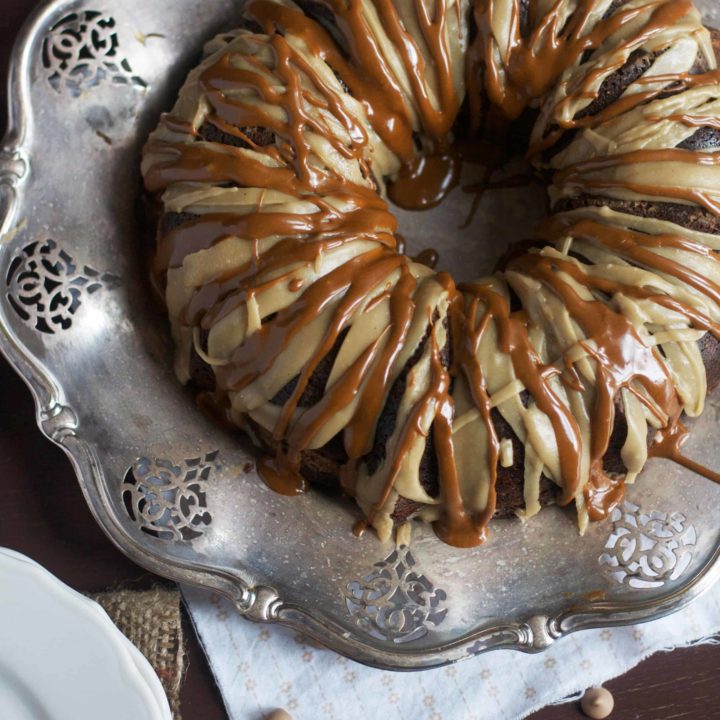 Caramel Latte Bundt Cake
Ingredients
8 tbsp unsalted butter, chilled and diced, plus more for the pan
2 cups all-purpose flour, 8 oz.
1 1/2 cups light brown sugar, packed
1/2 cup white sugar
1 1/2 tsp baking powder
3/4 tsp baking soda
1/2 tsp salt
1 cup buttermilk
1 egg, at room temperature
2 tbsp instant espresso dissolved in 1 tbsp hot water
1 tsp vanilla extract
1/2 cup cappuccino chips*
Caramel Glaze:
4 tablespoons of butter
1/2 cup brown sugar
2 tablespoons heavy cream/milk
1/2 teaspoon vanilla extract
1/2 cup powdered sugar
Espresso Glaze:
3 tbsp milk, plus more if needed
1 1/2 tsp instant espresso powder
1/4-1/2 cup powdered sugar
Instructions
Arrange a rack at center position and preheat the oven to 350 degrees F. Thoroughly butter (or spray) the inside and all ridges of a 9 inch bundt pan**.
In a large bowl, stir together the flour, and sugars. Add the diced butter and use your fingers to work the butter into the dry ingredients until it resembles coarse crumbs. Remove 1/2 cup to a small bowl, set aside.
Add the baking powder, baking soda, and salt to the large bowl with the flour mixture and stir to combine. In a medium sized bowl or glass measuring cup, whisk together the buttermilk, egg, dissolved espresso, and vanilla and then stir them into the dry ingredients just until well combined. Stir in the chips.
Ladle half of the batter into the prepared pan and spread evenly with a spatula. Sprinkle the reserved crumb mixture over the batter. Repeat with the remaining batter.
Bake until a tester inserted into the center of the cake comes out clean, 35-40 minutes.
Cool the cake to room temperature. Then run a sharp knife around the inside edge of the pan to loosen the cake. Carefully flip the cake onto a wire rack or cake plate. Drizzle glazes over cooled cake and serve.
For the Caramel Glaze:
In a small saucepan over medium heat, melt the butter. Add the brown sugar and cream and stir until smooth. Cook for one minute and remove from heat. Let cool slightly and then whisk in the vanilla and powdered sugar. Add more powdered sugar or milk to the glaze to thicken or thin it out.
For the Espresso Glaze:
Dissolve the espresso powder in the milk. Add the powdered sugar gradually, stirring into the espresso mixture until it has reached your desired consistency.
Notes
*Cappucino chips add a fun element to the recipe and can be found here. Chocolate chips would be great too, or they can be left out. ** A variety of pans would work for this recipe. I used a full-sized bundt pan which was only about half-way filled. A 6-inch bundt would work as well. Other options are- a tube pan, or a 9 inch cake pan.
Nutrition Information:
Yield:

1
Serving Size:

1 grams
Amount Per Serving:
Unsaturated Fat:

0g
Cake recipe loosely adapted from: Sunday Brunch: Simple, Delicious Recipes for Leisurely Mornings by Betty Rosbottom