Caramel Mocha Ice Cream Cupcakes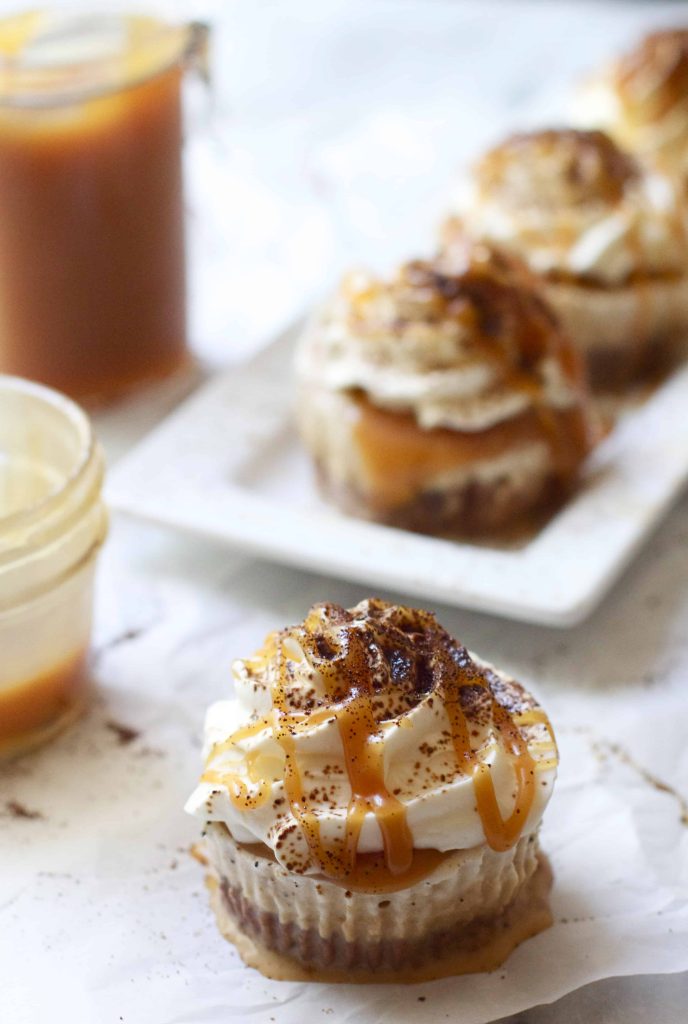 Do you have certain fast-food chain menu items that you were/are obsessed with? Like something that for several years you always had to have when passing by said chain?
I have a couple..as a kid it was a Burger King chicken sandwich. I haven't had one in years but my memory of them is that they were the single most delicious thing on the planet.
As a 19 year old though, my obsession changed. I was in college, way too sophisticated for fast food, and very into frozen coffee drinks. Namely, a Caramel Frappuccino from Starbucks.
It was my real first taste of coffee and I liked it blended, sweet and creamy- (pretty much not tasting like coffee at all right?)
Anyway, that obsession only lasted a couple years and fifty-some blended coffees later, but I'll always remember that first sip of frozen, caramel-y, shopped cream goodness. Now I'm a no sugar-just cream in my coffee kind of girl, but I still have a thing for that oh so good flavor combo- enter these cupcakes!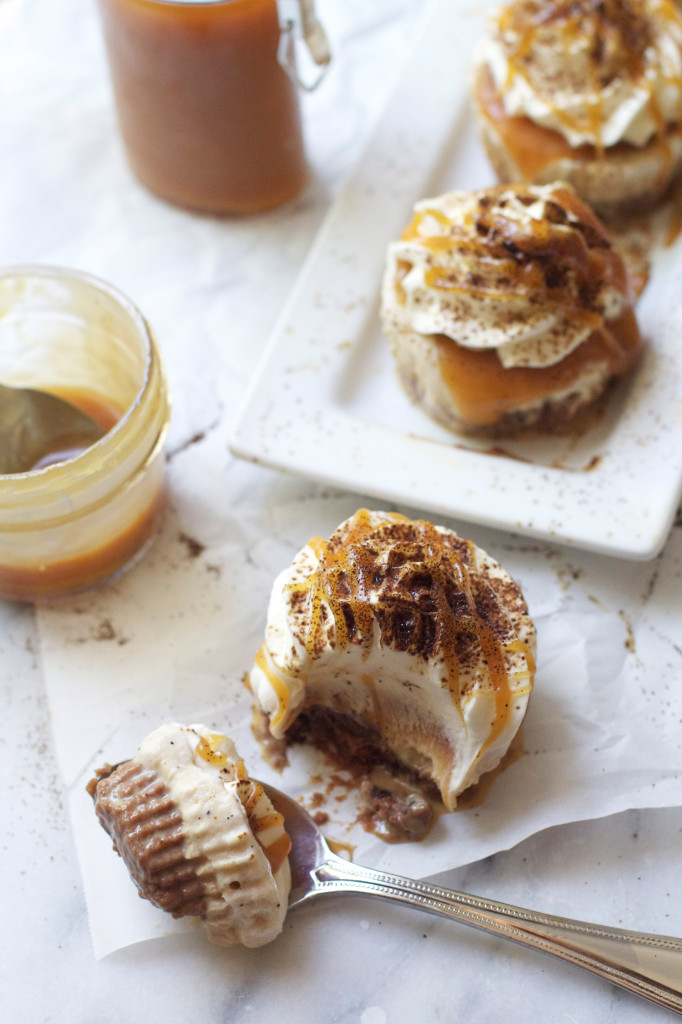 Here's what we have going on here: a thin layer of chocolate cake, coffee ice cream, a layer of gooey caramel, and fluffy whipped cream on top. All is finished off with a caramel drizzle and a little cocoa powder. These are so so good and really taste like my favorite blended coffee drink! (The addition of chocolate cake makes them even better!) These pretty little cupcakes are so rich, creamy and refreshing. I've been pondering an ice cream cupcake for weeks and I'm so glad I was able to churn one out. (literally.)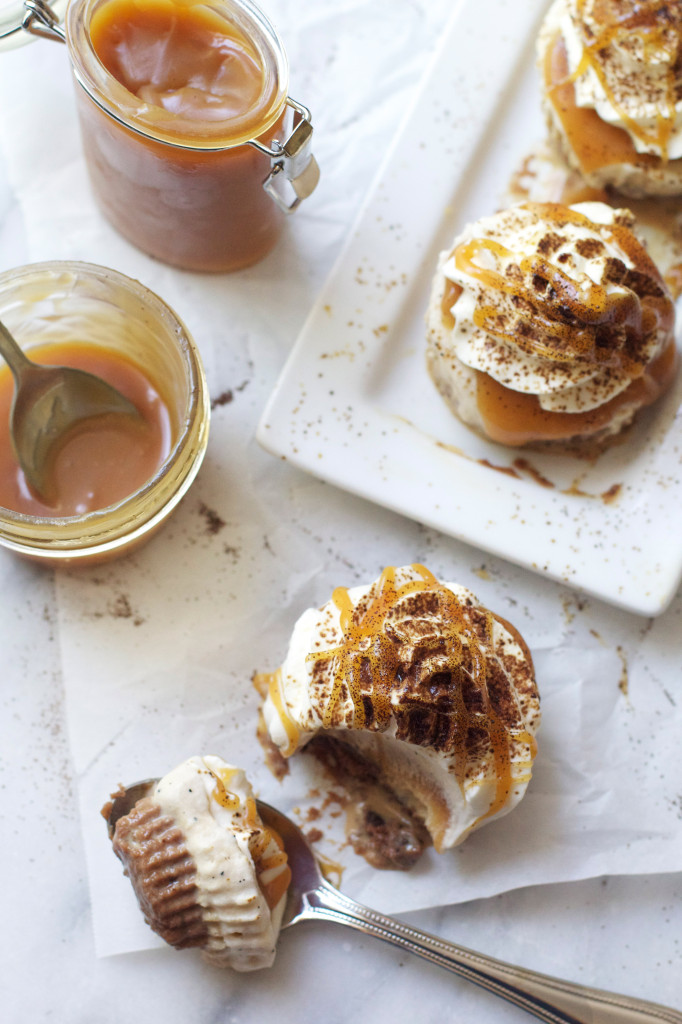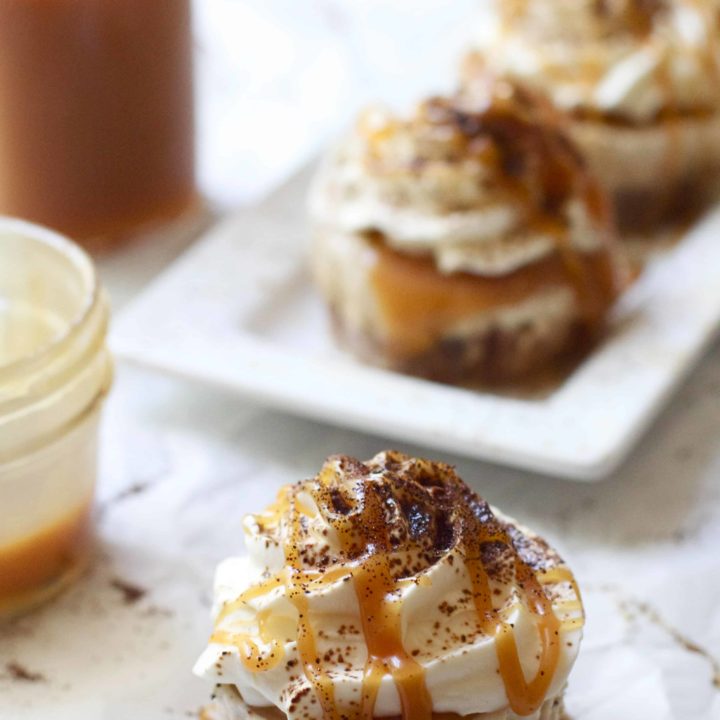 Caramel Mocha Ice Cream Cupcakes
Ingredients
For the cake:
1/2 cup unsweetened cocoa powder
3/4 cup all-purpose flour
3/4 cup sugar
3/4 teaspoons baking soda
1/4 teaspoon baking powder
1/2 teaspoon salt
1 large egg
3/8 cup warm water
3/8 cup buttermilk
1 1/2 tablespoons vegetable oil
1/2 teaspoon pure vanilla extract
For the ice cream:
1 1/2 cups strong brewed coffee
1 1/2 cups sweetened condensed milk
1/2 cup half and half
large pinch of finely ground coffee
For the topping:
1 batch of Caramel Sauce, or 1 1/2 cups of store-bought
1 cup heavy whipping cream
1 tablespoon powdered sugar
Cocoa powder for sprinkling.
Instructions
For the ice cream: (you'll need to prep this part in advance,)
Stir together the coffee, sweetened condensed milk, pinch of coffee, and half and half. Chill thoroughly or overnight.
Churn in ice cream maker according to your machine's instructions. Freeze until ready to use.
For the cake portion:
Preheat oven to 350F. Fill 12 cupcake wells with liners (you'll remove them so it's a great excuse to use mis-matched ones!) Set aside.
In a large bowl stir together the flour, sugar, cocoa powder. salt, baking soda and baking powder. Make a well in the ingredients and add the oil, water, egg, vanilla and buttermilk. Whisk everything together until just combined.
Divide the batter evenly among the liners. (It won't see like a lot,) and bake for about 15 minutes or until a toothpick inserted into the centers comes out clean.
After cupcakes have cooled. press them down in the wells with clean fingers or the bottom of a glass.
For the whipped cream:
Whip heavy cream until soft peaks form. Add the powdered sugar and whip until stiff peaks form.
To assemble:
Spoon a large dollop of ice cream onto each cooled cupcake and smooth the top with the back of a spoon (ice cream should just reach the top of the liner.) Freeze until firm.
When ice cream is firmed up, spread a spoonful of caramel sauce over each and gently spread over the top. Place back in the fridge until ready to serve.
Before serving, pipe the whipped cream onto each cupcake and drizzle with caramel. Sprinkle a little cocoa powder on top if desired!
Notes
Ice Cream recipe adapted from David Lebovitz Chocolate Cupcake recipe adapted from: Martha Stewart
Nutrition Information:
Yield: 18 Serving Size: 1 grams
Amount Per Serving: Unsaturated Fat: 0g