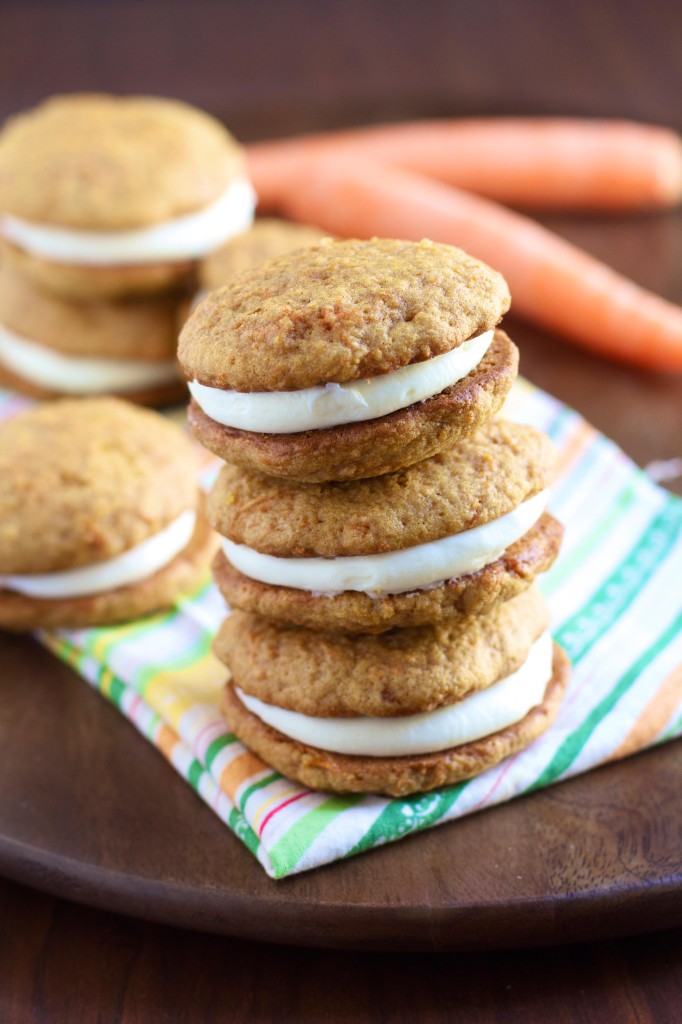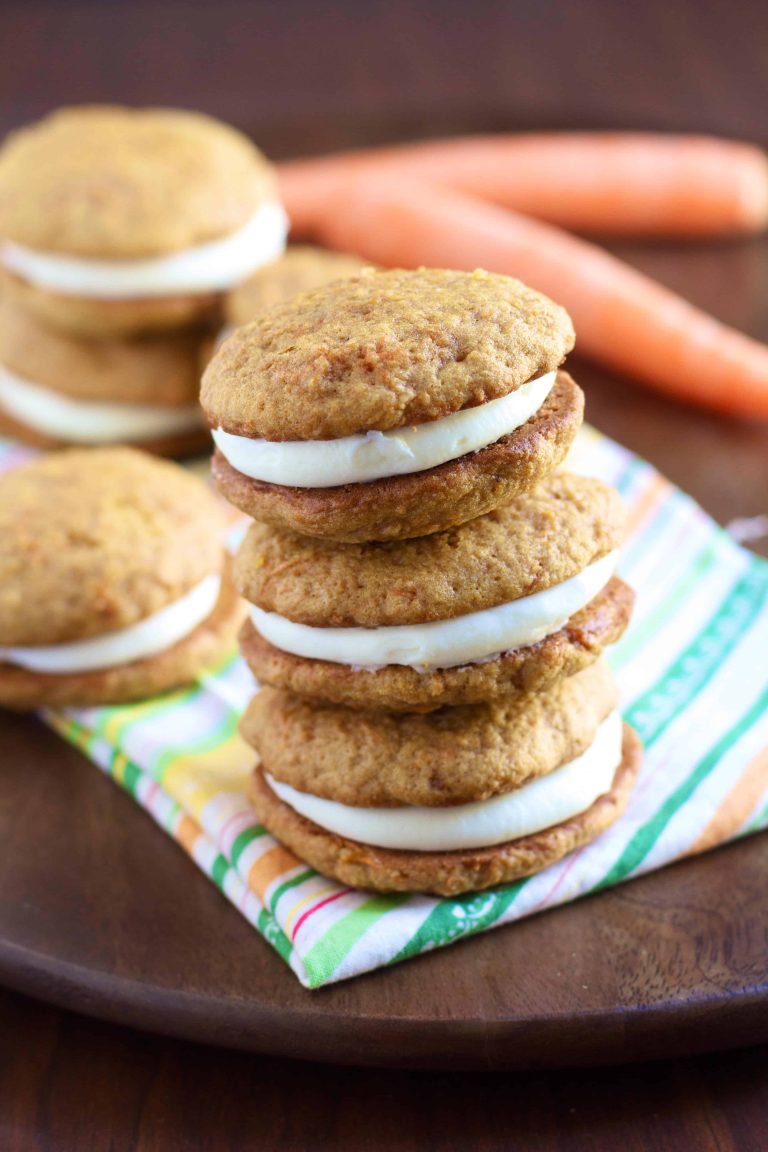 Ok so I officially wish I were hosting a huge Easter gala purely for the potential dessert buffet. Monday's Coconut Cream Cake would be front and center as well as some Mini Vanilla Bean Strawberry Layer Cakes and Chocolate Easter Nest Cupcakes. These Whoopie Pies would of course be piled high on a fancy cake stand as part of the spread. Because you know- bunnies eat carrots so carrot cake everything means Easter right?
Whoopie Pies are basically like a cupcake with the filling on the inside, packaged up in an easily stackable way. In a way- they make way more sense than cupcakes because each bite has a perfect amount of cake to frosting. In this case- cream cheese frosting which is obviously the best bet for carrot cake. Though perfect for Easter, it wouldn't take much convincing for me to eat these beauties any old time!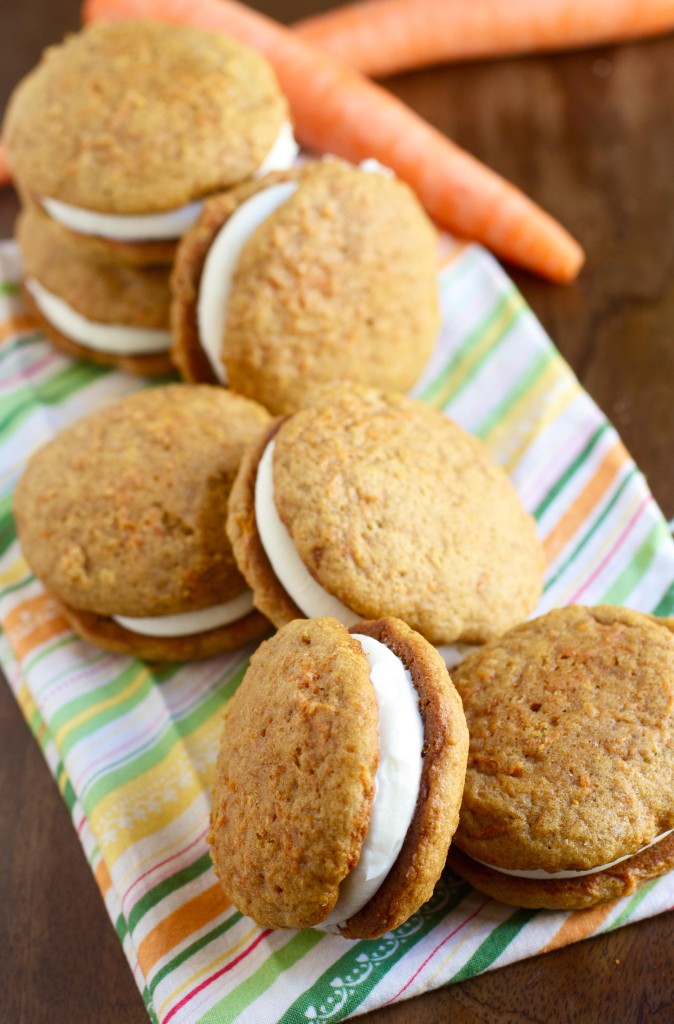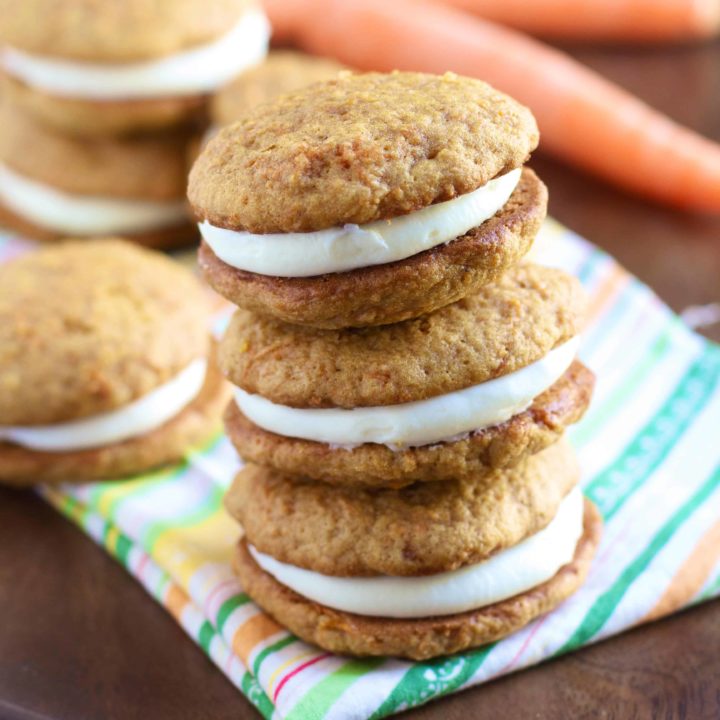 Carrot Cake Whoopie Pies
Ingredients
2 cups all-purpose flour
1 1/2 teaspoons baking soda
1 teaspoon baking powder
1 teaspoon ground cinnamon
1 teaspoon ground ginger
1/2 teaspoon ground nutmeg
1/2 teaspoon salt
8 tablespoons 1/2 cup unsalted butter, at room temperature
1/2 cup packed brown sugar, either light or dark will work!
1/2 cup granulated sugar
2 large eggs
1 teaspoon vanilla extract
1 1/2 cups grated carrots*
For the Frosting:
8 tablespoons 1 stick unsalted butter, softened
6 oz cream cheese, softened
2 1/2 cups powdered sugar, sifted
1/2 teaspoon vanilla extract
Instructions
Preheat oven to 350 F. Line two baking sheets with parchment.
Whisk the flour, baking soda, powder, spices and salt together in a medium sized bowl.
In the bowl of a stand mixer fitted with the paddle attachment, cream the butter and sugars on medium speed until light and fluffy. Scrape down the sides of the bowl then add the eggs, one at a time, beating well after each addition. Mix in the vanilla.
Gradually add the dry ingredients and beat just until combined. Fold in the grated carrots.
Using a small cookie scoop, portion the batter onto one of the prepared baking sheets, spacing the cookies about 2 inches apart. Bake each batch for about 12 minutes, or until the cookies are slightly golden around the edges. Transfer the baking sheet to a wire rack and let the cookies cool for 5 minutes then remove the cookies to the wire rack to cool completely. Repeat with the rest of the batter.
Match the cookies up into pairs based on size and fill with cream cheese frosting (directions below.) Store in the fridge and let them come to room temperature before serving.
For Frosting:
Beat the cream cheese and butter in a large bowl until smooth. Add the powdered sugar and vanilla and beat until creamy and lump-free.
Nutrition Information:
Yield: 16 Serving Size: 1 grams
Amount Per Serving: Unsaturated Fat: 0g