Champagne Cupcakes with Grapefruit Curd….and NEWS!
So- Guess what? I'M ENGAGED!!! I really wanted to wait until the end of the post to announce that but I am reallly bad at holding things in. Ask my new Fiancé (ok that is SO weird to say,) and he'll tell you how I announced the news to every random person we passed on the street that entire day. I just get too excited about things and I can't wait to tell! That is why the first thing I did when I got back to NYC from San Francisco Monday was bake these cupcakes so I could announce this ASAP.
So yeah, could my weekend in California have been any better? I am beyond thrilled. Now I no longer have to hide the fact that I've had a wedding Pintrest page for the past 6 months. (Shhhh don't tell!) I also may or may not have created a registry yesterday (5 days post engagement,) just so I could add one lone item to it. A KitchenAid Stand Mixer. Sigh…..I have been dreaming about one for way too long. I am perfectly aware that I won't be getting it for months (we haven't even set a date yet,) but it was just the fact that I put it out there. Get me? I can't wait for the major kitchen supply upgrade- woohoo!!! (Yeah I should probably register for some champagne flutes, I definitely drank the champagne in the above picture in a wine glass- oops!)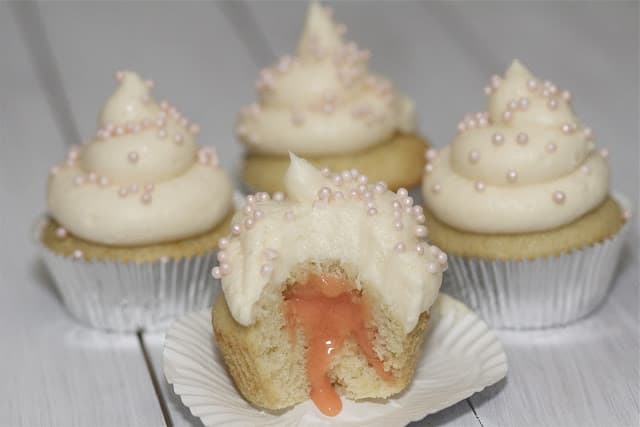 So here is the short and sweet proposal story: Thursday we were in San Francisco planning to drive down to San Jose to visit Andy's brother via Los Altos, CA which is where he grew up. He had said he wanted to show me some special landmarks along the way that were significant in his childhood, (the house he grew up in, old school etc.) The drive was beautiful and scenic and it was a great morning!
Around 2 PM though, we ate a huge Mexican lunch and I was laden with food coma. Andy begged me to perk up as there were only two more spots he wanted to show me. I was being a brat. I just wanted to stay in the car and nap and had no energy to walk around. But, as Andy was digging around the trunk for his sweater (and my ring apparantley,) I started to feel bad and figured I may as well be a good sport and go for the walk.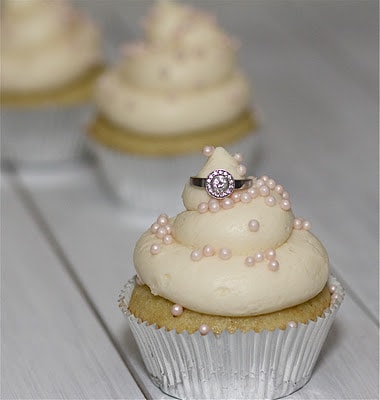 And there in the beautiful redwood forest where Andy used to play as a kid, in a secluded spot in the shade of a tree, he sweetly and romantically popped the question (on one knee of course.) He says I had a frozen blank expression for a good 10 seconds before I said "No way really?!!!" and then of course "YES!" Hooray!
Ok- that's that. I promise to not be super annoying and only post about wedding things the next year Ok I'll try to not do that. PS- didn't he do a good job on the ring!? That was all him- I didn't have any input but I really love it. Especially since he made it from his Mom's engagement and wedding rings, so sentimental.:)
Oh yeah- and these cupcakes are amazing. Champagne in the cake and frosting and a pink grapefruit curd to add a bit of tartness. They were the perfect thing to enjoy with my sisters as they stopped by when I got home. Enjoy!
Champagne Cupcakes with Grapefruit Curd….and NEWS!
Ingredients
1/2 cup butter softened
1 cup granulated sugar
2 eggs
1 tsp vanilla
1 3/4 cups flour
1/2 tsp baking soda
1/4 tsp baking powder
1/4 tsp salt
1/2 cup sour cream
1/2 cup champagne, prosecco or your choice of sparkling wine
Grapefruit Curd:
2 teaspoons grated grapefruit rind, about 2 grapefruit
2/3 cup fresh grapefruit juice
1/2 cup sugar
2 tablespoons fresh lemon juice
4 large egg yolks
2 tablespoons chilled butter, cut into small pieces
a drop of pink gel coloring
Champagne Frosting:
1 cup plus 1 tbsp. champagne or prosecco
2 sticks of butter softened
2 1/2 cups confectioners' sugar
Instructions
Preheat oven to 350 degrees.
In the bowl of a stand mixer fitted with the paddle attachment, cream together butter and sugar until light and fluffy. Add eggs one at a time beating well after each addition. Add vanilla and mix.
Whisk together flour, baking soda, baking powder and salt, set aside. in a medium sized bowl, whisk together 1/2 cup champagne and 1/2 cup sour cream (mixture will fizz and bubble a little). Add flour and champagne mixture alternately, beginning and ending with flour. Batter will be thick.
Fill cupcake papers with 1/4 cup level measures of batter. Bake for 17-22 minutes. Set aside.
For the Curd:
Combine first 5 ingredients in the top of a double boiler, stirring well with a whisk. Cook over simmering water until thick (about 10 minutes), stirring constantly. Strain juice mixture through a fine sieve into a bowl; discard solids. Add butter, stirring well with a whisk. Cool completely.
For the Frosting:
Place 1 cup of champagne in a small saucepan. Simmer over medium-high heat until reduced to 2 tablespoons. Transfer to a small bowl or condiment cup and allow to cool.
In the bowl of a stand mixer fitted with the whisk attachment, cream softened butter and powdered sugar together. Once the frosting is thick and fluffy, pour in the reduced 2 tbsp. champagne plus 1 tbsp. champagne from the bottle and mix well.
With a small knife carve a cone shaped wedge out of the top of each cupcake. Slice off the very top part to put back over the filling. Spoon a tablespoon of curd into each cupcake, and replace the cake-top.
Frost the cream-filled cupcakes and decorate!
Notes
I like lots of frosting on cupcakes- if you do as well, you may want to make a double batch (like I did.)
Nutrition Information:
Serving Size:

1 grams
Amount Per Serving:
Unsaturated Fat:

0g
Adapted from:
Sprinkle Bakes