I've been wanting to make something savory for awhile. Not only am I on total sugar over-load but I have to constantly fight my urge to bake nothing but cupcakes. Also, I wanted to use up some buttermilk and cheese in my fridge…so this recipe seemed just the thing!
This was my first time making scones-and guess what guys? They are pretty easy! I am excited that now that I've done it, I can try all sorts of flavor combinations. My girlfriends and I always go out for tea and scones and now I can host it instead! There is a pumpkin scone we always get that is to die for……maybe I'll try that soon…….Anyway!!
I found a great recipe from "The Pastry Queen" by Rebecca Rather that this is loosely based on, but this particular combo of ingredients was my idea. If garlic and cheese isn't your thing, (who are you by the way?) you could absolutely use different flavors! I had these with eggs at brunch yesterday and they were perfect!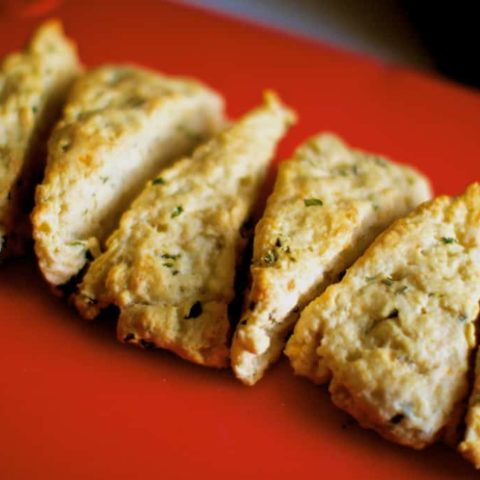 Cheddar Herb Scones
Ingredients
3 cups all-purpose flour
1 tablespoon baking powder
1 teaspoon salt
1 teaspoon freshly ground black peper
1/2 cup 1 stick chilled unsalted butter, cut into small cubes
1 1/2 cups grated Cheddar cheese
1/2 cup chopped herbs, I used rosemary and basil.
3 cloves of garlic, minced.
3/4 to 1 1/2 cups buttermilk
1 large egg
2 tablespoons water
Instructions
Preheat the oven to 400 degrees F
Grate Cheese, chop herbs and mince garlic. Set aside
In a large bowl, sift together the flour, baking powder, salt and pepper.
Cut in the butter with two knives until the mixture is crumbly and with pea-sized bits of flour.
Stir in the cheese, herbs and garlic until just blended.
Add 3/4 cup of buttermilk. Mix just until the ingredients are incorporated. If dough is too dry to hold together, add the remaining buttermilk, 1 tablespoon at a time, until the dough can be formed into a ball. Stir as little as possible to ensure a light-textured scone.
Place the dough on a lightly floured surface, and pat it into a ball. Using your hands, flatten it into a circle about 8 inches wide and a 1/2 inch thick.
Whisk the egg and water together in a small bowl. Brush each wedge with the egg wash.
Place the scones on an ungreased baking sheet, and bake for 18 to 20 minutes, or until golden brown and no longer sticky in the middle. Serve warm.
Nutrition Information:
Serving Size:

1 grams
Amount Per Serving:
Unsaturated Fat:

0g