Cheddar Streusel Apple Pie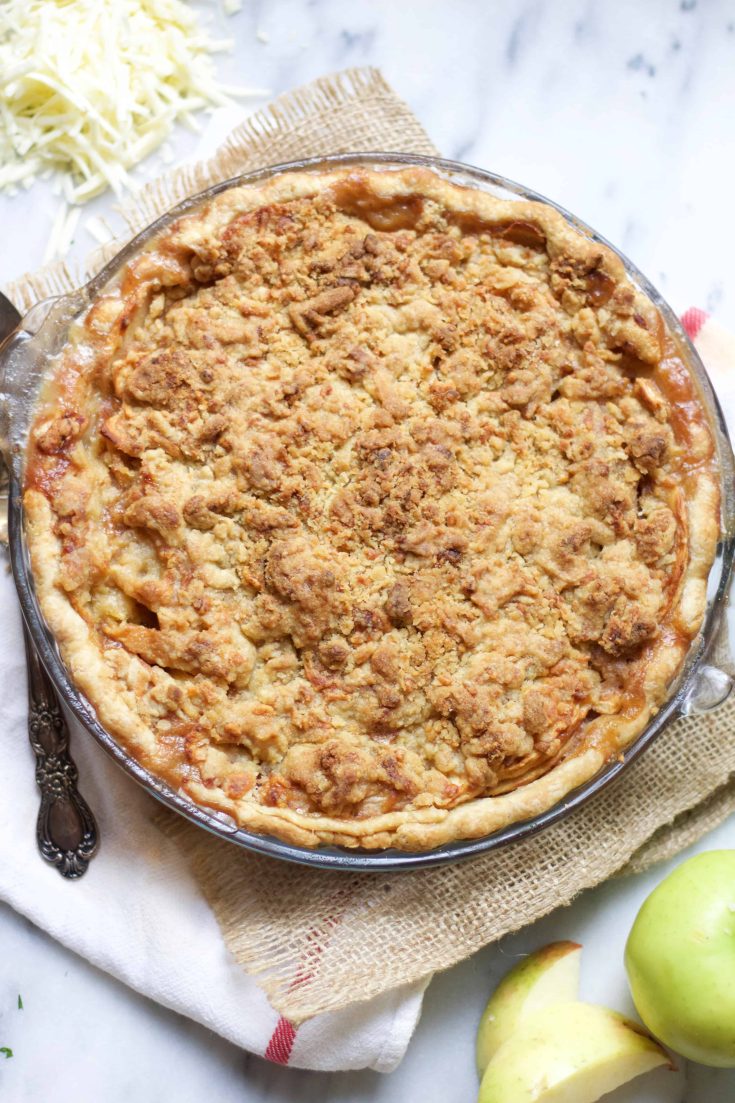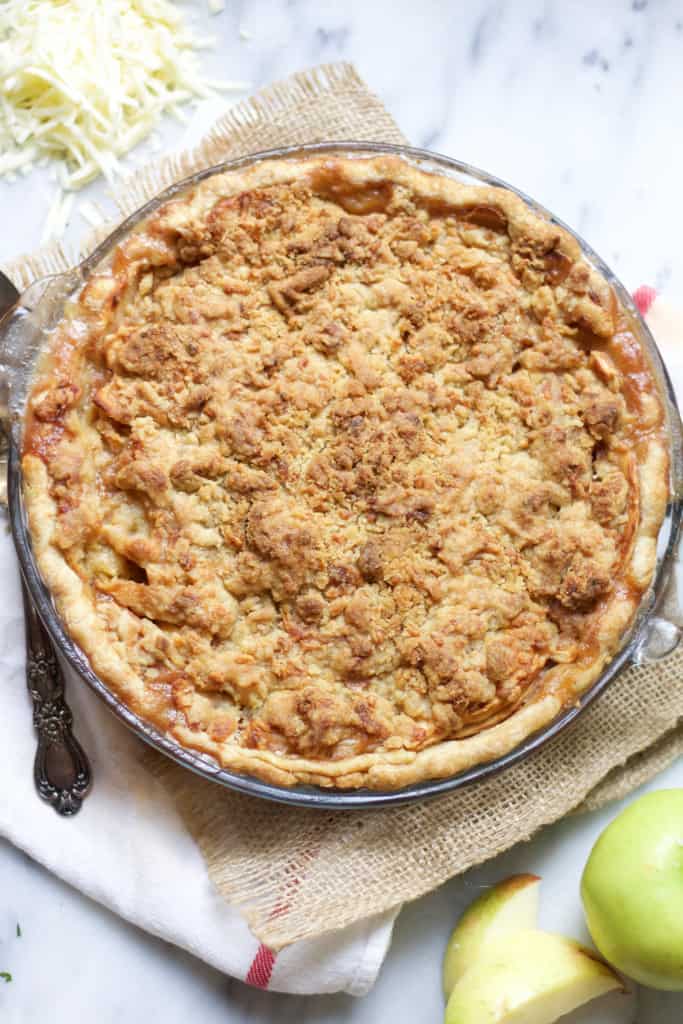 I'm not sure I'll ever be done with making new and different Apple Pies. I know on this blog there have been several, and I'm sure with each new recipe I proclaim it as my "new favorite" or "really the best this time!" Well is it possible to have several favorites and they are all amazing for their own reasons? Because that's my story folks. Needless to say, I tried another variation on classic Apple Pie and I just adore it. Have you paired cheddar and apple pie together? It's amazing and I can't get enough.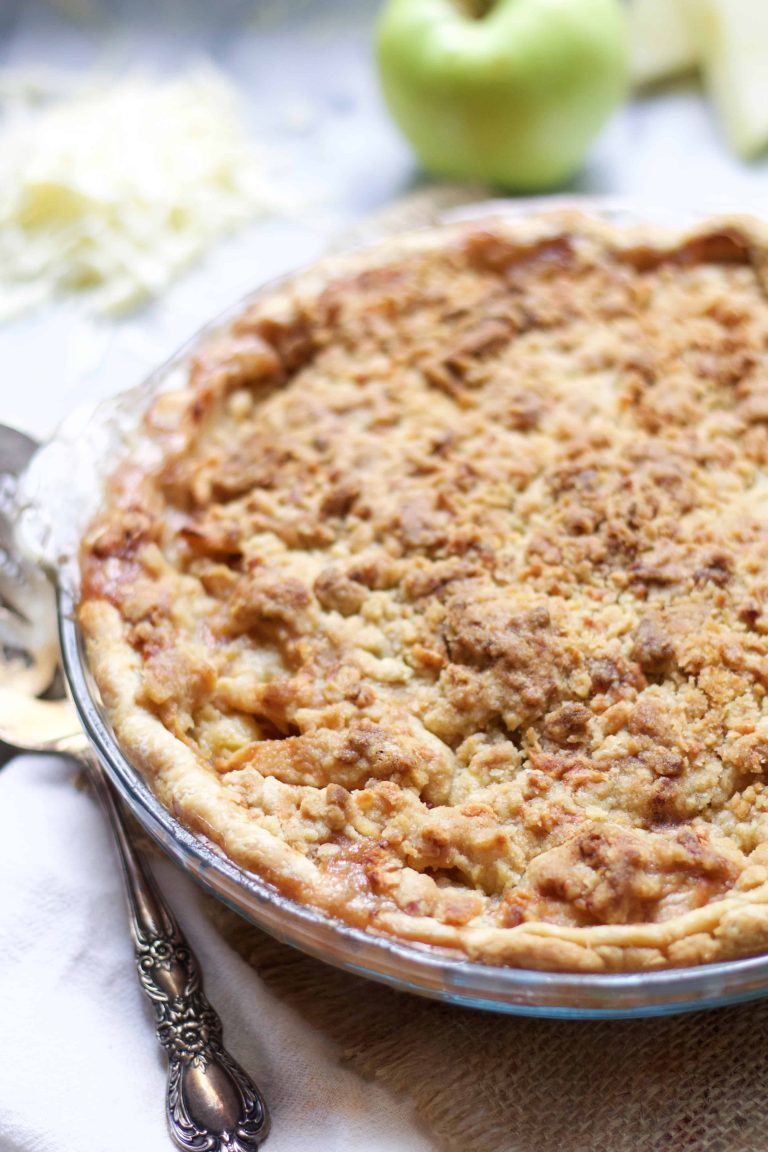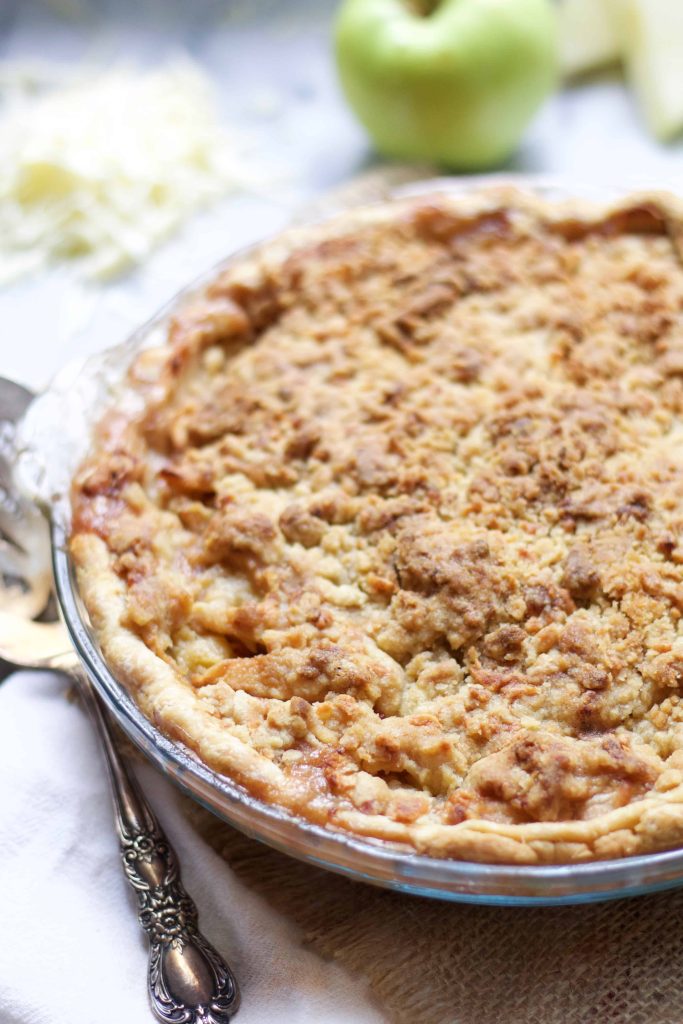 There are lots of variations on the Cheddar Apple Pie thing, some of which have cheddar in the actual crust, but in my pie I used my regular favorite Pie Crust recipe, and made a crumbly streusel loaded with extra sharp cheddar cheese. It results in the most fabulous topping- crunchy, crisp and sweet & salty perfection. The overall cheddar flavor isn't overwhelming, but it really highlights the sweetness of the apples. I wish I could find the right adjectives to describe how good this was- but you'll just have to trust me and make it yourself.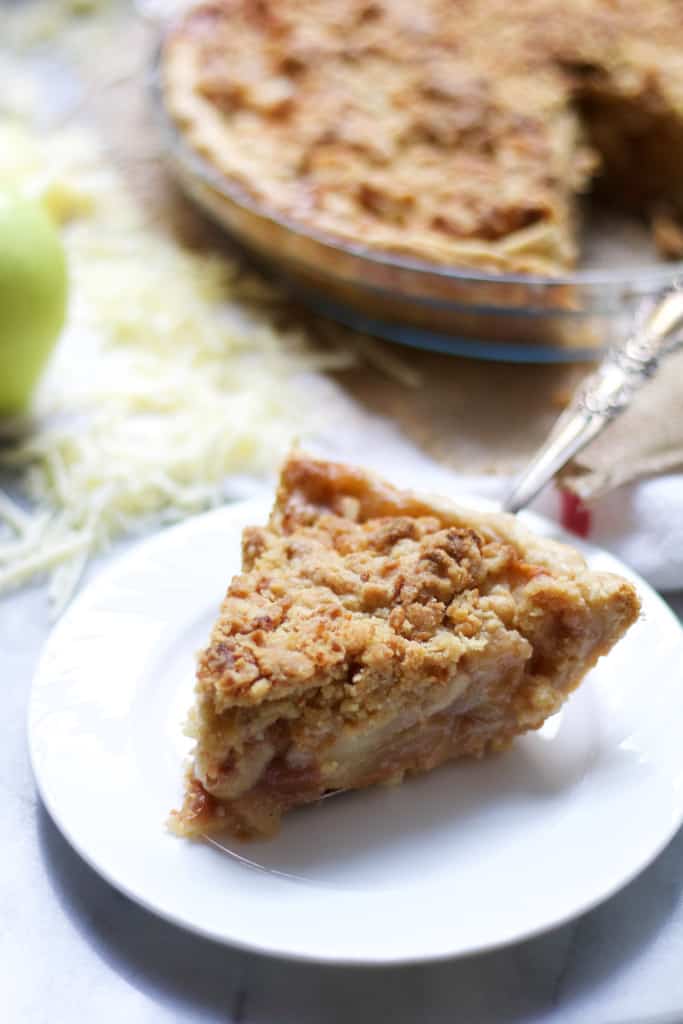 One other thing to note is how perfect the texture and consistency of the apples in this pie were. I never gave which apples I used in my pies too much though, normally just choosing Granny Smiths because I assumed they were the best. Well this time around I had a ton of beautiful Golden Delicious apples, which I don't love for eating, but read were perfect pie apples. Woah are they ever?? With Granny Smiths I feel like I have to either pre-cook the apples or really bake the pie a long time in order for them to be soft, but the texture of these apples was just perfect and I didn't have to do either of those things. They weren't mushy or mealy, totally kept their shape/texture, but were super soft and tender. Golden Delicious is my new Apple Pie favorite. Get them while it's Apple Season folks- not sure what I'm going to do the rest of the year. :)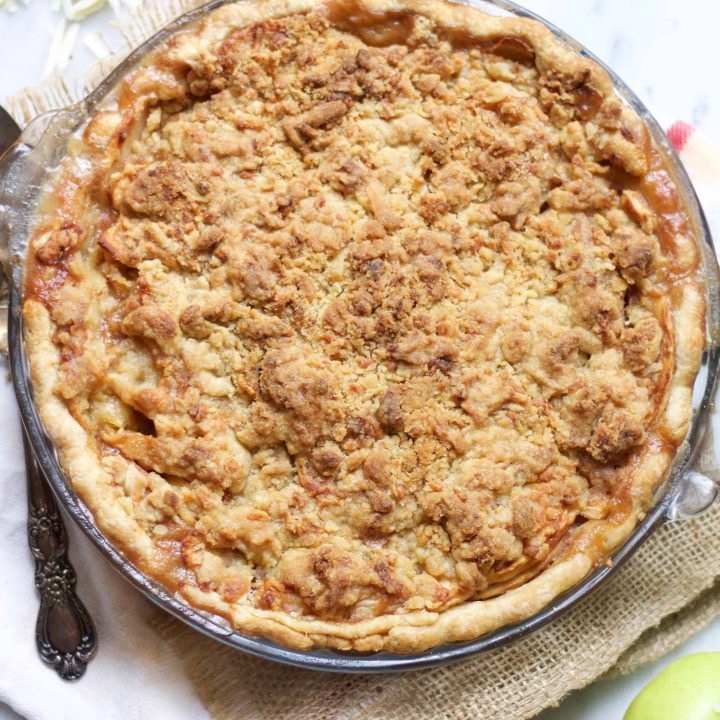 Cheddar Streusel Apple Pie
Ingredients
For the Filling:
8 cups of apples, sliced and (I store them in lemon/water mixture to prevent browning)
1/4 cup sugar
2 teaspoons of cinnamon
1/4 teaspoon of ginger
1/2 teaspoon of nutmeg
3 tablespoons of flour
1 teaspoon vanilla extract
pinch of sea salt
For the Stresuel:
1 cup flour
1/2 cup brown sugar
1 stick of butter, 8 tablespoons, cut into small pieces, or grated*
3/4 cup grated cheddar cheese
Instructions
Preheat over to 425F. In a large bowl, toss together the apples, sugar, flour, vanilla, salt and spices. Set aside.
Roll out the pie crust and fit into a 9 inch pie dish, trimming the edges and crimping if desired.
Pour the apples into the crust and arrange evenly.
For the Streusel:
In a bowl combine the flour & brown sugar and stir together. Stir in the grated cheese, and the the butter, using your hands to work the butter into the dough, until small pea-sized crumbles form and the flour is worked in evenly.
Sprinkle the crumble over the apples.
Bake at 425F on a low rack of the oven for 20 minutes. Reduce the heat to 375F, move the pie to a middle rack and bake for another 30-35 minutes, or until the filling is bubbly and the crumble is a deep golden brown. Cool slightly before serving with ice cream!
Notes
*I found that freezing my stick of butter and grating it into the crumb mixture makes is really fast and easy to work into the crumble!