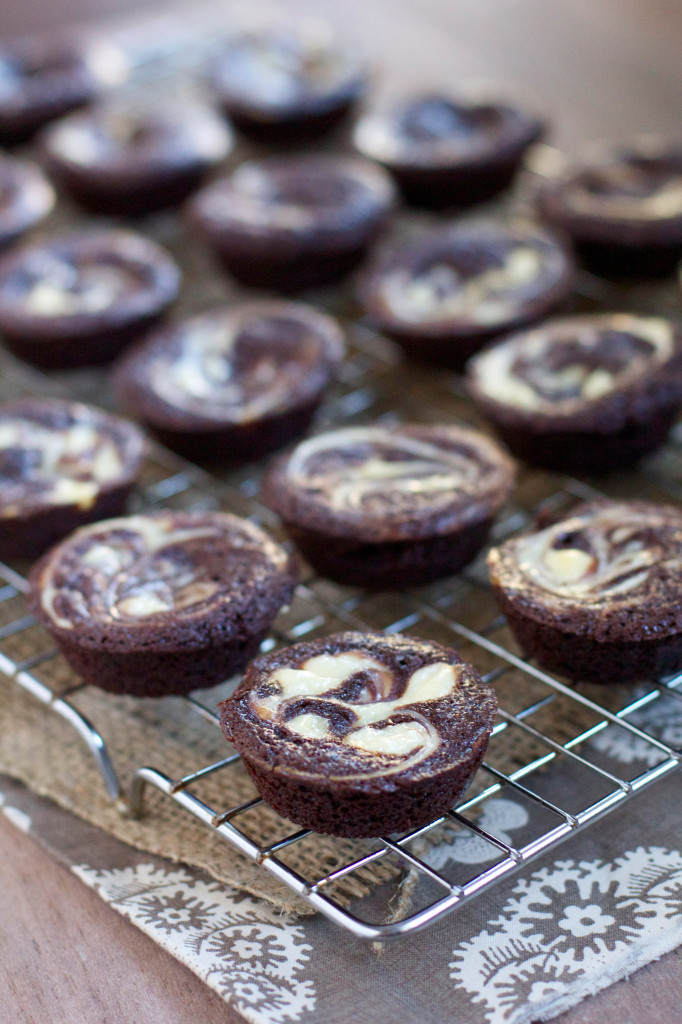 I obviously don't have a kid that started school this week, but I am going absolutely gaga for the adorable pictures flooding my social media of my friends' kids in their crisp new outfits and cute backpacks. Is anyone else super nostalgic for the first day of school? Man did I used to love it. School supply shopping, a new special outfit, an exciting year of new classes and friends. I was the biggest dork and I absolutely loved school. Andy, however, wasn't always such a fan, so who knows how little Hugo will feel about it a few years from now. (Oh my even thinking of that day makes me excited all over again!)
One of the things that makes me most excited to be a Mama of a will-go-to-school-somday child, is the thought of packing his little lunches. I have been oh so inspired by my friend Annie's beautiful and well rounded school lunch series. She's been sharing what she packs for her son on Instagram and it's amazing. I love how even though the majority of the meal is very healthy, there is always one little treat in there. A mini cookie, some homemade caramel corn, and there was even a homemade S'more one day. That got me thinking of other cute bite-sized lunchbox treats and the idea of these cheesecake bites came to be.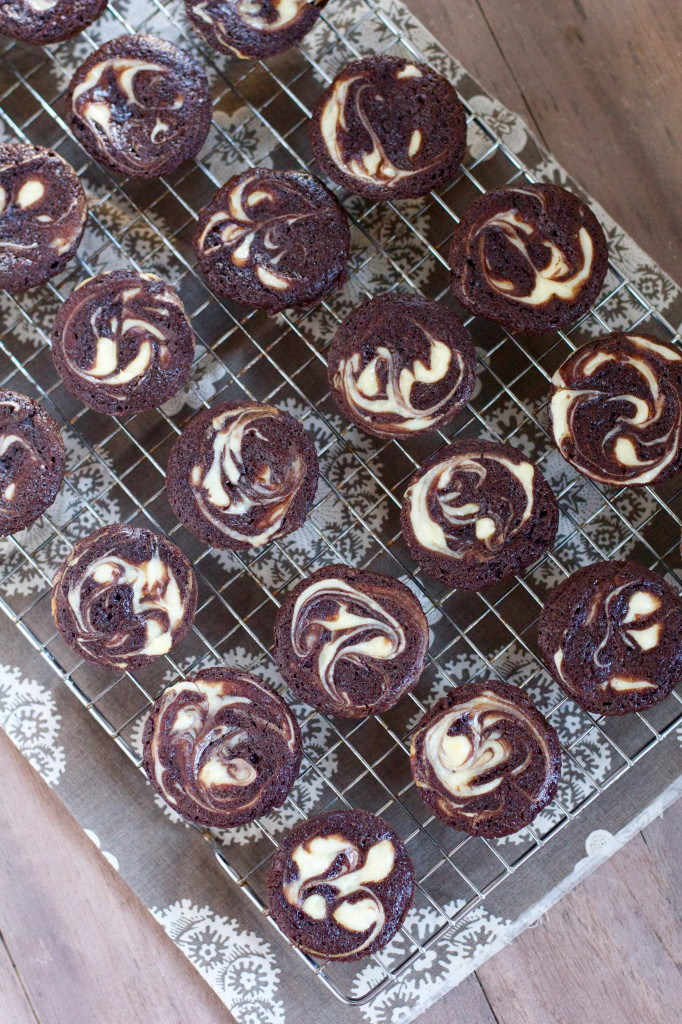 Yes they contain sugar, but I think setting as example of everything being OK in moderation is a good rule of thumb don't you? These bite-sized beauties are the perfect size to give just a little sweet-tooth satisfaction and are bound to please any chocoholic out there. The brownie is super fudgy, and the swirl of cheescake puts them over the top.
I made these over Labor Day weekend and shared them with my neighbors and friends at a fun weekend cookout. They were a huge hit and if I said that everyone stopped at one I'd be lying…but I did my part to help with portion control you know? I can't stop anyone from having 5! And even though summer may officially be over, these would be a great bite-sized treat for a football party this weekend don't you think?? (Go Pack Go!)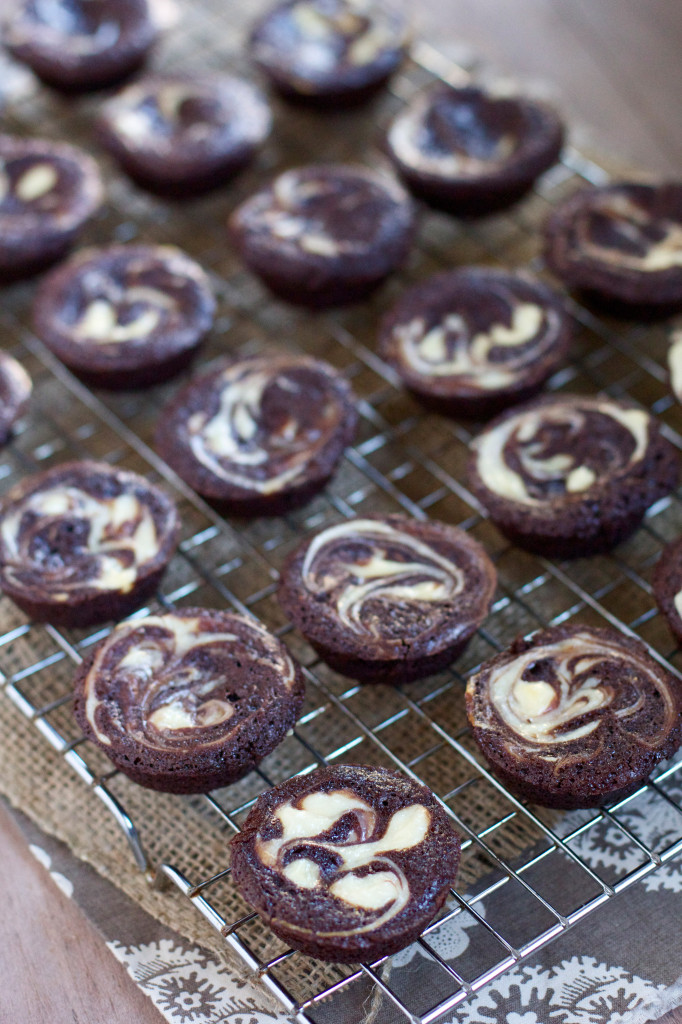 Cheesecake Swirl Brownie Bites

Ingredients

For the brownie portion:
3 ounces unsweetened chocolate, roughly chopped
1 stick unsalted butter, plus extra for greasing
1 cup granulated sugar
2 large eggs
1 teaspoon vanilla extract
heaping ¼ teaspoon sea salt
⅓ cup all-purpose flour
¼ teaspoon baking powder
For the Cheesecake Portion:
1 (8-oz.) package cream cheese, softened
2 Tablespoons sugar
1 egg yolk
Instructions
Preheat oven to 350F. Grease a mini-muffin tin and set aside.
For the Brownies:
In a medium-sized glass bowl set on top of a pot of simmering water, melt the chocolate and butter. Stir together until smooth.
Remove from heat and whisk in the sugar. Add the eggs one at a time and whisk in until smooth. Stir in the vanilla.
Sprinkle the sea salt, flour and baking powder over the wet ingredients. Stir until smooth and well-combined but don't over-mix.
For the Cheesecake Batter:
Beat together the softened cream cheese with the egg yolk and sugar until super smooth and clump free.
To Assemble:
Fill a pastry bag with the cheesecake batter and cut a small opening at the tip. Fill each muffin well ½ way full of brownie batter. Pipe a layer of cheesecake batter on top of the brownie, and then add another large dollop of brownie batter. Use a skewer or toothpick to swirl the batters together. (The batter can reach just about the top of the well, but not above it.)
Bake for 15-20 minutes, or until a toothpick inserted comes out clean.