Cheesy Mexican Skillet Casserole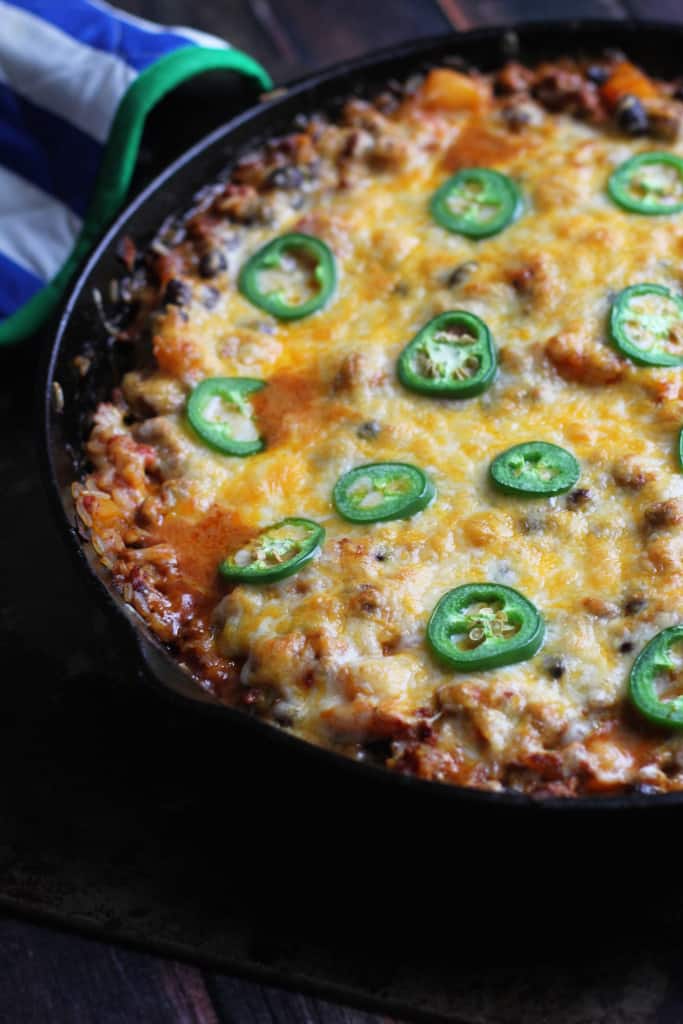 The time has come you guys. I never thought I'd see the day, but lately my kitchen is getting more action from real meals than desserts…I knew that with a growing boy with a big appetite I'd have to start cooking real food soon, but I have to say it's really crept up on me. I am the mother to a one year old boy who prefers spicy Mexican, Thai & Indian food over anything else. As excited as I am for my budding foodie, I really have to up my game- baby food just won't cut it for this boy.
He's made it clear he likes adult food more than anything else, so I've been making an effort to cook a big dinner most nights that he can also eat. The meals I cook need to be: Quick, Easy to prep ahead of time, and great leftover, (as Hugo usually eats our dinner for meals the following day.) I've gathered quite a collection of awesome recipes and I'm excited to start sharing with you guys! Because really- who doesn't love quick and easy?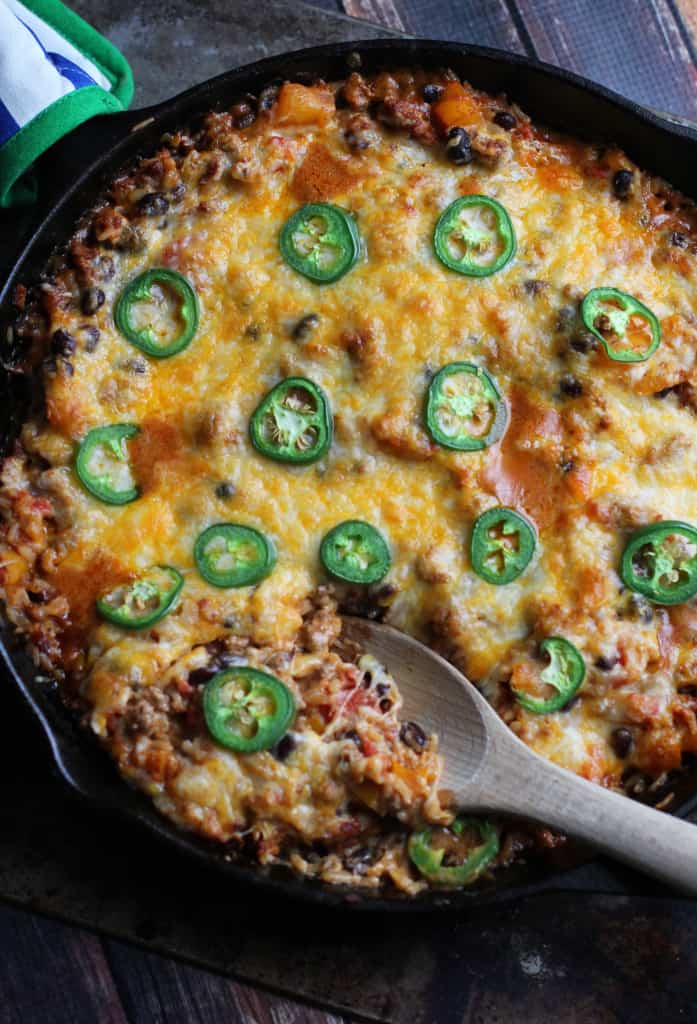 This meal is also super adaptable, making it pretty simple to whip up with whatever you have in your fridge. I've made this 3 times in the last month and it's always a little different. This version uses ground beef, but it's also wonderful with ground turkey or even all beans. I've made it with greek yogurt instead of sour cream, fresh tomatoes instead of canned, and extra garlic instead of onion. This meal can handle all the changes and really just turn out so well.
It's basically onions and peppers sautéed with beans, ground beef and lots of taco seasoning. To that mix goes some rice (or quinoa!) tomatoes, and sour cream. The creamy mixture is then topped with cheese and jalapeño peppers, and baked for a few minutes to melt the cheese and finish the dish. It's really that simple! Delicious, hearty, family-friendly dinner on the table in 30 minutes or less.
Do you like this meal series? Please let me know! I hope to make it a regular thing around these parts :)
Cheesy Mexican Skillet Casserole
Ingredients
2 cups of cooked rice, any variety, quinoa would be great too
1 medium or large onion, diced
2 bell peppers, diced
1 lb. of ground beef, or turkey
1- 15 oz can of black beans, rinsed
1-15 oz can of diced tomatoes
1 packet of taco seasoning
1 cup of sour cream or full fat greek yogurt
1 cup of grated cheese, (I used cheddar)
1 jalapeno pepper, sliced (optional)
lime wedges & tortilla chips for serving, optional
Instructions
Preheat oven to 400F.
In a large cast iron skillet, heat 2 tablespoons of olive oil over medium-high heat.
Sauté the onion and pepper until soft. Add the beef and break apart with a spoon, stirring until browned and cooked through. Add the taco seasoning and stir well to combine.
Add the beans, rice, and tomatoes, and cook for 5 minutes, stirring occasionally. Season with salt & pepper to taste.
Stir in the sour cream and top with the grated cheese and jalapeños. Bake for 10-12 minutes, or until the cheese is melted and golden.
Serve with a squeeze of lime and some tortilla chips on the side.
Nutrition Information:
Yield:

6
Serving Size:

1 grams
Amount Per Serving:
Unsaturated Fat:

0g