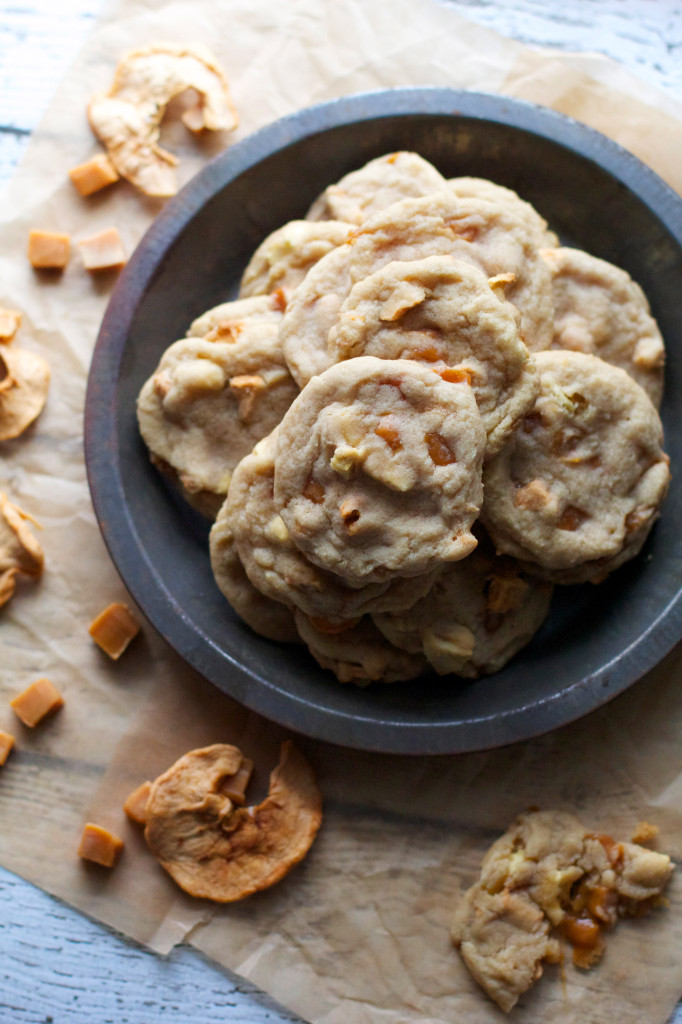 I remember them vividly- caramel apple lolly pops. They are probably still around actually- a bright green sour apple candy dipped into chewy caramel. My 7th grade teacher used to give them to the class as rewards for getting pop quiz answers right, and I adored them. I was a sucker for all candy at that age, but these in particular- (sucker..you see what I did there?!)
Now that my culinary preferences have changed a bit, I prefer real apples over the fake candy kind, and would rather bite into a chewy, gooey cookie than spend my time working away at my old favorite candy pop. Luckily, that's all possible with the creation of this wonderful cookie.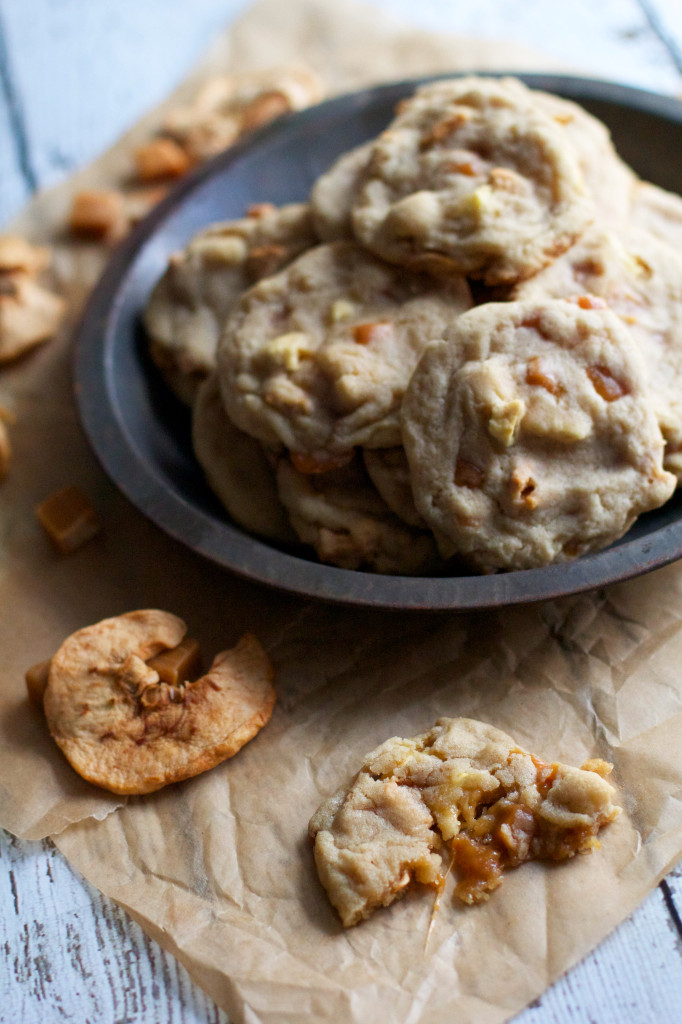 A chewy, brown sugar and cinnamon base is filled with chopped dried applies and caramel bits. Using dried apples vs fresh preserves the chewy texture of the cookie but instills the bright and tart flavor. The bits of caramel scattered throughout give an ooey gooey surprise with each bite. I have made these twice in the last few weeks and the reviews haven been pretty great. Biting into one may not be as rewarding as scoring a lollypop in 7th grade, but it tastes way better I swear!
Chewy Caramel Apple Cookies
Yield:
About 2 dozen cookies
Ingredients
12 tablespoons butter, softened
1 cup brown sugar, (light or dark)
½ cup white sugar
1 egg and 1 yolk
2 teaspoons vanilla extract
1 teaspoon ground cinnamon
2 cups plus 2 tablespoons flour
½ teaspoon baking soda
½ teaspoon salt
1 cup dried apples, chopped into bite-sized bits
1 cup caramel candies, unwrapped and diced*
Instructions
Preheat oven to 350F. In a small bowl whisk together the flour, baking soda, cinnamon and salt. Set aside.
In a large bowl, cream together the butter and sugars until fluffy and smooth. Add the egg, yolk, and vanilla, and beat until creamy.
Stir in the dry ingredients until just incorporated and fold in the caramel & apples.
Use a spoon or cookie scoop to portion the dough into equal-sized rounds on a cookie sheet- 2 inches apart.
Bake for 9-12 minutes, or until the edges are set and just golden brown. Allow to cool for at least 5 minutes on the cookie sheet before serving or transferring,
Notes
*I cut each caramel square in half then into 3rds and then into squares. I think smaller bits are the best- but whatever size will work fine.

Base recipe adapted from Baking Illustrated