Chewy Dark Chocolate Peanut Butter Cup Cookies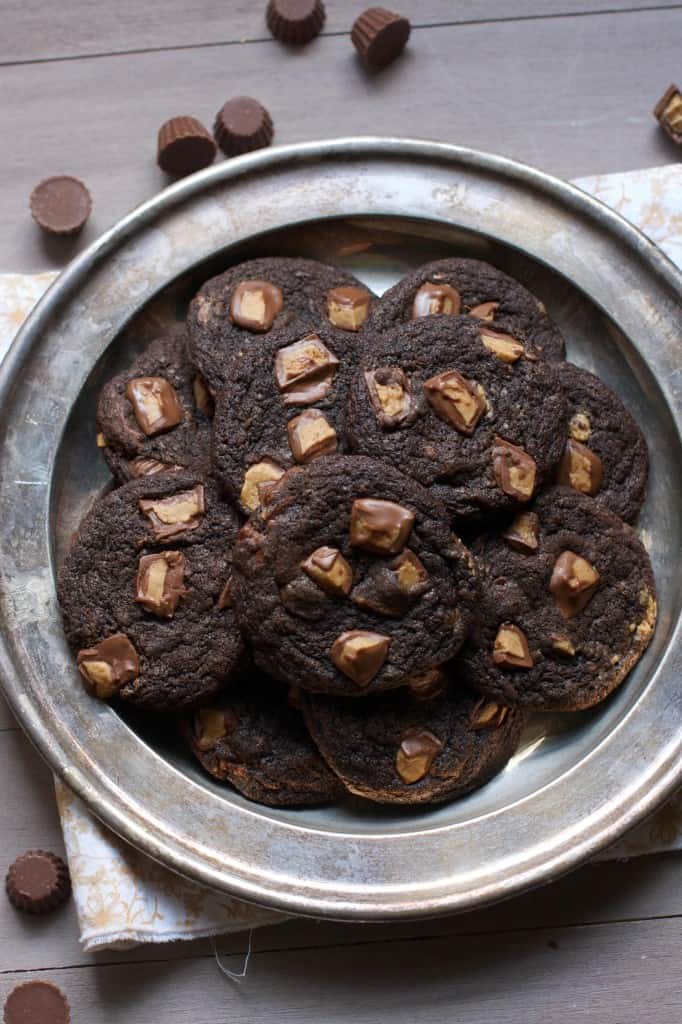 Is it too soon for cookies again? I sure hope not. I made these cookies around the holidays, but they got lost in the hustle and bustle and I didn't get a chance to share them. They were so good, (really too good,) that of course I have to spread the love, (especially if you love chewy chocolate peanut-buttery goodness half as much as I do.)The base of these cookies is a soft and chewy dark chocolate cookie with crisp edges. They stay soft and chewy for days which is a must for those of you who actually could let these last in your house that long. They are full of mini peanut butter cups which get perfectly melty as they bake and make every bite of these babies to die for. Peanut butter and chocolate never goes out of season right?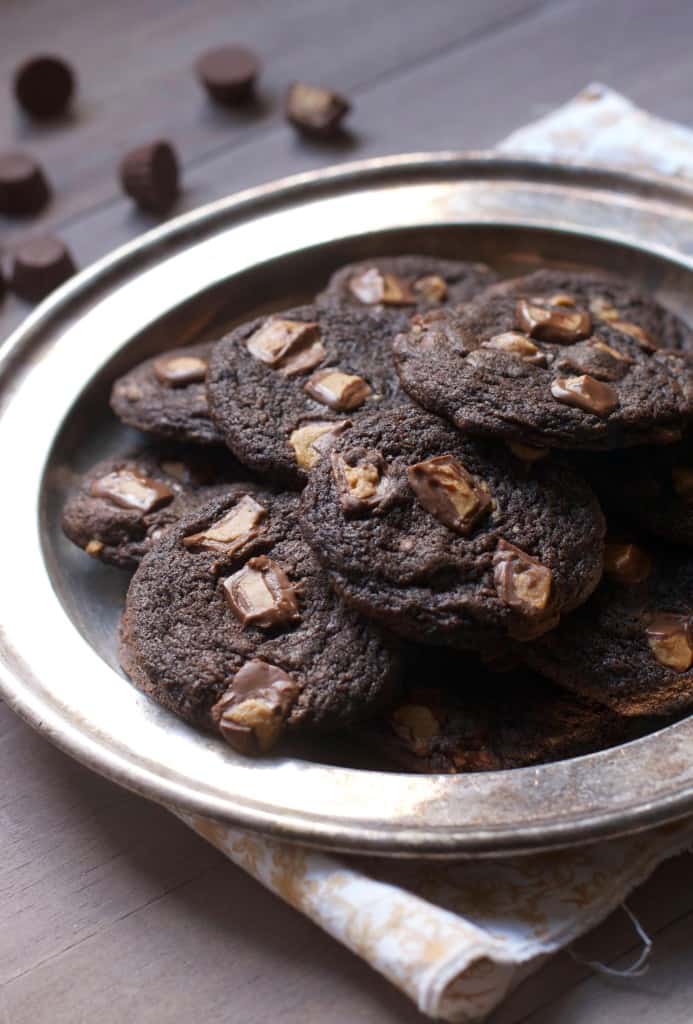 Chewy Dark Chocolate Peanut Butter Cup Cookies
Ingredients
1/2 cup butter, softened (1 stick)
1/2 cup white sugar
1/2 cup light brown sugar
1 egg
1 teaspoon vanilla extract
1 cup all-purpose flour
1/4 cup cocoa powder, I used dark cocoa
1/2 teaspoon baking soda
1/4 teaspoon salt
1 cup chopped mini peanut butter cups
Instructions
In a medium sized bowl, combine the four, cocoa powder, baking soda and salt. Set aside.
In a large bowl of a stand mixer fitted with a paddle attachment (or just a large bowl with a hand mixer,) cream the butter and sugars until smooth and fluffy. Add the egg and vanilla and mix until well-combined.
Gradually add in the dry ingredients and mix until incorporated with no flour-y streaks (but don't over-mix.) Fold in about half of the peanut butter cups.
Chill dough in the fridge for 45 minutes or in the freezer for 15. Preheat oven to 350F.
Scoop dough into 1 1/2 inch rounds and place onto a parchemnt-lined cookie sheet 2/3 inches apart. Press a few peanut butter cup bits into the top of each dough ball. Bake for 10-12 minutes or until the edges are just set.
Cool on a wire rack.
Nutrition Information:
Serving Size:

1 grams
Amount Per Serving:
Unsaturated Fat:

0g