Chewy Lemon White Chocolate Chip Cookies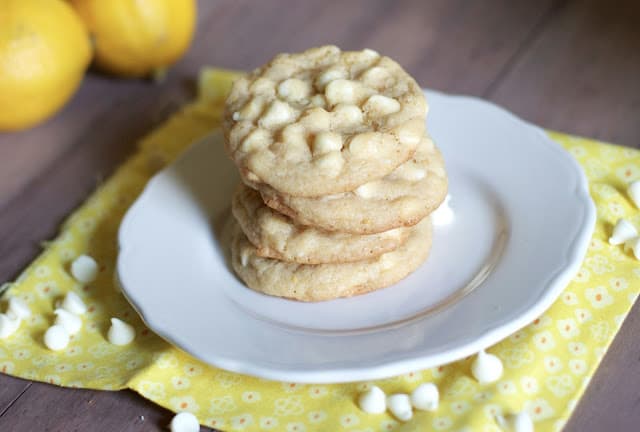 Once I started my blog, and pretty much had a running stock of treats lingering in my apartment I made a vow to stop buying desserts when out and about in the city. You see, I used to be that girl that would seek out every new bakery and spend my days walking around the city with a cupcake/cookie/brownie from here or there. I'm not saying that I never eat treats when I'm out, but eating my own sweet creations at home seems to satisfy my sweet tooth for now.
Anyway, back in my pre-blog days, I had a mild obsession with the Lemon White Chocolate Chip cookie from Whole Foods. I'd find excuses to end up in Union Square only to peek in and see if they had any of these delicious cookies left. They were just so wonderfully chewy and lemony and perfect. I'd tuck it away in my already heavy bag and take little nibbles throughout the day. I've been dreaming about this cookie for weeks and I have to say that I've finally found a recipe that is as good or even better!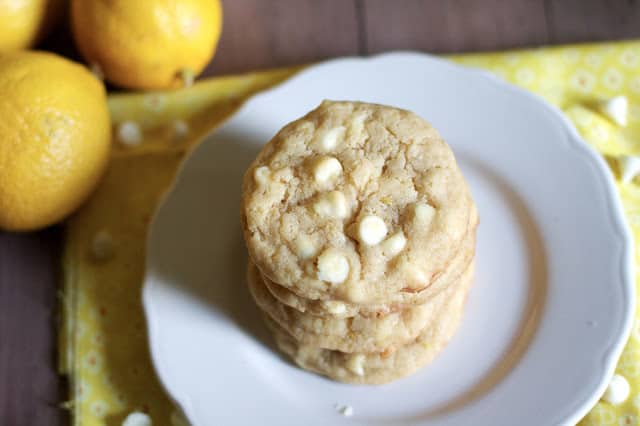 Like other drop cookies these are easy as can be and are made and out of the oven in 20 minutes. They are both sweet and a teeny bit tart and so soft and chewy in the center. Now that I have this recipe I can't wait to make them again and again. (Maybe next time with some macadamia nuts tossed in?)
Chewy Lemon White Chocolate Chip Cookies
Ingredients
1 1/2 cups flour
3/4 teaspoon baking soda
1/2 teaspoon salt
3/4 cup 1 1/2 sticks butter or margarine, softened
1/2 cup packed brown sugar
1/4 cup sugar
1 large egg
1 tablespoon lemon juice
2 cups white chocolate chips
zest from one lemon
Instructions
Preheat oven to 375° F.
Combine flour, baking soda and salt in a small bowl.
Beat butter, brown sugar and granulated sugar in a large mixing bowl until creamy.
Beat in egg and lemon juice; gradually beat in flour mixture.
Stir in white chocolate chips and lemon zest.
Drop by rounded tablespoon onto parchment-lined baking sheets.
Bake for 7 to 10 minutes or until edges are lightly browned.
Cool on baking sheets for 3 minutes; remove to wire racks to cool completely.
Nutrition Information:
Serving Size: 1 grams
Amount Per Serving: Unsaturated Fat: 0g
Recipe adapted from: Nestle