Chewy Pumpkin Oatmeal Cookies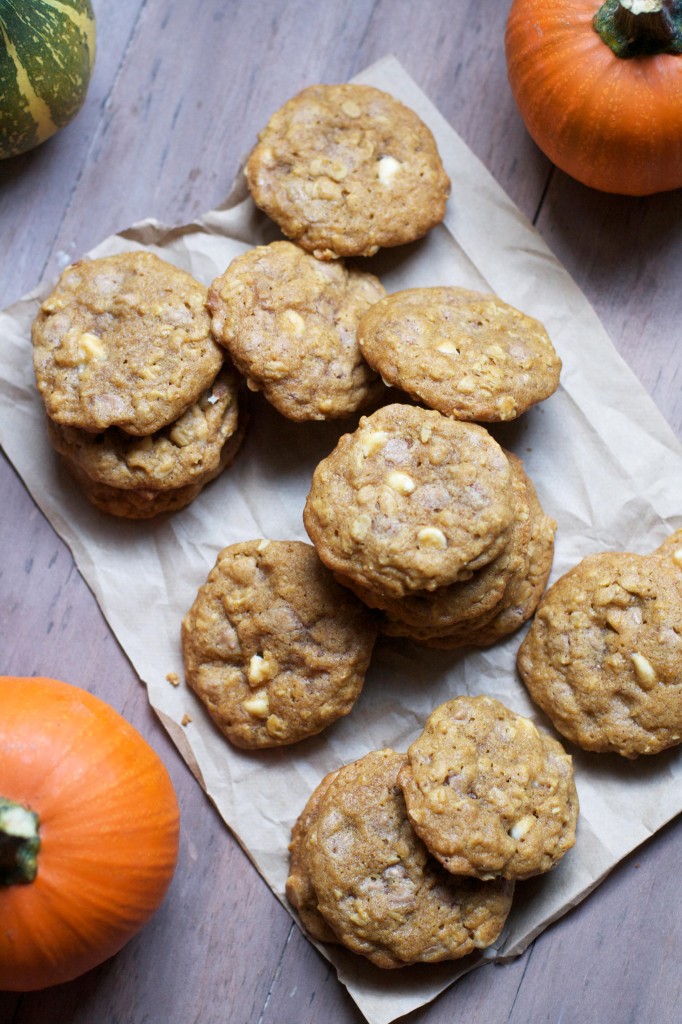 Ok- so I made it one day not posting something fall-themed but I seriously couldn't wait one more day to share this recipe with you. Sometimes a cookie is just so incredibly delicious that it deserves the front and center spotlight asap. These chewy pumpkin oatmeal cookies are just that- crisp on the edges, soft and chewy in the centers, and loaded with pumpkin and all the delicious spices that make fall the best time of the year. (On that note I think we finally are into the real fall weather which makes me so happy. I am a human oven these days and last weeks 83 and humid was not doing it for me.)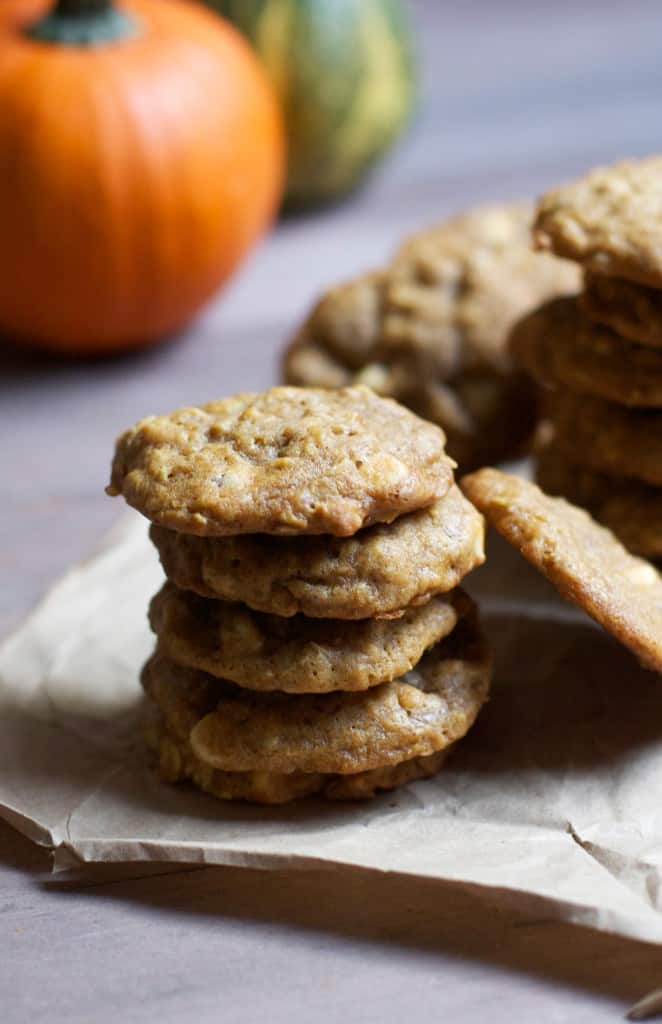 I love pumpkin cakes, muffins, breads etc, but what I've never been able to find is a pumpkin cookie that is more cookie-like than cake like. Sometimes, like in whoopie pies, I was going for a fluffy cakey texture, but I always want the variety of a cookie that has crispy edges and a chewy center. I was amazed when these came out of the oven and I had the first bite at how perfect the texture was. I was just as amazed as I tried my second, third and fourth cookie. I really couldn't stop eating them!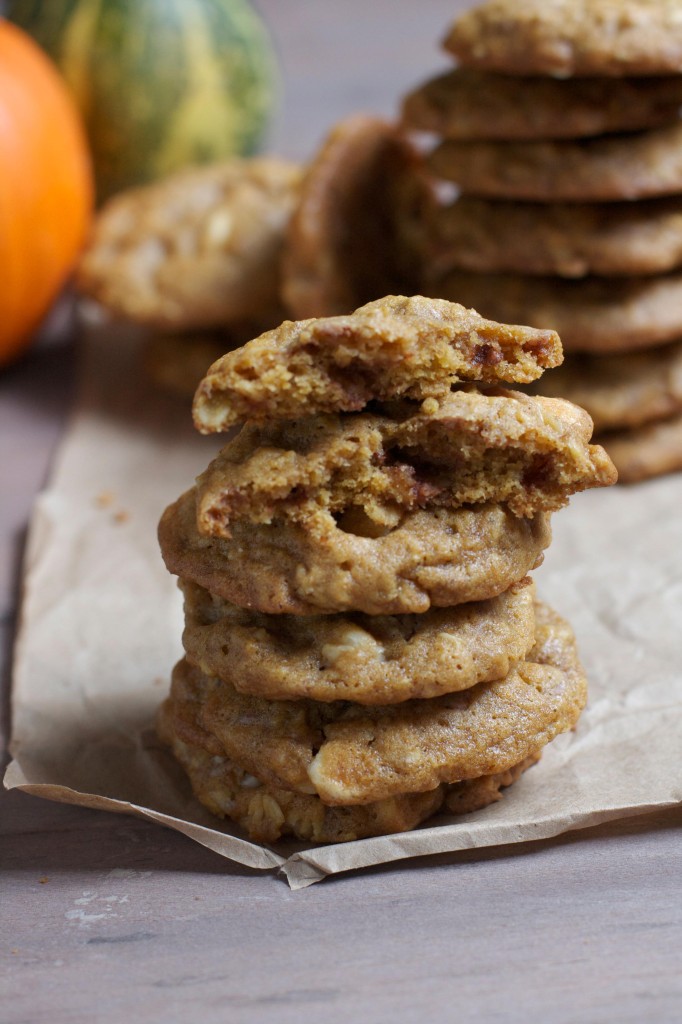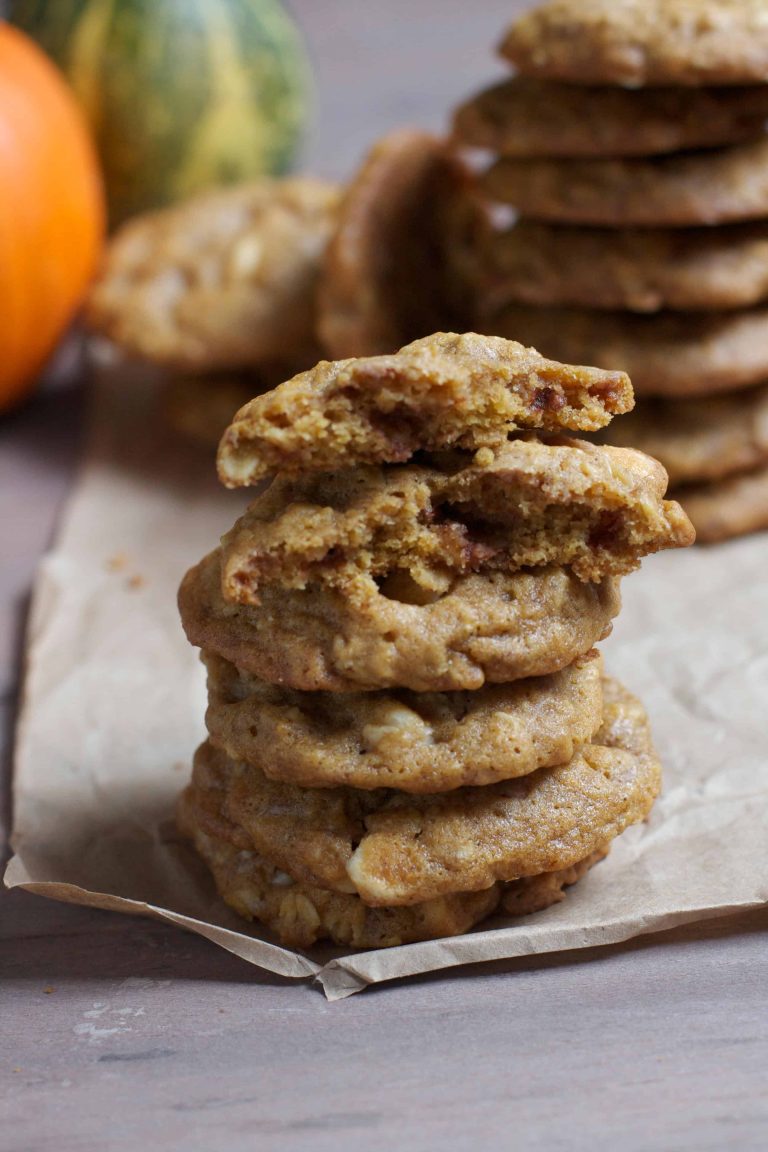 There are lots of mix-in options for these cookies- chocolate chips, butterscotch chips, raisons, dried cranberries, etc. I chose to use my favorite baking ingredient- cinnamon chips as well as some white chocolate chips. I know that cinnamon chips aren't the easiest thing to find, but I highly reccommend just ordering some either from King Arthur Flour (the ones that I use and love, one bag has lasted me months) or you can get the Hershey's Cinnamon Chips on Amazon
, (or in some grocery stores.) The chips I use kind of burst when baked, leaving little cinnamon pockets throughout, but I think the Hershey's ones are more traditional chip texture. Either- way- make these your own with whatever mix-ins you like- but I these cookies are unbelievable!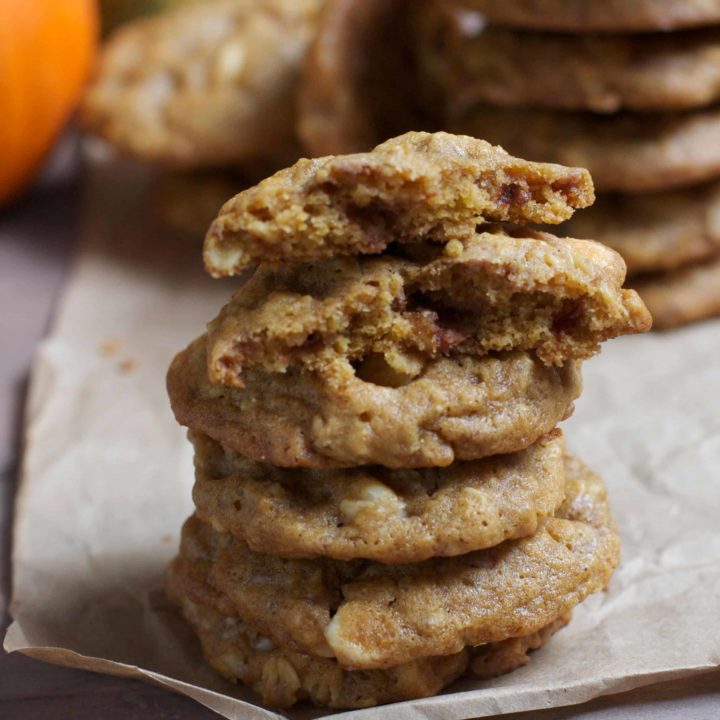 Chewy Pumpkin Oatmeal Cookies
Yield:
3 - 4 dozen cookies depending on size
Ingredients
2 cups all-purpose flour
1½ cups old-fashioned oats
1 tsp. baking soda
2 tsp. ground cinnamon
¾ tsp. ground ginger
¼ tsp. ground cloves
¼ tsp. grated nutmeg
1/2 tsp salt
1 cup 2 sticks unsalted butter, softened
1 cup light brown sugar, packed
1 cup granulated sugar
1 large egg
1 tsp. vanilla extract
1 cup pumpkin puree
1 cup cinnamon chips*
1/2 cup white chocolate chips
Instructions
Preheat oven to 350F. Line a cookie sheet with parchment paper or a sil-pat and set aside.
In a medium-sized bowl, whisk together the flour, oatmeal, baking soda, spices and salt.
In the bowl of your stand mixer (or a large bowl if using a hand mixer,) cream the butter and sugars on medium-high until light and fluffy. Add the egg and vanilla and mix until well-combined and smooth. Stir in the pumpkin puree.
On low speed, gradually add the dry ingredients, mixing until just incorporated. Fold in cinnamon chips, and white chocolate chips.
Use a small cookie scoop to dollop cookie dough onto your prepared sheets, 2-3 inches apart. Bake for 12-16 minutes, or until cookies are golden brown around the edges. (I baked mine the full 16 minutes as I wanted those crispy edges.)
Cool on cookie sheet for 5 minutes before transferring to a wire rack to cool.
Notes
*As I mentioned above, cinnamon chips are great in this recipe, but other chips, nuts, dried fruit can but switched out. I'd say that 2 cups total of mix-ins would be perfect! Recipe slightly adapted from: Annie's Eats via My Baking Addiction
Nutrition Information:
Yield:

3
Serving Size:

1 grams
Amount Per Serving:
Unsaturated Fat:

0g