Chewy Red Velvet Cookies with Cream Cheese Icing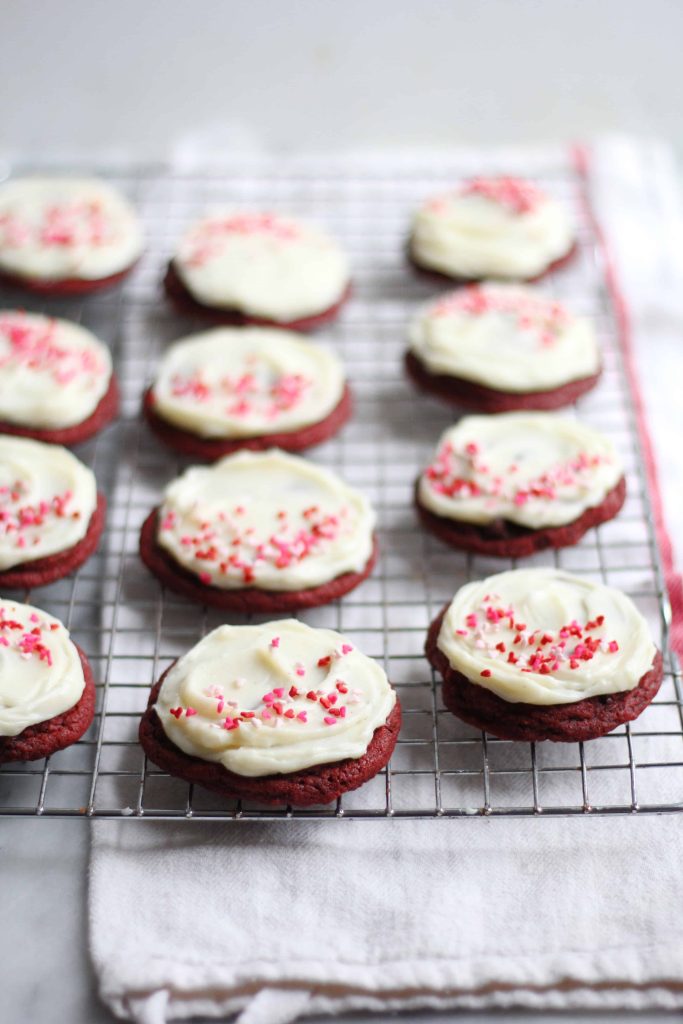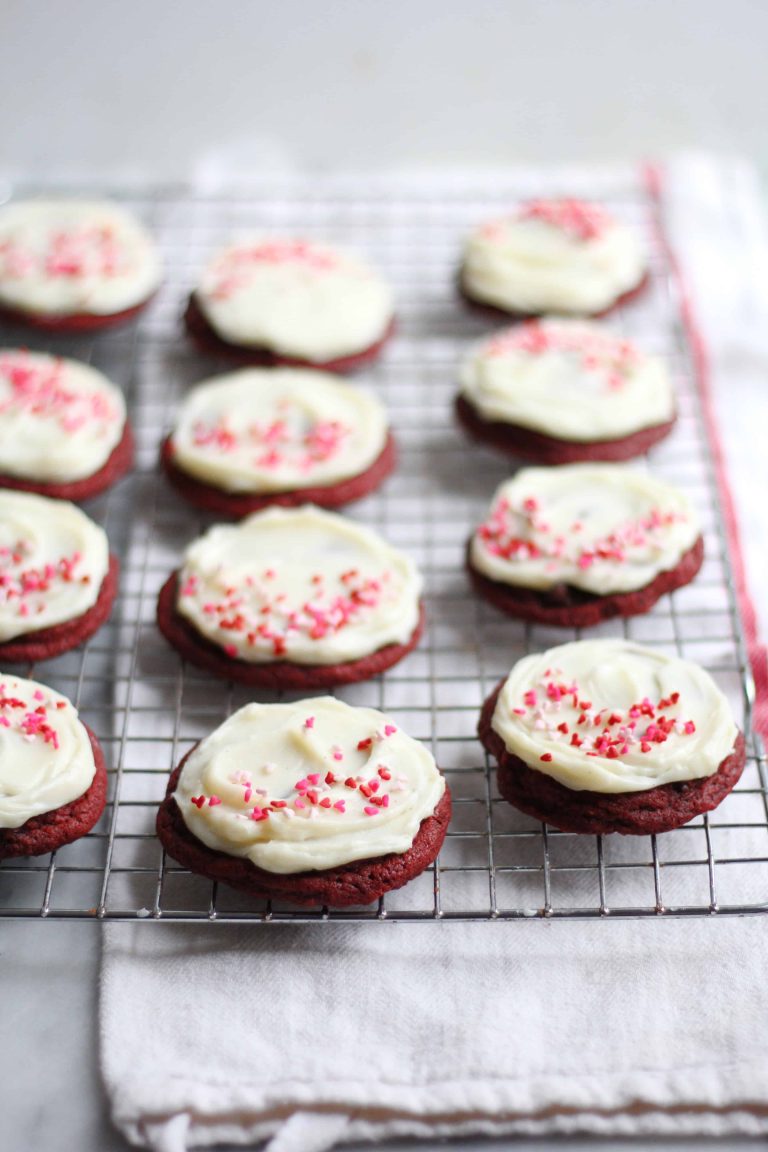 Confession time. I'm ready to not be pregnant anymore. I never thought I'd get to that place this time around. I'm only 34 weeks so I have a ways to go, and I really thought I'd be fine with this baby taking as long as possible to come so I would have more time with Hugo. He has been my best bud for 2 solid years, hands down the person that I spend the most time with, and I know our relationship is going to change. But, I just am sick of it…this pregnancy has been fine, but just uncomfortable enough to make me want to feel like myself again. You know, my spit-up covered, sleep deprived, newborn-holding, milk maid self but still. You get me right?
I also seem to have regressed to the first trimester again where certain smells and tastes send me over the edge as well as certain cravings that I just *have* to have. Last week? Red Velvet everything. It's weird because it's not normally my #1 must have flavor (I normally choose lemon or salted caramel,) but once I got the idea of these cookies in my head I had to have them.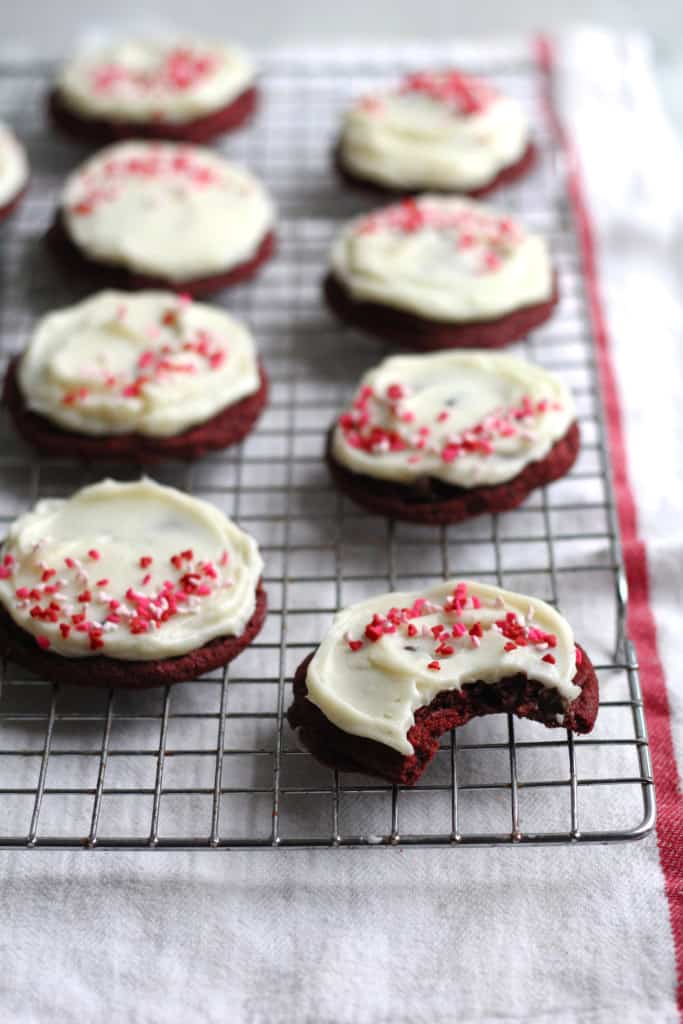 The base is a chewy cocoa-y cookie with crisp edges and super soft middles. I added dark chocolate chips and sea salt for fun, and topped them with a fluffy cream cheese frosting. They are festive and delicious, the perfect Vday treat in my opinion!
I hope to start feeling better soon, maybe I'll get that late 3rd trimester burst of energy like I did last time and be able to crank out tons of great new recipes before baby's arrival. If not, I appreciate your patience with my sporadic posting…can you believe I started this blog 5 years ago!? xoxoxo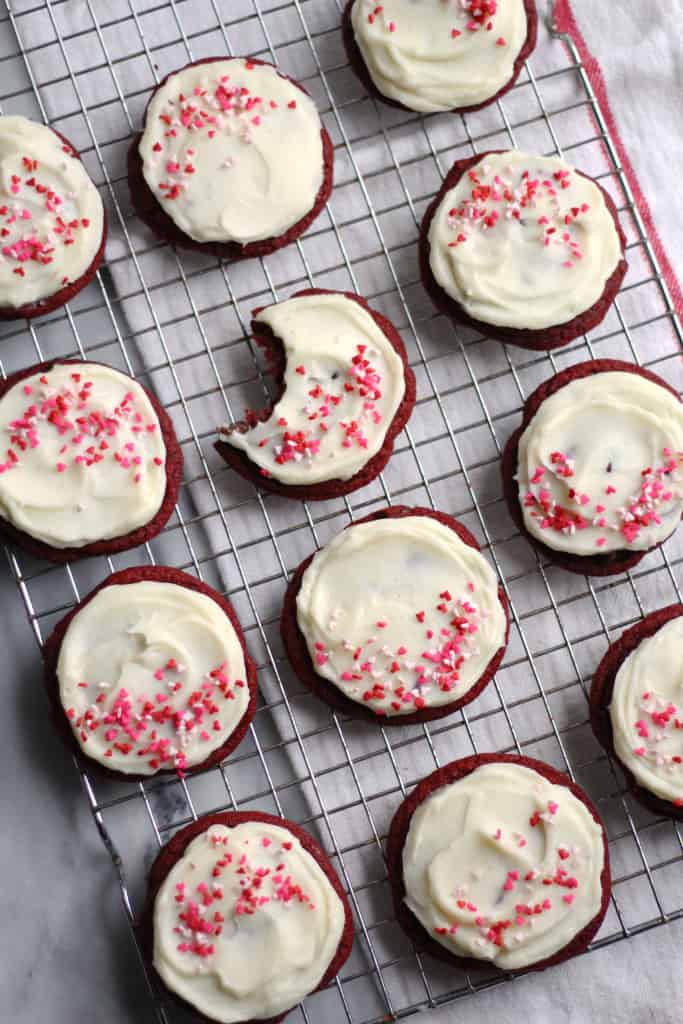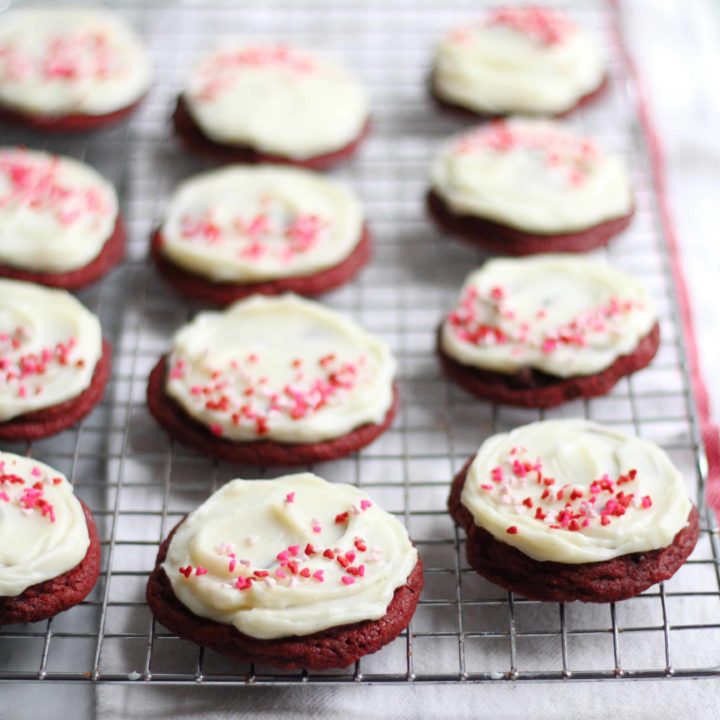 Chewy Red Velvet Cookies with Cream Cheese Icing
Ingredients
¾ cup butter, softened (1½ sticks)
¾ cup brown sugar
½ cup granulated sugar
1 large egg
2 teaspoons vanilla extract
1¾ cups all-purpose flour
1/8 cup cocoa powder
1 tablespoon cornstarch
1 teaspoon baking soda
1 teaspoon salt
1 tablespoon red food coloring (1 teaspoon if using gel)
1 dark chocolate chips
Flaky sea salt
Frosting:
4 oz cream cheese, softened
1/4 cup butter, softened
2 cups powdered sugar
1 teaspoon vanilla extract
Instructions
In a medium sized bowl, whisk together the flour, cocoa powder, baking soda, cornstarch, and salt set aside.
In a large mixing bowl, cream together the butter and sugars until light and fluffy. Add the egg, vanilla, and food coloring, and mix for another minute or two until smooth and creamy.
Gradually add the dry ingredients and mix until just combined. Fold in the chocolate chips.
Scoop dough into 2-inch balls and arrange on a cookie sheet or plate. Freeze for an hour.
Preheat oven to 350F.
After dough has cooled, Place cookie dough on sheet. 2 inches apart. Sprinkle with flaky sea salt.
Bake for 12-14 minutes or until the edges are set. Cool for a few minutes before removing from cookie sheet and cooling on a wire rack. Repeat with remaining dough!
For the Frosting:
Cream together the cream cheese and butter until smooth. Gradually add the powdered sugar and then the vanilla extract.
Frost cookies when cool.
Notes
Recipe adapted from The Pinning Mama