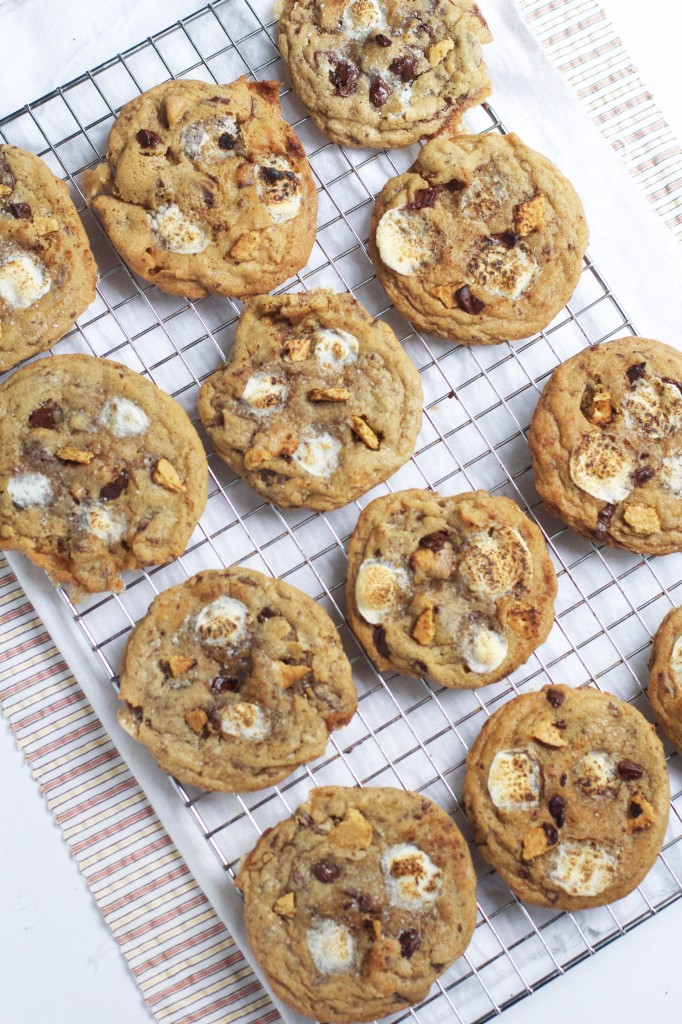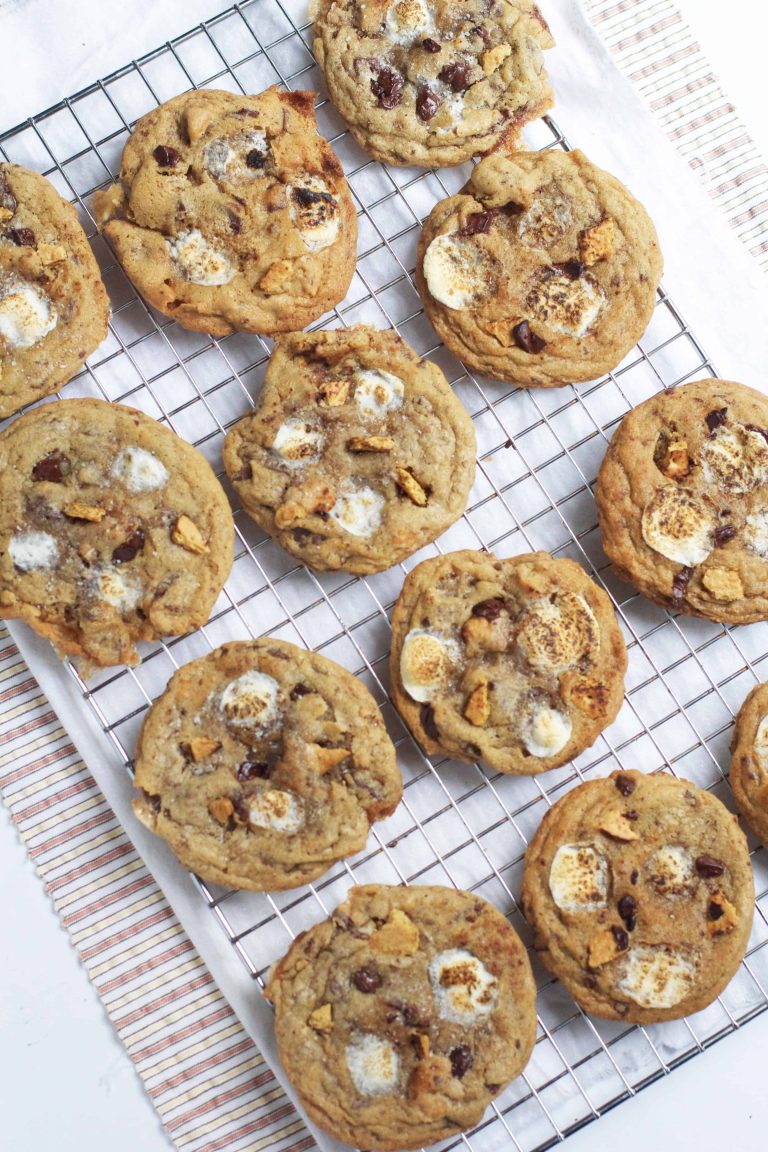 Before you all close up shop for the weekend, maybe to enjoy the real kick-off to summer with a BBQ or family potluck, I have one last recipe to share. I don't personally have big holiday plans, but I did make these awesome cookies which to me represent everything to come in the next 3 months. When I think of S'mores I think of cook-outs and camp fires and card games at the picnic table. These cookies are a cross between the messy-gooey treats I grew up loving, and a simple chocolate chip cookie. The edges are crispy, the middles are chewy, and they are full of marshmallows, graham crackers and chocolate chunk. Are you as excited as I am?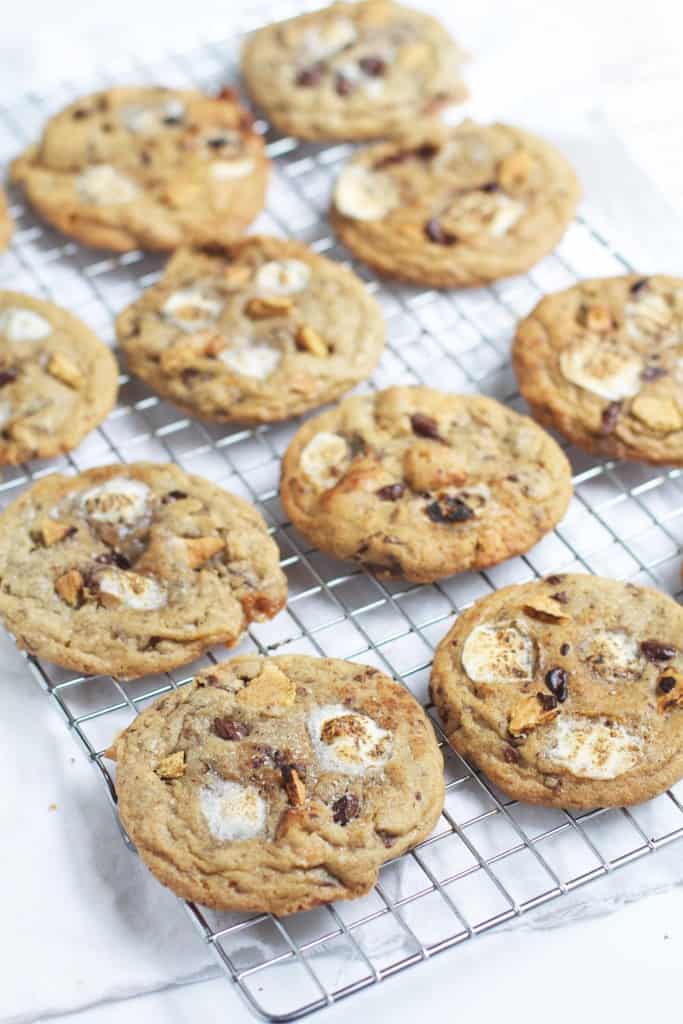 I'm also excited about these cookies because this is the first thing I'm posting on this blog that was baked, photographed, edited and written all by myself. Meaning- I managed this without a helping hand to entertain the baby so I could work. I did it you guys! I figured out how to do things during his nap even though they are short. We have to celebrate these small acheivements right?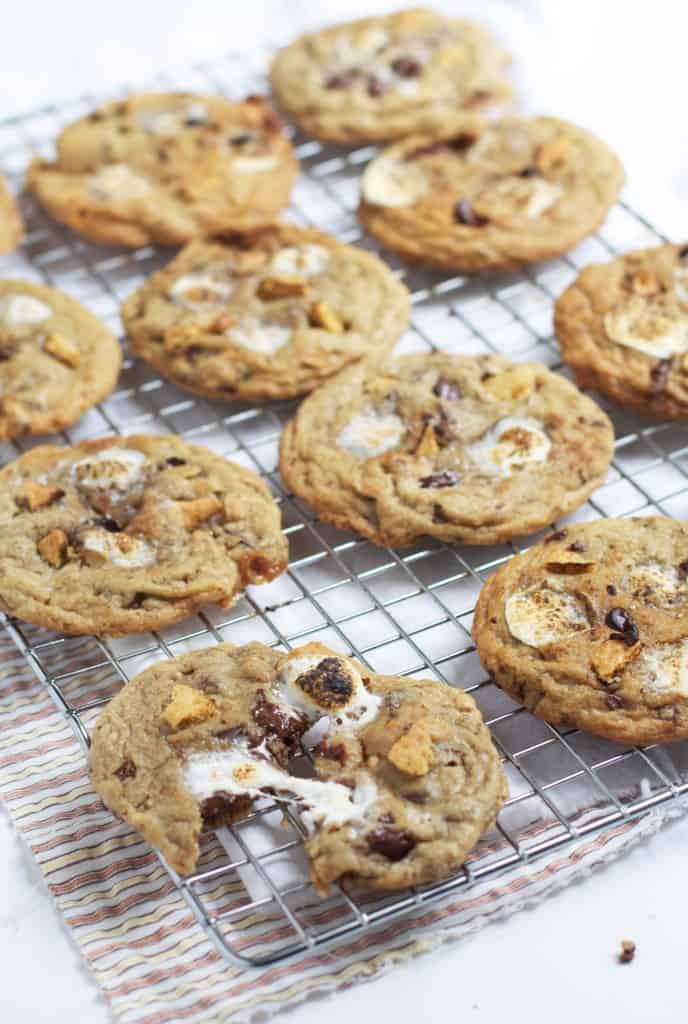 Anyway, I think these cookies are delicious and special and perfect for a last minute addition to your weekend plans. They really taste like S'mores, with help of my handy blow-torch, which I used to toast the marshmallow a bit after these came out of the oven. It was so worth it for that slightly-burnt taste that I absolutely adore. If you like S'mores- you'll love these. Have a great long weekend everyone!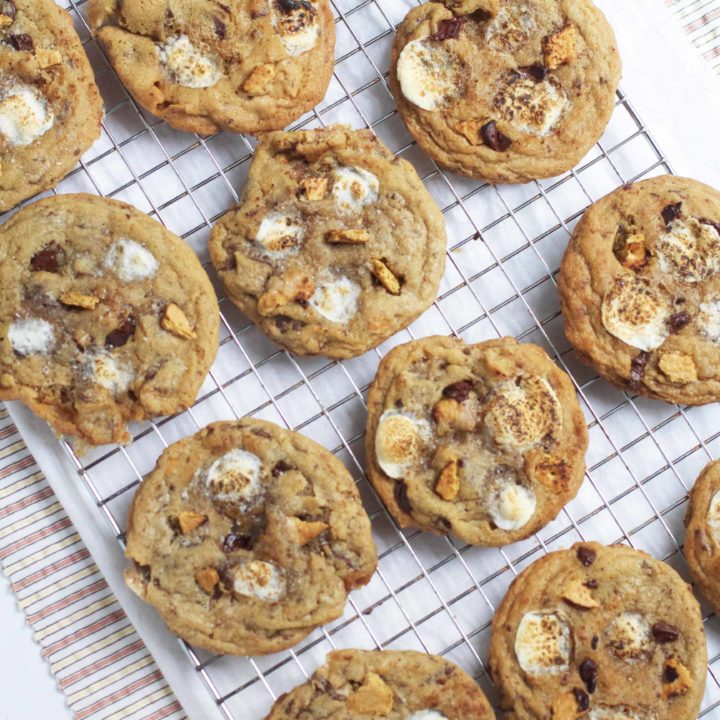 Chewy S'mores Cookies
Ingredients
12 tablespoons of butter, softened (1 1/2 sticks)
1 cup brown sugar, packed
1/2 cup white sugar
1 egg and 1 yolk
2 teaspoons vanilla extract
2 cups plus 2 tablespoons flour
1/2 teaspoon baking soda
1/2 teaspoon salt
8 oz semi sweet chocolate, chopped
1 1/2 cup mini marshmallows
3 graham crackers, broken into small bits.
Instructions
Preheat oven to 350F. Prepare two cookie sheets with parchment paper or a sil-pat. Set aside.
In the bowl of a stand mixer fitted with a paddle attachment, cream the butter and sugars until smooth and fluffy. Add the egg, yolk and vanilla, beat until combined.
Sprinkle the flour, baking soda and salt over the wet ingredients and mix on low until just combined. Fold in the chocolate, graham crackers and 1 cup of marshmallow.
Use a 1 1/2 inch sized scoop to potion cookies 2-3 inches apart on the cookie sheet. Nestle a couple more marshmallows into the dough ball.
Bake for 10-12 minutes or until slightly golden around the edges. Let cool on cookie sheet for 5 minutes before transferring to a wire rack.
If desired, lightly toast the marshmallow on the top of each cookies until melty.
Notes
Base cooke adapted from Baking Illustrated.
Nutrition Information:
Serving Size:

1 grams
Amount Per Serving:
Unsaturated Fat:

0g