Chocolate Candy Cane Cupcakes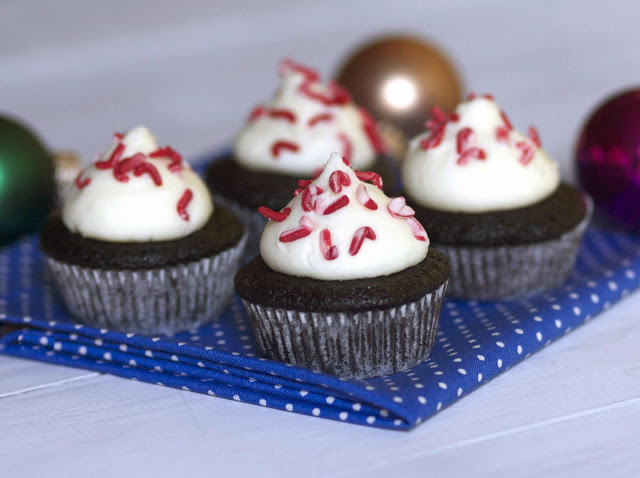 How did people plan their weddings before the internet? I can't even count the hours that I have spent in front of my computer in the last few weeks obsessively going from page to page. Between the amazing wedding blogs out there, Martha Stewart Weddings and Pintrest I'm officially lost to the net. Maybe that explains why I haven't bought a single Christmas present and tomorrow I'm leaving for Wisconsin. Usually I arrive at my Parent's house with all my gifts wrapped and ready but obviously that isn't going to happen. How am I supposed to tear myself away to do my shopping when there are endless webpages out there with so much wedding inspiration??!
Anyway- I was able to tear myself away for a few minutes this weekend to whip up these little cuties. Andy and I went to a Christmas party on Saturday and I couldn't bear to show up empty handed. Luckily I've been jones-ing to make these ever since they first made their appearance at my
Dessert Party
over the summer. They are so simple and easy to whip up that they're the perfect last minute treat for this week's holiday parties! I used my favorite one-bowl Chocolate Cupcake Recipe and a simple Peppermint Buttercream. You can top them with crushed Candy Canes, but I used those adorable minty candy cane sprinkles. Bite sized holiday deliciousness!
Chocolate Candy Cane Cupcakes
Yield:
18 -24 full sized cupcakes or 30-40 minis
Ingredients
3/4 cup unsweetened cocoa powder
1 1/2 cups all-purpose flour
1 1/2 cups sugar
1 1/2 teaspoons baking soda
3/4 teaspoon baking powder
3/4 teaspoon salt
2 large eggs
3/4 cup warm water
3/4 cup buttermilk
3 tablespoons vegetable oil
1 teaspoon pure vanilla extract
Frosting:
2 sticks unsalted butter, room temperature
4 1/2 cups powdered sugar
2-3 tablespoons milk, cream or half and half
1/2 tsp. peppermint extract
Instructions
Preheat oven to 350 degrees. Line standard muffin tins with paper liners; set aside.
Sift together cocoa powder, flour, sugar, baking soda, baking powder, and salt into a large bowl.
Add eggs, warm water, buttermilk, oil, and vanilla, and mix until smooth, about 3 minutes. Scrape down the sides and bottom of bowl to assure batter is well mixed.
Divide batter evenly among muffin cups, filling each 2/3 full. Bake until tops spring back when touched, about 20 minutes, rotating pan once if needed. Transfer to a wire rack; let cool completely.
For the Frosting:
Using an electric mixer, beat the butter of medium speed until fluffy and pale. Add the powdered sugar slowly until thick, beating at medium speed. Add peppermint extract and one tablespoon at a time of milk or cream until frosting is smooth and creamy. Pipe on cupcakes and decorate with crushed candy canes or sprinkles!
Nutrition Information:
Yield:

18
Serving Size:

1 grams
Amount Per Serving:
Unsaturated Fat:

0g
Cupcake recipe from Martha Stewart