Chocolate Chip Cookie Cups with Peanut Butter Frosting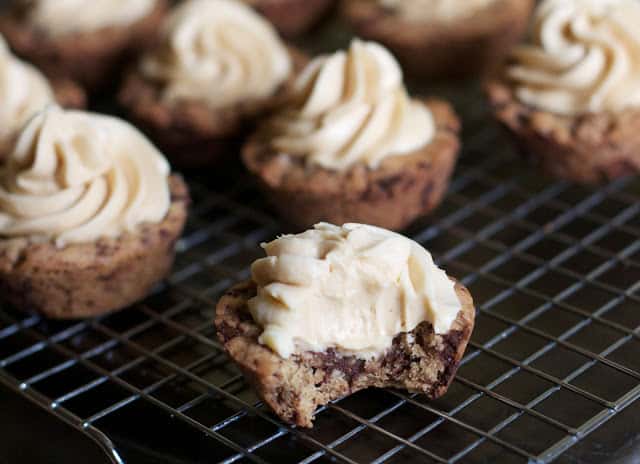 Like many, I had some pretty horrible/funny jobs when I was a teenager. My first was a cashier at Kopp's Frozen Custard at 14. The custard was/is amazing, but the bosses were mean and used to charge me from my 4.75 hourly wage if I ever made mistakes ringing people up. Next came stocking the beauty section at a grocery store which wasn't as bad but boring as can be. The one that stuck was working at the mall down the street at the Gap. I actually loved this job because I got 50% off got to dress all the mannequins in cute outfits.
Anyway- this was when I was 16, and used to eat sugary junk food without consequence, my favorite things to do on my 15 minute break was run to the food court and get one of those frosted cookie cups from Mrs. Field's. Are you familiar? They also had mini cookies and thick frosted brownies I couldn't get enough of, but their chocolate chip cookie cups with thick buttercream inside were my favorite.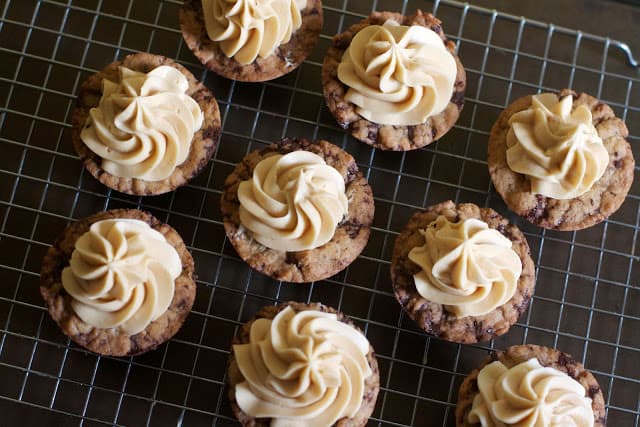 As I walked home the other day, all I could think about were those cookie cups and I kinda had to have them as soon as humanly possible (that's what happens when I get a treat on the brain!) So I made my own version of these, using my favorite cookie recipe and a fluffy, creamy peanut butter frosting. I've never actually made cookie cups before and the possibilities are endless. Cookie ice cream sundaes anyone? I absolutely loved them and couldn't help feel transported back to that counter at Mrs. Fields….though I must say I'm really glad I'm not!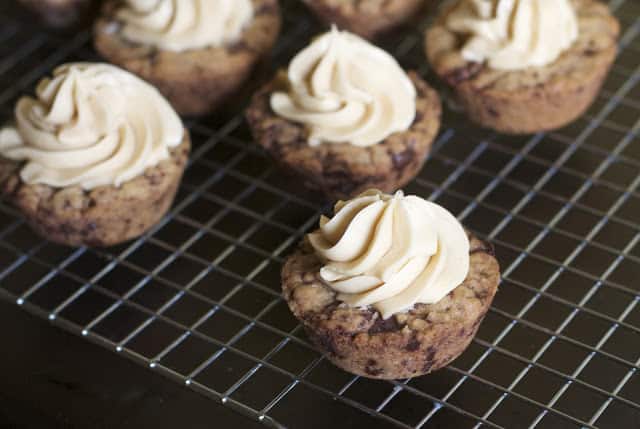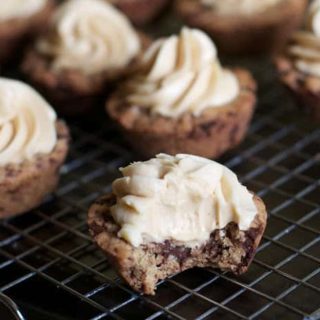 Chocolate Chip Cookie Cups with Peanut Butter Frosting
Ingredients
1 recipe chocolate chip cookies
1 stick of butter softened
1/2 cup of creamy peanut butter
2-4 cups of powdered sugar
1 tsp vanilla extract
1-2 tablespoons milk or cream
Instructions
Scoop rounded spoonfuls of cookie dough into a muffin tin and press into the muffin well and up the sides. Bake at 325 until edges are golden and the middle is soft but set. (Mine took 10 minutes.)
Prepare the frosting: Cream together the butter and peanut butter until thick and smooth. Slowly add the powdered sugar until thick. Add the vanilla extract, and then the milk a little at a time until the frosting is the right consistency. Beat on high for a few seconds to make it light and fluffy. Pipe or spread into each (cooled) cookie cup.
Notes
I made 1 dozen cookie cups and froze the rest of my cookie dough for later use. If you make more than a dozen cups you may want to increase the frosting quantity!
Nutrition Information:
Serving Size: 1 grams
Amount Per Serving: Unsaturated Fat: 0g