Chocolate Croissants (Pain au Chocolat)
Back in March, the day I left for Paris, I couldn't help but give Homemade Croissants a go. I'd always wanted to try them, and it seemed fitting to learn how to make the famous French pastry before eating little else for a few days. A few weeks after I got back from that trip and visited King Arthur Flour for this lovely weekend, I bought a bag of "Pain au Chocolat Sticks" from their amazing baking supply store with the goal of tackling them again, this time in the chocolate variety I adored so much in Paris.
Soon afterwards, summer happened and there was no way that my steamy kitchen could handle the pressure of keeping all those layers of butter chilled. So I popped the chocolate bars into the freezer, waiting for cooler weather. Well, I found them in the freezer last week as I was preparing to use things up before the move, and since I was invited to a brunch potluck Saturday, it seemed like the perfect time for my croissant adventure #2.
The process of making these begins exactly like regular croissants. (This post outlines all the steps including a picture tutorial.) Instead of cutting the dough into triangles and rolling them into a crescent shape, they are cut into rectangles and filled with either a thin piece of chocolate or some chopped chocolate. (If using chopped chocolate I would probably place it in the middle and fold inwards.)
The dough is rolled around the chocolate and placed on a cookie sheet to proof for 45-60 minutes.
The proofed dough gets brushed with egg and in my case, just a sprinkling of flaky sea salt (which I think makes everything better.)
Now, I am not too proud of how non-uniform these babies ended up after baking, if you've made pain au chocolat before and know how to make these all look the same size- I'd love any tips. However- they were even better than last time, so flaky, full of the best European butter, and the chocolate inside was just what I wanted. (Now if only they were fast enough to make every day!)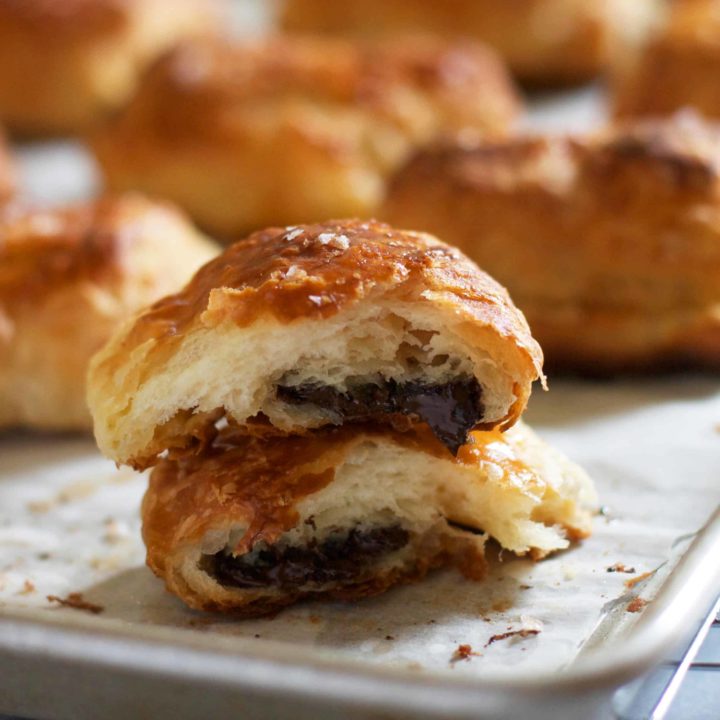 Chocolate Croissants (Pain au Chocolat)
Ingredients
1 batch of Croissant Dough, chilled but not rolled out
16- 3 inch chocolate sticks, or 1 1/4 cups chopped semi sweet chocolate
1 egg, beaten
flaky sea salt for sprinkling., optional
Instructions
Cut the dough in half and return the rest to the fridge to chill until you're ready to use.
On a well-floured surface, gently tap dough to flatten and then roll into a 12x12 square, lifting and dusting with more flour around the edges as needed.
Using a ruler cut the dough into 4 equal 6x6 squares, and then cut each square vertically making 8 3x6 rectangles.
Place a chocolate bar at one end of each rectangle and roll dough around it. Place on a parchment-lined cookie sheet- seam side down and flatten slightly.
Repeat with the rest of the dough. (I only have one cookie sheet that is big enough so I didn't even roll out the second half of the dough until the first batch finished baking. You could bake both at the same time if you'd like as well.)
Cover croissants loosely with plastic wrap and allow to proof for 45-60 minutes, until puffy. Brush with egg and sprinkle with sea salt if desired.
Bake at 400F for 16-20 minutes, or until croissants are golden brown. Enjoy warm or room temperature.
Notes
Recipe adapted from Cooks Illustrated.
Nutrition Information:
Yield:

16
Serving Size:

1 grams
Amount Per Serving:
Unsaturated Fat:

0g