Chocolate "Easter Nest" Cupcakes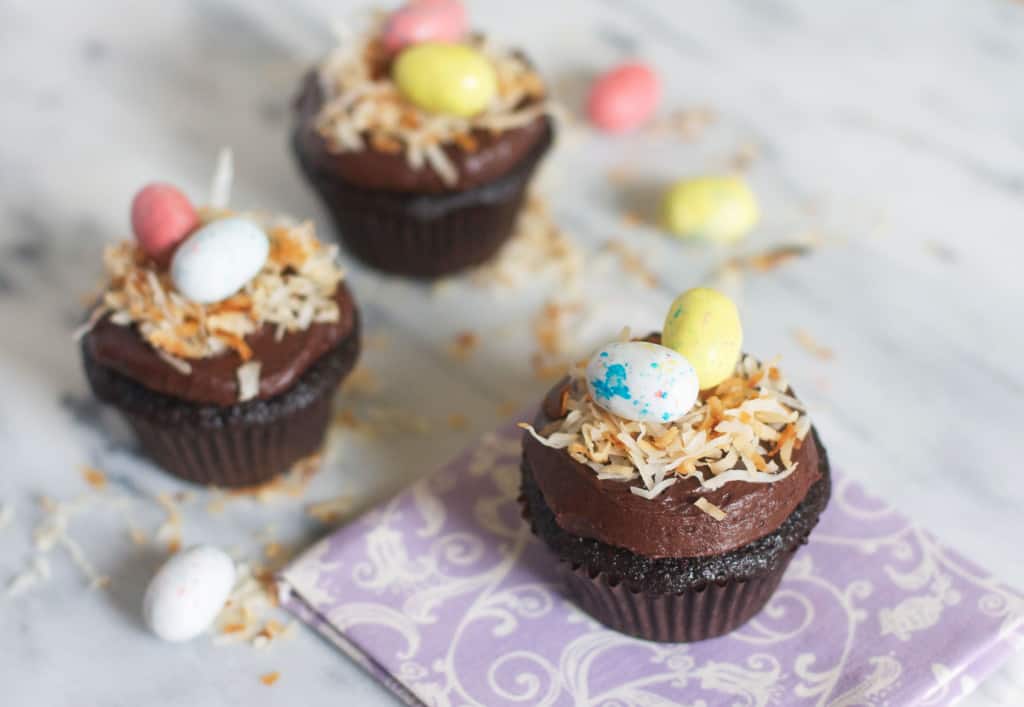 I love Easter time. To me it represents everything new, fresh and bright. Spring has arrived, the flowers are starting to bloom, and the energy in the air seems to be one of happiness and hope. (though the current weather in NYC isn't much of an indication of this!) I love the welcome of soft pastels and chocolate eggs filled with a variety of delicious fillings. As a child, my Easter mornings were spent at church in white mary janes and a fluffy floral dress (see below) followed by a near impossible egg hunt. (One time my uncle actually carved a hole out of a book and snuck an egg inside- brutal!)
I have to admit my Mom did a pretty great job at at keeping us fancy throughout the Easter's huh? The girls' expressions in the top-left picture are priceless.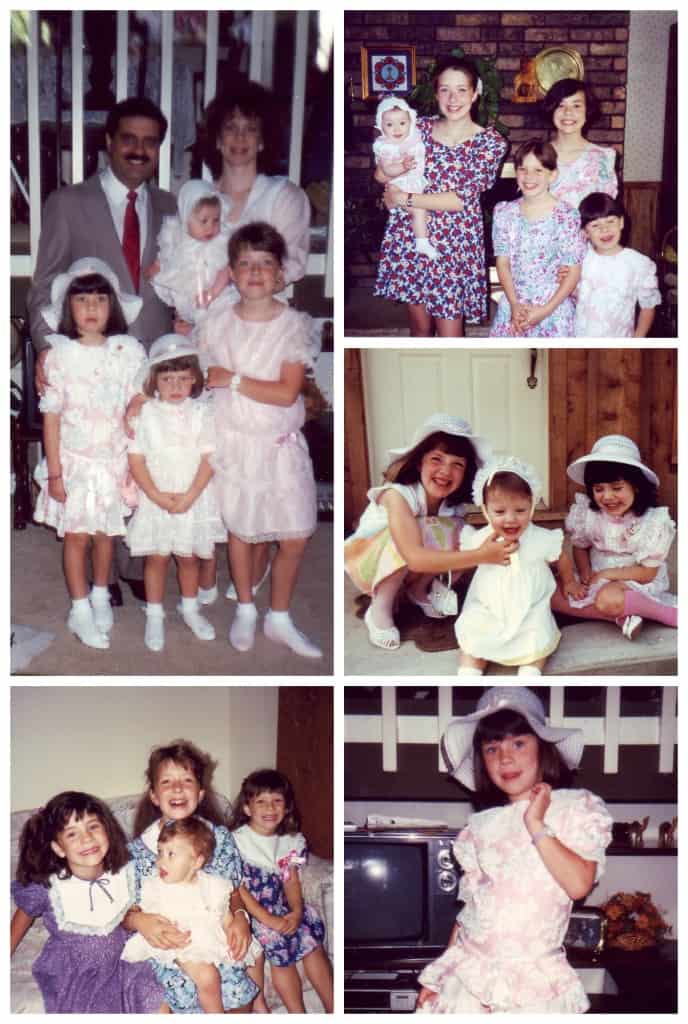 Ha- I just had to share that…anyway! These cute "nests" can be made on any cupcake really- simply by sprinkling some toasted coconut in a little mound on top of the frosting. I used the Whopper brand "Robin's Eggs" and nestled a couple in the coconut. The end result was as cute as can be and such an easy way to create a festive dessert for your Easter spread.
I think these Vanilla Cupcakes would also be great with coconut nests or even better- Carrot Cupcakes! (Lucky for you I am sharing a great recipe in a couple weeks!)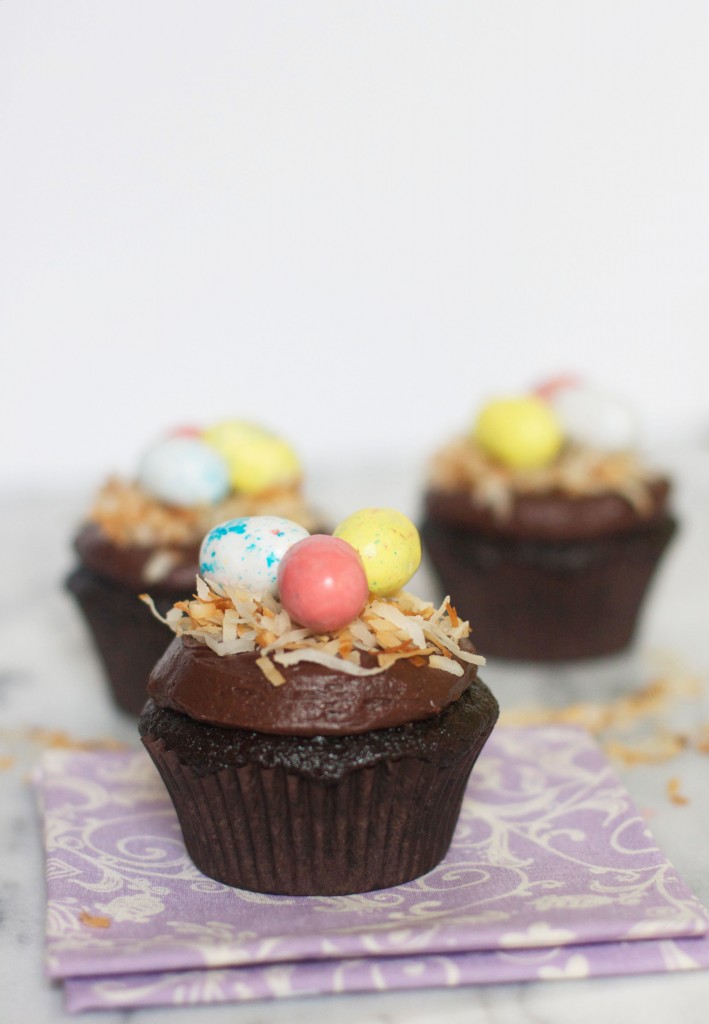 I used my favorite One-Bowl Chocolate Cupcake recipe and an equally easy chocolate buttercream which I am sharing below. As I said- any cupcake recipe works! This favorite recipe is simple and fast- and produces perfect results. It is definitely my new go-to chocolate cupcake recipe- anything this easy wins in my book!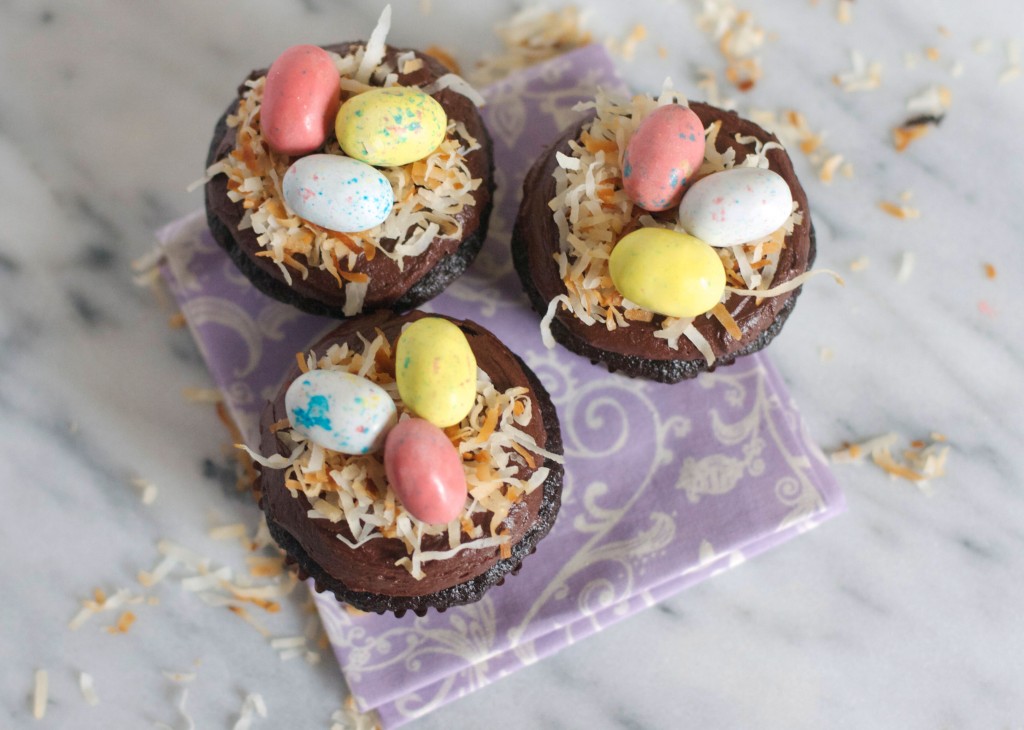 PS- This is my last "real-time" post before we leave for Europe tomorrow. I will be checking my email daily, but please be patient as I may not be able to respond to questions and comments in a timely fashion. I have a full 2 weeks of posts all ready to go for you- I hope you like them! :)
Chocolate "Easter Nest" Cupcakes
Ingredients
For Cupcakes:
3/4 cup unsweetened cocoa powder
1 1/2 cups all-purpose flour
1 1/2 cups sugar
1 1/2 teaspoons baking soda
3/4 teaspoon baking powder
3/4 teaspoon salt
2 large eggs
3/4 cup warm water
3/4 cup buttermilk
3 tablespoons vegetable oil
1 teaspoon pure vanilla extract
For Frosting:
1 cup unsalted butter, 2 sticks, softened
3½ cups powdered sugar
½ cup cocoa powder, I used dutch process, but regular is fine
½ teaspoon table salt
2 teaspoons vanilla extract
4 tablespoons whole milk or heavy cream
For Topping:
2 1/2 cups sweetened shredded coconut
Easter egg candies for topping
Instructions
Preheat oven to 350 degrees. Line standard muffin tins with paper liners; set aside.
Sift together cocoa powder, flour, sugar, baking soda, baking powder, and salt into a large bowl. Add eggs, warm water, buttermilk, oil, and vanilla, and mix until smooth, about 3 minutes. Scrape down the sides and bottom of bowl to assure batter is well mixed.
Divide batter evenly among muffin cups, filling each 2/3 full. Bake until tops spring back when touched, about 20 minutes, rotating pan once if needed. Transfer to a wire rack; let cool completely.
For Frosting:
Cream butter for a few minutes in a mixer with the paddle attachment on medium speed. Add 3 cups powdered sugar and cocoa. Mix on the lowest speed until the sugar and cocoa are absorbed by the butter. Increase speed to medium and add vanilla extract, salt, and milk/cream and beat for 3 minutes. If your frosting needs a more stiff consistency, add a little more powdered sugar. If your frosting needs to be thinned out, add additional milk 1 tablespoon at a time.
For topping/assembly:
Toast coconut at 325F for 10-15 minutes, stirring occasionally, until evenly toasted.
When cooled, frost each cupcake, top with toasted coconut, and nestle candy eggs inside.
Notes
Cupcake recipe from: Martha Stewart Cupcakes Frosting recipe adapted from: Savory Sweet Life
Nutrition Information:
Yield:

18
Serving Size:

1 grams
Amount Per Serving:
Unsaturated Fat:

0g