Chocolate Espresso Cupcakes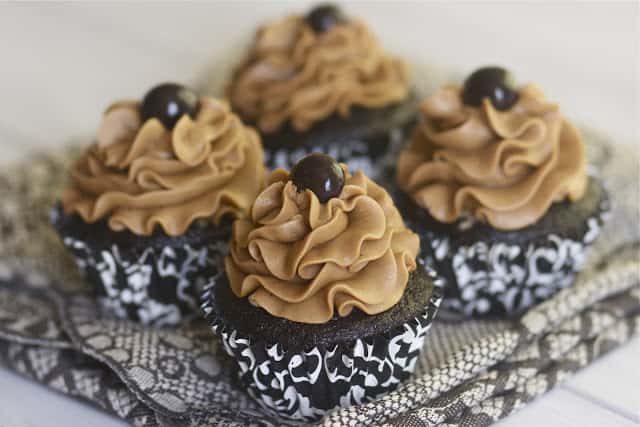 Sometimes you need a cupcake with a little extra kick. You know, a flavor so zingy and caffeinated that you may or may not want to eat this cupcake early in the day. If that's what you're looking for, these cupcakes may be perfect for you- light and spongy chocolate espresso cake, espresso buttercream, topped with a dark chocolate covered espresso bean- I am feeling a buzz just thinking about them.
I made fifty these beauties for my dear friend Nate's 30th birthday party. (He's the one who took the picture of me on the site!) I haven't made over 2 dozen cupcakes in ages so I had a couple hysterical moments in my kitchen. One involved me realizing that I had no bowl large enough for a double batch of this batter (why I didn't just make two separate batches is a mystery.) So there I am, with chocolate-covered dishes everywhere, pouring my batter into a large stock pot so I could mix it. There may or may not be a few overwhelmed-tears in the batter of these, and maybe a couple in the frosting as I realized three times that I still didn't have enough butter for all the frosting which meant another trip to the store. Sigh….and this is why I don't want to open up a bakery- I think I'm small-batch kind of a girl. :)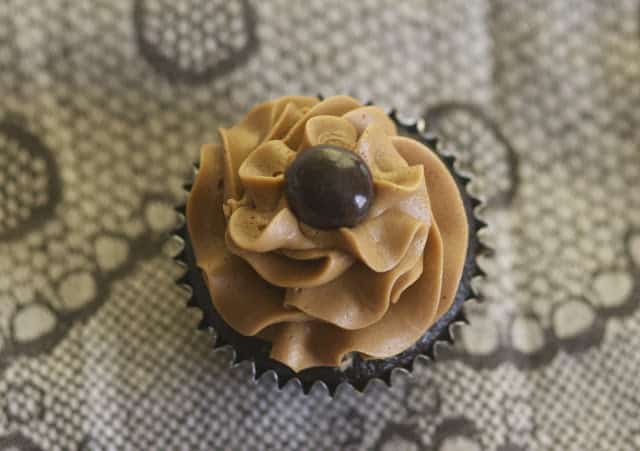 These were an absolute hit at the party though so that's all that matters! If you are a chocolate and coffee fan, I think you'll love these. They don't skimp on the coffee flavor at all and even people that didn't think these would be there favorite came back to me raving. Isn't it a great feeling when others enjoy what you've created? I think so :)
Chocolate Espresso Cupcakes
Ingredients
3/4 cup unsweetened cocoa powder
1 1/2 cups all-purpose flour
1 1/2 cups sugar
1 1/2 teaspoons baking soda
3/4 teaspoon baking powder
3/4 teaspoon salt
2 large eggs
3/4 cup freshly brewed strong coffee
3/4 cup buttermilk
3 tablespoons safflower oil, canola is also fine
1 teaspoon pure vanilla extract
1 tablespoon instant espresso powder
Espresso Buttercream
2 sticks of butter softened
3 cups powdered sugar
2 tablespoons instant espresso powder
1 teaspoon of vanilla extract
2-6 tablespoons of milk or cream
chocolate espresso beans, optional
Instructions
Preheat oven to 350 degrees. Line standard muffin tins with paper liners; set aside.
Sift together cocoa powder, flour, sugar, baking soda, baking powder, and salt into a large bowl.
Stir the espresso powder into the hot coffee until dissolved. Add the eggs into the bowl with the flour, along with the coffee/espresso mixture, buttermilk, oil, and vanilla, and mix until smooth, about 3 minutes. Scrape down the sides and bottom of bowl to assure batter is well mixed.
Divide batter evenly among muffin cups, filling each 2/3 full. Bake until tops spring back when touched, about 20 minutes, rotating pan once if needed. Transfer to a wire rack; let cool completely.
For the Frosting:
In a small bowl, combine the espresso powder, vanilla and 1 tablespoon of milk or cream. Stir together until powder has dissolved.
Put the softened butter into a large bowl, and using an electric mixer, beat the butter until pale and creamy.
Gradually add the powdered sugar and continue to beat until thick and paste-like. Add the espresso/vanilla mixture and continue to beat frosting well.
Add a teaspoon at a time of milk/cream until frosting is creamy and pipe-able. Frost cupcakes as desired, and top with a chocolate covered espresso bean. (optional)
Nutrition Information:
Yield:

18
Serving Size:

1 grams
Amount Per Serving:
Unsaturated Fat:

0g
Cupcake recipe adapted from Martha Stewart
Frosting recipe: The Baker Chick original :)