Chocolate Guiniess Cupcakes with Bailey's Cream Cheese Frosting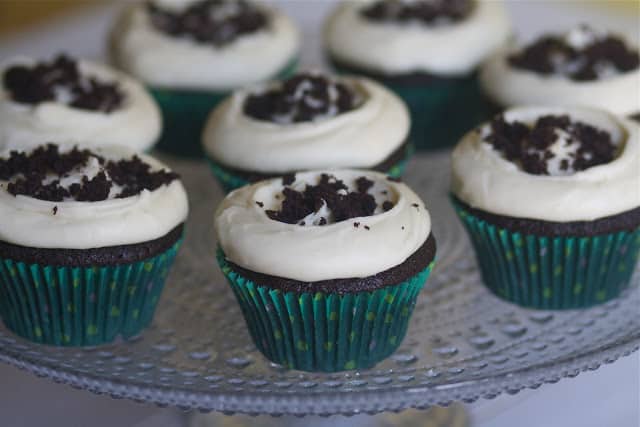 It seems that the Chocolate/Stout/Irish Cream combo is pretty popular in baked goods this time of year. Adding rich foamy Guiniess to chocolate cake batter adds such an amazing flavor and I don't think I need to sell you on Bailey's Cream Cheese Frosting right? I did my best to make this frosting as boozy and Irish Cream-y as possible in honor of my heritage, (I'm a quarter Irish you know!) The end result is a light and fluffy chocolate cake with a hint of rich stout- the frosting is creamy and smooth with just a little bite. In short- a festive bit of cupcake heaven.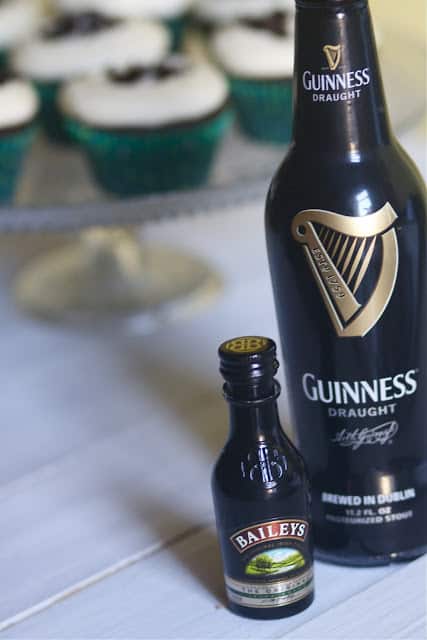 One of the reasons I think the texture of these was so perfect is because I didn't use an electric mixer. After reading through the recipe I realized you really didn't need one so I did the whole thing with a whisk. In my opinion, mixing by hand can help avoid over-beating the batter which can lead to dry and dense cakes. With a whisk, you are able to just mix the ingredients until they are incorporated which results in a perfect soft and crumbly texture.
The cream cheese frosting is the perfect consistency to practice the frosting swirl I demonstrated a couple weeks ago! With the cute little swirled center, you have a perfect spot for housing a variety of toppings. Festive sprinkles would be adorable, but I chose to use some cake crumbs from a cupcake in the batch that was a little busted looking. Didn't see the video on how to make the "swirl"? Check it out here.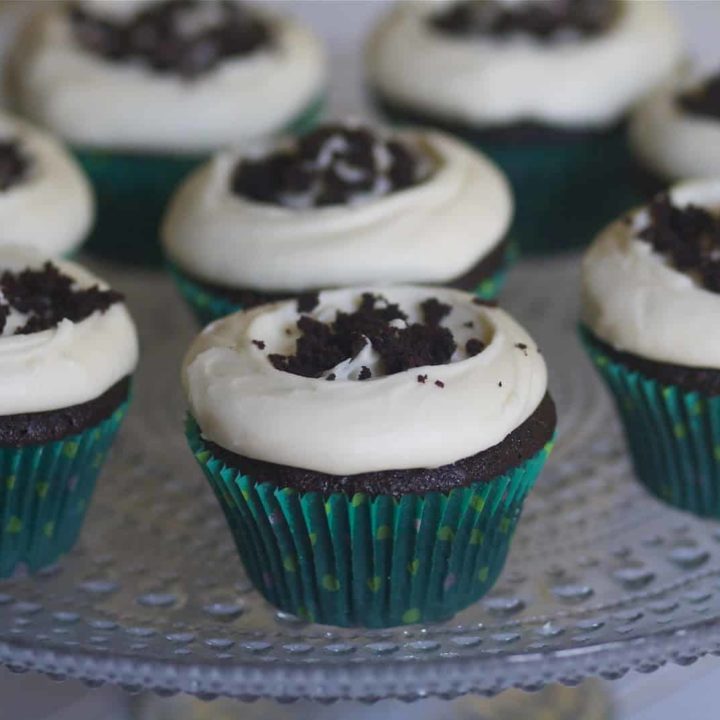 Chocolate Guiniess Cupcakes with Bailey's Cream Cheese Frosting
Ingredients
1 cup stout, Guinness?
2 sticks unsalted butter
¾ cup unsweetened cocoa powder?, dutch process is best
2 cups all-purpose flour?
2 cups sugar
1½ tsp. baking soda?
¾ tsp. salt
2 large eggs?
2/3 cup sour cream
1 8 oz package of cream cheese, softened
4 tablespoons of butter, softened
4 cups powdered sugar
4-8 tablespoons of Bailey's Irish Cream Liqueur
Instructions
To make the cupcakes:
Preheat the oven to 350° F. Line pans with paper liners. Combine the stout and butter in a medium saucepan over medium heat. Add the cocoa powder and whisk until mixture is smooth. Remove from the heat and allow to cool slightly.
In a medium sized bowl, combine the flour, sugar, baking soda and salt, and whisk together. In a large bowl, whisk together the eggs and sour cream until creamy. Add the stout-butter mixture and mix just to combine. Mix in the dry ingredients slowly whisking until just until incorporated.
Divide the batter evenly between the cupcake liners, filling them about ¾ full. Bake until a toothpick inserted in the center comes out clean, about 17 minutes. Allow to cool in the pan for 5-10 minutes, then transfer to a wire rack to cool completely.
For Bailey's Cream Cheese Frosting:
Combine the cream cheese and butter in a large mixing bowl and beat until creamy. Gradually add the powdered sugar until well mixed. Add in the Bailey's a tablespoon at a time until the texture is smooth, creamy, and spreadable. Frost as desired. Decorate with cake crumbs or sprinkles.
Nutrition Information:
Yield: 12 Serving Size: 1 grams
Amount Per Serving: Unsaturated Fat: 0g
Cake Recipe adapted from Smitten Kitchen