Chocolate Hazelnut Crepe Cake with Orange Frangelico Syrup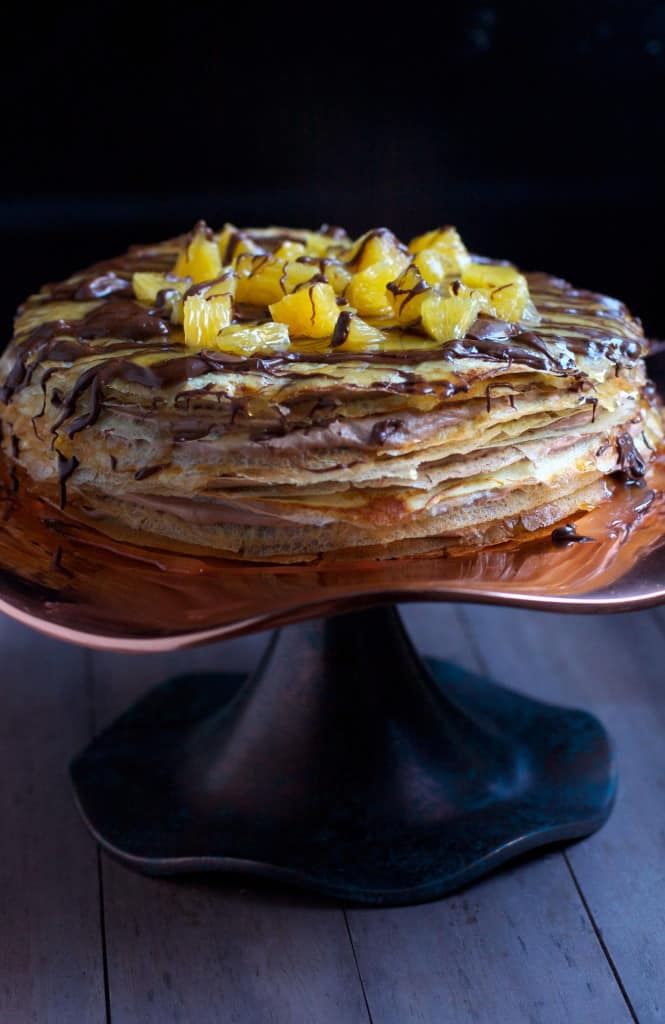 As much as I love easy, one-bowl, no muss no fuss desserts, sometimes a show-stopping decadent treat is called for don't you think? Or at the very least, a dessert that appears complex and advanced, but is really easy as can be. Thats how I feel about crepe cakes. 20 layers of delicate crepes, with filling in between each, and loads of "wow" factor. Can you believe you don't even have to bake anything to create this lovely concoction? It's as easy as cranking out 20 crepes, spreading the filling in between each one and drizzling some syrupy goodness on top. And PS- if you haven't tried the hazelnut + orange flavor combo yet you are majorly missing out- it is so good!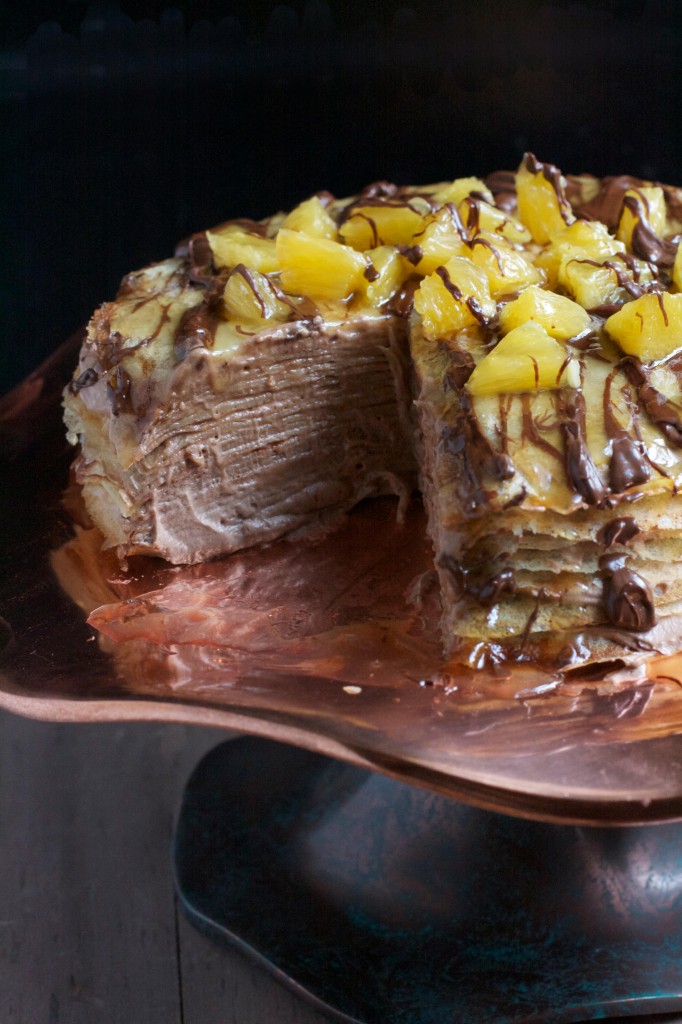 The crepes in this cake are filled with a whipped cream/chocolate hazelnut spread mixture, (like Nutella or another brand,) which is super fluffy and not too sweet. Warm chocolate hazelnut spread is drizzled all over the top of the cake and then finished off with an orange-Frangelico syrup that is just to die for. It's full of bright orange flavor, but the hazelnut liqueur still shines through and adds an amazing touch. The syrup kinda soaks into the cake and gives every bite the most wonderful contrast of flavors.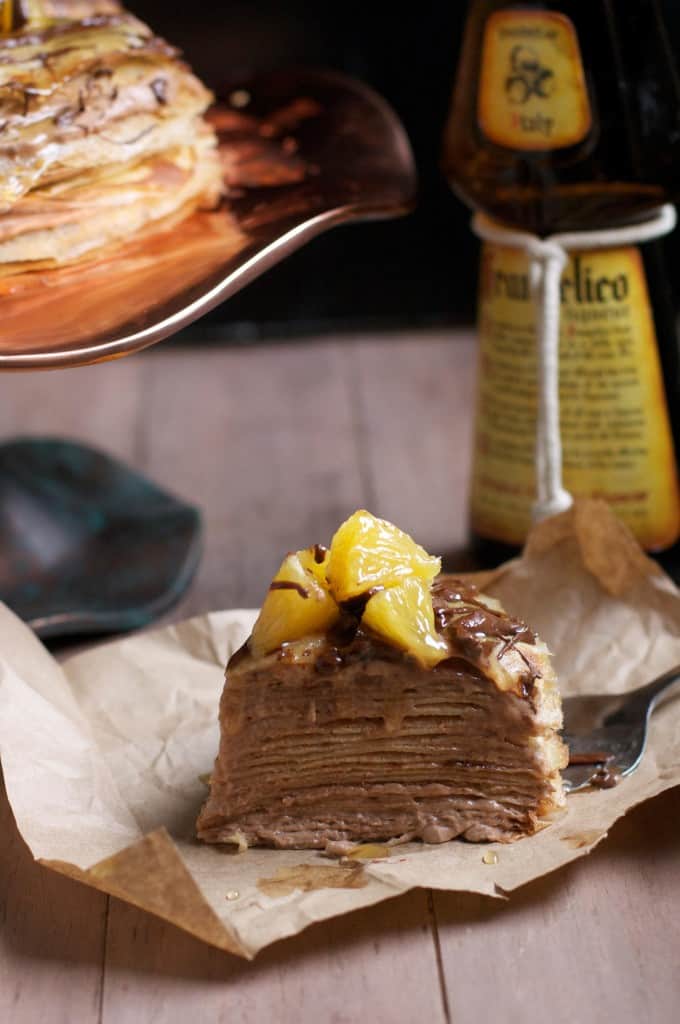 If I had to pick one part of serving friends a cake like this that I like the best, it would have to be that moment when you cut into the cake and serve a slice to a chorus of "Ahhhs" followed by, "How long did it take you to make all those layers!?" I give you full permission to milk it for all it's worth even though we both know the secret of how simple this cake really is! One solid nonstick pan and you're in crepe city!
This post was sponsored by Frangelico but the thoughts and opinions are 100% my own!
Chocolate Hazelnut Crepe Cake with Orange Frangelico Syrup
Ingredients
For the crepes:
6 tablespoons butter, melted
3 cups milk
6 eggs
1 1/2 cups all-purpose flour
7 tablespoons granulated sugar
pinch of salt
For the filling:
2 cups of heavy whipping cream
1 1/2 cups chocolate-hazelnut spread., like Nutella
For the syrup
1/2 cup sugar
1/4 cup water
1/2 cup orange juice
1 tablespoon cornstarch
2 tablespoons Frangelico Hazelnut Liqueur
5 slices of orange with all the white pith and membrane removed. cut into 1-inch pieces
Instructions
First make the crepe batter:
In a small pan, warm the milk until steaming; remove from heat and set aside to allow to cool slightly.
In a large bowl using your electric mixer at a low speed, mix together the eggs, flour, sugar, and salt. Slowly add in the warm milk and melted butter. Pour the batter into a tightly-sealed container to refrigerate for at least 2 hours (or overnight.)
To make the crepes:
Remove the prepared Crepe Batter from the refrigerator and bring to room temperature
Prepare some sheets of parchment paper for cooling the finished crepes. (You don't want to stack them directly on each other, but with a layer of parchment between they will be OK.)
Use a nonstick pan over medium-low heat. (I didn't have to add oil to mine since it's very non-stick- but you may need to.) Pour about 3 tablespoons of the crepe batter into the pan, and swirl to cover the surface of the pan. Cook approximately 1 minute or just until the bottom of the crepe becomes lightly browned. Use a spatula to help lift the edge, and then use your clean fingers to gently and carefully turn the crepe over and continue cooking for another 15-20 seconds. Remove the cooked crepe and place on parchment to cool.
Repeat this process until you have 20 perfect crepes. (If their sizes are slightly different that is OK, but you want them to be round without tears.)
For the Filling:
Whip the cream to stiff peaks and gently fold in 1 cup of the hazelnut spread.
To Assemble:
Place one prepared crepe on a large cake plate.
With a small spatula, completely cover the crepe with a thin layer of the pastry cream mixture (about 1/4 cup).
Cover with another dry crepe and repeat covering with the whipped cream mixture until you have reached 20 layers. Save the nicest looking crepe for the 20th (top) layer.
Refrigerate the prepared cake for 1-2 hours.
While cake is chilling, prepare the syrup.
Stir together the sugar and water in a small saucepan over medium heat until sugar has dissolved.
In a small bowl whisk together the orange juice and corn starch.
Add the OJ mixture to the sugar mixture and cook over medium/low heat for about 8 minutes or until the syrup has thickened. Whisk in the Frangelico and remove from heat. Add in the orange pieces.
When cake has chilled, warm the remaining 1/2 cup of chocolate/hazelnut spread and drizzle over the crepes.
Spoon the syrup over the cake or over each individual piece.
Nutrition Information:
Serving Size:

1 grams
Amount Per Serving:
Unsaturated Fat:

0g