Chocolate Peanut Butter Cupcakes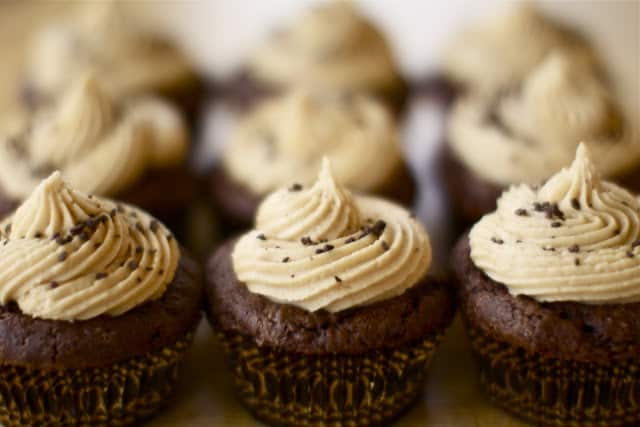 Last weekend I went "home" to Wisconsin for my Grandmother's 85th Birthday Party. She is a truly amazing woman and I couldn't wait to make something delicious for her celebration. Also, I was pretty excited to a) get to bake for my parents and sisters who have only gotten to see my treats online and b) bake in the kitchen larger than a closet!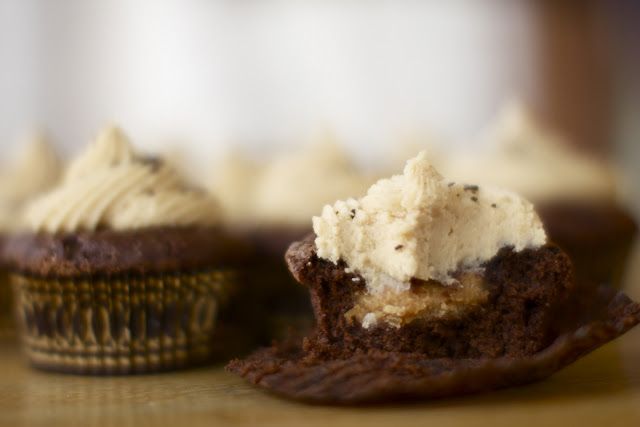 Both of those things I did and it was great. It also makes it very hard to come back and bake in my small kitchen. In fact, since I got back I haven't really felt like getting in there (which is odd for me.) I also haven't really had any inspiration on new recipes. I am truly hoping that this ends soon so that I have something cool to post later this week. I do have a brand new Ice Cream Maker that just arrived today as well as a Creme Brulee torch. So maybe something that involves one of those…..
Anyhow- these cupcakes are hard not to like- chocolate cake, peanut butter filling and a creamy peanut butter frosting. For anyone who is as obsessed with this combo as I am, these will be your new favorite treat.
Note: It is very easy to overbake these. Even if you think they are not quite done, don't bake them for more that 23 minutes or so. One of my batches was just a tad too crisp on top!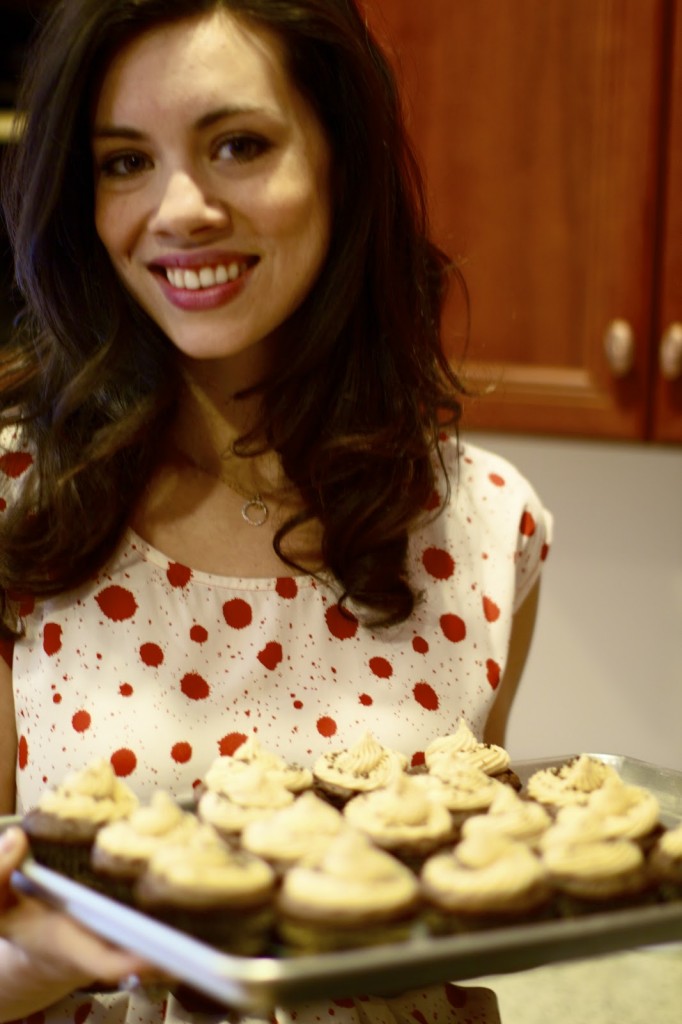 Chocolate Peanut Butter Cupcakes
Ingredients
1 cup confectioners' sugar
¾ cup creamy peanut butter
4 tbsp. unsalted butter, at room temperature
½ tsp. vanilla extract
For the cake:
1 2/3 cups all-purpose flour
¾ cup unsweetened cocoa powder
1 tsp. baking soda
½ tsp. salt
1 cup sour cream
2 tbsp. milk
1 tsp. vanilla extract
8 tbsp. unsalted butter, at room temperature
1½ cups sugar
2 large eggs
For the frosting:
1 8 ounce package cream cheese, softened
1/2 cup creamy peanut butter
1 tsp. vanilla
3 cups powdered sugar
2 tablespoons milk or cream
Instructions
Preheat the oven to 350° F. Line two cupcake pans with paper liners.
To make the filling: Combine the confectioners' sugar, peanut butter, butter and vanilla extract in a bowl. Beat with an electric mixer on medium speed until well combined. Roll the mixture into 1-inch balls (at least 24) and set aside on a baking sheet.
To make the cake batter: Combine the flour, cocoa powder, baking soda and salt in a medium bowl; whisk together and set aside. In a liquid measuring cup, stir together the sour cream, milk and vanilla extract. In the bowl of an electric mixer fitted with the paddle attachment, combine the butter and sugar, and beat on medium-high speed until light and fluffy, about 2 minutes. Beat in the eggs one at a time, scraping down the bowl as needed. With the mixer on low speed, alternately add the dry ingredients and the sour cream mixture, beginning and ending with the dry ingredients. Mix just until incorporated.
Spoon a tablespoon or two of batter into the bottom of each cupcake liner. Place a ball of the peanut butter filling in each cupcake well and top with the remaining batter so that all the cups are filled. Bake for 18-22 minutes, or until a toothpick inserted in the center comes out clean. Allow to cool in the pan for 5-10 minutes, then transfer to a wire rack to cool completely.
To make the frosting: Cream together cream cheese and peanut butter. Add vanilla and then powdered sugar one cup at a time alternating with cream.
Beat until it's a spreading consistency. Frost cupcakes when they are totally cooled!
Nutrition Information:
Serving Size: 1 grams
Amount Per Serving: Unsaturated Fat: 0g