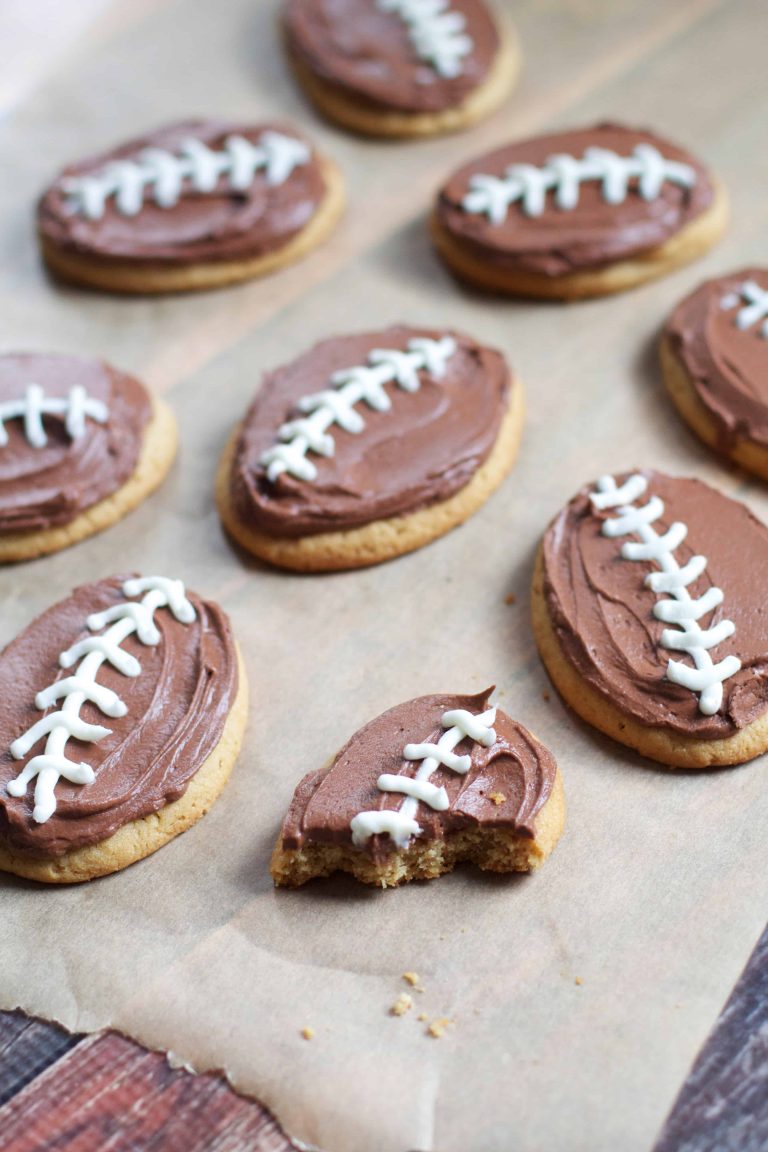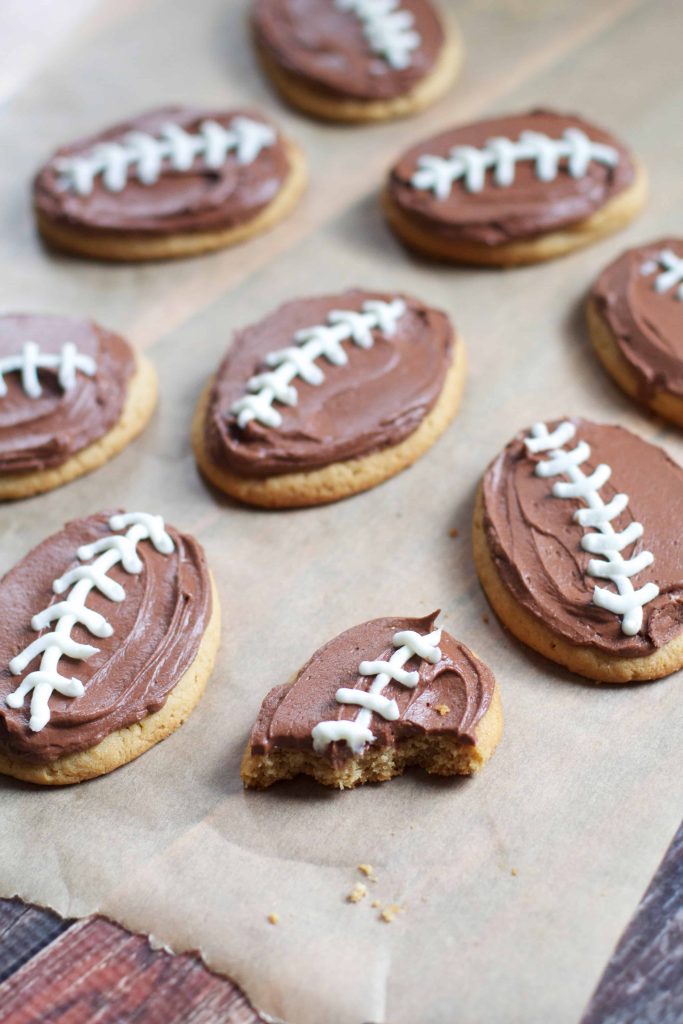 I didn't always love football. Oh no…. In high school, I spent the games in my marching band uniform playing rally songs with the rest of the music geeks. (Oh and let's not forgot my years in the color guard- I swapped my flute for a flag but I was still pretty dorky!) I rooted for my school's team as much as anyone else, but I really didn't understand what anything meant and the most I remember from when The Packers won the Superbowl in '97 were the green & gold tortilla chips.
About 8 years ago things changed. I realized I actually had a deep loyalty to my Green Bay Packers and that I actually really loved the game! It didn't hurt that the Pack had an amazing season that year and I discovered the fun of rooting for a good team…what can I say- I've been stuck on it ever since. Now I consider myself a die hard fan- I even convince Andy to spring for the cable package that includes all the games. I can't bear to miss one!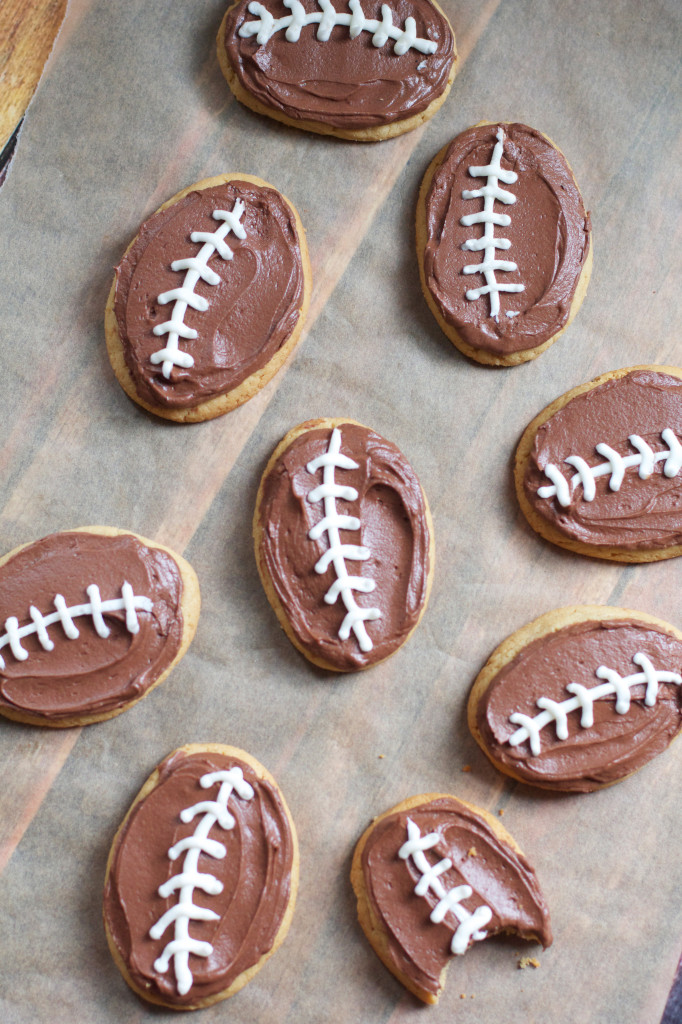 It doesn't hurt that the food and drinks that usually come along with football are among some of my favorites. (Pumpkin Beer anyone?) I love the coziness of gathering together to watch a game, eating some comfort food and just relaxing. Wouldn't these cookies be the perfect addition to your game day spread?
They are the perfect chewy peanut butter cookie with creamy chocolate frosting. The fact that they look like adorable foodballs only makes them better don't you think? Now who wants to come over to watch football? I can promise these cookies and an equally sweet little boy crawling around… ;)
Don't forget these other delicious Game-day Treats from the archives!
Jalapeño Popper Pull Apart Bread
Beer Caramel Pretzel Cookie Bars
Chocolate Peanut Butter Football Cookies
Ingredients
For the Cookies:
½ cup unsalted butter (1 stick)
½ cup creamy peanut butter
½ cup white sugar
½ cup packed brown sugar
1 egg
½ teaspoon vanilla extract
1¼ cups all-purpose flour
½ teaspoon baking powder
¼ teaspoon salt
¾ teaspoons baking soda
For the Frosting:
1 stick butter, softened
2-3 cups powdered sugar
5 tablespoons unsweetened cocoa powder
¼ cup milk
1 teaspoon vanilla extract
Instructions
Cream together butter, peanut butter and sugars until smooth. Beat in egg and vanilla.
In a separate bowl, stir together flour, baking powder, baking soda, and salt. Gently stir the dry ingredients into the butter mixture until just combined. (No streaks of flour should be visable but don't over-mix!)
Chill dough in the fridge for at least 45 minutes.
Preheat oven to 375F. Use a small cookie scoop to portion dough into balls and then smush them into more of an oval shape. Place on a parchment-lined cookie sheet 2 inches apart for about 10 minutes or until cookies begin to turn golden. Be careful not to over-bake!
For the Frosting:
Beat the butter with the powdered sugar (Mixture may be dry.) Add the vanilla and milk, gradually until frosting is smooth - scoop about a ¼ cup out for the laces. Add the cocoa powder and mix until smooth.
Frost cookies using an offset spatula, and a small piping bag for the laces.